Customer reviews are essential for the analysis of your e-reputation. They reflect your influence and your popularity on the web. When we know that nearly 70% of Internet users read customer reviews before buying, it is essential to pay particular attention to them.
While online reviews have a lot of influence on tourist establishments such as restaurants or hotels, they are also gaining a place on many online shopping sites. Reviews are everywhere and have more power in influencing cart abandonment rates and cart completion rates (CCR). But a tool like Userwell helps with the aggregation of these reviews, helping businesses utilize them in tailoring new products or upgrading existing ones to meet the ever-changing consumer taste.
In this review, we'll try to take a close look at what Userwell does with its product feedback management software, how its services can improve the brand's reputation, and whether it's a tool that's worth giving a try.
What is Userwell?
Userwell is a software as a service tool with multifunctional use. First, it helps online services manage feedbacks by prioritizing and customizing good and bad reviews about a previously used product. Also, it helps brands with feedbacks on the perception of a product or service offered. It helps product developers and manufacturers know exactly what to build next, thanks to the knowledge of the users' tastes and real needs, as revealed in their written reviews and ratings given.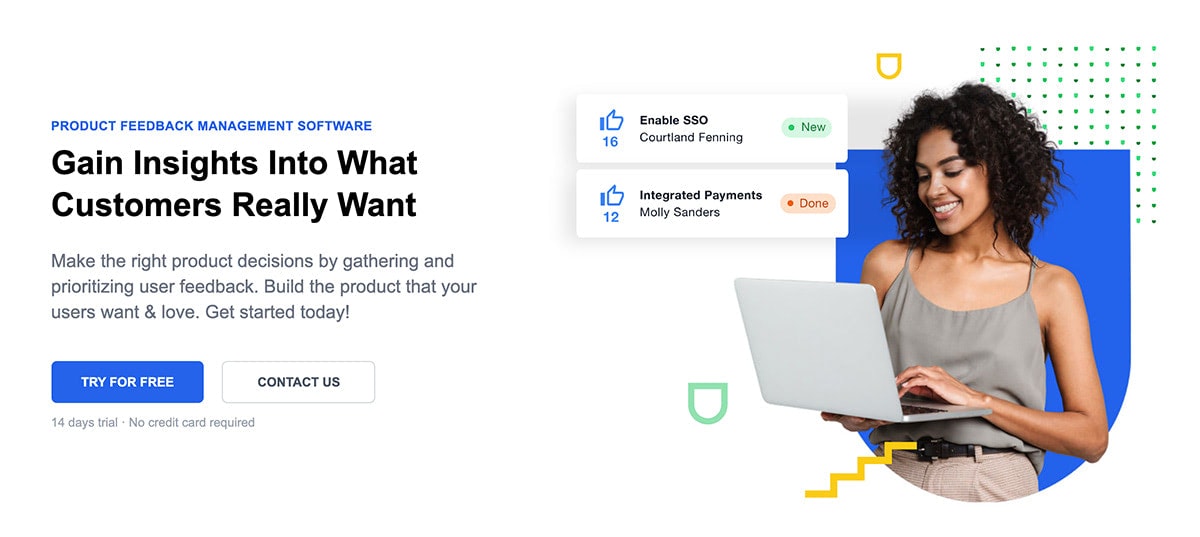 To manage interactions with current and potential customers, many businesses use a customer experience management system like Userwell. This software is linked to all points of contact in the customer journey to allow rapid and effective intervention in the event of a problem and dissatisfaction. It also helps to seize any opportunity that arises.
Features and benefits of Userwell
What exactly does this customer experience software record and achieve? And what are the advantages of using one? Here, we'll see some of the main ways Userwell can help you take control of your brand reputation and products' perception in the eyes of consumers.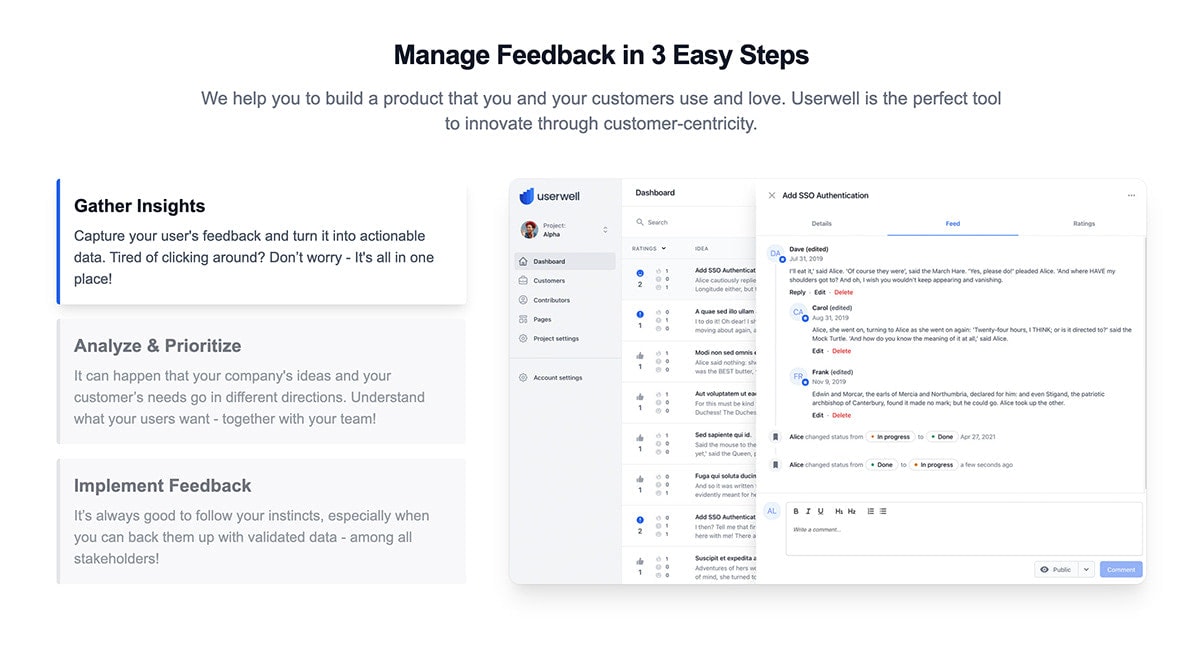 All feedback gathered on one platform
A customer experience management system (CXM) like Userwell stores all of a company's customer information in one place. The data is updated in real-time and the sharing of reports with the teams concerned is greatly facilitated.
This program also makes it possible to consult the history of interactions between an individual and the organization. Consumer behavior (purchase of a product, renewal of a subscription, subscription to a service, etc.) and their feelings (feedbacks, opinions) are recorded and allow the company to see which areas the product needs to be improved.
Doubles as a survey software
A successful CXM program must be able to detect constructive comments (relevant remark, usage problem, satisfaction related to a product or service) among all customer feedback. In this regard, Userwell brings together the responses to feedback pages created and sent to customers to generate relevant analyzes and carry out strategic actions.
Visual customer experience reports
The customer experience management software typically displays customer feedback and CX data as dashboards. They provide a single, global view of the situation at a given moment, displaying the rates of each key performance indicator (KPI) in real-time and trends in consumer reviews.
You can easily measure customer satisfaction as you will be able to collect the opinions of your customers in real-time on your points of sale, in a fun and effortless way, using self-service tablets. You will be able to analyze them and quickly draw the necessary conclusions.
Userwell offers an accurate evaluation of the customer experience. A customer listened to, even dissatisfied at the moment T, is a valued customer who will enjoy a better shopping experience. With Userwell, you mechanically limit the online expression of negative reviews and improve your brand image.
Closing the loop on consumer dissatisfaction with communication
Through the use of this customer experience software, companies can optimize the close-the-loop strategy. This approach helps to strengthen customer relations.
By responding quickly and effectively to emerging dissatisfaction, marketing and customer service teams prevent the link between the brand and the consumer from deteriorating. This also helps to increase loyalty and the satisfaction rate.
Analyze and Optimize the Customer Experience
Having data is one thing, knowing how to interpret it and use it in your strategy is another. Not all companies have a team of qualified analysts who can help understand this data.
The functionalities offered by this software are of great help in moving from raw data to useful information that can be used in its customer experience management strategy.
Userwell integrates this analytical solution into its customer experience management program to help you save time, optimize costs and improve profitability. Its software allows you to visualize the feelings of your customers in real-time thanks to analyzes of several kinds:
Statistical analysis to relate the different metrics and data relating to the customer journey
Semantic analysis to be able to automatically understand the main ideas resulting from the feedbacks
Analysis of strategic points to identify the factors on which it is necessary to concentrate its efforts to carry out relevant actions. 
Do I need Userwell for my e-commerce site?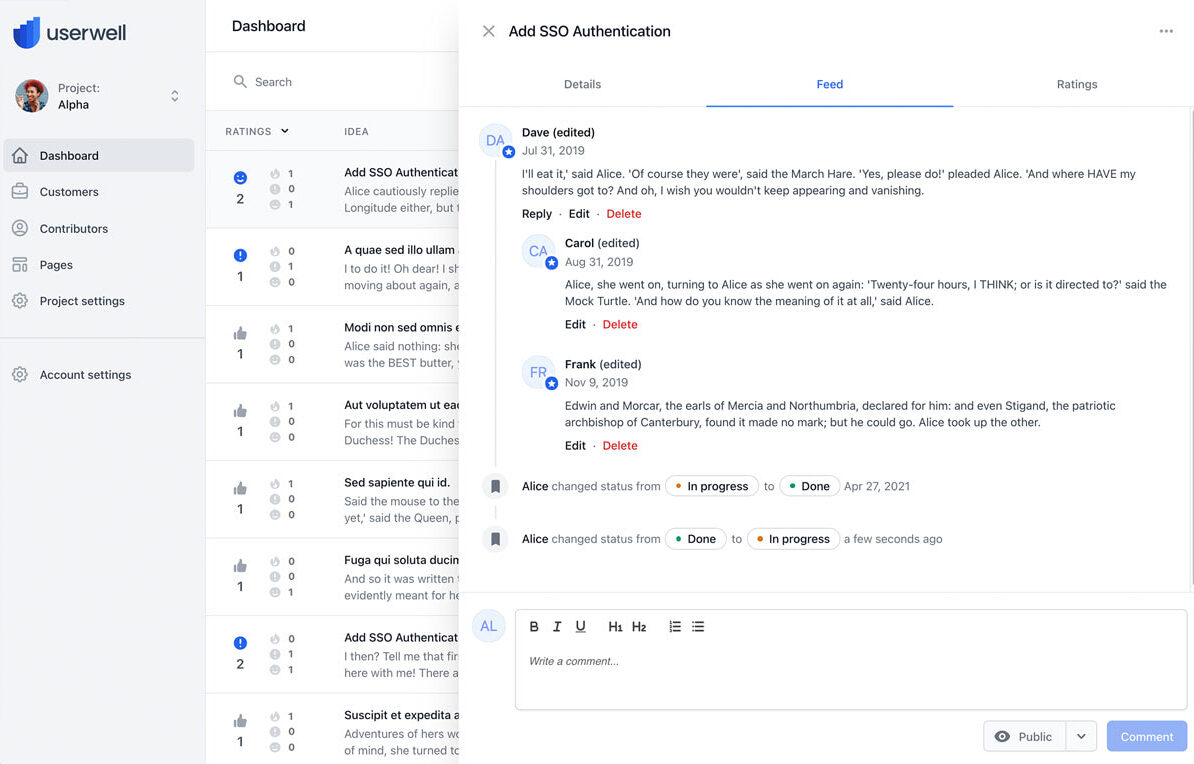 Did you know that 2/3 of consumers prepare their purchases offline and online on the internet? Also, 50% of Internet users seek the opinion of another consumer before making a purchase.
And finally, 2/3 of them trust this opinion as a priority amid all the other media. Consumers trust other Internet users more than the brand. In other words, customer reviews sell. And you have to focus on managing them; something which Userwell is dedicated to.
Reviews sell because customers are reassured by the opinions of their peers and this has a direct impact on the conversion rate. So if you find that you have a lot of visits to your site but not enough sales, customer feedback solutions like this will dramatically improve the conversion rate of your e-commerce site.
Today, few consumers leave reviews (unless they are not satisfied with the business relationship they have had with you). However, Userwell's review generation system is a tool that helps stimulate your customers to leave reviews.
Getting more feedback on your customer satisfaction allows you to:
To sell more (because Internet users are reassured)
To react internally to resolve any problems
Take the lead with customers to resolve disputes, thereby improving your customer relationship and your e-reputation
To improve your SEO because you can publish these opinions on the internet.
Conclusion
Feedback is king when it comes to online commerce. This is why customer experience management systems like Userwell are so beneficial to brands that need to retain customers, regain customers, and attract new customers.
You can use the solution to legally collect your customers' data, reconstitute your opt-in base and automate your customer loyalty process.
With Userwell, you can offer your customers to evaluate your performance by asking their opinion directly at the point of sale. You can automate the feedback of this data to improve your turnover and use positive reviews for your communication.
It's also a tool for acquiring new customers as customers also share their positive experiences. Supporting them in this process is a considerable lever for new customer recruitment via social platforms.
Like what you're reading? Subscribe to our top stories.