One of the most common problems in UX design and research is the struggle of having to juggle multiple apps and tools.
UX teams often have to use dozens of tools to tackle different aspects of the UX research and design workflow. You need a repository solution to store all your research data, a user personas tool, then one for journey maps, another for user flow diagrams, and the list goes on and on.
UserBit is a full-stack solution that aims to streamline your team's workflow by eliminating the need for multiple apps and their respective costs. It comes with all the tools you need to supercharge your UX and product design process as well as boost your team's productivity and efficiency.
Let's take a closer look and see what kind of features UserBit has to offer for UX teams.
What Is UserBit?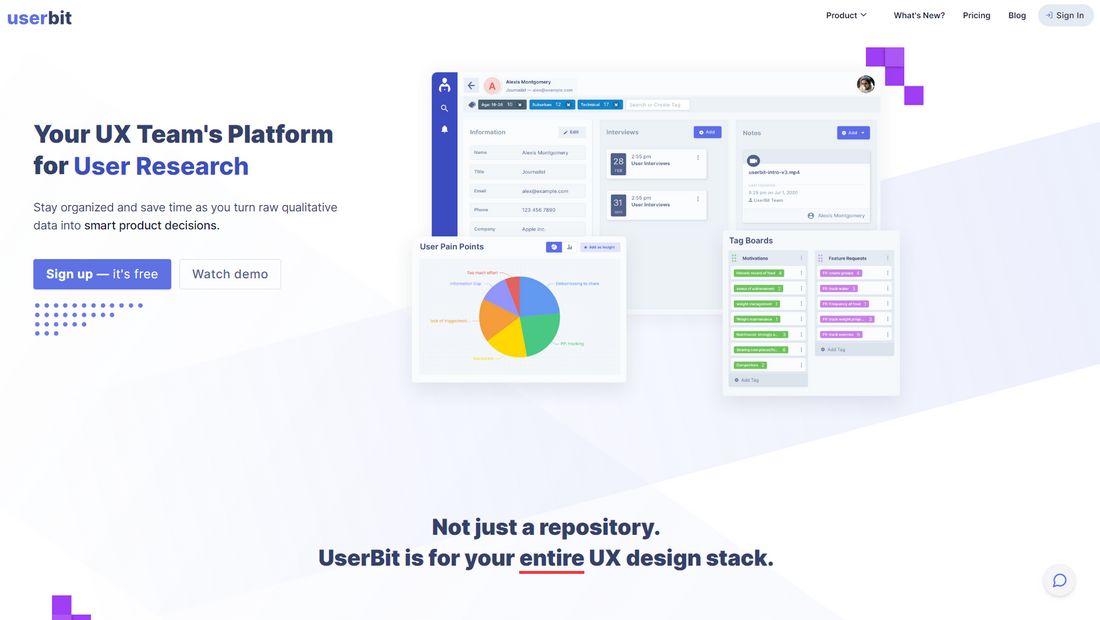 UserBit is a full-stack design research platform where UX and product teams can collaborate to not only make sense of their qualitative data, but also deliver their findings with specialized UX design tools. This platform lets teams gather, organize, analyze user data from multiple sources, and make smart product decisions all in one place.
UserBit features many different UX tools that are essential for UX design and research.
In contrast, if you were to set your team up with tools required for various parts of the UX workflow, you'd end up paying for multiple apps and platforms. Teams not only end up maintaining several subscriptions, but also have to worry about manually taking data from one tool to the other. For example, if you wanted your research insights to inform your user personas, you'd now have to manually copy over insight contents from your research repository to another app that you use specifically for personas.
Having these tools together on UserBit means that your insights and findings can flow seamlessly between them. The following are just a few of the features and tools that we found to be quite useful.
A Complete UX Research Repository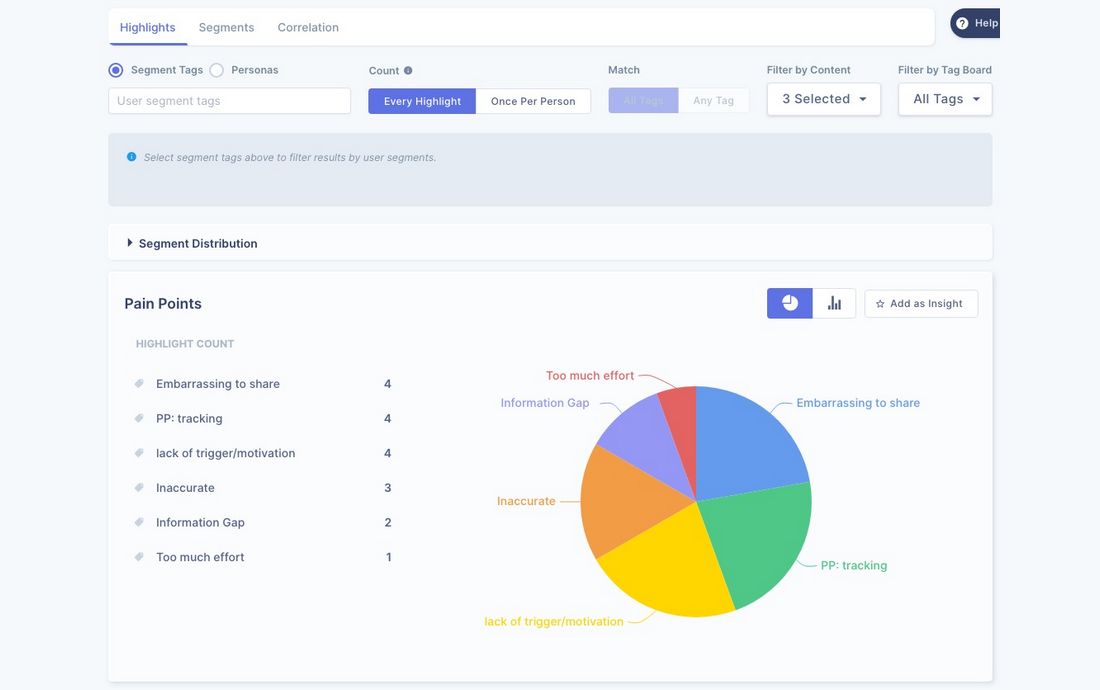 Having a user research repository where you can organize, manage, and analyze notes, participants, interviews and other research data in a central location helps UX teams stay efficient and organized with one source of truth for all design insights.
UserBit has a feature-packed UX research repository that covers all these bases and more. Its capabilities include a robust research participant manager, automatically generated analytics, a sophisticated tag management system, and an in-app transcription feature to quickly generate text from videos and audio in minutes.
In addition to this fully-featured research repository system, UserBit comes with a set of additional tools for UX design spanning your entire research workflow.
Create User Personas With Ease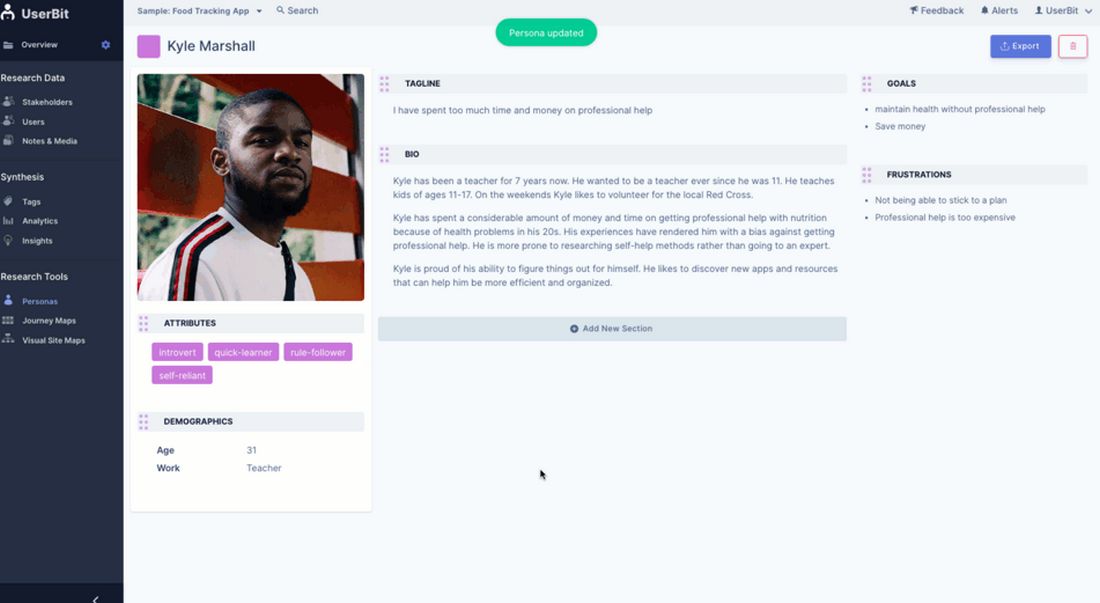 The ability to create user personas on the same platform as your research repository allows you to easily attach your research insights to your personas by giving them more meaning, ultimately helping you confidently make design decisions.
You can even auto-generate names and photos to make the user personas more memorable. Then, you can add different sections of data and information to the persona to fully customize it the way you want.
Produce Detailed UX Journey Maps
Designing an effective customer and user journey through the product interface is one of the most important parts of UX design. UserBit has an easy-to-use tool for creating these journey maps using your research data. Just like personas, you can add insights from your UX research repository directly into your users' journey maps.
The journey map creator allows you to add various types of data to add meaning to each step your user takes. You can add images, rich notes, and even an emotional graph of the journey.
Design User Flow Diagrams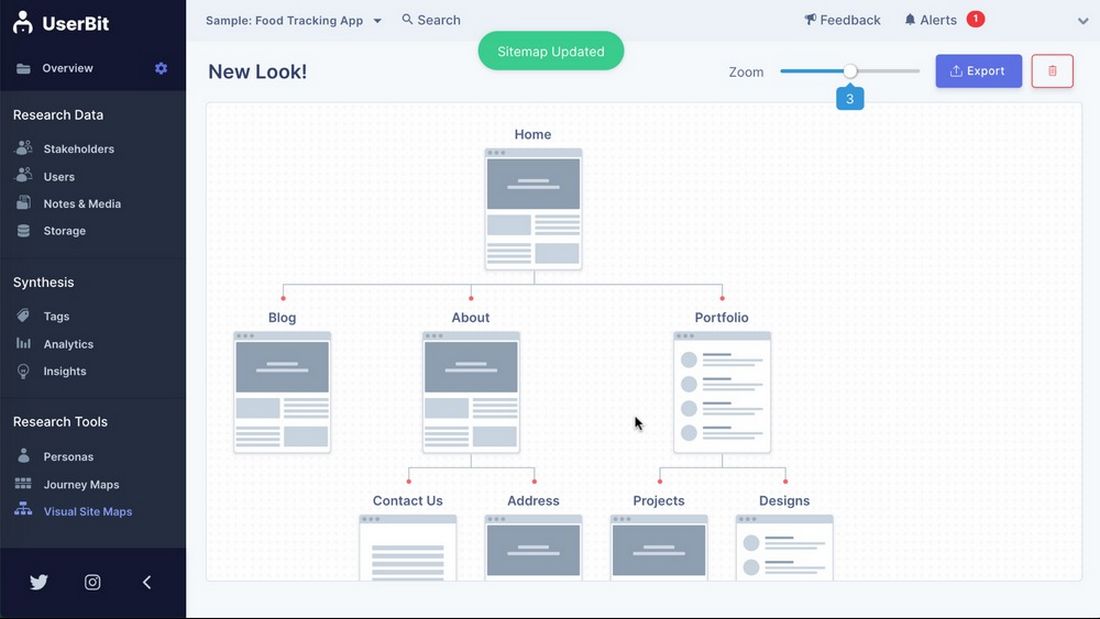 There's no need to use a flowchart app to design your user flow diagrams. UserBit has a built-in solution for designing flow diagrams for mapping out user behavior. This flow diagram tool features an intuitive interface with pre-built nodes to help create complex diagrams with just a few clicks.
Conduct Card Sorts In Real-Time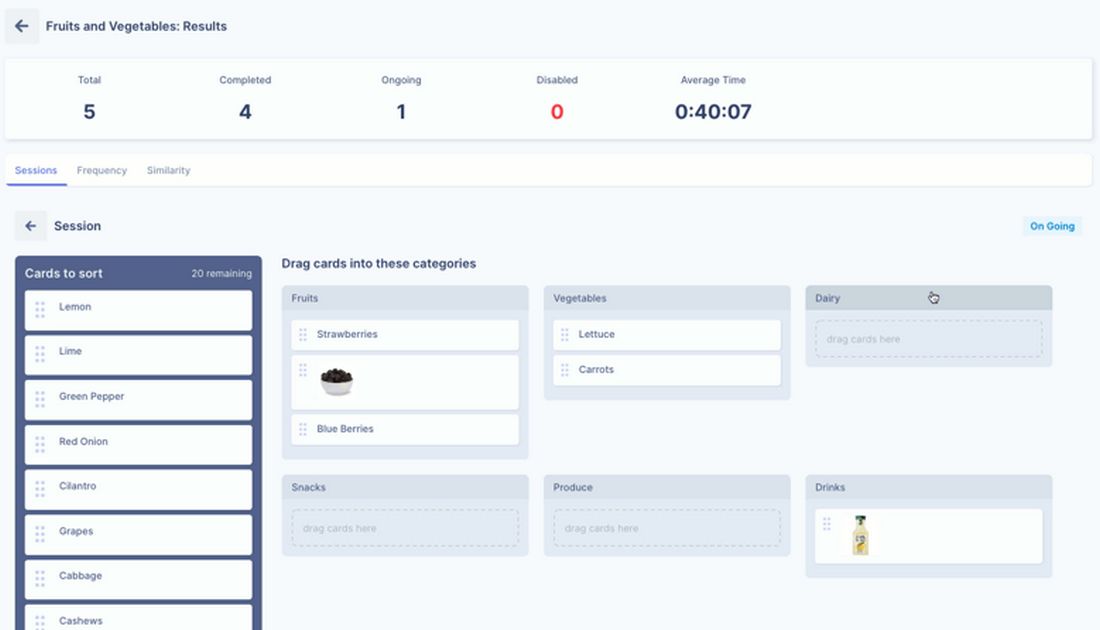 When designing app navigation or menu architecture, you need to step into the shoes of your target users. There's no better way to do this than with card sorting.
With UserBit's card sorting tool, you can monitor and observe live participant sessions in real-time. The best part is that these card sort studies will also automatically generate analytics and reports so you can fully dive into how your users think about the categories and cards that you're testing.
Host a Knowledge Base for Stakeholders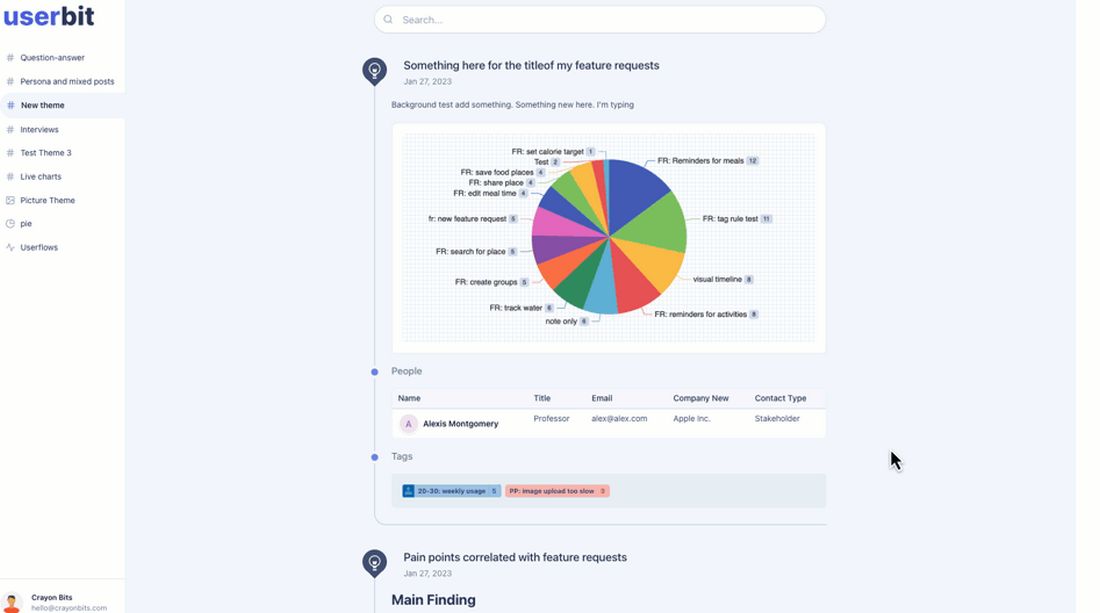 One of the biggest pain points for existing UX research platforms is how to share insights with stakeholders without putting the burden of the platform's learning curve on them. The Discovery Portal on UserBit is designed to solve exactly this. It acts as a knowledge base for stakeholders where they can easily explore your research findings and insights.
The portal is an independent app, separate from your workspace. You can even add your branding and customize the layout of the portal according to your preference.
Access UserBit and Work From Anywhere
With so many UX teams going full-remote, having a cross-platform, cloud-based platform is practically a requirement these days. UserBit runs completely on the cloud. As long as you have access to a browser, you can access your repository projects at any time from anywhere. This also means you can seamlessly collaborate with team members in real-time, no matter what part of the platform they're on.
Automate Simple Tasks
Most of the UX tools in UserBit have useful automation features that will help you save a ton of time. For example, the transcription system in UserBit is capable of automatically generating text from audio and video files in over 20 different languages. Global and local auto-tagging of words is another useful feature that saves UX researchers hours of looking through their data during the tagging and coding phase.
We all know how analyzing research can get laborious and cumbersome, so it's refreshing to have tools that allow you to easily automate some of these tasks within the platform.
Pricing Plans
UserBit has a generous free plan that lets you host one repository project with up to 2 personas, journey maps, diagrams, and 5GB of storage.
Next up is the Pro plan which costs $60 USD per month for unlimited team members, 5 repository projects, 5 personas, journey maps, sitemaps, and more.
There are also Enterprise plans for larger teams that start at $3600 USD per year.
You can also customize the pricing for each plan based on how many repository projects you want to manage. UserBit stands by paying for what you use, not by your team size. Different modules are available as add-ons as well. You can add them individually to your account based on the tasks you want to manage with UserBit.
Who Should Use UserBit?
UserBit is a valuable solution for medium to large UX and product teams by providing a central platform for managing research and design tasks that can save significant time and money. And with access to all the necessary UX design tools like user personas, journey maps, and visual sitemaps within the same platform, UserBit delivers excellent value for teams.
We're especially impressed by UserBit's Discovery Portal, which acts as a knowledgebase for stakeholders and is one of the most notable features that set UserBit apart from other platforms. It'll help keep your team members and stakeholders on the same page at every stage of your project.
Even small UX teams will benefit from using a full-stack solution like UserBit. You can use the free plan to test its features and functionalities and see if it's useful to you. Sign up for UserBit today and discover how it can help your team understand your customers and deliver top-notch user experiences.