These days, finding a reliable website hosting provider is like looking for a needle in a haystack. Finding good hosting providers with affordable pricing is another challenge.
NameHero may be that "needle" you've been looking for. It's a fast and reliable web hosting service that offers a range of packages at affordable prices.
NameHero is the ideal platform for hosting your personal websites, portfolios, business sites, WordPress hosting, and more. Also, unlike most other hosting providers that are owned by the same giant corporations, NameHero is managed by an independent company.
In this review, we take a closer look at the features, benefits, and pricing of NameHero hosting plans. Let's dive in.
What Is NameHero?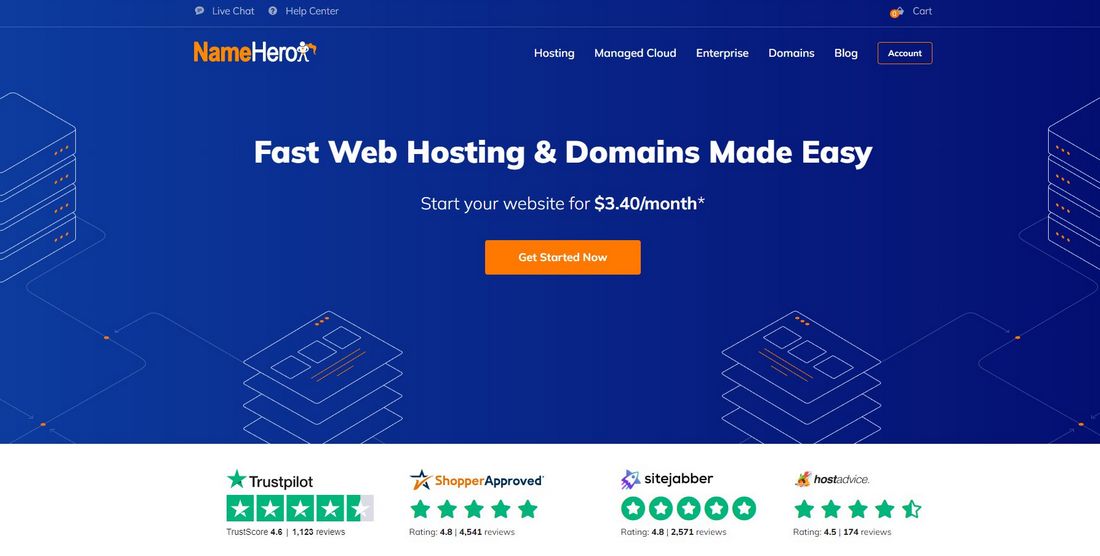 NameHero is an affordable web hosting provider that promises fast hosting speeds with 24/7 "SuperHero Customer Support" and 99.9% uptime. The platform has multiple solutions to help you build anything from a small personal website to big online stores. And they are all available at surprisingly cheap prices.
NameHero has been around since 2015 and it's growing fast. It boasts over 44,000 customers and more than 750,000 websites hosted on the servers. The company also has an average rating of 4.6 on Trustpilot with over 1k reviews. And a 4.8 rating on ShopperApproved with over 4.5k reviews.
Not being controlled by a big conglomerate and having the freedom to offer an equal and quality service to all customers is probably the main factor behind its success.
Here are some of the main reasons to consider choosing NameHero for your website.
Shared, WordPress, Reseller, & Cloud Hosting Plans
NameHero has hosting solutions for all types of websites.
Shared hosting plans for smaller websites
Managed WordPress hosting plans for blogs and content sites
Affordable Reseller hosting plans for freelancers and agencies
Cloud-Based VPS hosting plans for bigger sites
Cloud dedicated servers for even bigger projects
A great thing about all these hosting packages is their flexibility. You can start with a smaller pricing plan and scale as your site grows.
All of these plans have free daily backups as well.
Unlimited NVMe Storage
Every NameHero hosting plan is powered by NVMe storage drives. It's the fastest and most reliable storage technology available today. They are up to 12 times faster than SSD storage. Your website will load insanely fast when hosted on servers with NMVe storage.
Not to mention that you get unlimited storage space to host as many files as you want with all NameHero hosting packages.
Fast & Responsive Customer Support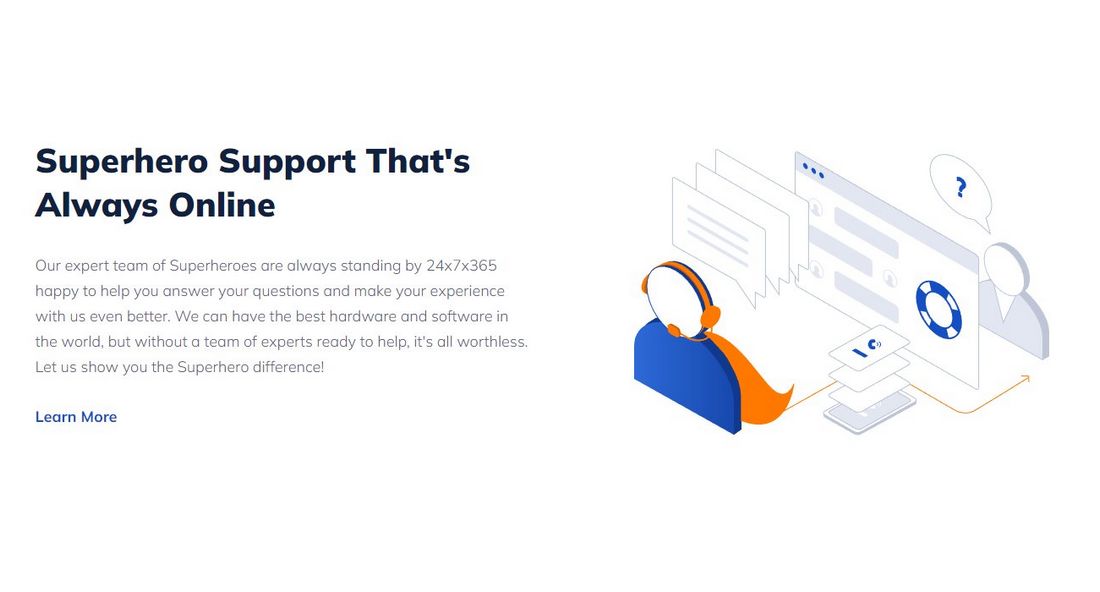 NameHero customer support team, dubbed "SuperHero Support", is one of the main selling points of the platform. They offer customer support via live chat, email, and support tickets that promises rapid responses. They answer all support tickets within 15 minutes (or, if a solution will be more complicated, acknowledge that we are working on it within 15 minutes).
Having reliable and 24/7 support is important when managing a website. You'll never know what kind of technical issues you'll encounter and having a support team that you can rely on for help is invaluable.
Optimized For WordPress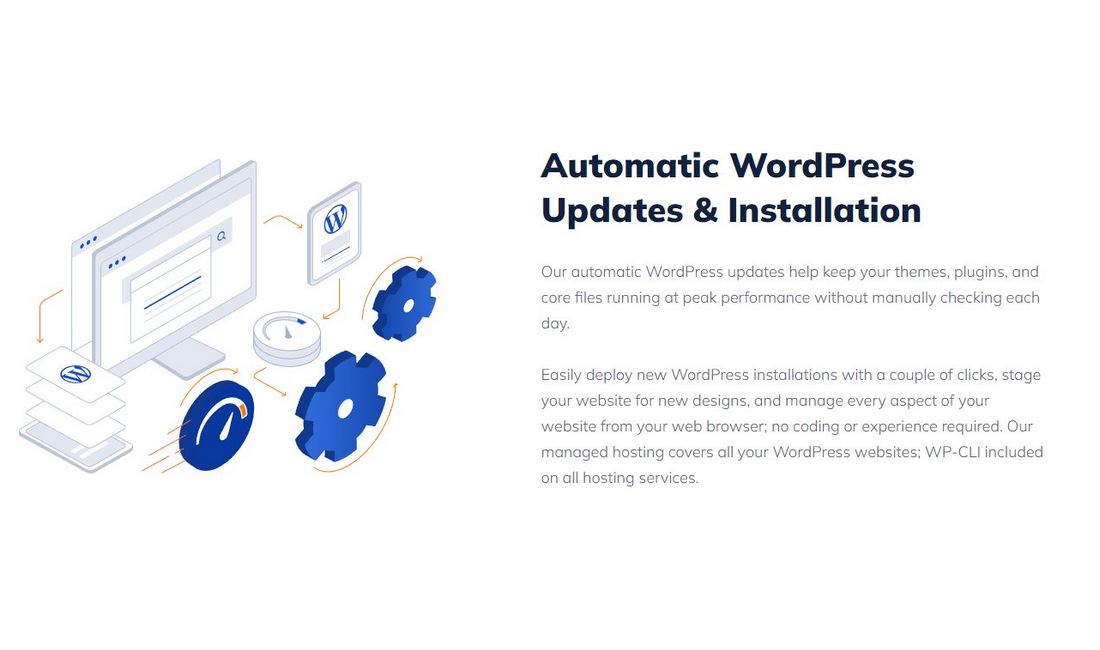 NameHero has a specific set of managed hosting packages for WordPress websites. These plans come with WordPress pre-installed and ready to build your website. They also include automatic WordPress updates, a Security Shield to protect your site from hackers, and superior caching to speed up your website performance.
Server-Level Caching With LiteSpeed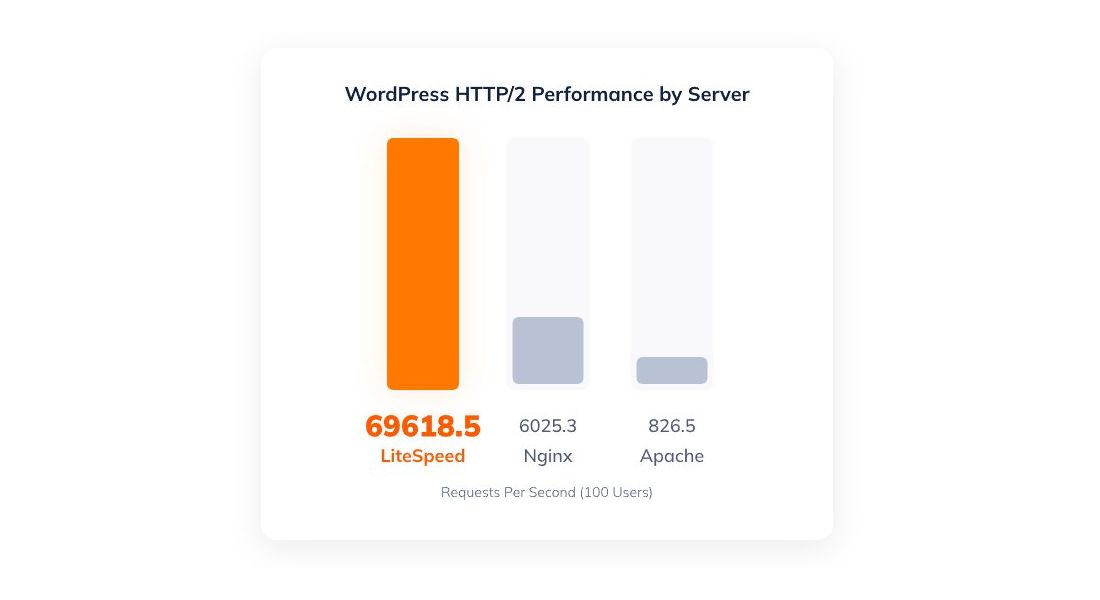 The servers of NameHero are fully optimized for performance with the help of LiteSpeed technology. Both shared and WordPress hosting plans offer server-level caching with LiteSpeed. If you're hosting a WordPress website, you can use the LiteSpeed plugin to optimize your site further.
"Guru-Free" Control Panel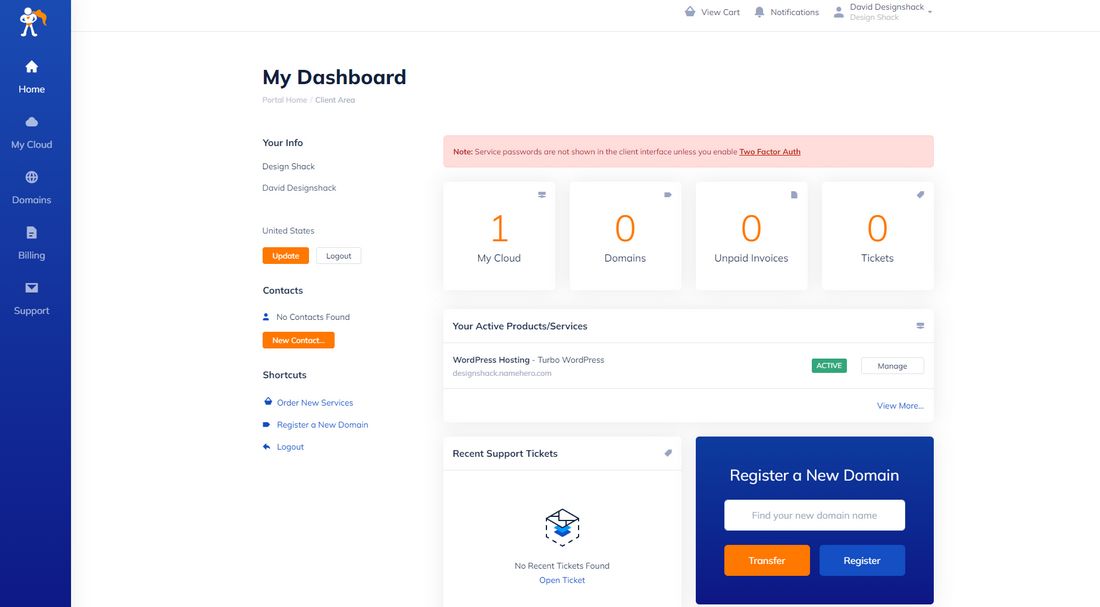 The beginner-friendly and easy-to-use control panel is another great feature of NameHero hosting. After you signup for an account, you can use this control panel to easily manage your website without any help from a "guru" or experts.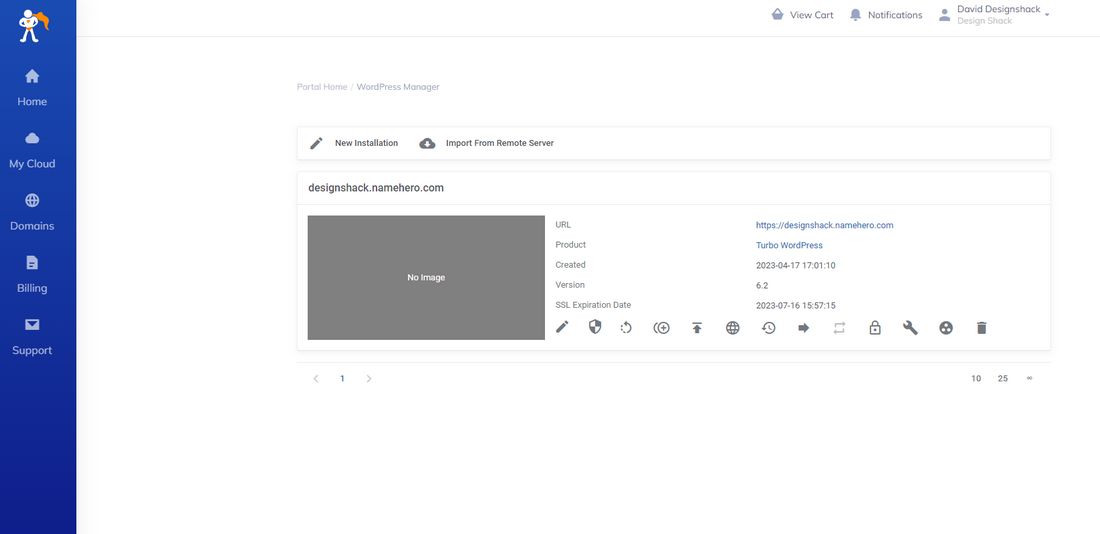 For WordPress sites, there's a dedicated portal called WordPress Manager where you can control and manage your site easily. From here, you can do many tasks like clearing the cache, updating, cloning the site, manage staging, and more.
Free Domain & SSL
Securing your website with SSL not only strengthens the security of your website but also helps with SEO and ranking on Google. When you host your site with NameHero, you will get an SSL certificate automatically installed for your domain. Plus, you can also get a free domain name to start your website with the Turbo and Business hosting plans.
Free Website Migration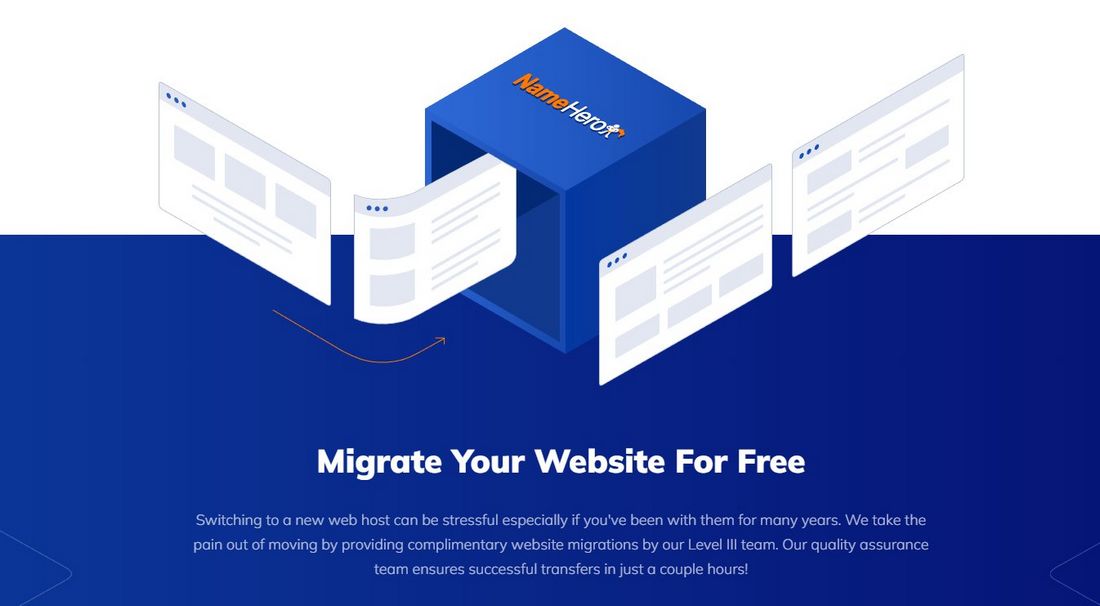 If you already host a website on a different hosting provider and looking for a better alternative, you can easily switch to NameHero without effort. NameHero offers a free website migration service to help you with the transition.
Money-Back Guarantee
Choosing a hosting provider for a website requires careful consideration. This is why NameHero offers a 30-day money-back guarantee policy. If you're unhappy with their service, you can ask for a refund. And they will give you your money back no questions asked.
This allows you to try the platform for up to a month before making the commitment to host your site.
Pricing Plans
Pricing plans for NameHero hosting packages are quite affordable compared to other hosting providers.
Pricing for both shared and WordPress packages are similar:
Starter: $8.95 per month for hosting 1 website with 1GB RAM and 10k monthly traffic. It includes unlimited storage, free email, free daily backups, and more.
Plus: $12.95 per month for hosting up to 7 websites with 2GB RAM and 25k monthly traffic. It includes unlimited storage, free email, free daily backups, and more.
Turbo: $19.95 per month for hosting unlimited websites with 3GB RAM and 50k monthly traffic. It includes a free domain, security suite, unlimited storage, free email, free daily backups, and more.
Business: $29.95 per month for hosting unlimited websites with 4GB RAM and 100k monthly traffic. It includes a free domain, security suite, unlimited storage, free email, free daily backups, and more.
You can also get up to 62% OFF with these packages with the 3-year annual plans.
In addition to shared and WordPress hosting, NameHero has plans for Reseller hosting and VPS hosting. Reseller plans start at $46.99 per month and Cloud VPS plans start at $39.95 per month.
Should You Use NameHero To Host Your Website?
At first glance, the features offered by NameHero may seem like the same type of benefits offered by other web hosting providers. But with NameHero, you get them at a much cheaper price. Plus, your site will be more secure, stable, and safe.
You won't have to worry about sudden changes to terms of service, price hikes, or downgrading of servers and changing server location, which happens often with hosting platforms maintained by big corporate companies.
NameHero team tries harder to offer a better and more convenient service to its customers. So you and your website will be treated well when hosting with NameHero.
With the 30-day money-back guarantee, you can easily try any hosting plan to see if NameHero is the right solution for you and decide for yourself.