People come and go. Even the most loyal fans of your brand may cancel their subscription. What matters is how to manage this situation: It starts with a transactional interaction, the cancellation email.
Much like win-back emails, cancellation newsletters play an important role in retention. People churn, people lapse. However, this type of email helps your company to deal with this situation gracefully and even turn it around.
Cancellation Emails: Basics
Cancellation newsletters are transactional emails triggered by a user's refusal to prolong a subscription. Although some people easily let their customers go, still the best practices encourage seizing every opportunity to bring them back since it is much more cost-effective to get the old customer back than onboard the new one.
Сancellation emails are a crucial part of the user's lifecycle. They provide a quick response that is incredibly vital for SaaS businesses and those who offer paid access to some areas on their website. They are also used to re-engage customers and bring them back.
Depending on the overall strategy and current campaign, cancellation newsletters can be also used to
Regain interest
Boost retention
Mend relationships
Win back disengaged customers
Minimize the number of churn customers
Drive traffic to the website
To help the cancellation newsletter accomplish its mission, you need to identify the reason why people churn.
Online Email Template Builder
With Postcards you can create and edit email templates online without any coding skills! Includes more than 100 components to help you create custom emails templates faster than ever before.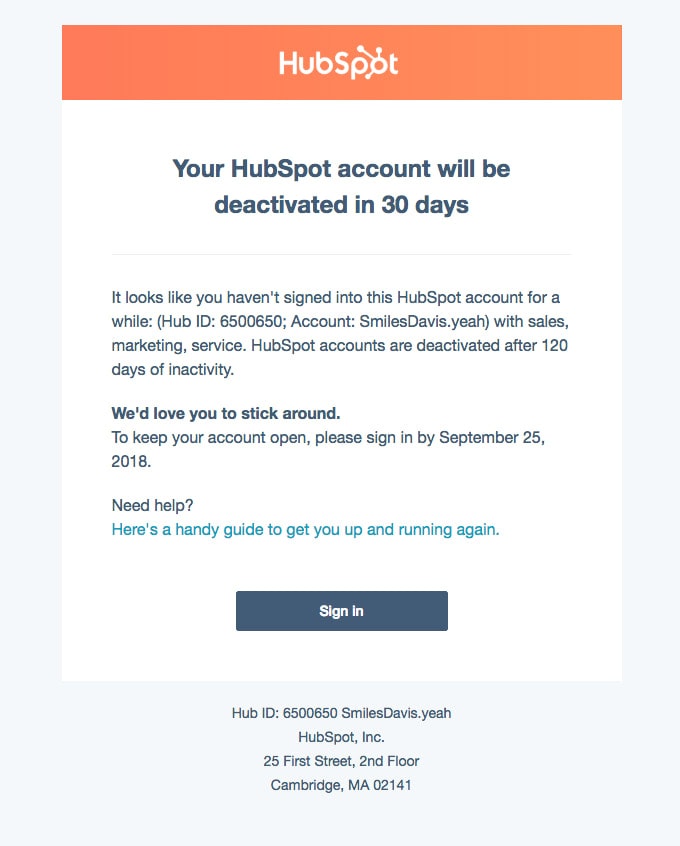 Deactivation Email from Hubspot
Reasons Why People Cancel a Paid Subscription
Learning the reason why your subscriber wants to leave you is increasingly vital. Identifying the problem and quickly acting upon it is a way to success. Defining the patterns of why your customer decided to cancel will help you to automatize the process more accurately and get better results.
People cancel their subscriptions for many reasons. The most popular are:
Do not need your service anymore.
Disappointment with your service.
Do not achieve the desired result.
Poor support team.
Pricing issues. Your prices may be too high in the market, or your prices are out of the client's budget.
The onboarding process went wrong.
Competitors offer better features, better terms, better pricing.
Issues with usability.
The service is buggy.
Issues with email marketing. For instance, transactional emails like product updates or welcome messages do not provide a proper response to user's actions or re-engagement emails like cart abandonment newsletters or win-back emails do not reach customers on time.
Not enough nurture.
The full ROI of your product is not explained thoroughly
Each reason dictates its own rules for strategy, content, design, tone, and atmosphere. For instance, if the user cancels due to pricing, you can always win them back with a discount, extended trials, or an offer of a lower plan. If many customers cancel their subscriptions due to pricing, then it is time to reconsider your pricing policy and optimize it to meet the target market.
The same goes for cancellation due to a lack of features. If it is a single case, then you can try to get subscribers back with some alternatives and sweet deals. But, if most people require this particular functionality, then it is better to add it to your product.
There are two primary triggers for sending out cancellation emails:
Someone canceled a subscription, or in the case of e-commerce platforms, the order has been canceled.
The subscription has been canceled due to non-payment.
If the subscription is canceled due to non-payment, it is time to look inward. You need to catch such types of customers beforehand. Usually, email marketers send the reminder a few days before the due time.  If it does not work, you may try email campaigns with more aggressive techniques that are generally used to generate more sales to push your clients to renew the subscription.
If the person cancels the subscription intentionally, then there are five strategies that you can implement to bring him or her around.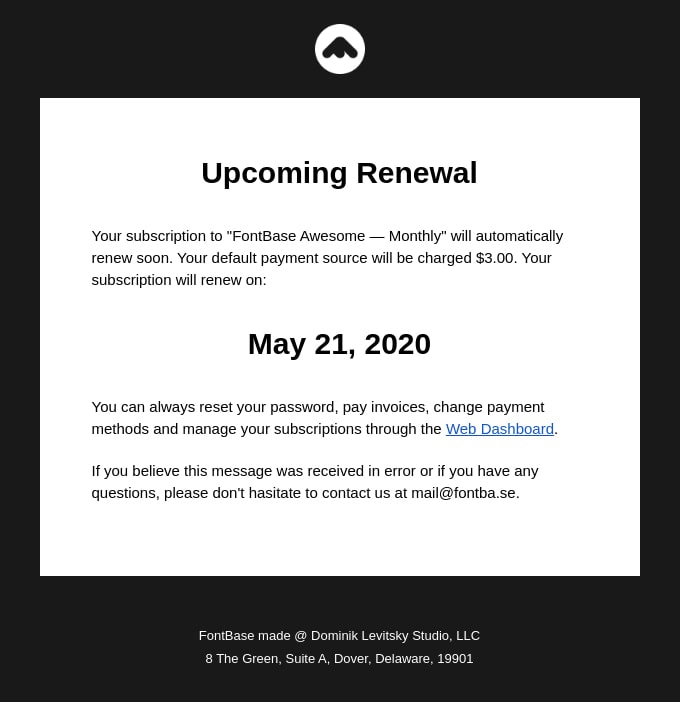 5 Strategies to Make Cancellation Emails Work for You
Make an Offer
This is an old yet effective technique since discounts never hurt anyone. Shopping incentives are influencers and behavior modifiers. They can change the mind of your clients even when it seems that everything is lost.
Based on the customer's preferences and needs, you may offer a deal.  On top of that, you can combine shopping incentives with a referral program. The thing is, even if your customer is not that into you, his or her friends may still find your product useful. Therefore, you can offer a significant discount or special coupon in exchange for referring your brand to friends or colleagues. This way, you will kill two birds with one stone: get a new potential client and keep an old one on the hook.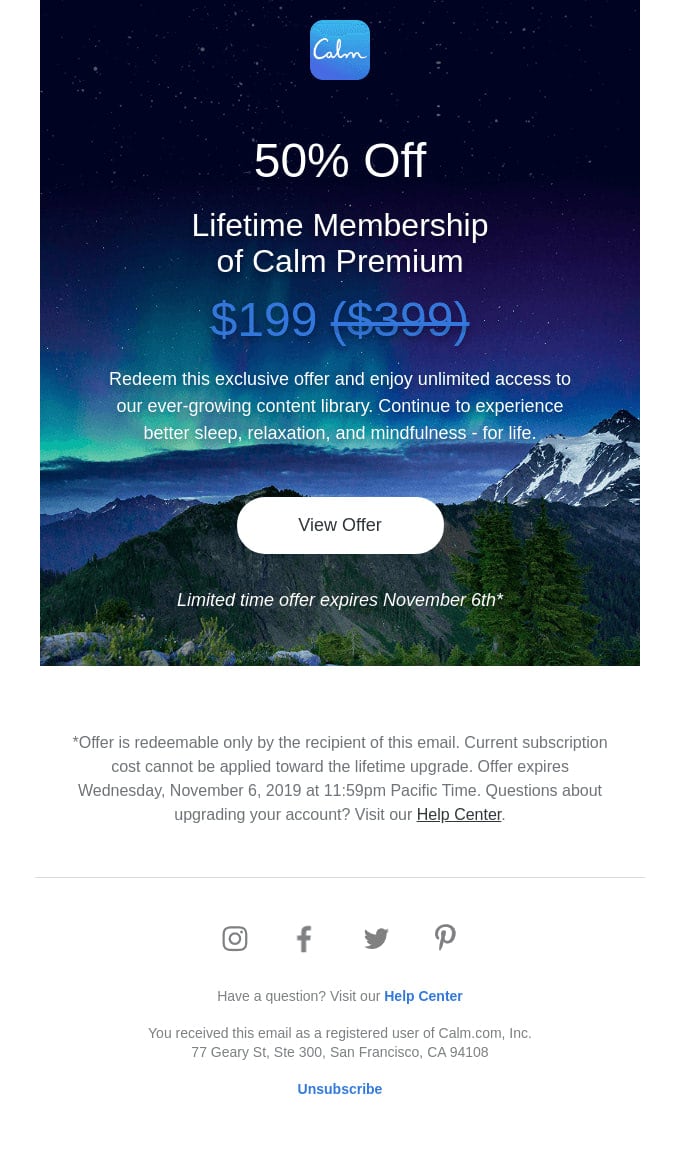 Your exclusive discount on a lifetime of Calm
Suggest a Compelling Alternative
If you cannot offer a discount, you can always suggest a compelling alternative. This works if you have varied pricing plans. Depending on the user's needs, you may offer him or her to downgrade to a lower-tier plan.
On top of that, you can always give the option to pause. This way, you will save the old customer and get a chance to re-engage them with other types of emails like a customer appreciation newsletter.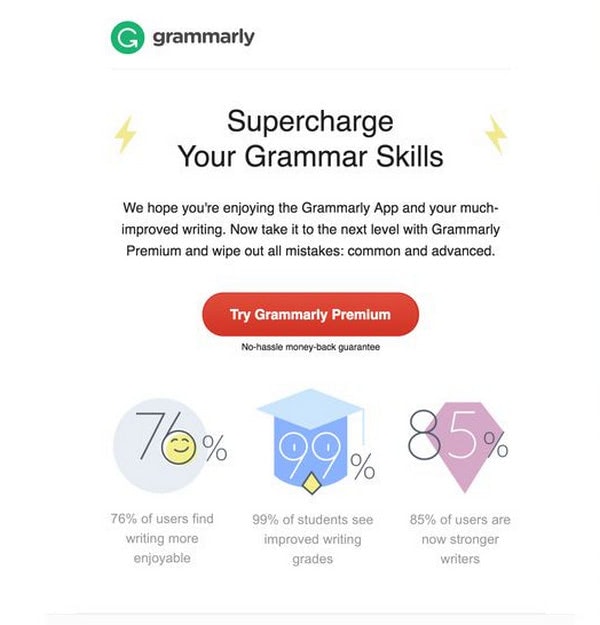 Supercharge Your Grammar Skills
Offer a Free Version
One of the best practices for re-engaging churned subscribers is to invite them to use a free version of the product. This will give them some time to reconsider the decision. Explain the difference between free and premium plans as well as display the best features to show the value of the product.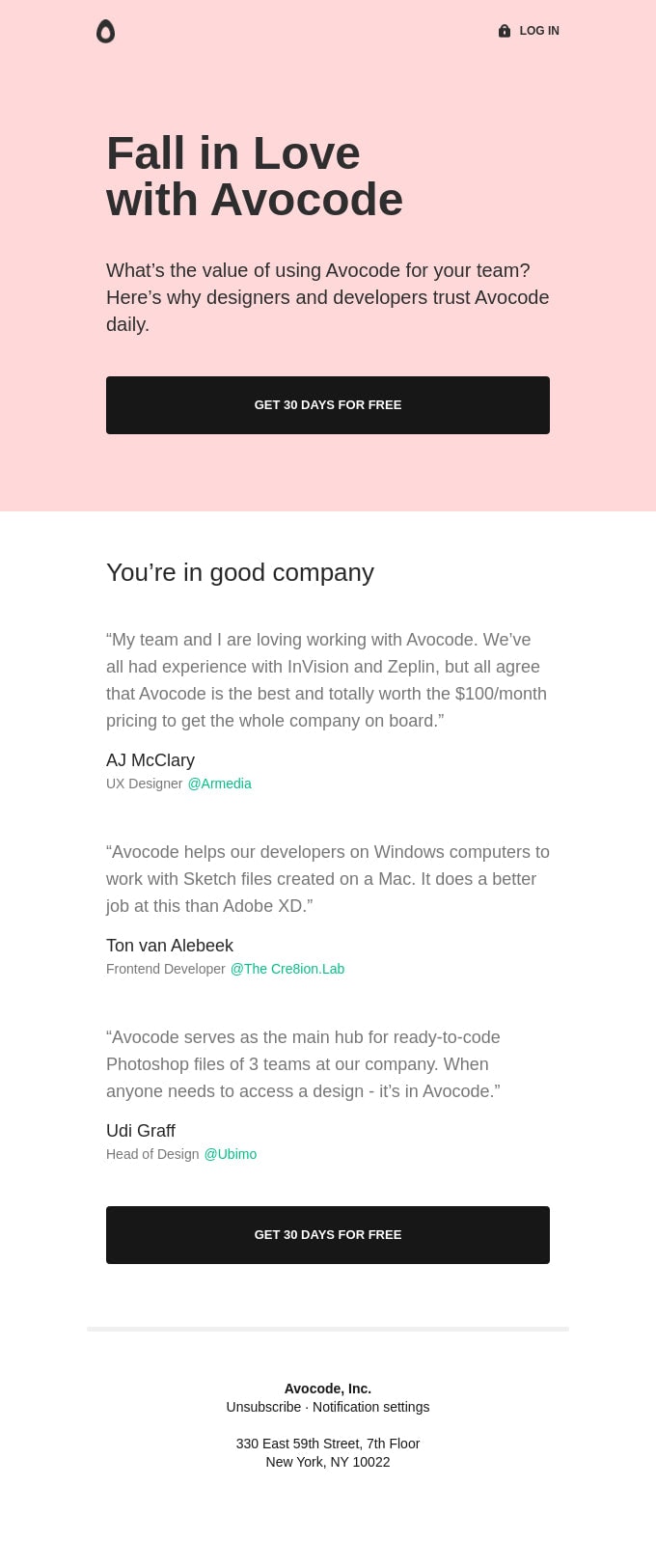 Drum Up Interest with Future Improvements
If you plan to improve your product or website, you may ignite the interest of subscribers by hinting about that. One of the main reasons why people churn is buggy service and lack of functionality. This tactic targets all groups of contacts since it shows your brand from the best side. It encourages clients to follow the updates to see whether the new feature or functionality will make their life better or not.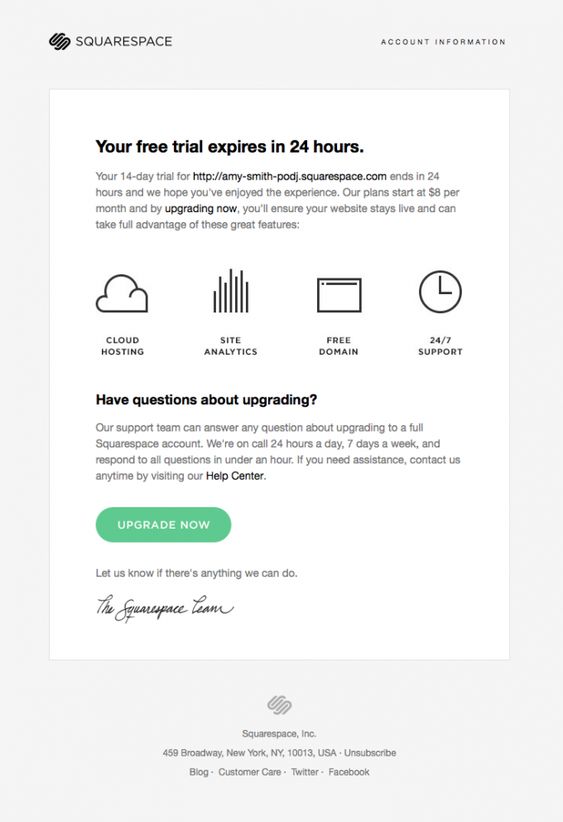 Cancellation email from Squarespace
Encourage Contacts to Subscribe to Blog Updates
Although churned customers do not have any interest in your product, they may still have an interest in your brand. To not lose touch with your potential market, you can offer them to subscribe to blog updates or invite them to follow you on social media. Use it to nurture them with some valuable content such as free educational resources and tools.
This strategy encourages customers to keep your brand in mind. If something changes, they can quickly get back to you since your company will be the first thing that springs into their mind as a reliable partner that advocates their interest.
Importance of Letting Customers Go
Not all re-engagement emails prove to be effective. Like it or not, but some fences cannot be mended. Therefore, be ready to say good-bye and let churned customers go.
Even if a customer leaves you, he or she can reconsider the decision and get back. There is a protocol on how to stay friends no matter what.
Show respect for their right to leave. Do not be pushy, bossy, or aggressive.
Send the last wishes through the Thank You email. Show your appreciation for using your product or website. Tell your customers that they can always come back since the door is open.
Ask for insight to learn why the customer decided to churn. People love to have a say. You can create a survey or ask for simple feedback. This information will help to improve your product, strategy, and brand. Make it a one-click survey and never hide a cancellation button.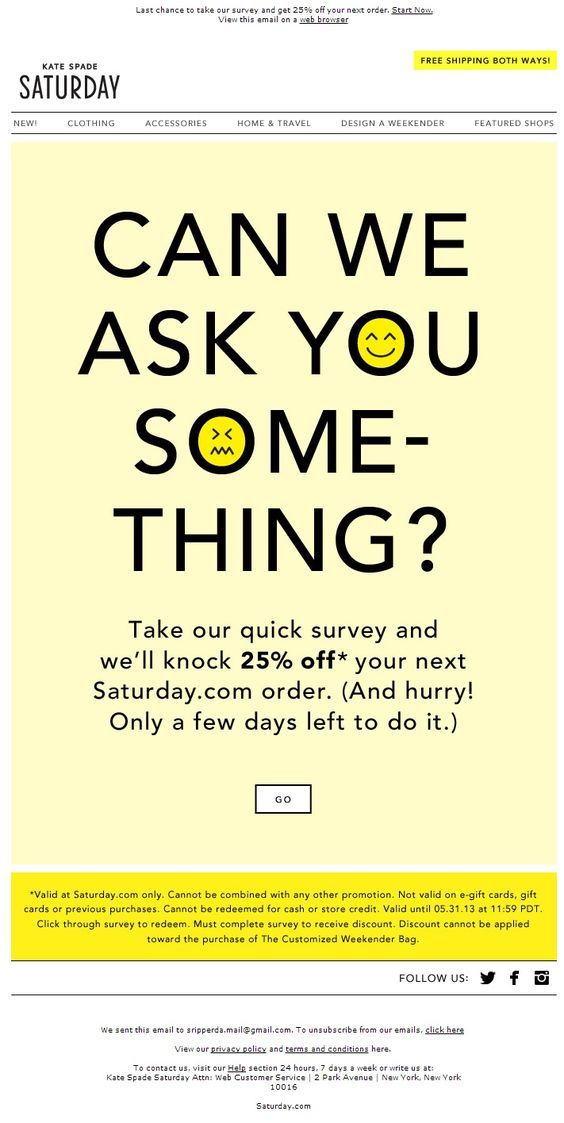 Accept the fact that the contact is leaving. Remember, not all customer attrition is bad. Customers who are not interested in your brand may ruin your reputation with SPAM flags that lead to a bad email sender reputation and low deliverability rate.
The golden rule of all successful email marketing campaigns is the healthier the subscription list, the better. Clean up the subscription list regularly and let customers go to save your brand and work with those who are really interested in your company.
Prevention Measures to Reduce Churn Rates
Never take your relationships with customers for granted, whether they have just onboarded or they are with you for several years in a row. Every customer may churn. There is no exception. Even the most loyal ones cut off all ties. This leak is inevitable. However, you can slow it down and reduce churn rates by introducing some preventive measures and capitalizing on the retention.
As a rule of thumb, do not to wait for the moment of attrition. It is vital to act right from the beginning. According to statistics, the churn rate is the highest during the first week. To reduce the early-stage attrition, focus on several important things:
Onboarding. Make it simple yet effective. Help your users understand the value of the product right from the get-go. Use product tours, tooltips, and videos to explain the benefits of the product and provide instructions.
Welcome Email. Make it big, impressive, valuable, and personal. One of the best practices is not just to say Thank You but also to provide some discount or shopping incentive. On top of that, you can advocate the features of the product to reinforce the impact.
Educational Material. Use various mediums to explain to customers how to make the most out of the product. Use videos, written tutorials, guides, and even online conferences.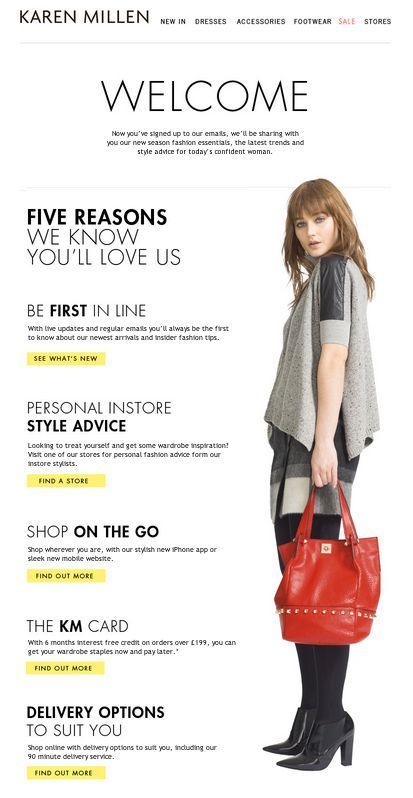 Welcome Email from Karen Millen
Retention is another vast area that stands behind every successful company.
Cancellation newsletters prove to be effective when used in collaboration with other types of email. All the campaigns in email marketing are interconnected. If you continuously send out Thank You emails and re-engage subscribers who show the first signs of disengagement, then the cancellation newsletters will reach their destiny effortlessly.
So what should you do? Follow these best practices for email marketing campaigns:
Regularly acknowledge the worth of your customers using Thank You emails.
Always apologize and say Thank You for being patient.
Make it personal. The customized approach works better than the generic one.
Do not miss the customer's Birthday.
Show your gratitude on every holiday. Whatever season: summer, winter, autumn, or spring, each one has its beloved festive that people are waiting for. It can be a funky Halloween, magical Christmas, or Valentine's Day. Use them to set a festive mood and strengthen relationships.
Celebrate the progress of the subscriber with customer appreciation emails.
Keep customers happy. Treat them like family. Adopt a personal touch with every client. Send "Hi" or" Thank You" without any particular reason.
Reward users for engaging with the product. You can use a tier-based reward program or acknowledge it with some special gift, free resource, or even discount.
Engage outside the product. Use email marketing, blog, and other social media channels to contribute to your relationships with the clients and make them strong as ever.
Send inline surveys in email newsletters to get feedback.
Send swag to your most happy customers to delight them. Reciprocity always goes a long way.
Act swiftly. Monitor all the complaints and treat them with respect.
Promote annual contracts. Annual contracts give you a long time frame that you can use to prove the client value of a product. What's more, instead of continually renewing their subscription, they need to take one decision per year. It is here where you can pull all the stops to make it work in your favor.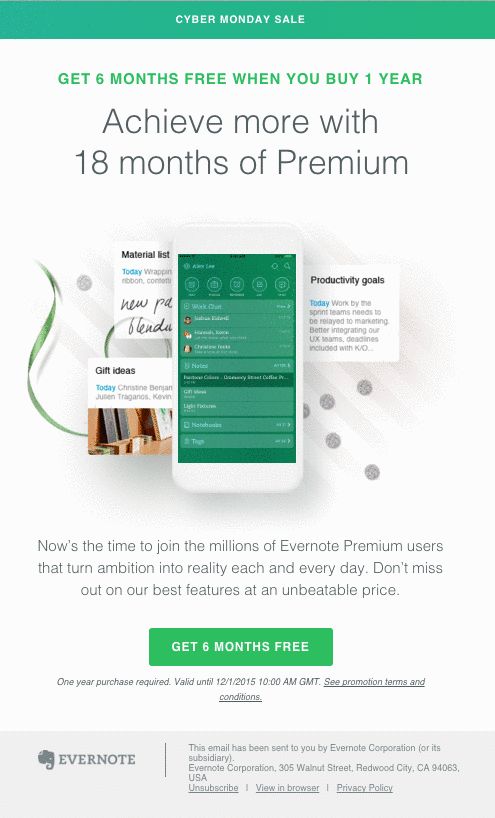 Be proactive. Communication plays a crucial role in retaining customers. It is here where you need to use all the tools in the email marketing arsenal. Consistently talk to your customers and create surveys on the websites to understand what they want before they even think about canceling. Do not make surveys long. Not everyone is ready to spend time answering questions, especially when it comes to fresh subscribers. Make them short and sweet.
Let canceled customers havetheir say. Ask them what you can do to make the product or service better. Of course, you cannot please everyone. However, if the vast crowd supports this concern, then it is time to reconsider your functionality and make improvements.
Use custom design. Personalization is a huge thing these days. It affects all the elements of email marketing including the design. Although many brands prefer minimal approaches, still without rich HTML and CSS solutions, you cannot do. Like it or not, but every newsletter should have a brand item and brand coloring. If you experience problems with creating fully responsive emails, you can always address this issue to professional HTML newsletter builder, Postcards.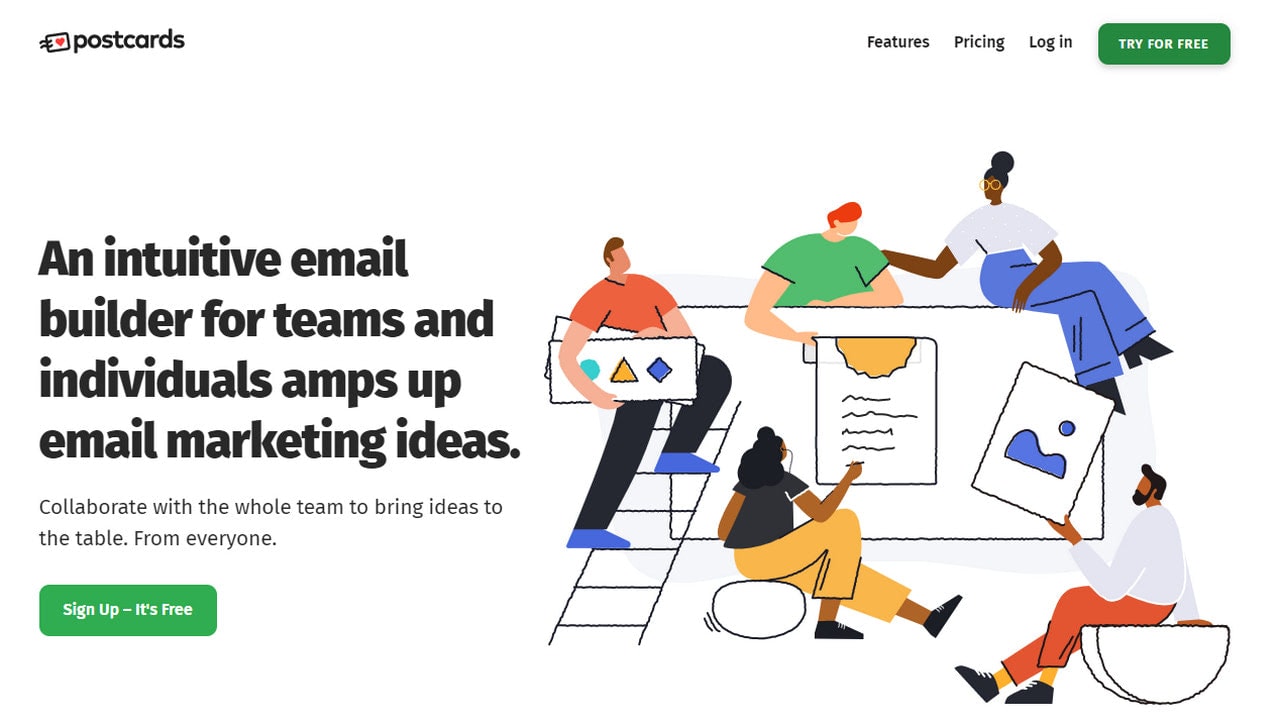 It is a handy instrument where you can create cancellation newsletters within minutes. The great thing about it is that you do not need any coding and design skills. It has an intuitive playground with a bunch of pre-made modules and interactive features to meet the expectations of the pickiest crowd.
Subject Lines for Cancellation Emails
Unlike the traditional promotional newsletters that you send out on Black Friday or Back-to-school sale events, cancellation newsletters do not give you freedom of choice. As a rule, the subject lines in this area boil down to simple "Subscription Cancellation." However, such generic pitches never get a proper reaction. It is here where you need to be smart and witty. The way out is to make things a bit interesting. For instance:
You can use puns and emojis. They help to establish a friendly atmosphere, add emotions, and even unobtrusively convey a sense of urgency.
If you plan to win the customer back with an offer, you can announce it in your subject line right away. Even the smallest shopping incentive can make a difference
You can spark interest with some mysterious update.
You can highlight the time frame to play an urgency card.
Consider some real examples of subject lines for cancellation emails to get inspiration:
Your Pandora Premium Cancellation. Achieve More with Premium
Your HubSpot account will be deactivated in 30 days
Your DocSend Cancellation Request
Uh oh! Your Hulu subscription has been canceled
Your account has expired! Try a deluxe subscription!
The key takeaway. Include the company name, since it helps to cut through the noise of similar pitches.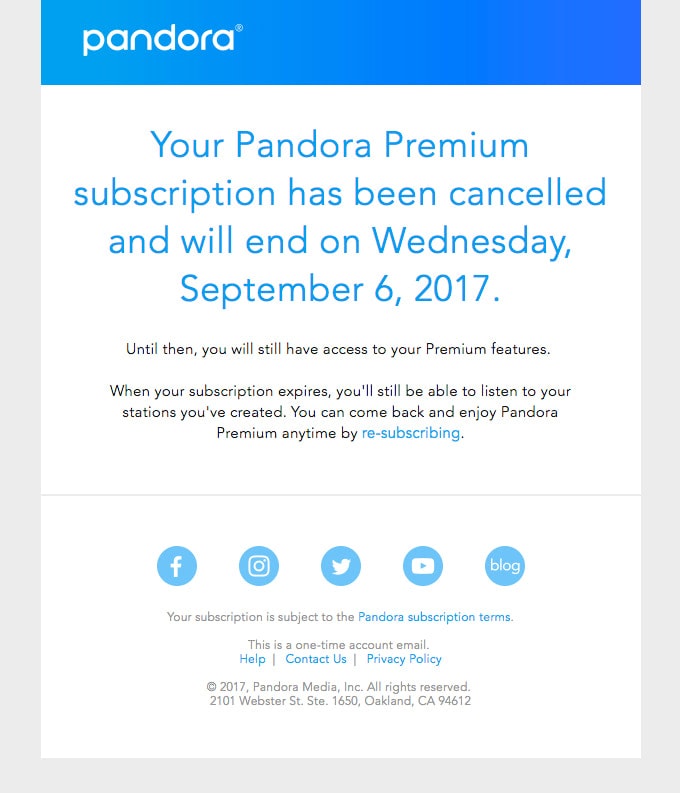 Premium Account Cancellation from Pandora
Collection of Cancellation Email Examples
We are going to start our collection of cancellation email examples with some classics since everyone gets such kind of newsletters. Despite their banality, they do the job perfectly well.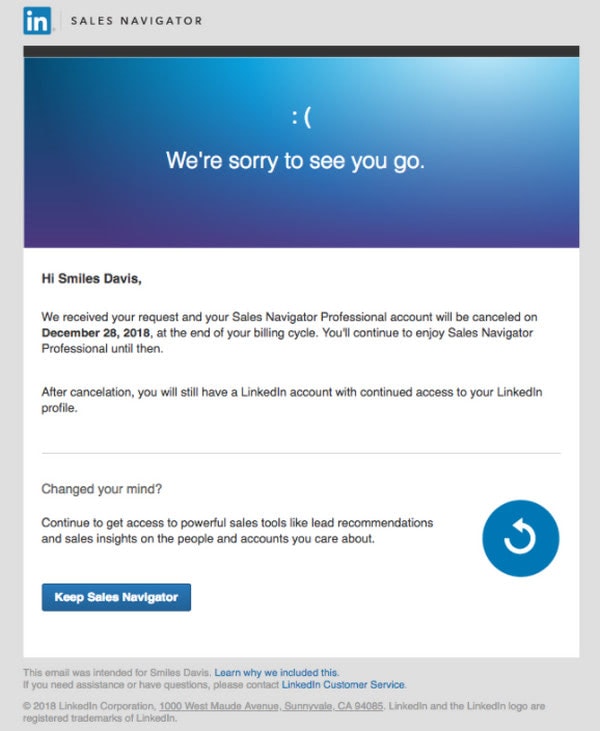 The team behind Sales Navigator was inspired by the power of plain text formats to make the correspondence feel personal and approachable. The team used HTML and CSS to create a mobile-friendly layout, add some color to the design, make the call-to-action pop off the screen and underline the "We are sorry" phrase. The rest of the design is just pure text that looks like a personal message from the CEO of the company.
As a result, the email has a brand-centric elegant design with a strong personal vibe.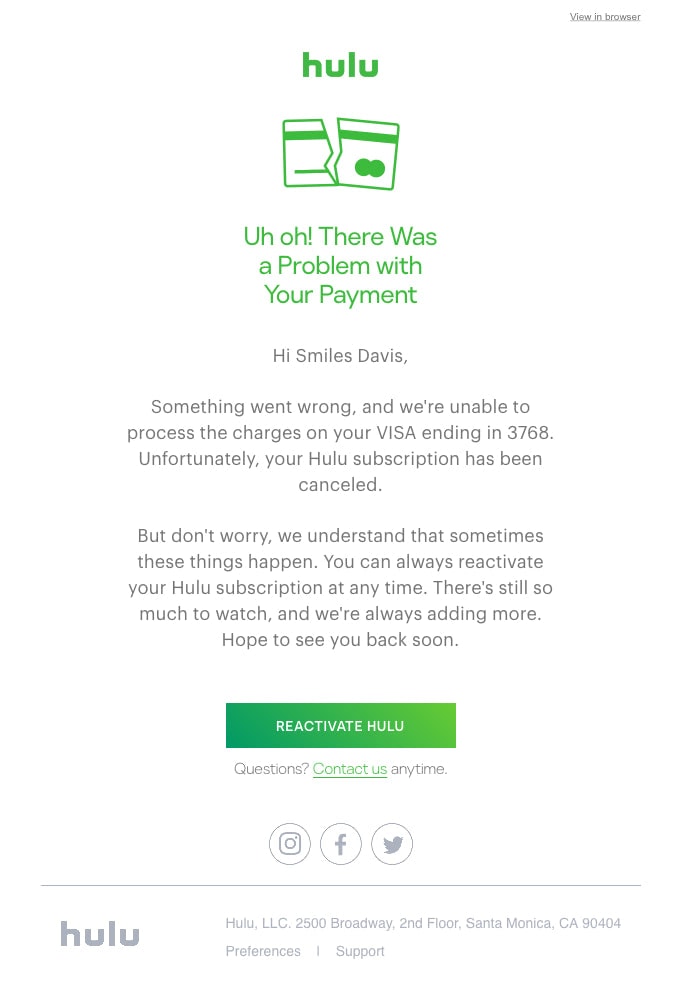 Your Hulu subscription has been canceled
The cancellation email example from Hulu maximizes on the same approach. They have combined plain text with rich HTML. For instance, they use HTML and CSS to make the header of the newsletter advocate the brand, and the CTA button looks impressive and clickable.
Again, we can see how the team strongly relies on the personal approach to drive home the proper message.
Note the message. The company says that they have experienced problems with the client's card. However, they do not put the blame on the contact. Instead, they invite him to get back. On top of that, they have also mentioned that they continuously add interesting stuff, thereby trying to rekindle interest.
Simple yet effective.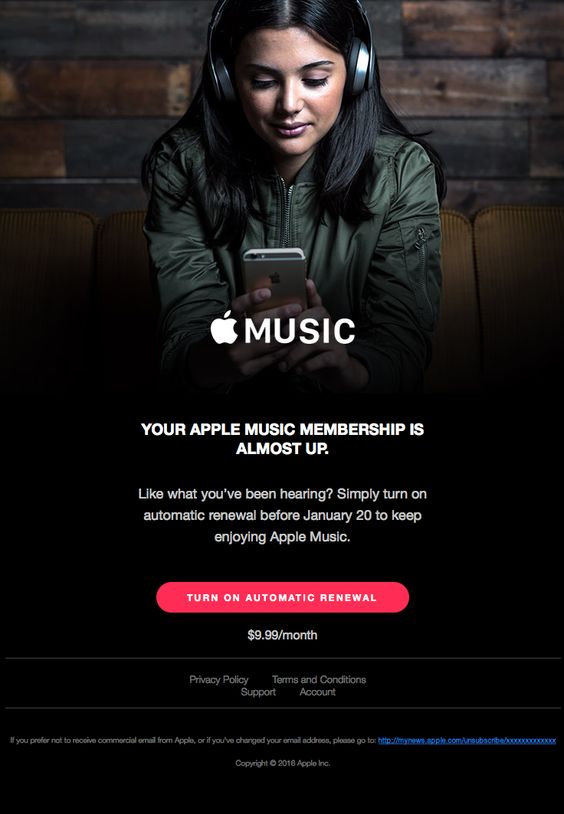 Your Apple Music membership is almost up
The cancellation email example from Apple looks incredibly stylish and provocative. Thanks to the rich HTML approach, it feels like a professional poster that speaks on behalf of the brand.
Unlike the previous campaigns, here, the team tries to catch those clients whose subscription has not expired yet. The message is straightforward and ipso facto effective. There are no hidden tricks, only valuable content about the contact's account, and call-to-action that finishes off the design. As you can see, the team utilizes the inverted pyramid technique. It works here very well.
Finally yet importantly. Compare and contrast it with others. Does not it look fantastic? Thanks to the stunning poster-like look, it naturally stands out and makes the message powerful.
To give your cancellation email the same fashionable vibe, you can use Postcards that have a ton of field-tested components made with modern trends in mind. Just assign a background image through the customization panel, add logotype, text block, a footer with navigation links, and eye-catching call-to-action. That's it. You are ready to win over churned subscribers.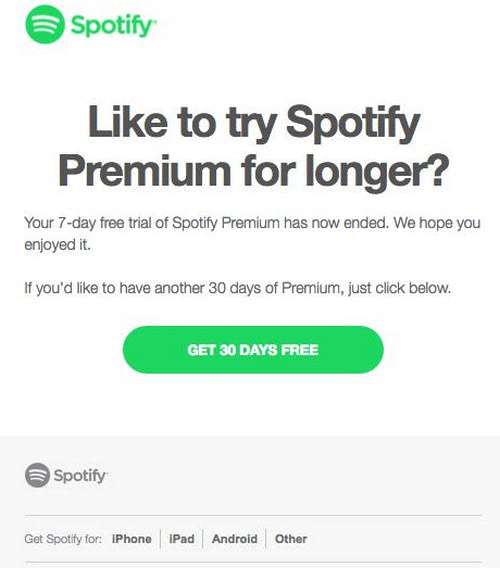 The cancellation email example from Spotify, much like one sent by Apple, is all about encouraging contacts to renew their membership. Though with one small exception. It reaches the contact when the subscription is already expired.
Again, we can see the same approach: minimalistic design with a bold header, eye-catching call-to-action, compact footer with just essential links, brand items, and short yet straight-to-the-point message.
There are several focal points:
A logotype that stands in stark contrast to the background and instantly identifies the origin of the newsletter.
The huge header uses the question to ignite the interest of the subscriber.
A button with action words and shopping incentives.
The newsletter is exceptionally minimal, yet smart and effective in terms of re-engaging subscribers and bringing them back on track.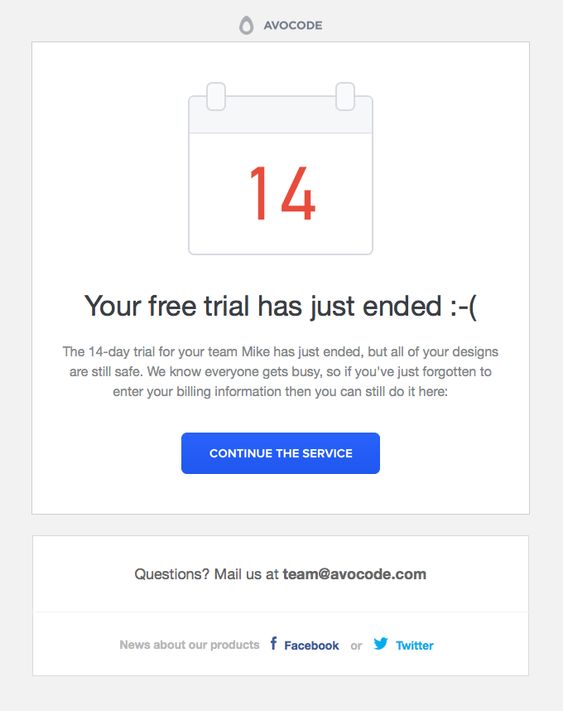 Cancellation email example from Avocado
The cancellation email example from Avocado is clean and straightforward. The content is displayed with the help of the inverted pyramid principle; therefore, it reaches the destination without much effort.
Much like the majority of cases in our list, the team gets the most out of a compact design where all the essential details are displayed right away. No hustle, just several critical elements with call-to-action providing quick access to adding billing information. That is handy.
Note one important thing. The team added a small block with an email address for those who have questions. This way, they make the company closer to the clients by showing their eagerness to provide personal assistance in any matter.
Conclusion
Communicating with customers at different stages of the lifecycle is crucial for a successful business. Cancellation emails are no exceptions. They do not exist in a vacuum. Although they were designed to serve as a mere response to user attrition, nevertheless, they are still valid players.
Much like re-engagement emails, they can win customers back, reduce churn rate, and maintain healthy relationships. When done right, they can do magic. For this magic to happen, they require support from other campaigns, especially those that nurture clients like customer appreciation email campaigns.
Therefore, follow best practices and build cancelation email campaigns along with the others to maximize the overall effect.
Like what you're reading? Subscribe to our top stories.