Freshping knows that a 1 second delay in loading your site causes a 20% drop in conversions. It is serious about tracking crucial aspects of every website, uptime, and notifying the IT team just in time to fix the bug and save fragile relationships with leads.
Freshping is not a big name like Pingdom, nor is it increasingly popular. Nevertheless, it has a loyal target market. Many startups and small DevOps teams find it useful to monitor a website at set intervals from multiple locations to detect an outage or degraded performance and resolve an issue before customers notice. Among the platform's main features are:
Monitoring multiple ports and protocols, including Web Sockets, TCP, ICMP Ping, and DNS.
Monitoring of response time and SSL certificate.
Monitoring of a specific status code or a string in a website.
Monitoring of critical web resources through custom headers.
Monitoring from 10 different locations across the globe.
On top of that, the platform has a reliable alerting system, offers a productive collaborative environment, integrates with popular services like Slack and Zapier, and allows building status pages and badges.
To summarize, Freshping has a basic monitoring functionality inherent to products in this niche. However, what if you need more? What if you need to inform your team about the blackout or an error through Telegram or phone? What if you need modern features in your status page to support the brand identity and maintain transparency in your relationships with customers during scheduled maintenance? Freshping might not be the best choice, then.
Taking a moderate approach to meet the most popular use-case scenarios, it lacks some functions or presents them poorly. However, it's not just that reason that makes many developers hungry for an alternative. Unfortunately, Freshping has shortcomings. For instance:
An intricate interface that can be hard to handle to get the most out of the service.
Poor status page builder.
The occasional troubles while integrating with other services and platforms.
The occasional appearance of false positives.
If you seek Freshping alternatives, we are here to help you. We have compiled a list of the best Freshping alternatives in 2023 to give you the facts you need to make an informed decision. Whether you want to switch to a better monitoring tool or examine possible solutions, our picks will give you a head start.
No-Code Email Template Builder
With Postcards you can create and edit email templates online without any coding skills! Includes more than 100 components to help you create custom emails templates faster than ever before.
Best Freshping Alternatives for 2023
Pulsetic – Our Choice for the Best Alternative to Statuscake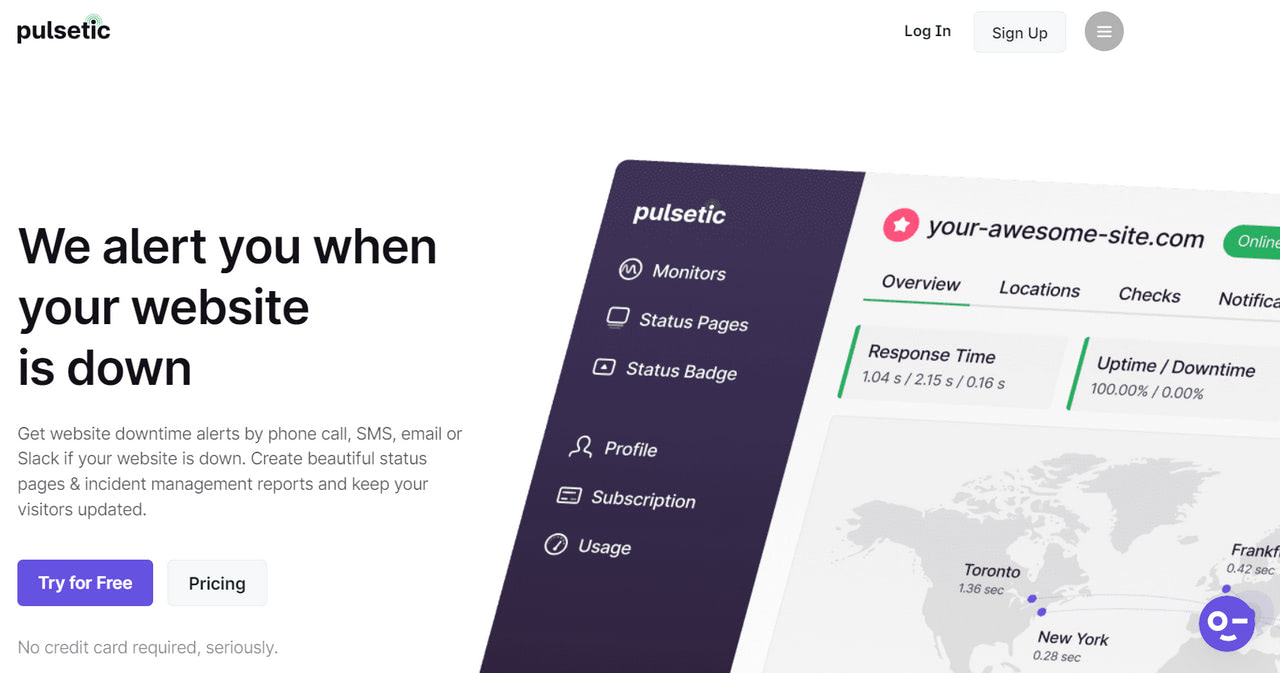 Designed to address the challenges of startups, mid-sized businesses, eCommerce projects, and SaaS, Pulsetic is among the most popular Freshping alternatives. It offers basic functionalities spiced with extra features and an increasingly responsive support team. Their suite of products includes:
Monitoring uptime, downtime, response time, SSL certificate, and other crucial system units and aspects.
Multiple international data centers to localize outages, avoid false positives, and ensure efficient work of the platform across the Globe.
Regular regional reports.
The powerful status page and badge builder.
Diverse alert variability and integrations with popular applications.
Pulsetic has simple pricing that starts at $9 a month. This allows five teammates to work on a staggering number of websites, 50. They can track the availability of projects with minute intervals from five different regions across the World.
For $39 per month, the company may quadruple its possibilities and get some extra perks like integrating with Twilio and SIGNL4 or creating password-protected status pages.
The business plan that covers all premium features costs $60 monthly. It allows companies to enjoy the full potential of the platform.
The platform also has an excellent free tier. It gives everything solopreneurs, small startups, or hobbyists need. For instance, it allows ten websites to be monitored with a 5-minute check interval. The platform will notify about downtime through email, Slack, Telegram, and Webhook. Plus, customers may create fully customized status pages to inform their users.
DownNotifier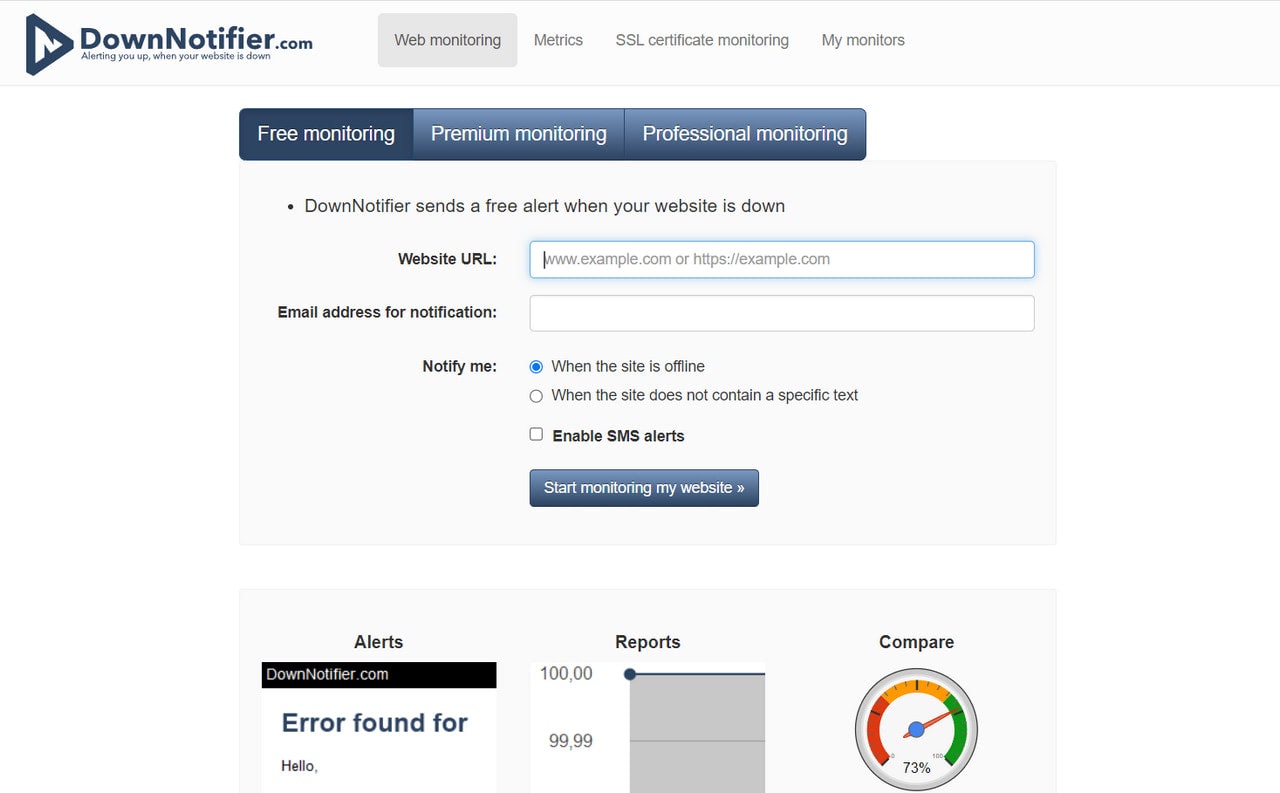 DownNotifier takes an increasingly minimal approach with uptime monitoring. You will not find sophisticated capabilities to check out specific units or devices of the website environment, nor extra functionality like a status page builder. However, if you are up to rigorously tracking the availability of your web project and getting a notification when the website is down immediately, then this is your guy. No hassle, no complex dashboards, no huge bill checks.
DownNotifier allows users to do several basic tasks:
Monitor uptime and SSL certificate.
Create a graphical overview of data received through their API.
Generate comprehensive reports.
Send alerts by email or SMS.
It is enough to meet the basic needs of the majority of small and mid-sized businesses.
The platform's prices are the lowest in the market. The starter plan costs just $14.95 per year. This allows you to monitor up to 10 websites at 1-minute intervals. The professional plan will set back the company $99, also billed annually. It doubles the possibilities and opens some extra features like alerts in WhatsApp, 500 SMS credits, and a week of complete monitoring logs.
There is more. The platform has a free plan. It allows for five websites to be monitored at 10-minute intervals. Plus, customers get access to a 14-day trial of premium features.
Alertra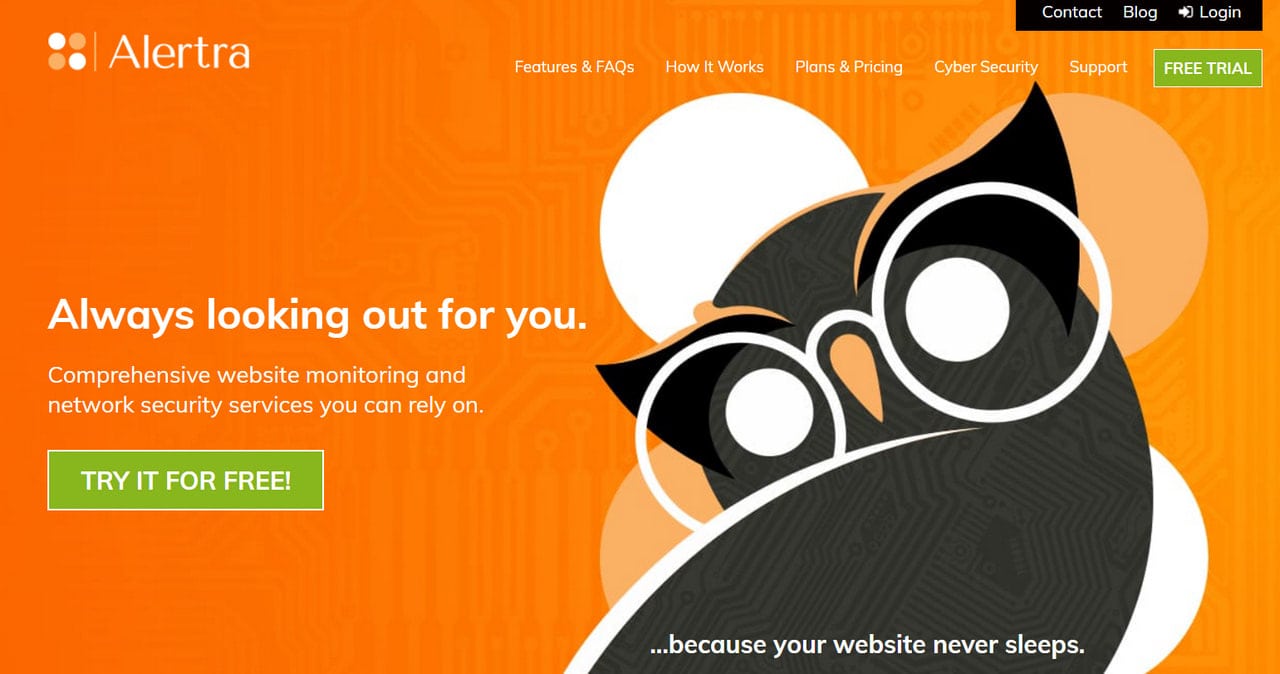 Alertra is another oversimplified uptime monitoring instrument that is one of the most time-proven Freshping alternatives. It was explicitly designed for those who need to check their website system's performance regularly and get notified via multiple channels when downtime or error strikes. Its main features are the following:
Monitoring of uptime and downtime.
Monitoring of multiple popular services: HTTP, PING, TCP, SMTP, POP3, IMAP4, TELNET, SSH, DNS, NNTP, FTP, MySQL, and Custom Script.
Notification through three primary channels: email, phone call, and SMS.
A global network of independent nodes.
In this market for two decades, Alertra has a strong reputation for reliability, accuracy, and speed. However, it still has shortcomings. Since it sticks to an oversimplified approach, it lacks some fancy features inherent to Freshping alternatives, like a modern status page builder in Pulsetic or extra monitoring capabilities like in Hexometer.
Nevertheless, it is still one of the best Freshping alternatives that prioritize one task to do it perfectly. If you are a solopreneur or a small startup, you may undoubtedly enjoy its hassle-free environment and finely-tuned monitoring capabilities.
As for pricing, it is average in the market. It starts at $0.20 per URL for 60-minute monitoring. Sadly, there are no traditional tiered plans. There is a minimum monthly fee of $9.95 applied to every customer, regardless of configuration. Plus, teams are obliged to pay a fee for every SMS and phone call. Therefore, the final cost will be calculated at the end of the month.
As a workaround, Alertra's team recommends using a free trial account and figuring out the total cost to define whether the platform's pricing and conditions fit the client's budget.
Hexometer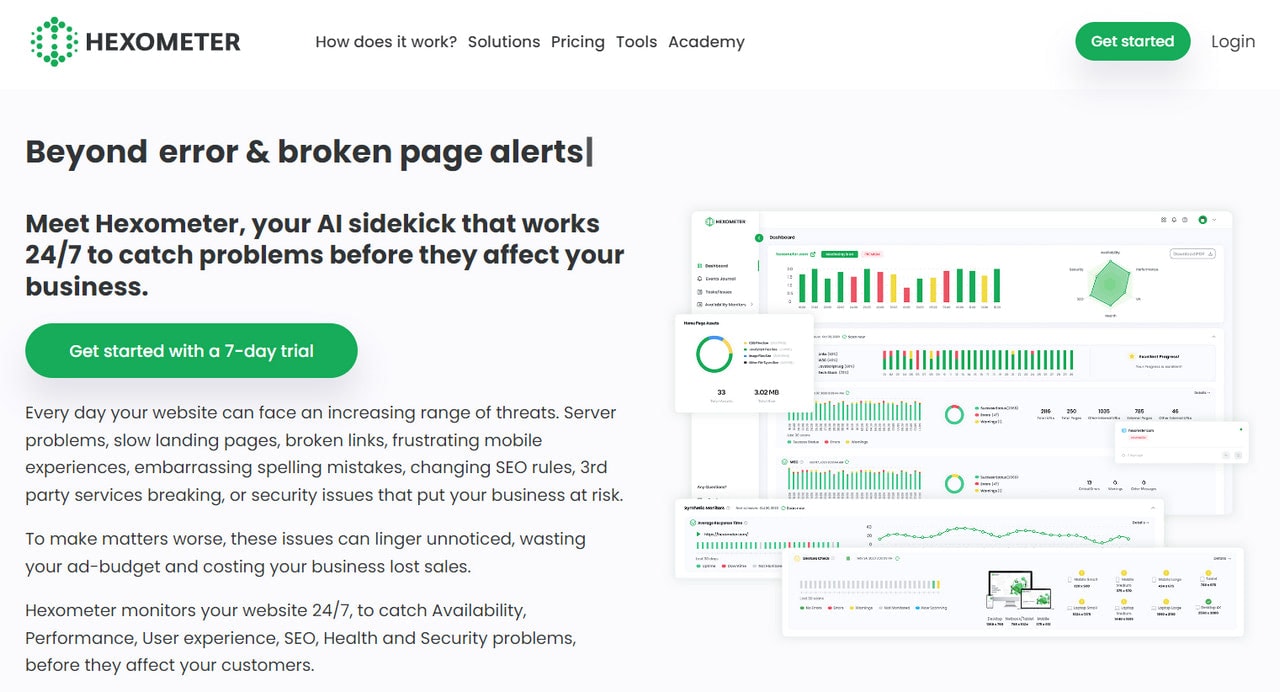 If simple and minimal solutions are not what you are looking for in Freshping alternatives, then you should check out Hexometer. It considers being a complex solution for monitoring tasks. Based on AI technologies, it tracks and analysis a website's performance 24/7, efficiently covering six crucial areas: availability, performance, user experience, SEO, health, and security. As a result, clients can get total control of every vital aspect of their web platform, from uptime and response time to email servers and CDN to 3d party services.
If a problem occurs, the platform immediately notifies the team about that using multiple communication channels. Their alerting variabilities include traditional email and SMS and popular options like Telegram, Discord, Slack, and Trello.
On top of that, Hexometer integrates with over 1000 apps via Zapier, Integrately, or SyncSpider, so customers can extend their capabilities and fine-tune their settings to meet their targets more efficiently.
As for pricing, expect it to be on the expensive side because the platform covers numerous use-case scenarios and provides a wealth of capabilities. The basic plan starts at $12 per month and allows only two websites to be monitored with a standard 1-minute monitoring frequency. On the bright side, companies get all the premium functionality.
The professional plan costs $24 per month, allowing for three monitored websites; the most advanced tier is $48 per month with five websites.
The good news is there is a free trial period. Companies have 14 days to try and test the potential of the platform before deciding whether it suits their current needs, targets, and budgets.
Pingdom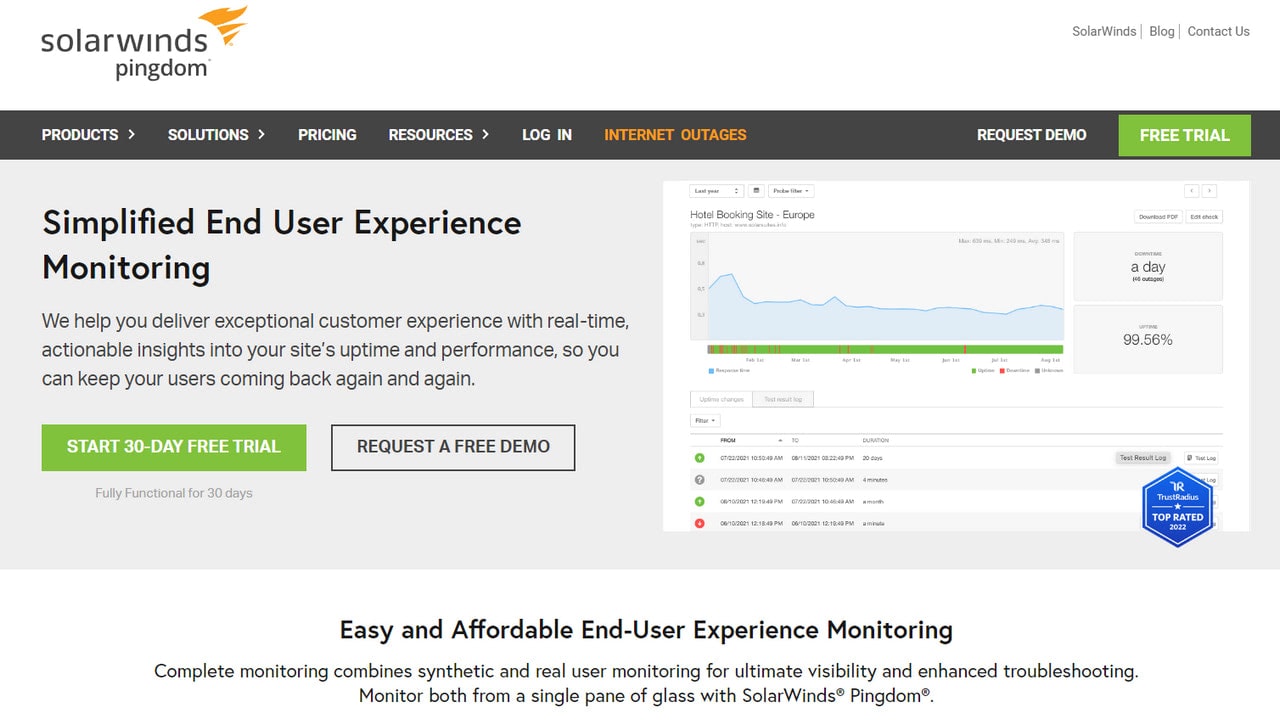 Much like Hexometer, Pingdom is a one-in-all solution for those seeking a fully-fledged Freshping alternative and some extra features to control the system. The platform comes with numerous features that you might appreciate. They are broken into four general categories:
Synthetic monitoring to track uptime, page speed, and transaction.
Infrastructure monitoring to get visibility into servers, virtual hosts, and other system environment units.
Real user monitoring to collect user behavior and experience metrics.
Application monitoring to get insights into the performance of the web solutions.
When it comes to synthetic monitoring, Pingdom also offers configurable alerting capabilities. Teams can add teammates, set roles, and tune the settings to meet their workflow so that the notification of an error or blackout reaches the right person instead of the whole group, thereby addressing an issue immediately.
There are three ways to get notified: email, SMS, and push notifications to Android or iOS devices. On top of that, the platform can be integrated with popular applications and web services like Slack, VictorOps, or OpsGenie.
Note there is no feature-rich status page builder, so take this into account. It might be a critical shortcoming if you are in eCommerce or SaaS niche.
As for pricing, be ready to spend some precious time figuring out the final price because Pingdom offers fully customized subscriptions. You must mix and match two basic types of monitoring and set preferable options. Expect to pay at least $20 per month because the minimal fee for each category is $10.
Conclusion
When it comes to those who seek uptime monitoring with essential features like incident management reporting or alerting variabilities, Pulsetic stands out from all Freshping alternatives. It perfectly fits the bill, providing the best value for its price.
For those who are up to just tracking website availability and getting notified about that, then DownNotifier or Alertra can be a suitable choice for you. They are both oversimplified solutions that provide all the necessary tools to cope with this task successfully.
As for those who need a fully-fledged Freshping alternative and even more, then Hexometer and Pingdom are platforms to try. They come with a range of capabilities to control the system completely.
Like what you're reading? Subscribe to our top stories.