Affinity Publisher is arguably the best Adobe InDesign alternative available today. But how good is this desktop publishing software? Can you replace InDesign with Affinity Publisher for professional work?
Today, we take a closer look at both Affinity Publisher and Adobe InDesign to find answers to these questions. We'll compare the best features and benefits of using these popular apps to figure out which platform is suitable for your needs.
The similarities between the two publishing software are uncanny. They basically offer the same set of features and tools but with just a few differences. Although, these differences affect your overall experience in a big way. That's what we're going to focus on in this comparison.
Without further ado, let's dive in.
What is Affinity Publisher?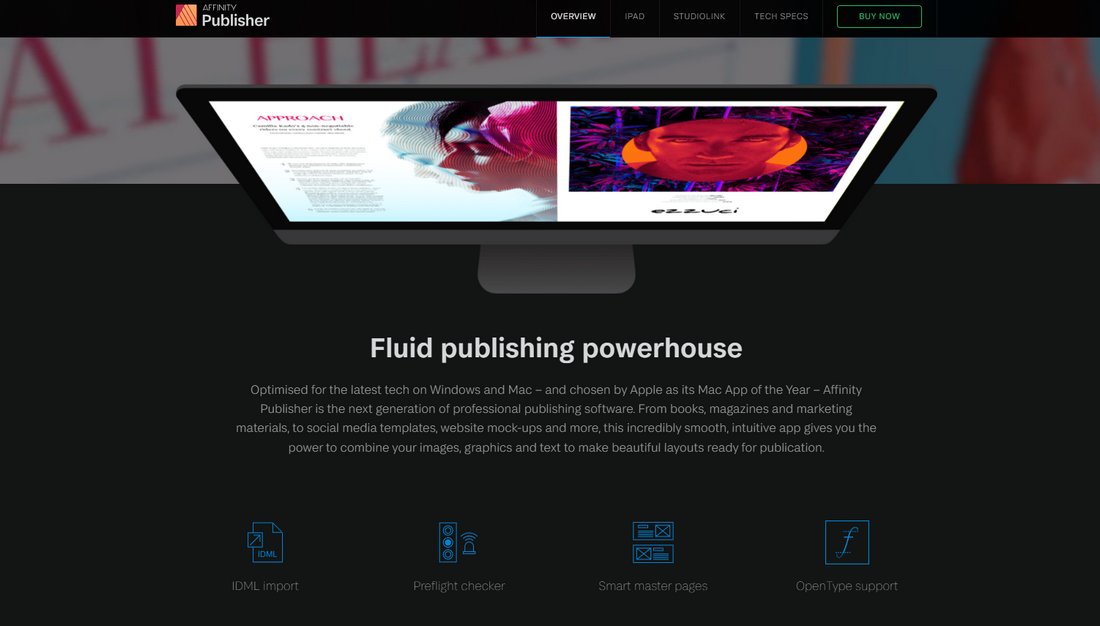 Adobe InDesign has been around since 1999 and it's still the most popular software for designing all kinds of publishing from magazines to business brochures, newspapers, and much more.
There hasn't been a worthy competitor for InDesign for many years. While many software makers came up with alternatives they were not as user-friendly or innovative as InDesign. That changed in 2019 when Serif officially released Affinity Publisher.
Serif has a suite of design software, including Affinity Photo and Affinity Designer, which are unbelievably good alternatives to Adobe Photoshop and Illustrator. Affinity Publisher follows the same path as a great alternative to Adobe InDesign.
Affinity Publisher has the same functionality of InDesign. It offers a complete set of tools for all your publishing projects. However, when comparing the two software, we came across a few pros and cons to using both apps.
User Interface & Ease Of Use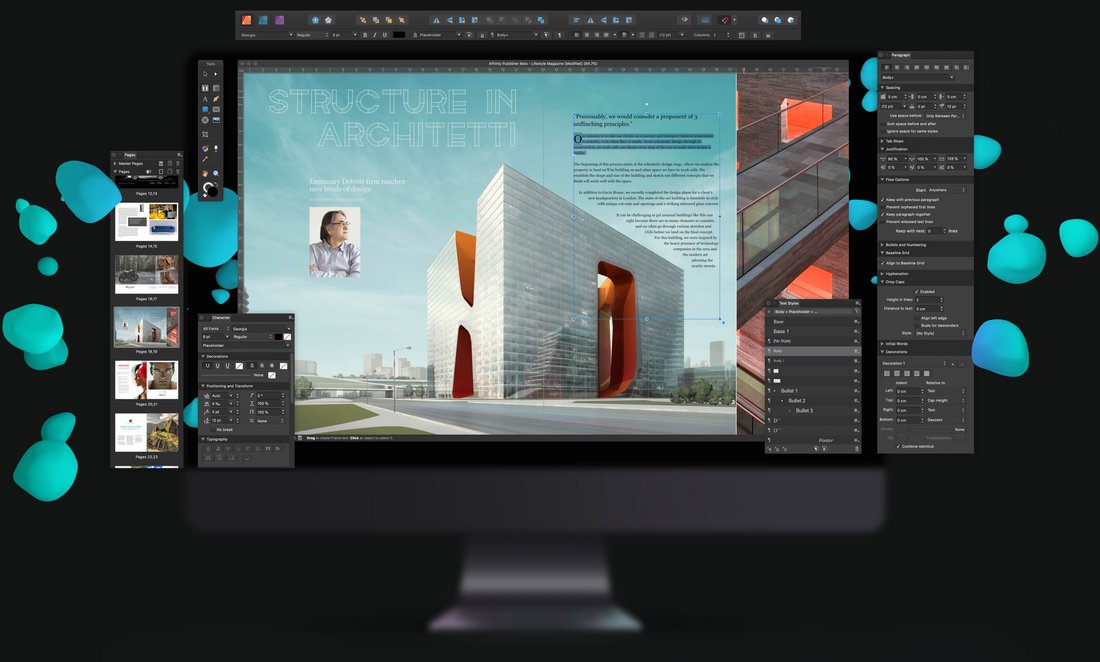 As a beginner, the ability to learn your way around software and get into a smooth workflow is very important. Most software are designed with modern user interfaces to offer the best experience to both beginners and advanced users.
This is one area where Affinity Designer takes a win, thanks to its intuitive user interface that features a simple tool palette with separate sections, windows, and a workspace that benefits all types of users. Even if you start using Affinity Designer without any prior design experience, it's very easy to understand how the software works.
The latest versions of InDesign follow the same path. But since the app packs a lot of different functions and features, the user interface could feel a bit too complex for beginners.
Go-To Choice Among Industry Professionals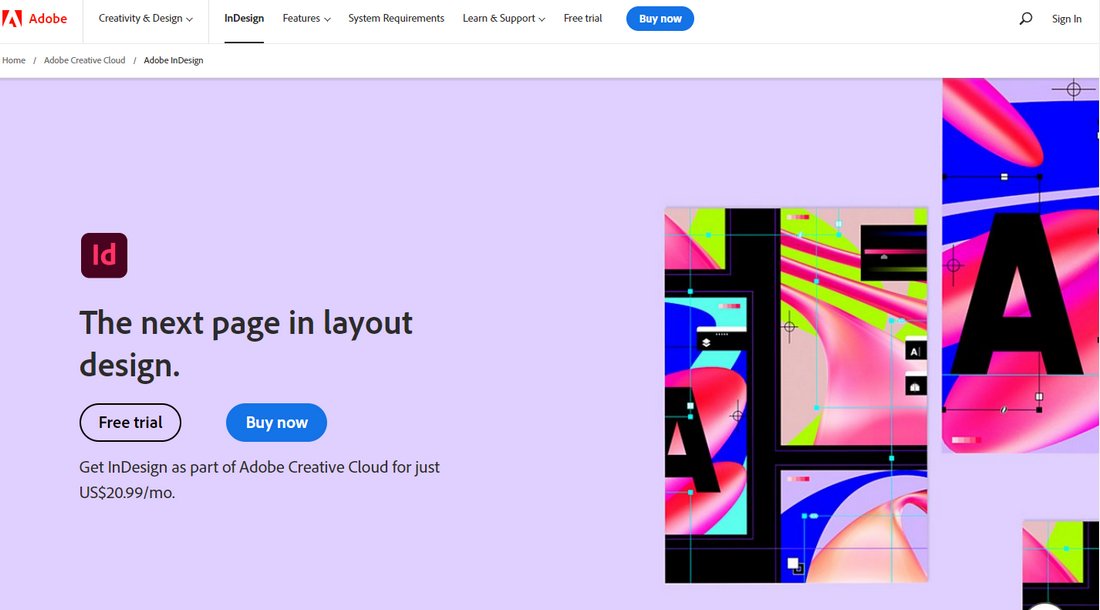 It's only been a few years since Affinity Publisher was officially released. Even though the software takes inspiration from all the good features and tools of InDesign, it is still a new player in the publishing industry. This is the biggest drawback to using Affinity Publisher.
When you're working in a professional environment, whether it's working in a team or sharing files with a client, file compatibility is key.
You and the other person have to be using the same software for collaboration. And guess which software is used by everyone and which one is unheard of?
You're correct! InDesign is still the most popular desktop publishing software. And it's the app used by all the industry professionals.
Better Performance & Lightweight Design
If you regularly work with long brochures, large eBooks, or newspapers, you know the importance of the performance of software and how it affects your workflow. The bigger the file gets the laggier your design software will be.
At least that's how it is with Adobe software, including InDesign. Unless you have an incredibly powerful PC, you will constantly feel the software lagging and slowing down.
This is not something you have to worry about when using Affinity Publisher. It consumes fewer system resources and runs quite fast on even low-end computers. In fact, the software only requires 4GB of RAM for the software to function.
Useful Design Tools for Advanced Users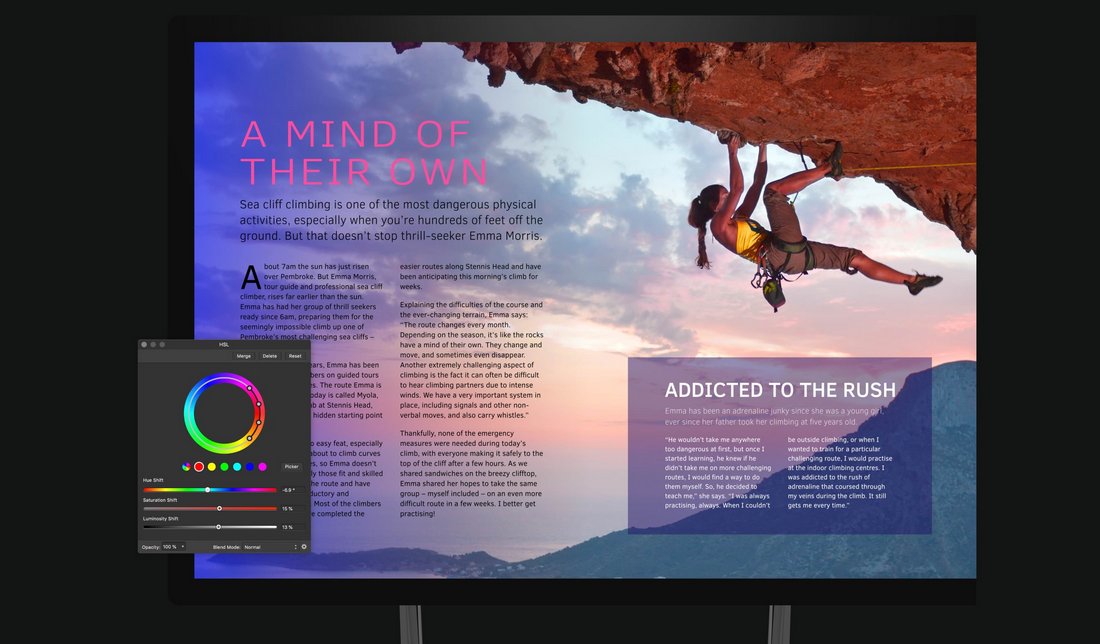 One area where Affinity Publisher excels is with its tools palette. Unlike InDesign, Affinity Publisher is not just a tool used for publishing print media. You can also use it for designing website mockups, branding designs, product labels, and even social media graphics.
The software also includes full color control with the ability to make non-destructive adjustments to images and photos without having to switch to a different graphic design app.
Pre-Built Templates and Resources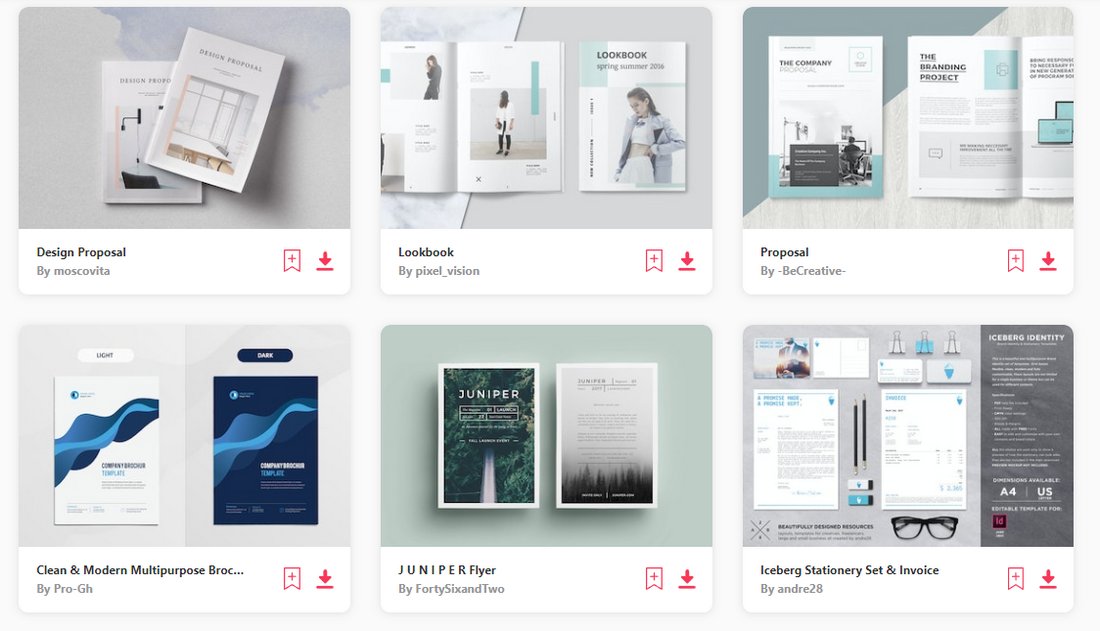 Being able to use pre-made templates is another important feature that has a direct connection to your workflow. With the right templates, you can create amazing designs in half the time and deliver professional results to clients.
You won't have to look far to find great-looking templates for your InDesign projects. There are thousands of InDesign templates out there for all kinds of brochures, flyers, magazines, and more.
We can't say the same for Affinity Publisher though. Since the software is new, its community is still growing slowly. You will find good Affinity Publisher templates here and there but there aren't as many resources as InDesign.
Support for Popular File Formats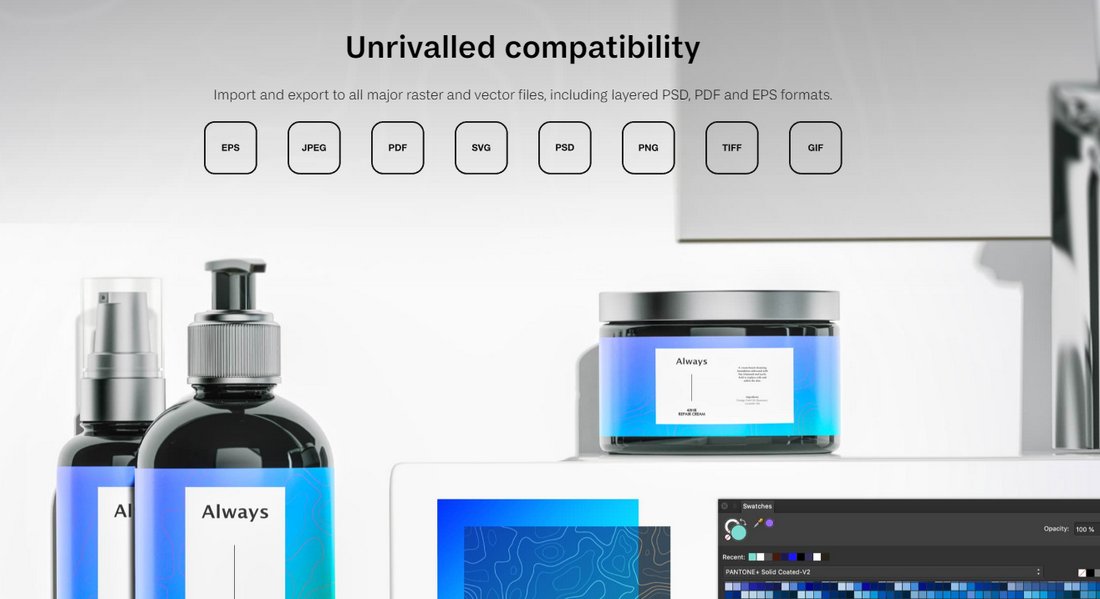 When designing beautiful magazines and brochures you'll have to work with all kinds of files from Photoshop PSDs to SVGs and even GIFs. The good news is that both software provides extensive support for all popular file formats. However, Affinity Publisher takes the lead here.
Affinity Publisher not only supports all popular file formats but also supports importing Adobe file formats such as PSD and even InDesign IDML format. That's right! You can import IDML files in Affinity Publisher and edit them.
However, this doesn't work the other way around. You can't import Affinity Publisher files in InDesign. And it's worth noting that Affinity Publisher does not support the new InDesign INDD file format.
One-Time Fee vs Subscription
In the end, it all comes down to how much it costs and the question is simple. Would you rather pay a one-time fee to buy and own the software? Or would you pay a perpetual subscription fee to have access to the software?
Affinity Publisher uses an old-school pricing model. You can buy the software by paying a one-time fee, just like in the old days. It only costs $54.99. You own the software and you will receive all future updates for free.
Adobe InDesign comes with a subscription-based pricing model. You have to pay $20.99 per month to access the software. If you cancel the subscription, you won't be able to use the software at all.
This is the biggest reason why most designers will choose Affinity Publisher over InDesign.
Affinity Publisher vs InDesign: Which Is Better?
So which software is better? Well, the answer to this question is simple. Adobe InDesign is still the better option, especially for professional work.
It is still the industry-leading software and has a large community with thousands of valuable resources, templates, and tutorials. If you're a business or working for a team, InDesign is the best option for you.
Of course, if you're a freelancer or working on personal projects, Affinity Designer is the ideal choice for you. It's affordable and easy to learn.
However, this may change in the near future. As Affinity Publisher gains momentum and gets the recognition it deserves, more people will consider using it instead of InDesign.
FAQs About Affinity Publisher
We really hope more people will discover how useful Affinity Publisher really is. So here are a few answers to frequently asked questions to help you learn a bit more about this software.
What is Affinity Publisher Used For?
Affinity Publisher is a desktop publishing software mainly used in the print industry for designing brochures, magazines, flyers, and newspapers. You can also use it for social media graphic design, branding designs, labels, and website mockups.
Is Affinity Publisher on iPad?
Serif, the developer behind Affinity software, is working on an iPad version of Affinity Publisher. A release date hasn't been announced yet but it's slated to be released soon.
Is Affinity Publisher Worth It?
Yes, Affinity Publisher is definitely worth its price given that you can buy it for a one-time fee and own it for the rest of your life. You also receive free updates as well. Whether you use it for hobby projects or professional work, Affinity Publisher is worth buying.
Does Affinity Publisher Have Templates?
Yes, you can find lots of pre-made templates for Affinity Publisher on marketplaces like Envato Elements. Even though there are just a few templates available right now, you can expect the numbers to grow soon.
Is Affinity Publisher As Good As InDesign?
Affinity Publisher and InDesign shared very similar features and functionality. And yes, Affinity Publisher is just as good as InDesign. In fact, the software performs better in some areas than InDesign. Although, since the software is still new, it's not the ideal platform for collaborations.