Do you know that a whopping number of emails sent daily go unopened and unnoticed? There are potentially millions of digital newsletters left unseen.
While open rates are increasingly low, the spam rates are dangerously high. Almost 70% of recipients mark emails as spam based solely on the subject line. It's an important aspect of any email newsletter; that's why we've collected the best and most effective subject line examples. You can use these to generate your own email subjects.
Marketers consider the subject line as the most critical part of every email:
Over 60% of recipients open emails based on the subject line.
Personalized email subject lines increase open rates by 50%
A question mark in the subject increases opens by 44%
Curious subject lines have a 22% higher open rate
As it turns out, the subject line of your email newsletter is that powerful.
This guide will consider why the email subject lines matter and provide actionable ways to create compelling writing for your next email marketing campaign. Plus, we will explore some fantastic real-life examples to see how it is done.
Why Is Creating Professional Email Subject Lines Important?
Why should you invest time, money, and human resources into the subject line when the lead magnet and conversion content are inside the email? If people do not like the subject line, they will ignore your email or, even worse, send it to a spam folder.
No-Code Email Template Builder
With Postcards you can create and edit email templates online without any coding skills! Includes more than 100 components to help you create custom emails templates faster than ever before.
Market preferences have shifted toward a personal approach and healthy, "warm" relationships. Forget about impersonal newsletters. No one likes faceless, "cold" emails in the inbox. Everyone wants to connect and see that companies care about them, not just the money they bring. A thoughtfully created subject line that establishes this much-needed connection helps to meet this need.
Another reason the subject line matters is that despite an obsession with social media, email marketing remains one of the most reliable and beneficial communication channels. As a result, prospects are literally bombarded with digital newsletters from brands they love. People get 10 to 20 new digital blasts daily. This number can be much bigger for some, including the average office worker, who receives 121 emails per day. Who has time to deal with that mass of content?
It comes as no surprise that people are getting picky, carefully choosing newsletters worth their attention. An abundance of email communication leads to tough competition. To win this fight, the subject line should promise value worth the user's time.
Due to the volume of emails people receive, it is getting more challenging to fight for a top place in the inbox. Your email may quickly reach the end of the screen. Even if you have a good relationship with a customer, your email may easily go unnoticed because this is not the most viewed part.
However, imagine what it could be if your subject line had the recipient's name. This may drastically change the situation because, from a psychological point of view, people love to see and hear their names. Like shapes in the text that our brain quickly picks up, customers may notice your email with their name in the subject line pretty much easily, even somewhere at the bottom.
There is more to the reasoning for creating a compelling subject line. Consider ordinary behavior – recipients spend just a fraction of a second evaluating email subject fields to filter out clutter. If your subject line does not catch an eye, it will be deleted immediately. Interest is a powerful motivation that marketers use to achieve success. Generating excitement from the first seconds is akin to a good first impression.
It is also crucial to note that people only see the subject line in their inbox, especially those who view email on phones. Like newspaper headlines, the subject line tells them enough to decide if they want to continue reading.
Poor email subject lines can even harm a business, potentially causing legal issues. According to the CAN-SPAM Act, inducing users to view an email message through a misleading email subject line is against the law. A survey conducted by Litmus and Fluent found that over 50% of recipients have felt cheated, tricked, or deceived into opening a promotional email. This is because the email subject line was poorly written.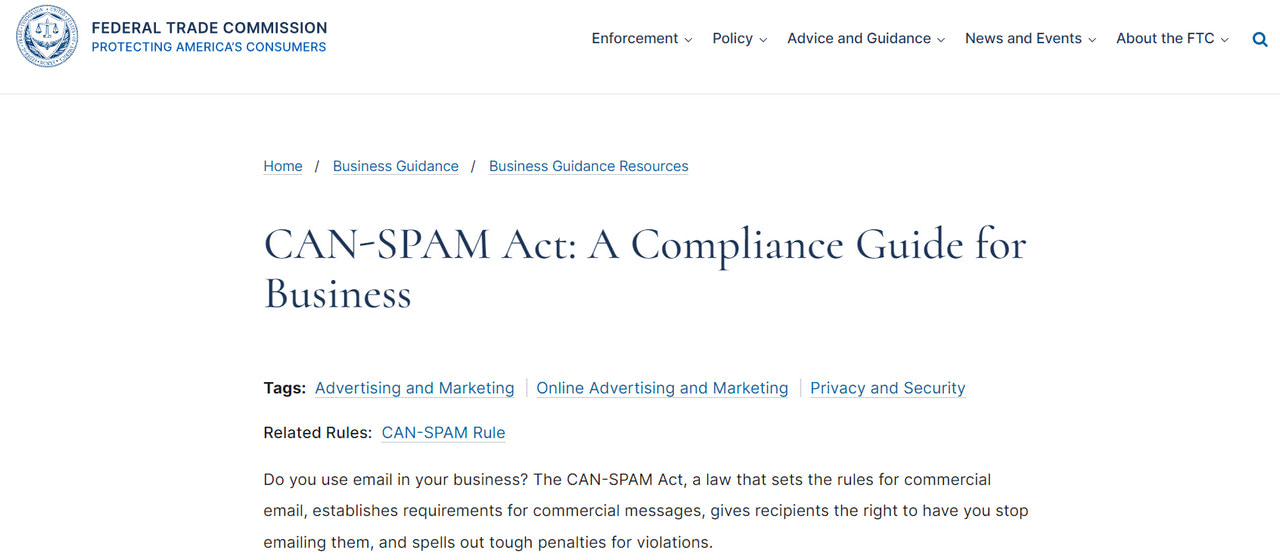 What Does an Email Subject Line Do?
The importance of the subject line becomes more apparent when you consider the range of responsibilities and capabilities it has and the benefits it brings to an email marketing campaign.
What can the subject line do?
It says what your message is about.
It tells people how important or urgent the message is.
It tells the reader what they should do with the email.
It tells whether the newsletter meets their needs or expectations.
It sets the scene and underlies a solid foundation for the lead-generation tactics used in the newsletter.
It ignites interest and drives excitement.
It motivates people to act quickly.
It delivers value within the first seconds.
It should perfectly fit the user's lifestyle. People prefer to scan rather than read; therefore, these 40-character tidbits are just perfect.
An effective subject line may benefit email marketing campaigns in these ways:
It avoids spam filters.
It increases open rates.
It decreases decline.
It amplifies deliverability.
It improves the effectiveness of email campaigns and achieves better results.
It builds trust.
It strengthens relationships with customers.
It reinforces the brand's reputation.
It fights inbox competition.
The most important thing to remember is that the subject line is a door to success. It initiates your email campaign. It gives you a chance to impress or persuade customers, letting the email marketing team work their magic and forward your business using the vast potential of the email channel.

Compelling email subject lines sent by Harry Potter Fan Club
How Do You Create a Professional Email Subject Line?
Email marketing campaigns come in all shapes and sizes. There are a slew to choose from, from cold eblasts to warm welcoming newsletters to abandoned shopping cart notifiers.
Let's define the fundamentals of what makes a compelling subject line.
It is short yet to the point. The goal is less than 50 characters.
It communicates the promise of value or delivers value right away.
It piques interest and drives engagement.
It meets customers' needs, preferences, or expectations.
It is personalized.
It is branded.
It captures attention.
It stands out from the crowd.
It is consistent with a promise in the newsletter content.
It is not pushy or overwhelming.
It can be funny or, vice versa, serious, but it certainly speaks the same language as your target audience.
It may include elements like urban slang or emojis in a way that supports the message.
It may include offers or discounts in a way that convinces the recipient that newsletter content will improve their life.
And most importantly, it does not mislead.

Festive email subject line
Best Practices for Creating High-Performing Email Subject Lines
There is no perfect formula for creating a subject line that guarantees a 100% open rate. But a well-thought-out subject line has a greater chance of being opened. It is highly recommended to take the subject line seriously.
Start with thorough preparations. Research top email subject lines to draw inspiration, learn some tips, and get insights on how it should be done. Build a strategy for creating a subject line for each target group. Finally, prioritize long-term customer relationships by choosing subject lines that bring value and reinforce this connection.
Then, adopt these best practices to create a compelling subject line.
Always be honest. Do not make promises you cannot hold in your newsletter and campaign.
Focus on good content and experiment with the five W's of journalism – Who, What, Where, When, and Why.
Provide an idea but do not reveal all your cards.
Give them the incentive to take action.
Inspire a sense of excitement by playing with innate Maslow's hierarchy of needs.
Retain humanity. Despite AI's popularity, people still look up to human interactions and subject lines.
Deliver value. Make it feel like there is something in it for them.
Make it hyper-personalized. The best practice is to start the subject line with the name. Then add a discount, address the pain point, or mention the product that the user has added to the wishlist.
Use emojis to add emotions. However, ensure they are appropriate for your audience, brand, and niche. Choose ones that are modern and relevant to the content.
Try psychological tricks. For instance, instill a sense of urgency or fear of missing out. Alternatively, you may create an impression that something is new, exclusive, innovative, or unique.
Use action words. "Take, grab, click, and get" are the words that may drastically influence the open rates according to Campaign monitor surveys.
Use powerful words. "New, join, congratulations, improve, last chance, offer, and sale" are also impactful.
Make it short, concise, and to the point. Stick to no more than 50 characters or nine words.
Highlight words to add importance. Use bold style or capitalization for that, but be cautious with exclamation marks.
Stick to the correct order. Feature the most important words right away.
Add numbers or digits to grab the viewer's attention instantly.
Ask a question to get your readers thinking.
Leverage pronouns to indicate relationships.
Afterward, ensure the subject line hits all the technical essentials. This means taking these steps:
Proofread the subject line to avoid grammatical mistakes and typos.
Do A/B tests. Testing subject lines on various segments of your audience is crucial to understand what solution, offer, and even words work best.
Check the subject line on different devices. The biggest issue is caused by cell phones that have a limited amount of space. Therefore, some content can be curtailed by mobile email readers. Use professional instruments like Unspam to ensure your audience sees what you want them to see.
The subject line is a crucial player in the email marketing campaign. It may benefit from an appropriately chosen time slot, frequency, and professional address featured in the email's "from" field. It may capitalize on thoughtfully created pre-header text and win from open rate-maximizing tactics, high deliverability rate, clean and engaged lists, and wholly-grained targeting.
Finally, it may look more trustworthy over time with high-effective newsletter content. Therefore, use professional tools like reliable email-sending platforms to run campaigns and tools to create email design that fits the subject line, like Postcards, to maximize effectiveness.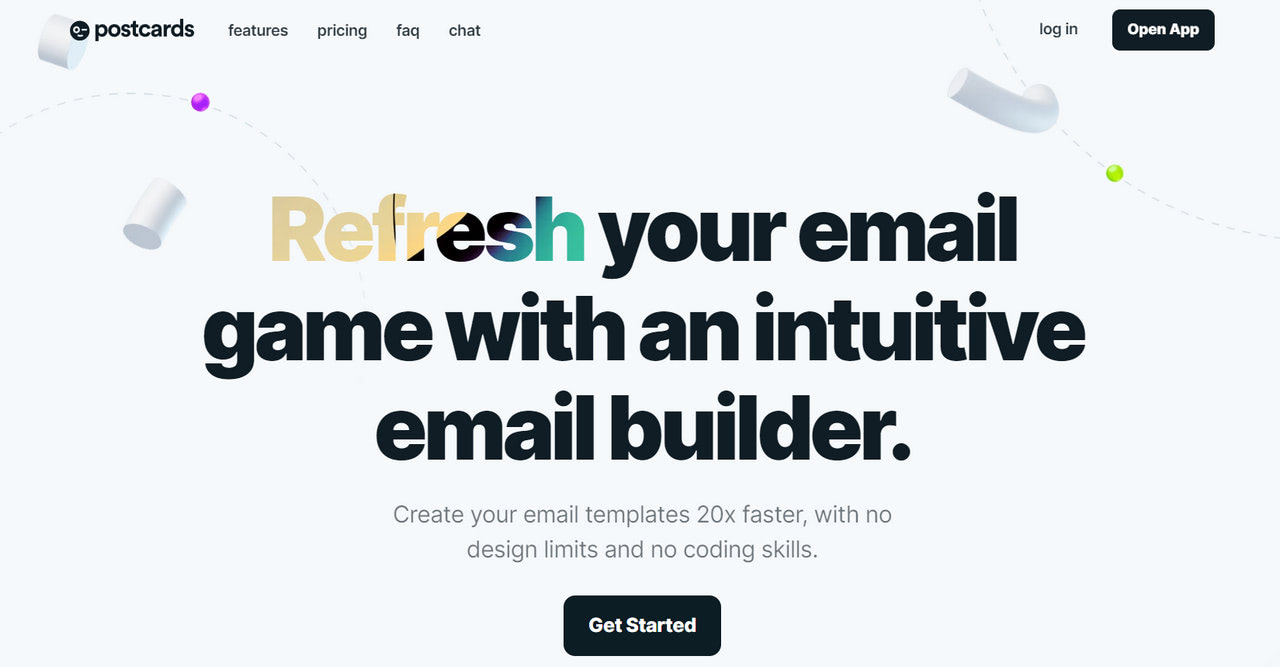 Best Email Subject Line Examples and Ideas
Creating a compelling, exciting, and attention-grabbing subject line is crucial for getting your emails noticed. There are some proven approaches and a bundle of tips on implementing them.
We will break this section into several categories to cover numerous use-case scenarios.
Subject lines that ignite interest and drive engagement
Interesting subject lines motivate subscribers to open the email and result in meaningful engagement that, as a rule, leads to a higher conversion rate. To nail it, follow these tips:
Make it short.
Appeal to your reader's hunger for knowledge.
Use simple and direct language.
Avoid vague or generic terms; instead, use specific and relevant keywords that capture curiosity.
Add numbers or emotions.
Here are examples:
IKEA: "A surprise gift for you! 🎁"
Eat This Not That: "9 Disgusting Facts about Thanksgiving"
Thrillist: "DO NOT Commit These Instagram Atrocities"
Refinery29: "I got Botox — & THIS is what it looked like"
Supergoop: "Our #1 most asked question…"
Canva: "Top shortcuts to set your designs apart"
Duradry: "Discover the truth about our ingredients 🕵‍"
Paravel: "Ready. Set. Summer! 20% Off Travel Sets"
Getaway: "Get the Inside Scoop 👀📲"
Bougie: "Get our amazing deal now!"

Email subject lines that instill a sense of urgency
A sense of urgency is people's innate feeling that something is essential. Therefore, it needs to be done right here, right now. Using this sensation, the email marketing team makes subscribers learn more and open the newsletter as soon as possible.
This trick can be realized by following these simple pieces of advice:
Combine urgency and curiosity.
Use words of urgency, like "now," "final call," or "only."
Use strong action verbs like "get," "take," or "click."
Employ emotional language through capitalization, exclamation marks, and emojis.
Here are subject lines examples:
HP: "Flash. Sale. Alert."
Guess: "Tonight only: A denim lover's dream"
Digital Marketer: "Get this NOW before it's gone…"
UberEats: "Final call to save up to $35 🚨"
Fitbit: "3-2-1: Our biggest sale is on❗️"
Peak: "This expires in 12hrs ⏳🌙"
Alma Coffee: "🚨 LAST CALL 🚨"
Areaware: "ENDING SOON: 10% off"
Wix: "Ending soon! 50% OFF—upgrade your site now"
Huckberry: "Just a few left…"

Subject lines with FOMO
FOMO (fear of missing out) is another psychological trick. It creates a sense of scarcity and builds pressure to take advantage of an opportunity before it is too late. It is increasingly influential and motivates subscribers to act.
FOMO-like subject lines have these traits and elements:
They are relevant, specific and use a search phrase or keyword.
They leverage urgency, trending topics, and newsworthiness.
They share the value right away.
They have a time limit on the offer.
They have numbers and capitalized powerful words, like "sale," "accessible," or "click."
Here are examples:
J.Crew Factory: "Click it or miss it, people: Over 500 styles under $25 is ending! "
Guess: "Tonight only: A denim lover's dream"
National Geographic: "Get a FREE polar bear pop-it with your 2-year subscription. Only while supplies last!"
GAP: "Final Hours: Free Shipping + Sales"
Matt from Gear Patrol: "Mystery Sale – TODAY only!"
Groupon: "2 DAYS ONLY: Get 40% Off Space Quest!"
Namecheap: "Don't Miss Out! — Transfer Week Sale Ends Soon"
Hem: "Last call for free shipping!"
Paire: "Only 30 left. Last chance before it's gone forever."
AllTrails: "Hurry! Give the gift he'll never forget"

Subject lines that make you smile
Smiling is unstoppable – it can do so much for a brand. For instance, not only can it make subscribers open the email, but it may persuade them to do renewed business. It also strengthens relationships between two parties with a favorable impression.
How do you create an email subject line that brings a smile to a subscriber's face? Follow these simple tips:
Use positive language and emojis.
Don't tell too much of the story.
Use witty phrases.
Play with words.
Include jokes.
Pay compliment.
Here are examples:
TicTail: "Boom shakalak! Let's get started."
Jackbox Games: "😊 You deserve this"
Gina White: "PAWS-ibly the cutest NEW collection"
Chubbies: "Screw it, let's just give everyone free stuff"
Dollar Shave Club: "Are You a Genius? You Could Be."
Bonjour Paris: "Bonjour June 🌈"
De Soi: "This will make your day."
Smartpress: "Thank you for being the best!"
Headway: "We have something for you💙"
Sauna House: "Summer Sun Can't Stop You Now! ☀️😎"
Top of the Mornin' Coffee: "Let's Par-TEA."

Email from Top of the Mornin' Coffee
Subject lines with numbers
Numbers sell – this is a reality of the marketing world. Numerals are increasingly influential in drawing attention and compelling users to act. This is because our brain recognizes and understands numbers faster than symbols. The number-based subject line reinforces the message and makes it accurate, promising a precise value. As a rule, it has these characteristics:
It has numbers, obviously. Sometimes they are alone; sometimes, they are supported by descriptive symbols. Sometimes they are at the beginning, other times in the middle of the headline.
It favors odd or specific numbers.
It has a sense of curiosity or urgency.
It brings exact value.
Here are examples:
Guess: "25% off your favorites"
Digital Marketer: "212 blog post ideas"
Charles Tyrwhitt: "Shirts for $39 ends at midnight"
New York Times: "$1 a week: Save on insightful reporting."
UberEats: "Take $20 off your order of $25 or more"
Wonderbly: "11 tiny magic tricks to astonish kids ✨"
Cuts Clothing: "Here's to you – 15% off your first order"
Rootless: "15% OFF ALL SEAWEED BITES"
Eight Sleep: "Cool down your summer nights with $200 off"
Ever Eden: "Your 10% off is waiting!"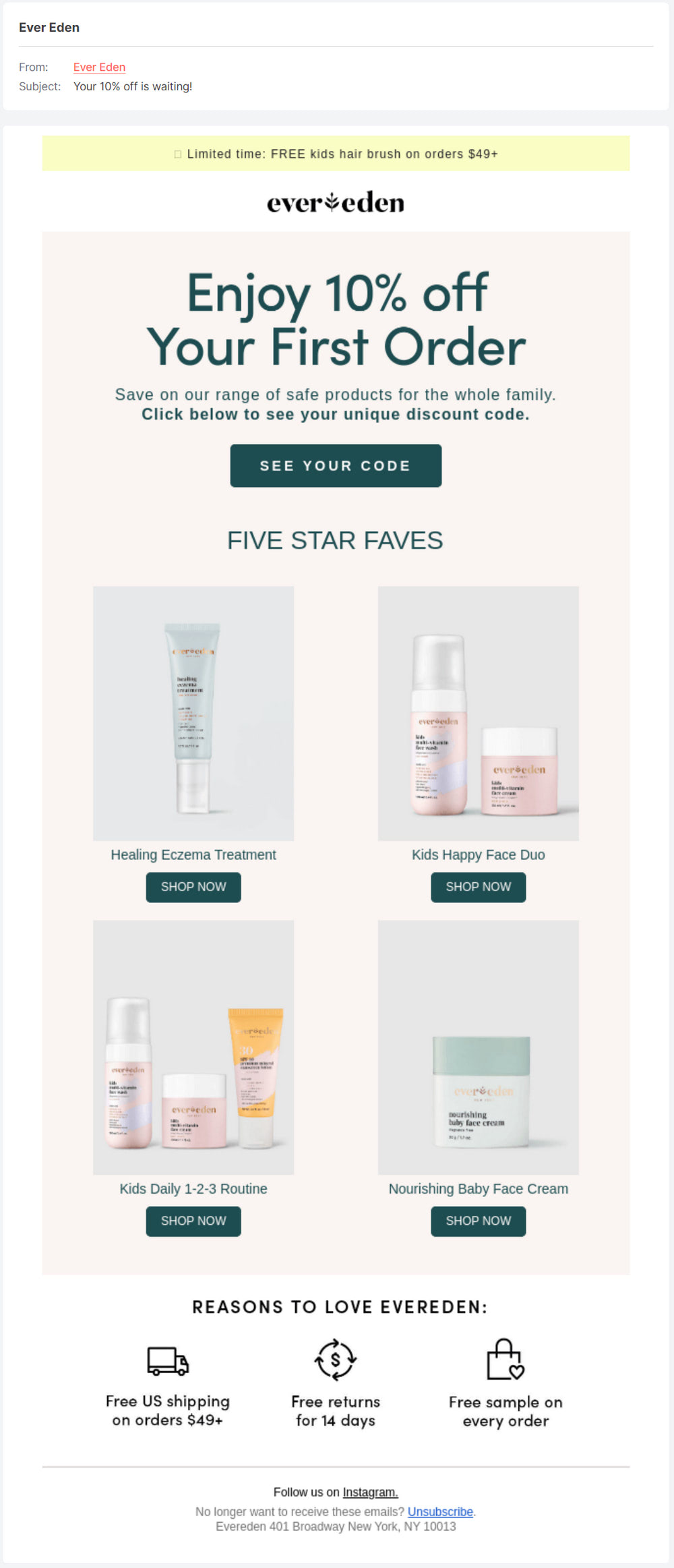 Subject lines with questions
Question subject lines inspire curiosity and critical thinking, compelling the target audience to open the newsletter. They give food for thought and sometimes even promise a solution. On average, headlines in question format outperformed declarative ones by 140–150%. To create one, follow these principles:
Do not ask obvious questions or those that can be easily ended with "No."
Combine questions with numbers and offers.
Compel users to act by using action words.
Make a question witty and hilarious.
Here are examples:
Bonobos: "Hey, forget something? Here's 20% off."
John Lee Dumas: "Are you coming?"
Selfmade: "Did you hear? FREE SERUM."
Sky: "Ready for some festival fun?"
Yohana: "New year, same stress? Delegate your to-do list to us."
Bougie: "Fancy a Free Gift Card? 🧡"
Paire: "Need better sleep? Your answer is Merino wool"
Koala Eco: "What makes our products perform so well?"
dbrand: "What if the PS5 launched in 1997?"
Cardon: "Why our SPF is a game changer?"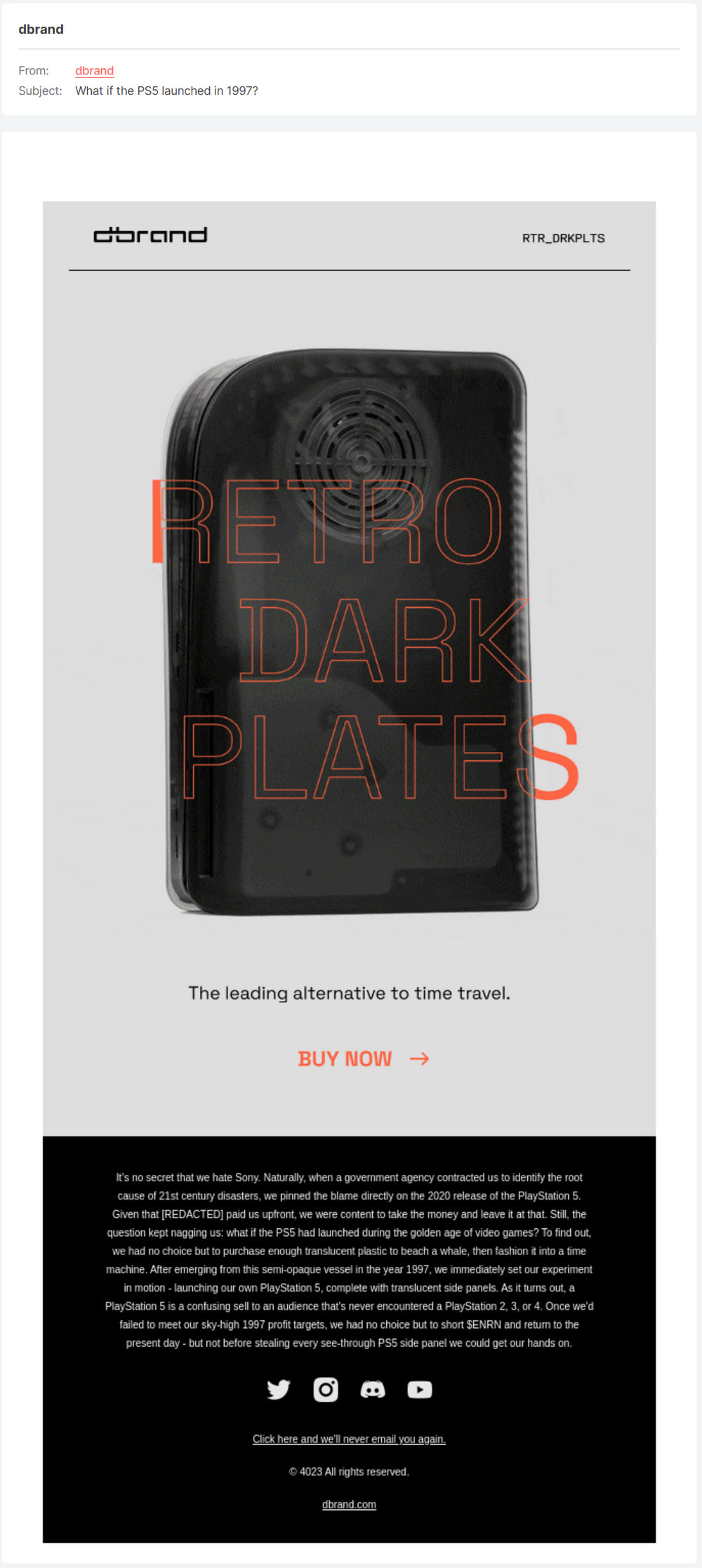 Subject lines that address greed
Appealing to greed in the subject line is another way to capture user attention. Why not get something extra because they deserve it? Subject lines in this format, as a rule, meet these criteria:
They promise value.
They offer a much-needed solution.
They have presents and freebies.
They offer ways to stay ahead of the competition or improve user's life.
Here are examples:
Topshop: "Get a head start on summer"
Shutterfly: "🔥 Hot freebie alert! 15 free gifts, you pick 5."
Chewy: "Savings Inside: Treats on SALE!"
Soak and Sleep: "Save up to 50% in our BIGGEST EVER clearance"
Jetson Health: "A birthday deal like no other ✨"
Withings: "👋 Free water bottle offer: last chance"
Disco Country Club: "Here's a gift from us, to you. 🎩"
Crossnet: "VIP Alert: We're Spiking Prices Down Just for You!"
Couplet Coffee: "A coffee for you"
Italic: "Don't miss it: Limited-edition summer bundles and $30 off."

Subject lines that address customer pain points
People like to be heard and, most importantly, understood. Letting customers know you have a solution to their problem builds trust and compels them to learn more about what you have for them. Follow these practices to nail this type of subject line:
Decide on the correct type of pain point: productivity, support, lifestyle, finances, etc.
Determine the prospect's number one problem.
Capture your customer's fear – focus on only one.
Provide solution.
Show empathy.
Here are examples:
IKEA: "Get more kitchen space with these easy fixes"
Thrillist: "How to Survive Your Next Overnight Flight"
Grubhub: "Repeat meal syndrome? We understand"
Feather: "How to live at home 24/7"
Trello: "Feeling Overwhelmed?"
Flo: "You spoke, and we listened"
Heights: "The secret to sounder sleep 💤"
SuperMajor: "Hey – You deserve a break!"
Adobe: "Six easy ways to meet your summer PD goals"
HINU: "Simple Ways To Avoid Hair Breakage"

Subject lines with emojis
Emojis have become an integral part of our day-to-day communication. "Face with tears of joy" was even selected as the word of the year in 2015. They are colorful and fun to look at. They can reinforce the message and bring much-needed emotions in cold, faceless digital communication. People love and warmly welcome them in their inboxes, eagerly opening emails.
Follow these tips to introduce emojis in the subject line:
Use emojis only if your target audience accepts them.
Pick emojis that illustrate the point.
Use no more than two emojis at once.
Either start or end a sentence with emoji.
Add context.
Here are examples:
StudentUniverse: "Free flights to Dubai inside 😍"
Booking.com: "Get 15% off your next trip 🎁"
DollsKill: "We Saw You Checking Us Out 😏"
Clover: "👗 Free (Cool!) Clothes Alert 👖"
Casper: "Go from 🥵 to 😴 with our cooling collection."
8AM Creative: "Nightmare-fuel to ship your pants to ⛴👻"
Bulb Energy: "🌍🌱 Your 2018 Green Impact Report 🌱🌎"
Headway: "So nice to meet you💙 Get your personal book summary selection"
Grammarly: "You were on point last week 🎯"
Juvee: "🚨NEW FLAVOR ALERT 🚨"

Hyper-personalized subject lines
Hyper-personalization builds loyalty, drives engagement, and keeps customers coming back. The reason is simple, it speaks directly to the person, addressing their exact issue or meeting their needs. Further, it creates a sense of exclusivity, making subscribers believe that the newsletter was created specifically for them.
Creating hyper-personalized subject lines calls for taking these basic steps:
Address the recipient by name.
Add an offer or discount specifically created to meet the recipient's needs or wishes.
Use information relevant to the subscriber.
Instill a sense of exclusivity and importance.
Show you care about them. For instance, offer congratulations on anniversaries, milestones, or holidays.
Here are examples:
Rent the Runway: "Happy Birthday Smiles Davis – Surprise Inside!"
Jersey Mike's Subs: " Smiles Davis, Earn double points today only"
Grammarly: "Hmm…No writing activity last week?"
Lamoda: "Here's that discount you wanted"
Namecheap: "Smiles Davis — It's time to save 20% on your renewals"
Framer: "A look back at our journey together"
YouTube: "Smiles Davis, you've had an awesome year. See your 2019 Year in Review!"
Cole Haan: "Open to see the styles curated for you"
Forever 21: "We saved these and got you 20% off"
Terrasoul: "$10 off, just for you!"

Subject lines for welcome emails
Subject lines in welcome emails are one of the most crucial elements in email marketing. They break the ice, start conversations, and build a solid foundation for future relationships. They make the first impression and go a long way to connect with potential customers. How to ensure they do what they should? Adopt these tips:
Start with the name of the subscriber.
Use warm, welcoming phrases.
Make it short and straight to the point.
Show why it matters to potential customers.
Add a special offer.
Be grateful.
Here are examples:
Impossible Foods: "🌱 Welcome to the wonderful world of Impossible Foods!"
Harvest: "Welcome to Harvest, Smiles Davis!"
Guru: "Welcome to Guru! Let's get started 😎"
GoDaddy: "Thanks for creating your account. Here's a special offer just for you."
GoodRx: "Save up to 80% on your next prescription"
Appcues: "🚢 Great to have you on board! 🚢"
ZoesKitchen: "Welcome to ZK Rewards! You've earned 50 Stripes"
Bite: "Welcome! You're one in a billion ⭐"
Kizik: "Welcome to Kizik, here's 15% off your first order!"
Allie Stark Wellness: "We're so glad you're here!"

Email from Allie Stark Wellness
Promotional subject lines
Promotional emails are one of the most abused tools in email marketing. They come in all shapes and sizes. Therefore, subject lines are increasingly diverse. However, there are still some rules to stick to make them high-performing.
Make it exciting or one-of-a-kind.
Make it personal.
Make it valuable.
Create a sense of urgency or scarcity.
Appeal to emotion.
Show a benefit.
Solve a problem.
Here are examples:
Grammarly: "Working on something big? Get 40% OFF any Grammarly Premium plan"
Namecheap: "Smiles Davis — It's time to save 20% on your renewals"
Better: "Protect your home without breaking the bank"
Design Files: "Design Files Bundle 92% Off"
Uplers: "A $100 off! Say whaaaaa?"
Wix: "Ending soon! 50% OFF—upgrade your site now"
Elevation Church: "🚨New Merch Is Here!"
Beauty & The Bear: "INTRODUCING: Our NEW Vegan Gummies! 👏"
Grammarly: "Have you tried Grammarly's new iPad app?"
Bombas: "This Is How You Get Free Shipping On Bombas"

Subject lines for abandoned shopping cart emails
Abandoned shopping cart emails were created to resolve as many lingering hesitations as possible. They are an effective customer retention tactic and crucial for e-commerce business. They increase sales numbers and recover lost customers. The subject lines in this niche should meet these criteria:
Be specific.
Be tactful.
Be personal (include the name of the customer).
Be valuable (show the benefit of the product).
Be persuasive (have an offer or time limit).
Be positive.
Avoid being pushy or overwhelming.
Here are examples:
Huckberry: "Your cart's aging like a fine bourbon"
ModCloth: "Warning: Unattended items in your bag may be eaten by gnomes"
Manana: "Last chance to save"
Whisky Loot: "Your cart is sobering up"
Rudy's: "Don't let free shipping go to waste"
Etsy: "Coupon reminder: CactusArchive sent you 20% off"
Columbia Sportswear: "Price drop on your favorites!"
Alex Mill: "Get Them for 15% Off!"
Blu Dot: "Wait up. Your order is not complete."
LendingTree: "You left without saying good bye."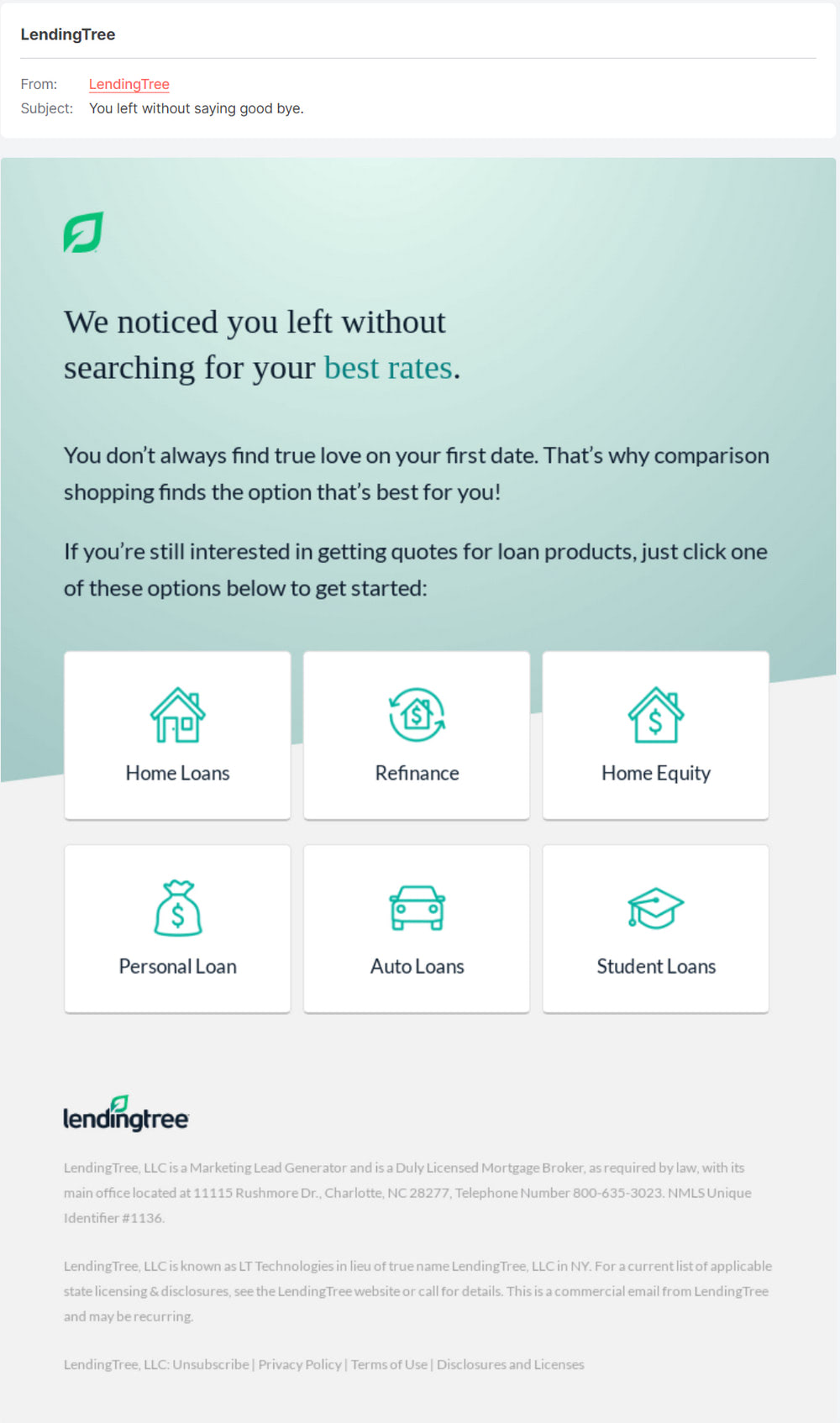 Subject lines for re-engagement campaigns
Re-engagement emails take care of inactive or disengaged customers. The goal is to encourage subscribers to start interacting with emails again. These subject lines are under a lot of pressure. Follow these tips to help them to do their job:
Remind subscribers of the value of your brand.
Provide a subscriber with incentives to re-engage.
Give a reason to continue your relationships.
Personalize the appeal.
Highlight what they are missing.
Ask a thought-provoking question.
Tug at the recipient's emotions.
Do not be pushy.
Here are examples:
The Bouqs Company: "Can You Believe It's Been a Month?"
Marriott Rewards: "We've missed you, Mary! Please come back!"
Loft: "Ooh, did you see this sale?"
Noom: "Come back to get your Custom Plan for up to 90% Off"
Ynab: "Where'd ya go?"
AirBnB: "What's new? Oh, only everything"
CLEAR: "Smiles Davis, we're ready to wow you again"
Zapier: "Reminder: Save 30% on Zapier in 2021"
TrueBill: "💸 Savings Tip: Cancel Unused iTunes Subscriptions"
YNAB: "Your budget misses you!"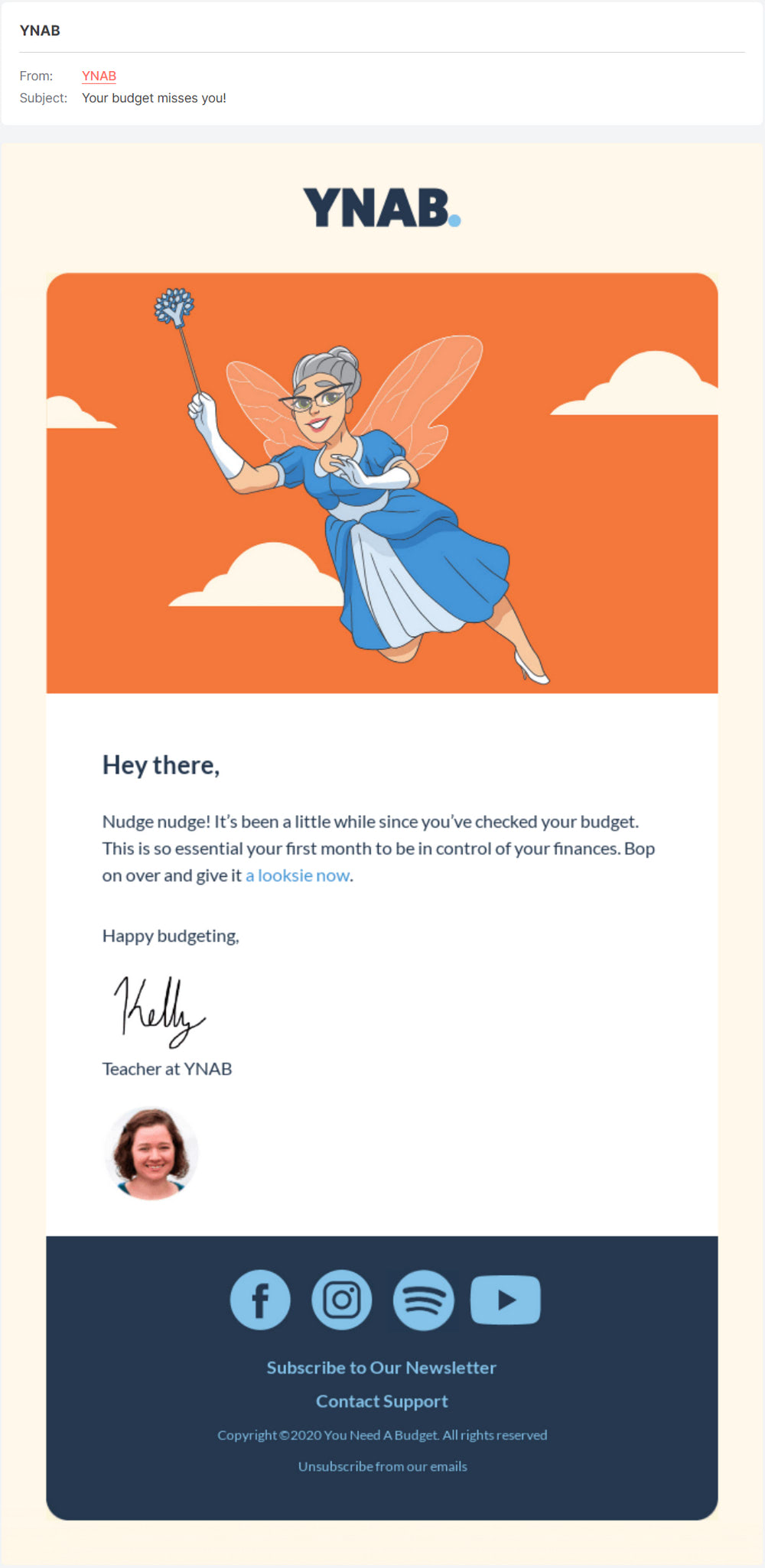 Conclusion
A lot goes into crafting the perfect subject line email. You must invest time, effort, and human resources to develop a compelling pitch. It is worth it. Subject lines are crucial for an email marketing campaign to succeed. They pique interest, drive engagement, break the ice, entertain, and inform.
A compelling subject line becomes even more critical when you understand it is your first and only shot at connecting with a customer during a particular email marketing campaign. If it fails, everything fails.
When crafting an email subject line, it is crucial to remember that content should be engaging and informative. Follow best practices, understand your target audience, get inspiration from real-life examples, and always A/B test to nail this task.
Like what you're reading? Subscribe to our top stories.
About Author