Video has likely become an important part of your website design or marketing strategy. From video hero images to short YouTube videos that help explain a product or service, video is a growing aspect of design.
Have you been asked to edit, create or adjust video for a client yet? Chances are it will happen.
Here, we're going to look at two popular video tools from Adobe to help you get a crash course what tool is best to use for video projects – Adobe After Effects or Premiere?
Should you choose one, the other, or both? And are they the right fit for your next project?
Download thousands of versatile Adobe Premiere Pro templates, openers, slideshow templates, lower thirds, and more with an Envato Elements membership. It starts at $16 per month, and gives you unlimited access to a growing library of over 2,000,000 Premiere Pro templates, design assets, photos, videos and more.
What is After Effects?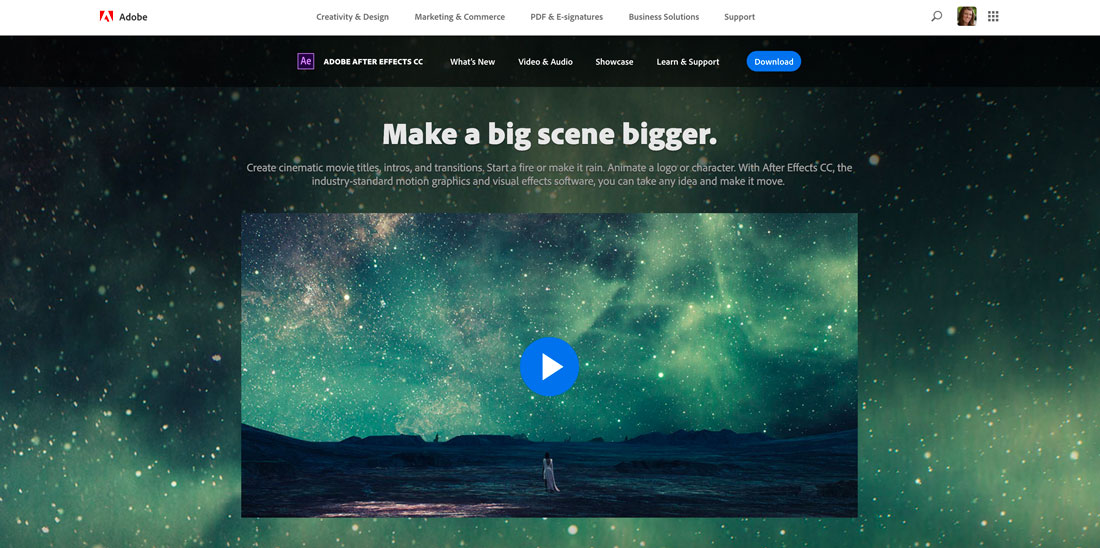 Adobe After Effects is a tool to help you enhance video with titles, intros, and transitions. It's used by people across industries to create motion graphics and visual effects for everything from the web to film and television.
The key thing to remember about After Effects is that it is not limited to video; you can use it with any type of motion graphics.
After Effects does more than just allow you to add a small credit on the screen or at the end of a video clip. You can animate elements (from scratch or using presets) and even create some special effects.
The primary use for After Effects is to add elements to a video after major editing is done. Use it to add elements to complete clips to get just the look or polish you want before publishing it.
A few features that make After Effects stand out include depth effects, such as changing the depth of field, 3D fog, and even matte effects. You can also adjust animations using bend, curve, and scale to blur the line between video and reality.
The key thing to remember about After Effects is that it is not limited to video; you can use it with any type of motion graphics.
For web designers, these features might really stand out. After Effects includes a JavaScript expression engine that will make workflows move faster and there's a responsive design for time so that videos can be stretched or shortened "while preserving the integrity of keyframes such as intros and outros."
What is Premiere?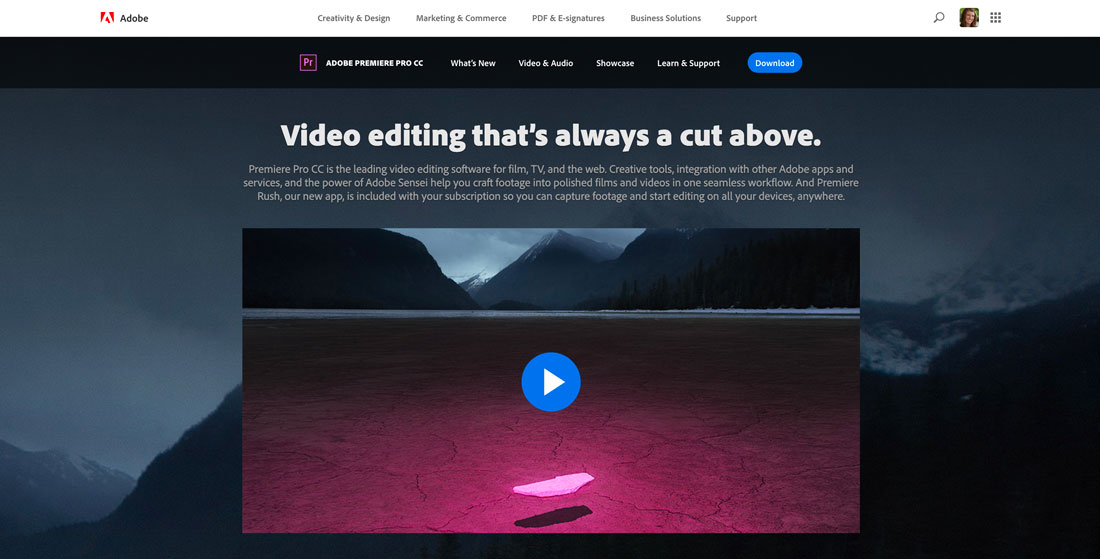 Adobe Premiere Pro is the standard software for editing raw video. It's a favorite among videographers and filmmakers and is packed with tools for editing. (The flip side is that it can be a little intimidating for new video editors.)
The most important thing about Premiere is to think of it like a true video editor.
The tool works with any kind of video, at any size from 8K to virtual reality, and it has native file support.
The most important thing about Premiere is to think of it like a true video editor. It'll work with formats from most cameras including VR. You can edit multiple video files simultaneously and edit and render complex projects.
Cool features that make Premiere a favorite include precise color tools, ability to enhance and edit audio (from removing background noise to enhancing certain sounds) and support for VR. You can use this tool to publish Google VR180 format right to YouTube and other video services.
After Effects vs. Premiere: What Do I Use?
Many of us – especially those who have been dabbling in video editing a bit longer – might have started with Premiere and are "stuck" there because we've learned enough to get by.
But the reality is that if you want the best workflow possible, you'll use both tools.
The ideal workflow might look something like this:
Start with Premiere and get your video clips in the format you want with the desired content.
Use the timeline in Premiere (it's better here than in After Effects) to get audio and video synced in the way you want.
Then switch over to After Effects to polish your video content. Add titles, shapes, 2D or 3D animations, special effects and other extras.
Why Use Both?
Because it will save you time. The nice thing about using other Adobe tools is that they function in a way that feels familiar. Using the right tool for the job will be far less clunky and easier to manage. It will save you time and effort in the long run.
And Adobe has designed all this software to work together. You don't have to export from one to open in the other. Dynamic Link lets you cross between tools at the same time.
The Bottom Line
It's not always a matter of After Effects vs. Premiere, it's knowing how to use each tool and using them in the best way possible. And you might actually use both tools for the same projects.
Use Premiere as a first-stop editing tool. Take raw video and get it to a point that feels right for your needs. Edit content, play duration and audio. It's best suited for general editing and longer or more complex tasks.
Use After Effects to polish edited video. Add animated effects such as titles and transitions to make video cuts work just as you envision online. It's best suited for shorter, more complete video clips and creating more splashy effects.
Because both tools are from the same company, they work together pretty seamlessly. If you have a full Creative Cloud subscription, they are both included in your software plan. (But you can also purchase each piece of software a la carte.)
Conclusion
If you aren't thinking about video yet, you probably should be. If you expect to do any editing on your own, learning these tools can be a huge asset. Learning how to use them together could be a workflow timesaver.
Remember when you are comparing tools that it doesn't always come down to After Effects vs. Premiere; it's often After Effects and Premiere. Use these tools together to make the most efficient use of your video editing time.
About Author