Getting a high-quality backlink can have an impact on your ability to rank higher in the SERP. But how do you know which sites provide the best backlinks? And how do you get that site to give you a link when you figure this out? With the right link-building tools, you're able to answer these questions and more.
The link-building process is time-consuming. First, you need to have published content that's indexed; then, people need to find out, understand its value, and link to it from their site. While there's debate over how quickly this can happen, many SEO and content marketers think the process takes about 10 weeks before value from the link is seen.
The right link-building tools help you cut down on the time it takes to source those links.
Sure, backlinks will grow organically over time when you publish high-quality content, but if you're just getting started or really need to boost your SEO fast, you'll need to prime the pump. That's what makes link-building outreach so effective. When you understand which sites can provide the most valuable backlinks to your content and have a process to reach out to them efficiently, you're positioning your content to rank higher more quickly.
The type of backlinks you have are important — building links with low-authority or unrelated content will actually hurt your ranking ability over time. That's why we've put together this list of 15 link-building tools you can use to level up your outreach campaigns.
Let's dive in deeper to each one.
Each of these tools has specific functionality that facilitates a certain aspect of your overall link-building campaigns. We'll break down how they provide value to the process and look at what you can do with the data you gain by using the tool.
While we're probably biased, SpyFu's Backlink Builder is one of the most effective link-building tools you have at your disposal. Using our platform, you can easily identify the most high-value backlinks you can gain for any given keyword and filter by competitors. It finds links that are already indexed, and you can search by targeted keyword.
Our tool also helps you target specific types of websites and look at the types of links that help your competitors rank higher in the SERP. Whether it's blogs, news sites, forums, or directories, you'll always know how to tailor your content to appeal to a certain type of backlink.
Once you know which websites to target, the Backlinks Outreach feature gives you easy access to important social and contact information for the owners of those sites. That makes it easy to categorize and prioritize your outreach campaigns.
The Majestic backlink tool helps you verify URL ownership and track backlink counts for your content in bulk. While certain features are available only to higher-tier accounts, Majestic's Lite plan can help you get started with your backlink research.

The Link Context feature is great for gaining additional context on the structure of website content without having to navigate to it directly. Doing so significantly cuts down on the time it takes to target certain types of content. Think about it: when you know how a website typically structures its backlinks, it's easier to create content that fits that model.
Majestic also has a Chrome plugin that checks websites as you browse them, which is a great way to see the types of links and how they provide value to specific pages on your or your competitors' sites.
This link-monitoring tool helps you track how your website gains or loses backlinks as content matures. By compiling this information in a single location, you can easily track which types of content get the best backlinks, even if those websites don't include your brand name in the anchor text.

Their analysis tool looks at the expertise, authority, and trustworthiness of every backlink you build to provide additional context on what links help or hurt your content. Combine this with how BuzzSumo tracks social sharing metrics and you'll be able to gain a really great picture of the overall quality a potential backlink has to offer.
As a content-discovery tool as well, BuzzSumo helps you track how trends in your market affect engagement, which you can use to source the most relevant and up-to-date links.
Linkody is a link-building campaign tracker. Their platform helps you stay on top of the different types of links you gain or lose over time. Use this tool to analyze your backlink profile and contest bad links, all from the same dashboard.

While their Backlink Checker doesn't provide as much information on the overall SEO value of each link, they do tell you whether each link is a rel=follow or rel=nofollow. If you're performing a backlink audit or want to prune potentially harmful links to your site, knowing which ones pass link equity to your site is invaluable.
Linkody also helps you see the specific URL these sites are linking to and the anchor text that's used, so you can evaluate whether it's the best introduction to your page. If it isn't, come up with a suggestion before reaching out to the site own to request a more relevant snippet.
Ontolo is a link prospecting tool — meaning it helps you identify and reach out to potential backlink sources at scale. The platform provides functionality to build and import prospect lists, manage their content, and gain insight on the value certain links or individuals can provide to your content.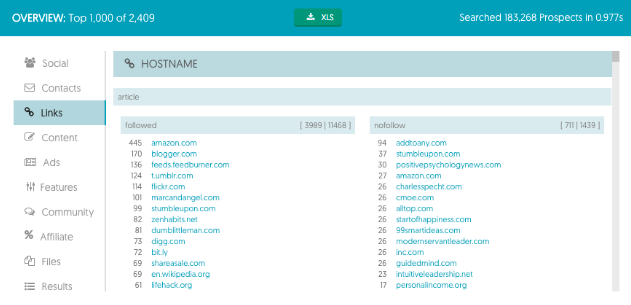 If you're planning for an outreach campaign and don't know where to start, Ontolo automates a lot of the manual work required to build your prospect list. Just make sure you vet each website to check that it matches up with the search intent of your keywords.
With their tool, you also gain access to a number of other prospecting tools to support your link-building campaigns.
Focused on local SEO and marketing outreach, BrightLocal is a great tool for building links within your community. This is especially important if you are a brick-and-mortar business or are targeting a specific geographic market. Local outreach shows potential customers that you're invested in their community.

Their citation builder is useful for managing the contact information of your business, making it easier for potential backlink providers or customers to find your content.
While this may not be as relevant for some distributed businesses, the data you gather using BrightLocal can inform personas and provide helpful context on why certain content ranks better in specific locations.
A big part of the link-building process is connecting with influencers and brands that can amplify your content. BuzzStream is a platform for building links and digital PR that helps you track relevant stats on how these influencers share content on blogs and social media.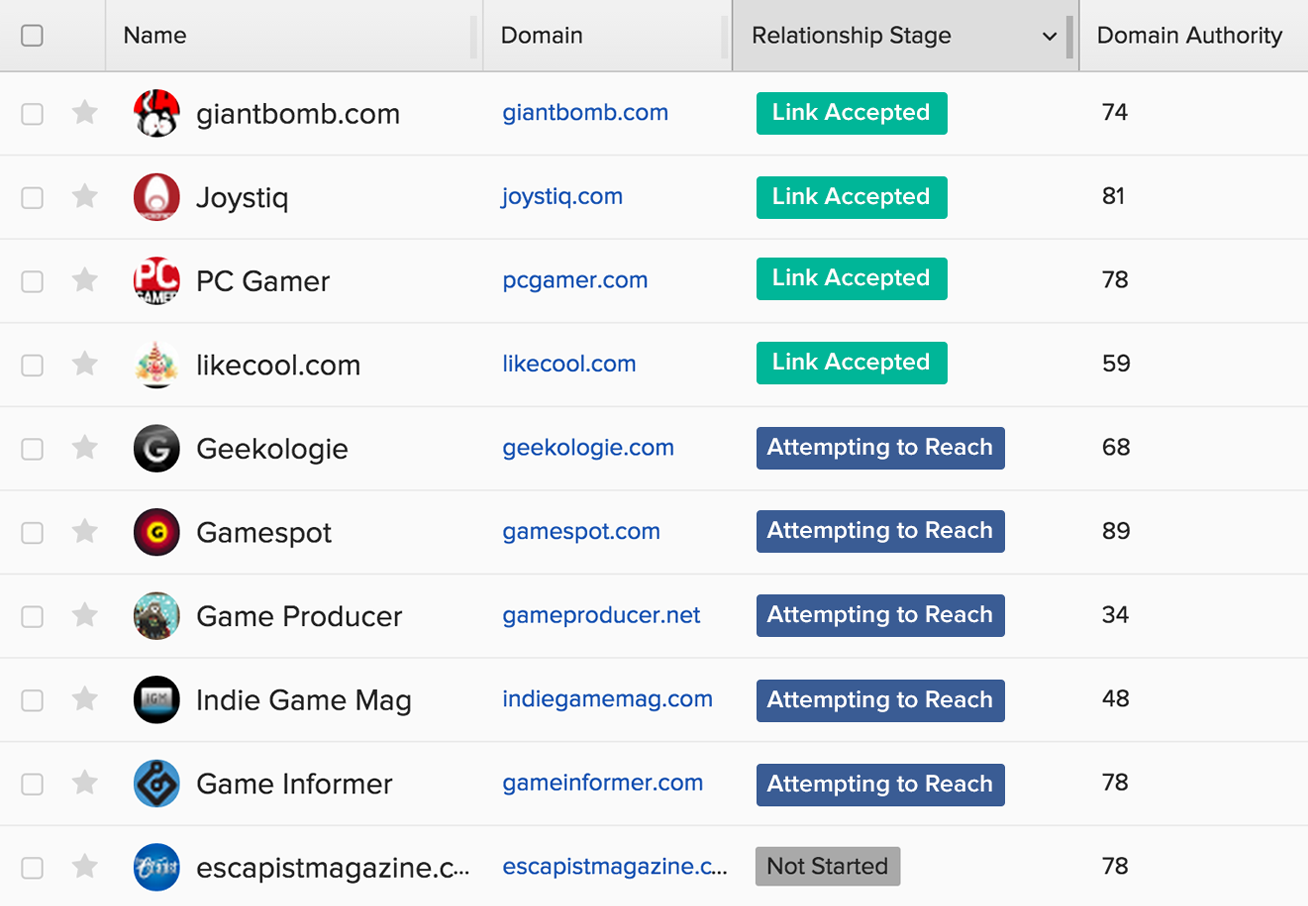 Their outreach tracker helps you see the progress of your campaigns and their automated site-research feature helps you learn as much as you can about potential prospects. That makes it easy to always be ready to put your best foot forward when reaching out.
Connecting with influencers in your market also helps you level up your content promotion because you'll always have a group of engaged individuals to share your articles.
Another contact-information platform, GroupHigh focuses on finding influencer and blogger contact information quickly and making it easy to prioritize your outreach. Their reporting is really useful for tracking the success and progress of your outreach campaigns.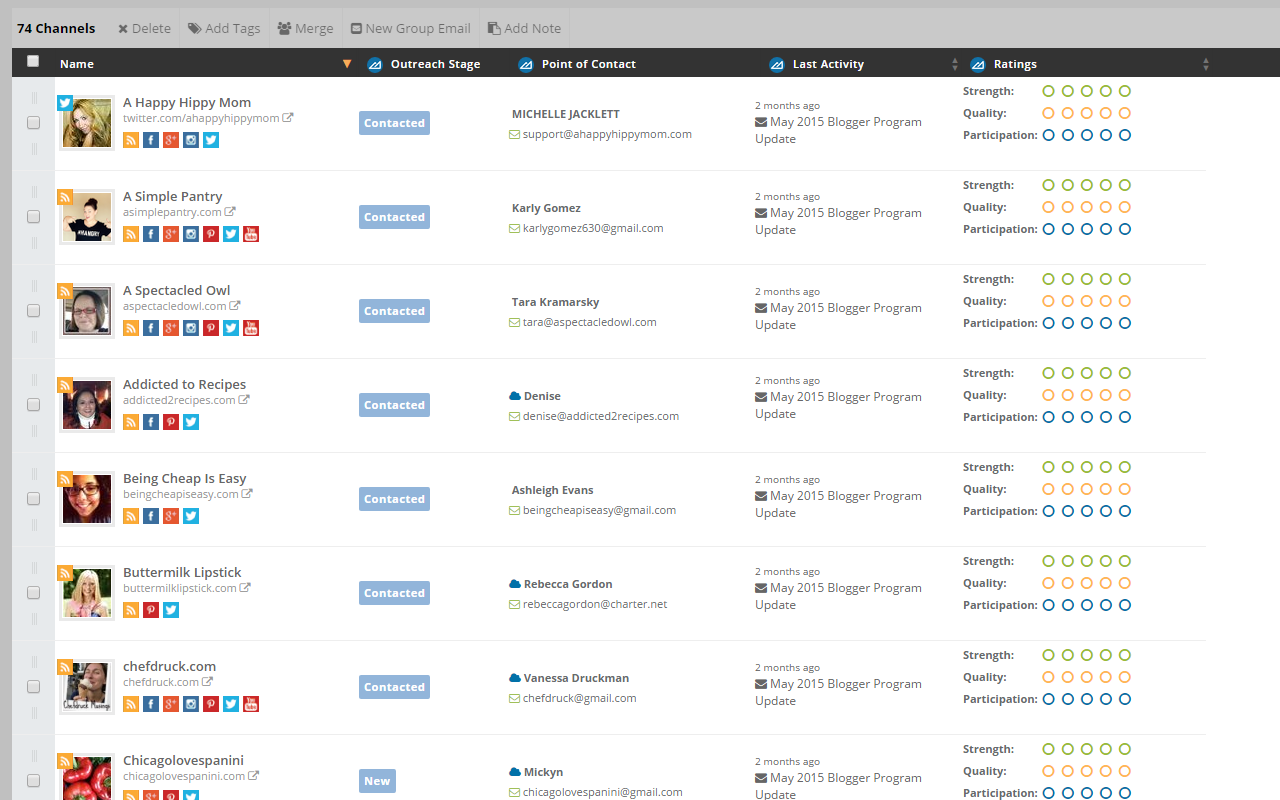 Showcasing audience size for their influencers and blog database is a great feature for tailoring your link-building campaigns to specific verticals as well. You'll be able to see what types of content resonate best for the various different points of contact you're in touch with.
GroupHigh also does a great job of pulling in social information on your prospect list, making it easy to connect directly if you don't want to rely on email correspondence alone.
Similar to GroupHigh, NinjaOutreach helps you streamline your link-building outreach with automated email campaigns. You can create templates for each email and then track the results directly with a built-in customer relationship management (CRM) platform.

Their platform segments the market automatically as well, so it's easy to create targeted campaigns for specific types of high-value backlinks. When you're reaching out to hundreds of individual prospects, this kind of automation is a huge time-saver.
When you combine this segmentation with their platform-specific searches for Instagram and YouTube, it's easy to find the most potentially valuable influencers for any criteria.
Built by Citation Labs, this backlink search engine provides up-to-date information on specific subsections of the market based on your target keyword. You'll be able to source link opportunities based on sixteen distinct criteria, including PR, audience-building, and content development.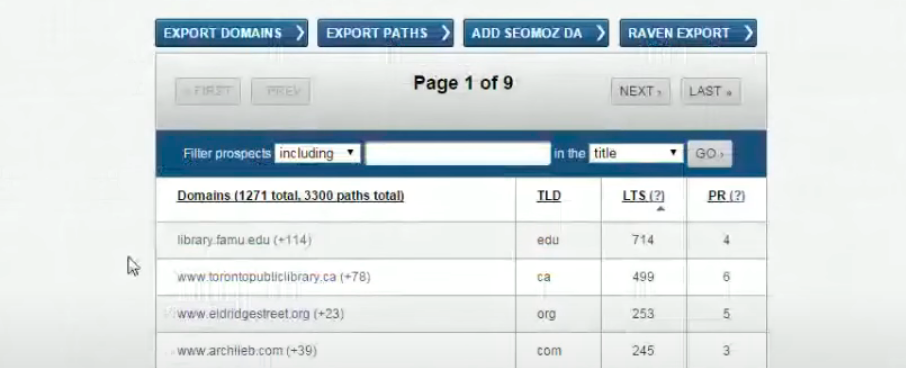 Being able to target your search to specific types of backlinks helps you flesh out your backlink profile with the best possible links. When you add custom search parameters, it's possible to narrow your search to exactly the kinds of backlinks you need for any piece of content.
Link Prospector is one of the first tools with a segment for sourcing comments and expert interviews as well, which can be very helpful if you want to tap into social proof for a particular piece of content.
The cognitiveSEO platform provides a number of SEO-focused tools for markers and agencies. Their backlink-analysis tool helps you identify potential hazardous links in your content as well as review recent changes to the backlink profile of your website.

Check out their backlink auditor to create reports that showcase the current state of your backlink profile and link-building campaigns. With email notifications for new/lost backlinks included, you're always able to stay on top of important updates to your backlink profile.
Using this link-building tool, you can also identify rel=nofollow links and send automated disavow requests. It's a great way to cut down on negative links in your backlink profile.
Pitchbox is a platform for content promotion, link-building, and influencer outreach. Their tools help you create personalized outreach campaigns with automated emails that can be triggered by specific rules you create in their tool.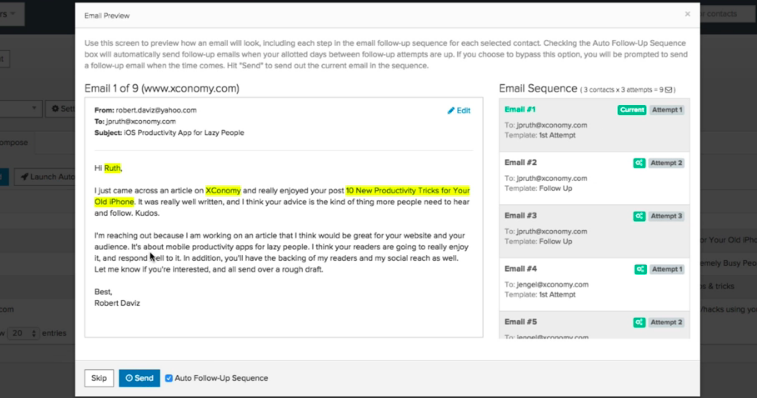 Pitchbox's pipeline analytics help you track the status of your outreach campaigns and optimize how you create them. Think about it like you're creating an autoresponder that nurtures prospects and helps them see value in providing backlinks to support your content.
With this tool, you gain access to a more robust email marketing platform than some of the others we've featured so far. So, if you're low on time or resources, you can use Pitchbox to run a more efficient campaign.
Hunter is a platform for sourcing contact information. Use it to flesh out your prospect lists with the most up-to-date email addresses for anyone in the company you're trying to contact. When you're reaching out to request a link, it's important to know exactly who you should be talking to.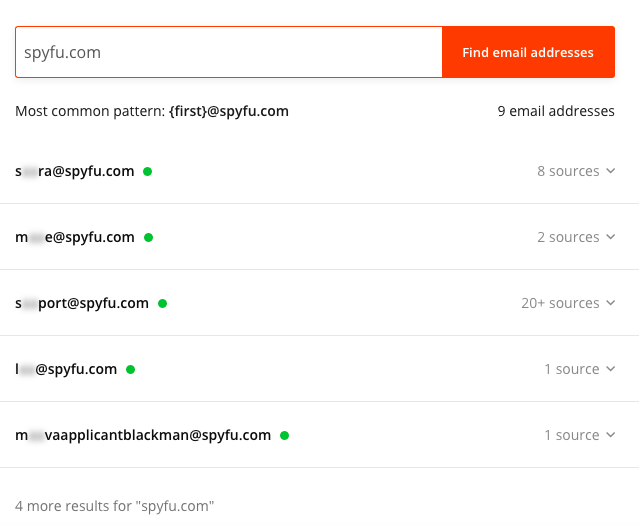 Their simple platform is free for up to 50 requests, making this one of the more affordable tools we're featuring here. While it's somewhat less robust than others, it does the job of sourcing contact information better than most.
Check out your own contact information on their tool, as well, so you always know that people who want to contact your team for backlinks have the opportunity to do so.
ContactOut
An alternate to Hunter.io is ContactOut. This tool promises at-your-fingertips personal contact information like email addresses and phone numbers. It offers both paid and free plans, and we like that the free plan does not have a time limit. As long as you have just a few searches that you'd do each month, this could be the right fit for occasional use over a long term.
SparkToro is technically an audience-intelligence platform, but when you're going through the link-building process, it is really helpful to track who's already sharing similar content. This ensures that you're not wasting time by asking for a link from someone who's sharing your content organically.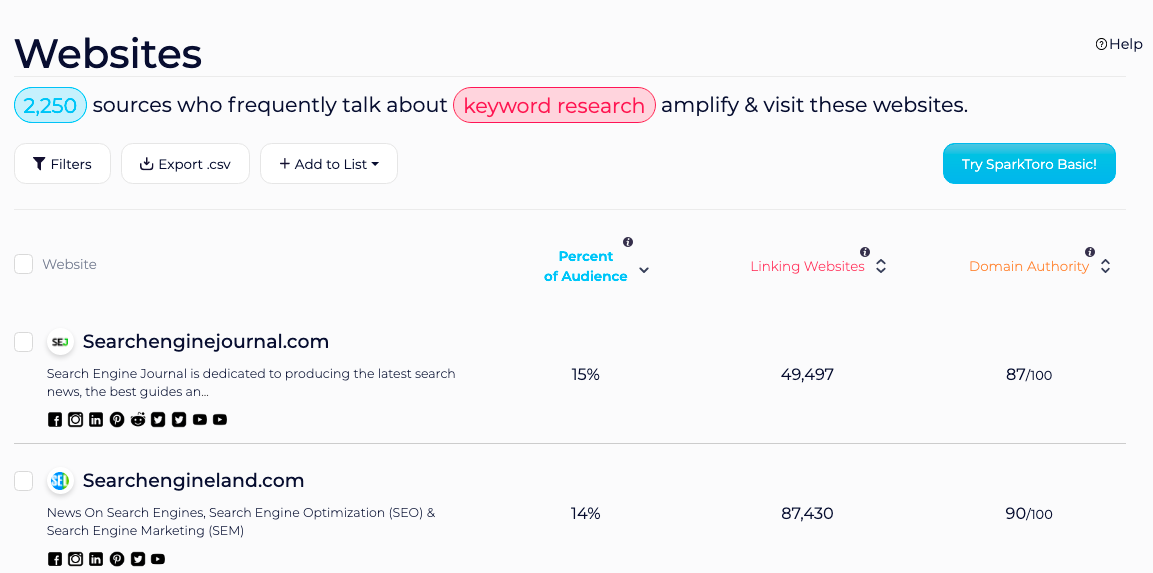 SparkToro also helps you see what websites people tend to visit for specific keywords. If you're looking for backlinks for any given term, this helps you understand at a glance what the current content marketing looks like in the industry.
Try using these audience insights to build on the relationship your content has already created and boost engagement within your community.
This might be a no-brainer, but a solid spreadsheet platform is absolutely necessary for every link-building campaign. Whether you're bringing together metrics from disparate tools or tracking your manual outreach directly, it's vital to have a single source of truth in a tool that you own.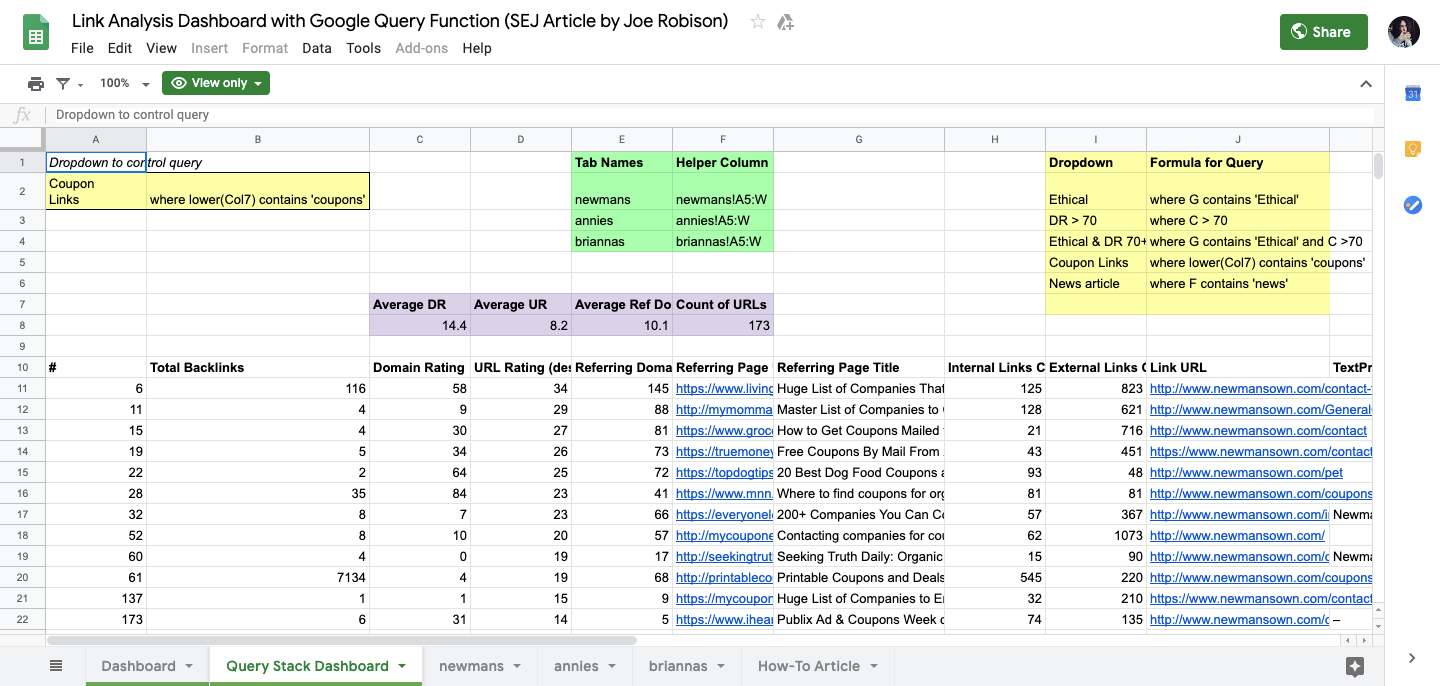 Use Sheets to create conditional formatting and specific rules to make it easy to understand your data quickly. While Sheets is an incredibly valuable tool for sharing and storing data, it can be difficult to demonstrate how valuable that data is without proper visuals.
If you're not comfortable creating these on your own, websites like Sheets for Marketers have lots of templates to help you get started.
When you're reaching out to influencers, bloggers, or your professional network to request a backlink, any help you can get is incredibly valuable. Otherwise, you'll spend your time manually emailing prospects or following up on recent backlinks to make sure the anchor text is correct instead of sourcing new opportunities for your content.
Using a link-building tool cuts down on this work considerably, giving back time that you can use to create better content for your readers.
About Author