Whenever we want to go to a restaurant, call a technician, or even go to a supermarket, we usually check out the first few results on Google. Many of these top local businesses have invested in local SEO to ensure that they reach the top of the SERPs for their localities.
So what exactly is local SEO? It's the process through which you can optimize your online presence to get more local customers.
If you have a local business and want to turn cold prospects into customers, local SEO is your best bet. A well-planned and executed local SEO strategy can help you get more visibility in your immediate surroundings.
It will even help you outrank your competition. But before we get into how you can do it, let's first see why it is necessary.
Why is Local SEO Important?
1. People Rely on Google for Information
Back in the day, people would normally go through the Yellow Pages to find relevant local businesses. However, Google has quickly replaced that and become the go-to place to search for local businesses. In fact, BrightLocal found that 69% of consumers search online for local businesses at least once a month.
On the other hand, only 8% of people never search for a local business online. This means that to reach approximately 92% of consumers in your area, you need local SEO.
2. Free Organic Traffic
When you rank high up in the search engine results pages (SERPs), you can get more clicks. This means free organic traffic for your website. This free traffic not only gives your business better visibility but also gives you a chance to generate leads.
You can then put your marketing efforts into converting those leads into paying customers for your business.
3. Ease of Ranking
It can be tough to get your website to rank well when you're competing with other businesses on a wide scale. Make no mistake, they are still your online competition. However, when it comes to local SEO specifically, you are competing mainly with small and medium-sized businesses around you. That makes it easier to rank higher up in some search engine results.
If you can incorporate all of the local SEO best practices, your ranking in local SERPs may quickly jump up several positions.
Now that you understand why local SEO is important, let's take a look at how you can improve it and outrank your competition.
How to Improve Your Local SEO
1. Keep Your Name, Address, and Phone Number Consistent
The name, address, and phone number of your business are basic aspects of local SEO. You must make sure that these remain consistent throughout your website. Additionally, they should be the same on other listings on the internet such as your social media pages and your Google My Business page.
If Google notices discrepancies in this basic contact information, it can negatively affect your local SEO.
2. Google My Business, Bing Places, Apple Maps Listings
Google My Business is a feature that allows local businesses to get listed on Google. It helps searchers easily find nearby businesses. It is perhaps the most important factor affecting your local SEO. The process for registering on Google My Business is pretty simple too.
All you need to do is enter your contact information such as the name, address, and phone number of your business. Additionally, you'll be asked to provide your business hours and the category of business along with your location. It is also a good idea to add a few photos of your business.
Google My Business will then start showing your business in local search results. It will even show you statistics about how consumers found your listing. Make sure that you remain active and respond to reviews and questions about your business.
For instance, Winters Home Services has garnered 437 reviews. They have mentioned their address, phone number, and working hours too. You can even see their location and photos.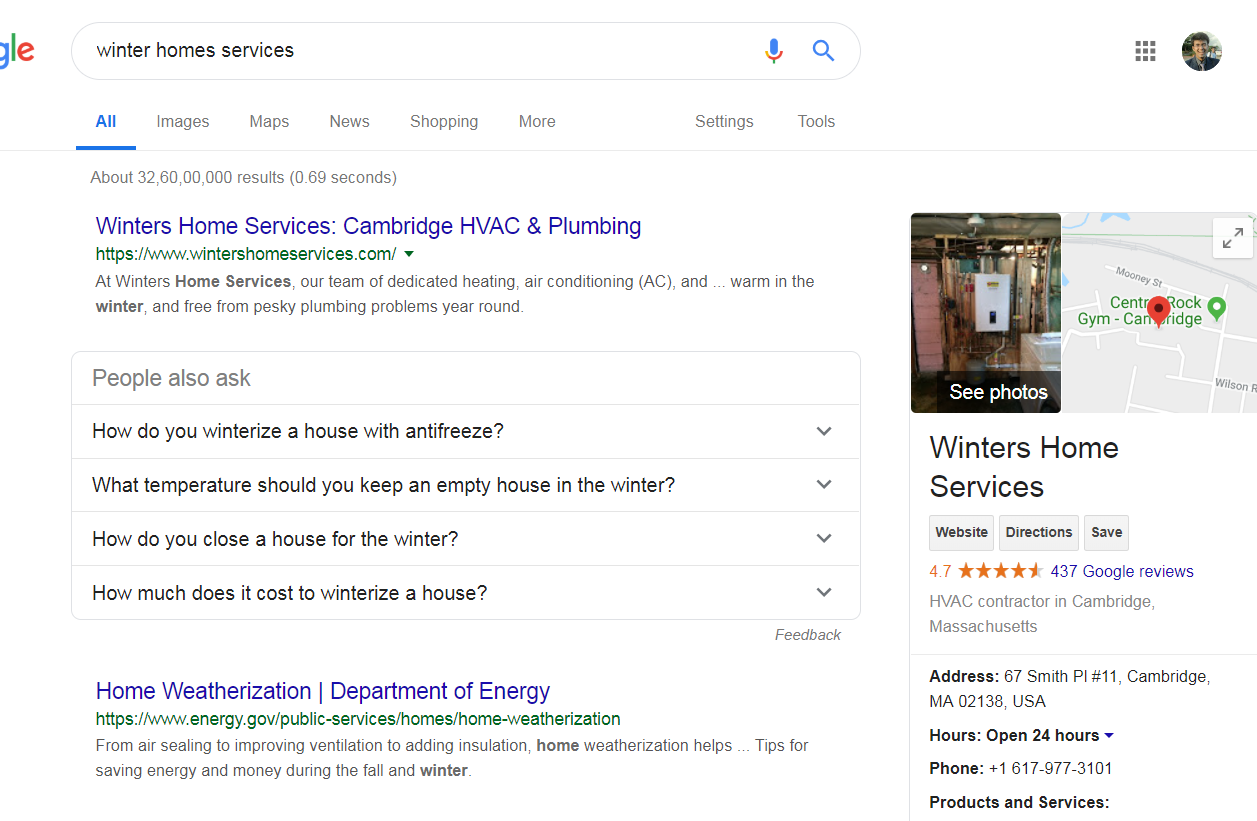 Image via Google
While Google My Business is the most important consideration for local SEO, you shouldn't ignore Bing Places and Apple Maps listings. The process for registering your business on these platforms is similar to the GMB registration process. These listings will help you reach a wider audience.
Also, make sure that you check your listing for accuracy often. Google gives users the option to suggest edits in the listings. If someone has suggested an incorrect edit, it may get implemented.
3. Keyword Research
It is important to do thorough keyword research before creating your website content. You need to come up with a list of keywords relevant to your business. Put yourself in the shoes of your target customer and think about what words and phrases they might use to find your business.
You can check out the keywords for which your competitors are ranking using SpyFu. This will give you an idea of what keywords you should leverage as part of your own local SEO strategy. Additionally, you can get keyword ideas from the Google Keyword Planner.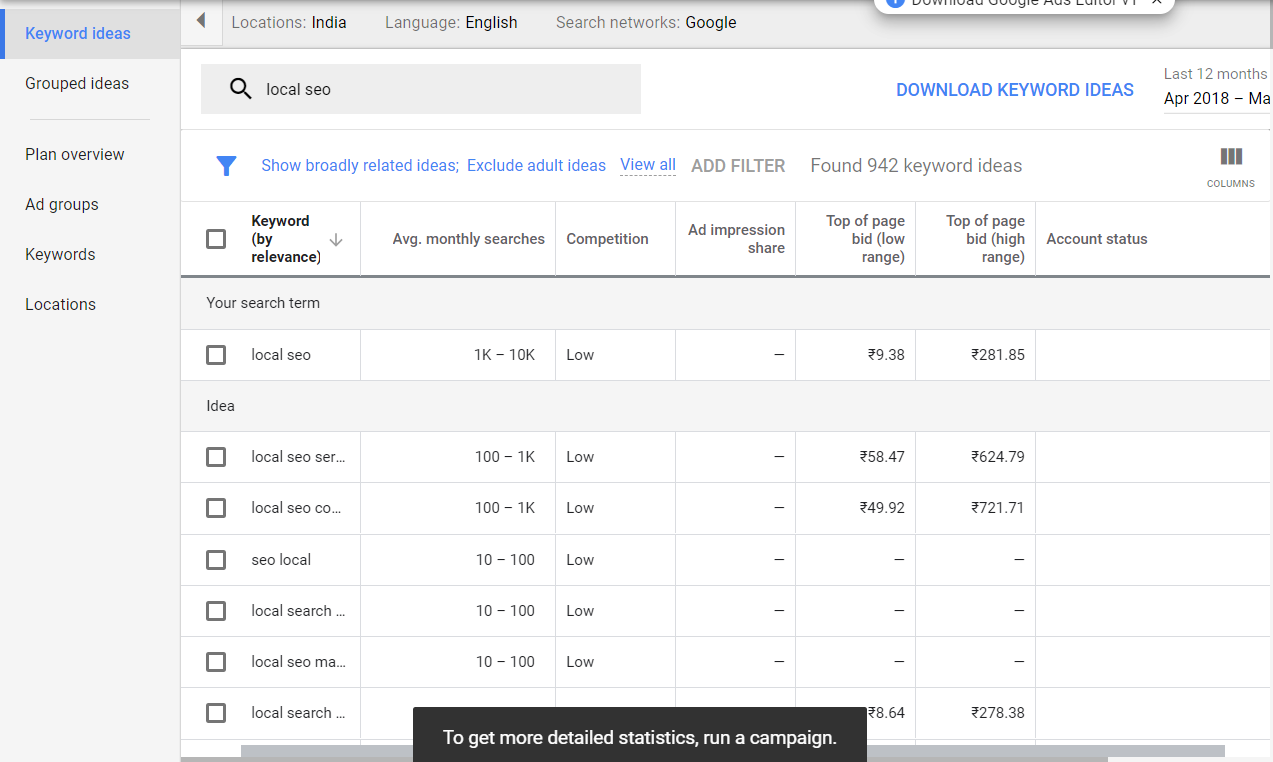 Image via Google Keyword Planner
Yet another way of finding keyword ideas is through Craigslist. You can simply head to their services section and check for services relevant to your business. This will give you lots of results from which you can find a bunch of keywords.
Then use the keywords to optimize your website content. Additionally, you should use them to optimize other important parts of your content such as:
SEO titles
Meta descriptions
Page titles
URLs
Alt text of images
4. Local Citations
Local citations are essentially mentions of your business on the internet. These can be found on popular directories like Yelp which may list your website. It is a good idea to build up your local citations in a correct manner as they are extremely important for local SEO.
If you already have some citations, make sure that you audit them to find inconsistencies, if any. This is because citations that have inconsistencies may spell trouble for your local SEO.
5. On-Page SEO
While keywords are an integral part of on-page SEO, there is a lot more you have to consider. The first thing to do is to ensure that your website is mobile-friendly. About 47.2% of all search traffic originated from mobile in the final quarter of 2018. If your website isn't responsive to mobiles, you may lose out on some valuable customers.
Additionally, you should ensure that your pages load as quickly as possible. To check your page load speed, you can use Google PageSpeed Insights. It will also give you suggestions to improve your load speed. It might even be a good idea to have an AMP (Accelerated Mobile Pages) version of your website, which can load faster and engage visitors quicker.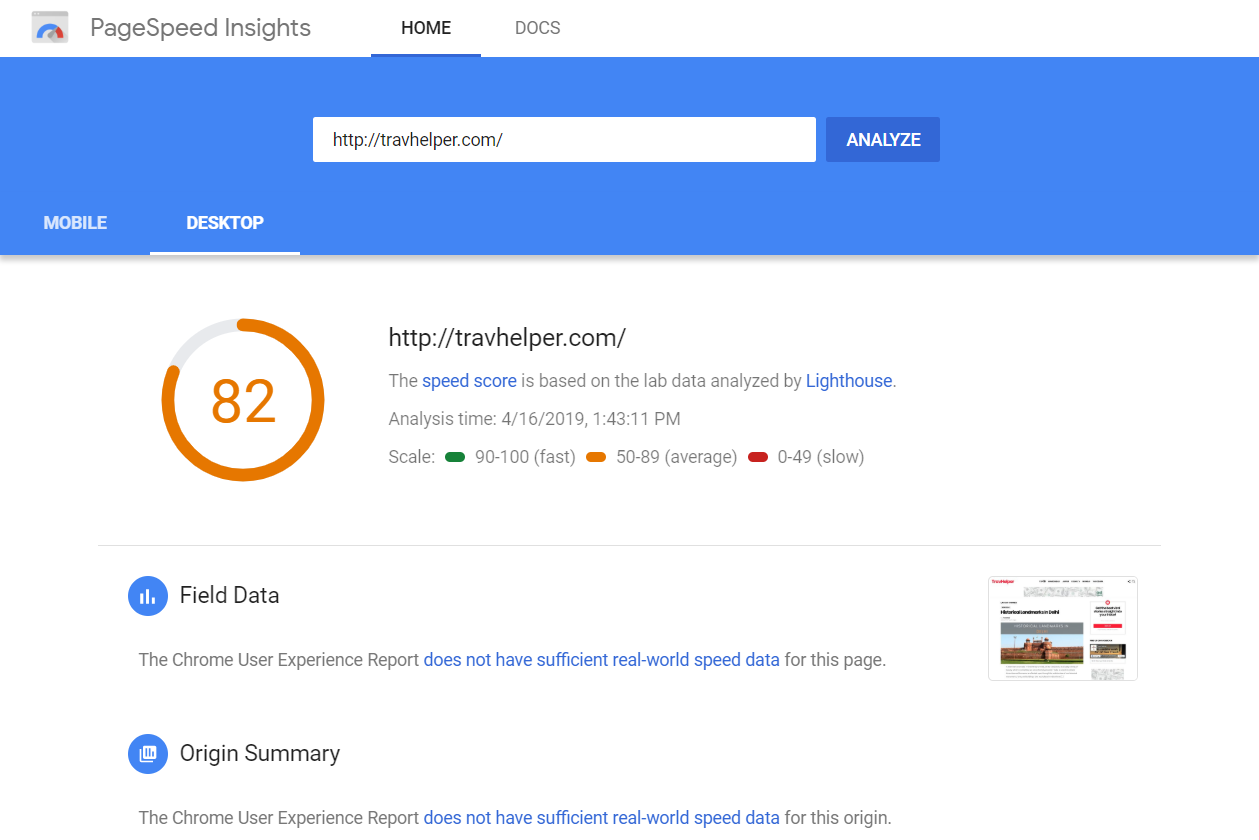 Image via Google PageSpeed Insights
6. Schema Markup
Schema markup is a basic code that you can add to the HTML of your website. It helps search engines find the relevant details of your business and display them more accurately. This can help you increase your click-through rate (CTR), as it'll attract a highly relevant audience. This, in turn, can improve your search rankings as well.
You can use Google's Structured Data Markup Helper to add schema markup to your website. It just takes a few clicks to add the schema markup to your website using this. Once you're done, you should test the output code in Google's Structured Data Testing Tool. This will highlight the errors, if any.
7. Link Building
Link building is an important aspect of SEO and that is true for local SEO as well. For local organic results, link signals are the most important ranking factor. To build links, you'll need to come up with high-quality content that is relevant to your niche and is helpful for your audience. This will improve your chances of getting more shares and link backs.
You can even write some guest posts on other relevant websites and get high-quality backlinks from them. Remember to choose websites that have a high domain authority (DA). The quality of the links matters more than the quantity. Local blogs or industry-related blogs can be a great option for a guest post.
Link building is a continuous process. But along with it, you need to keep track of your rankings too. For this, you can use SpyFu's Rank Tracking Tool. It'll show you all of the keywords you're ranking for along with any changes in your rankings.
8. Embed Maps
Embedding Google Maps on your website is yet another way of improving your local SEO. It can give your audience a better idea of where exactly your business is located. Additionally, it helps Google pull data from your website's content along with the map. This can improve your chances of ranking higher up in local search results.
9. Encourage Reviews
Reviews work as social proof for your business. About 86% of all consumers read reviews when researching local businesses. Additionally, 57% of them will only choose a business if it's rated more than 4 stars.
This makes it important for you to encourage your customers to write good reviews about their experience with your business. And if they do end up writing a negative review, make sure that you respond in a professional manner.
This is because as many as 89% of consumers read the responses given by a business when they read reviews. If you respond well, they may still choose to do business with you in spite of some negative reviews.
Final Thoughts
Local SEO may not be as complicated as SEO due to less immediate competition. However, it can be quite challenging in its own way. In fact, for small businesses we recommend that you stay on top of SEO best practices that some small business owners tend to overlook. Plus, it's important to ensure that your on-page SEO is done well. Google My Business and link building shouldn't be ignored either. Finally, encouraging your customers to write reviews can help build social proof, which can get you more customers.
About Author