When you search for something on Google, you've probably noticed that Google presents its results in a number of different formats.
Search for "Beyoncé" and the search results include more than just a list of links — there are news articles, images, videos, a short bio, and a lot of other features.
Those features outside of the normal list of links are called search features or sometimes Search Engine Results Page (SERP) features. If you manage to get your website listed in a search feature, it can drive a significant amount of traffic to your website or at least create a lot of awareness for your brand.
Getting your website listed in the search features is possible, but it is difficult. Pulling it off requires an understanding of on-page SEO, technical SEO, and Google Ads.
What is a search feature?
Before explaining each search feature, you have to understand what a search feature is not. For the most part, there are two parts to a Google search. There are the basic results and the search features.
The basic results are the list of links that you see when you perform a search. If you search for "recipes," you'll see these basic results:
Search features are any content on the results page that falls outside of the basic list of links. You might see images, ads, featured snippets, and a number of other things that fall under the search feature umbrella.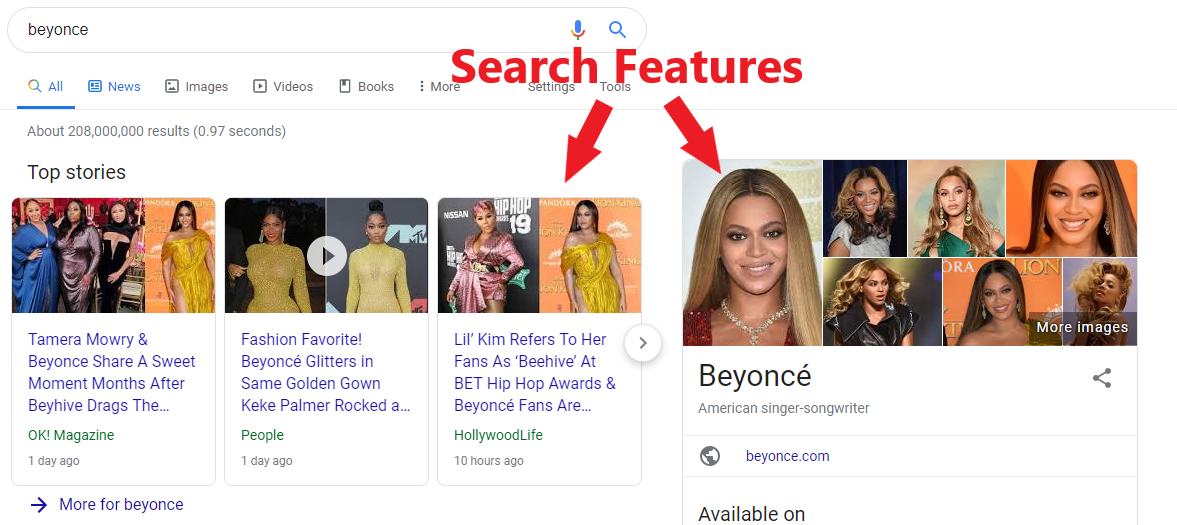 Depending on the type of search you're performing, you'll see different search features. Information-seeking searches will show different results than transaction-focused searches.
If you searched "who was the 3rd president," which is an information-seeking search, you'd be presented with results that look like this: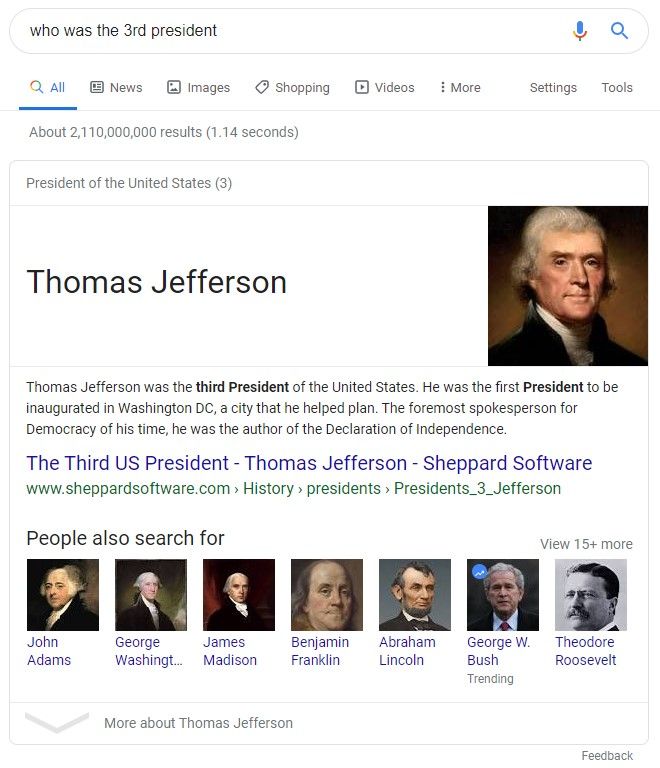 Notice that there is only one link to a website. The search has a definitive answer, so Google doesn't immediately present many options.
On the other hand, if you perform a transaction-focused search, such as "what's the best computer for video editing," Google gives you a lot of options because consumers have a lot of choices for this product: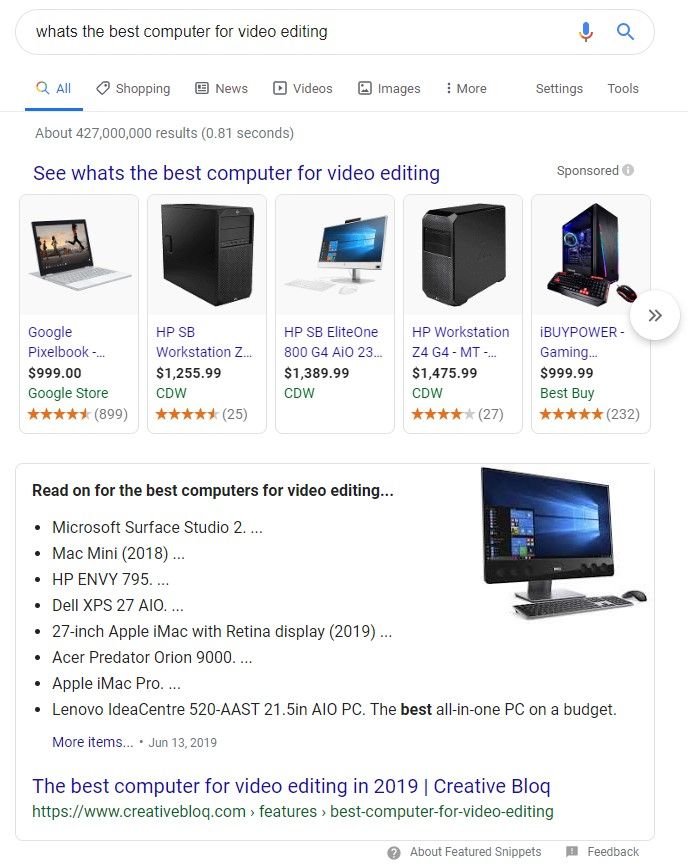 Those aren't the only types of searches, either. Depending on what Google thinks the goal of your search is, you might see any number of results formats.
If you want to get your website to appear in one of the search features, you'll need to do at least one of three things:
Optimize your on-page content for search. That means you should be doing keyword research, properly using H tags, using descriptive URLs, and more.
Use schema markups. Schema is a form of structured data that helps search engines understand the content on your page.
Buy ads. Some of the search features are advertising-based, which means you'll need to use Google Ads.
Even if you do all three of those things, there's still no guarantee that your website will appear in the search feature. Some of them are very difficult to get. Regardless, there's no harm in trying.
Comprehensive list of search features (and how to get them)
We've identified 14 of the most common search features that you can potentially rank for. There are a few we left off this list because they're specific Google partners, like Weather.com's Weather Snippet. In instances like that, if you're not a Google partner, the chances of your company getting the search feature are slim to none.
Advertising features
Anytime you perform a Google search that triggers ads to be shown, you're seeing the advertising search features. Google has a number of different ad features. There are top-of-result ads, shopping ads, and bottom-of-result ads. Depending on the type of search you're performing, you'll see different ads.
If you search for physical products, such as "wireless keyboard," you'll see shopping ads: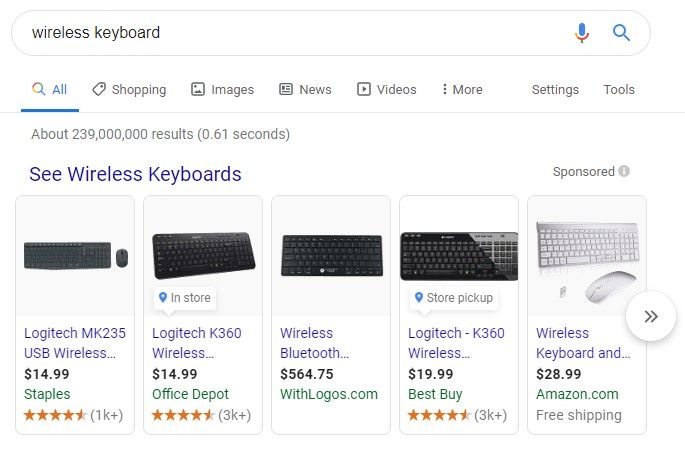 You're more likely to see top-of-result and bottom-of-result ads when searching for services, such as "flights to las vegas."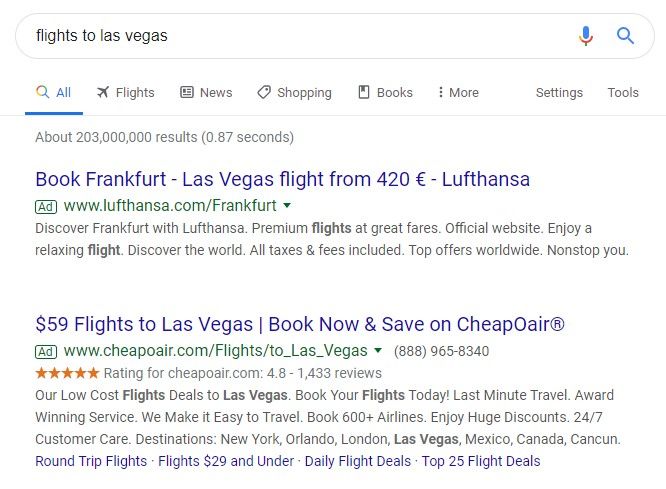 How to get it: Getting this feature is simple, but it's not free. You just have to run search or shopping ads using Google Ads.
Featured snippet
The featured snippet is the box with one result that you see at the top of many Google searches. It's formatted differently than the basic results. It's also the result that the Google Assistant reads when you ask you a question.
Featured snippets most often appear for searches that have a definitive answer. For example, if you search for "where does Jeff Bezos live," you'll see a featured snippet with the answer and a link to the website where the answer came from.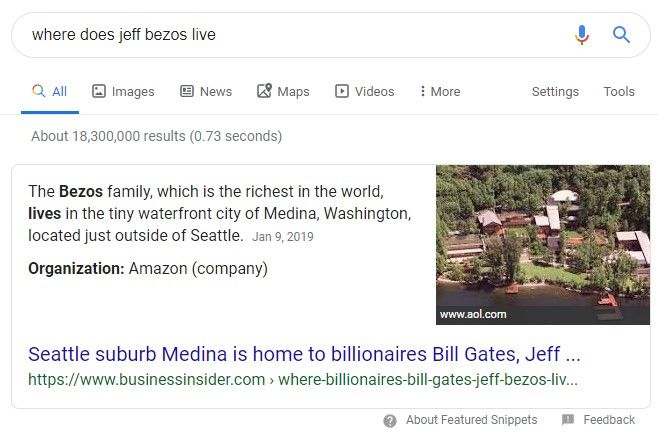 How to get it: Landing one of these featured snippets is difficult since only one result gets the featured snippet. Since this most often appears when searchers ask questions, you need to create content that answers commonly asked questions. Using research tools like AnswerThePublic can help you figure out the questions that searchers commonly ask.
Location features
Location features appear when a searcher is looking for location-specific content. For example, if you're at SpyFu's offices and want lunch, you might search for "restaurants in scottsdale az" or "restaurants near me." Either of those searches will result in a location feature that shows a map of restaurants in Scottsdale, Arizona: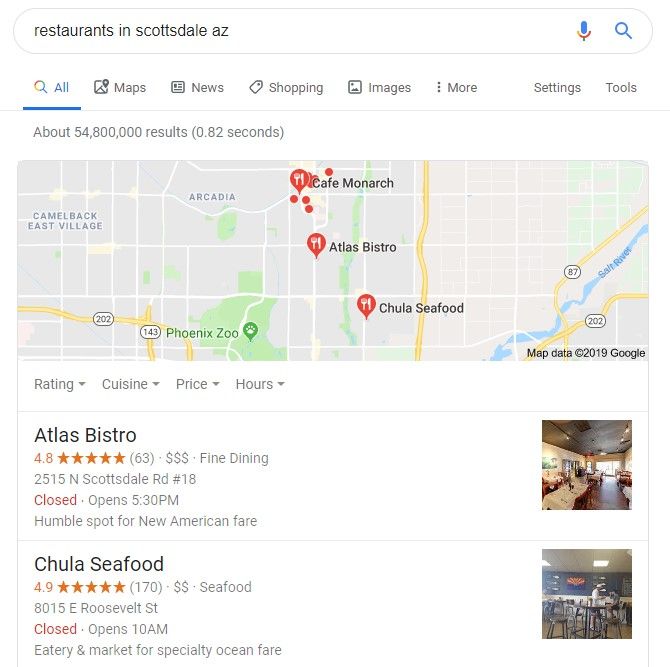 How to get it: Optimize for local search. Make sure your business has plenty of good reviews, and use Google My Business to keep all of your business information up-to-date.
Local features
Local features appear on the right sidebar when someone searches for a specific local business. If we wanted to know the operating hours of Atlas Bistro, we'd search "Atlas Bistro hours." On the right side of Google's results, we'd see the local feature for that restaurant, which includes its address, hours, and reviews: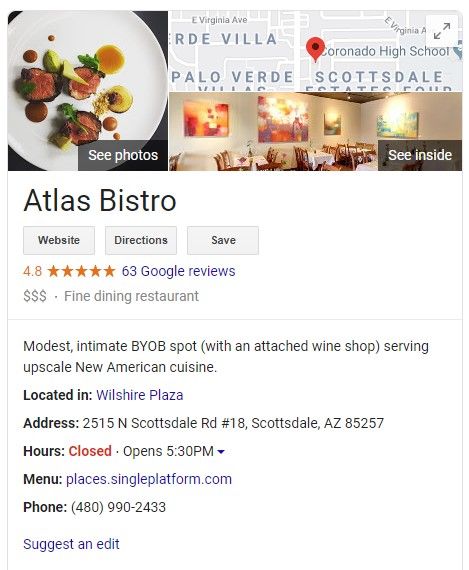 How to get it: If you've already optimized for the location features, you'll optimize for this one too. Use Google My Business to make sure that all of your business information is accurate.
Product Reviews
Unboxing videos and shopping guides help many niched content creators get a spot high up on the SERPs for high volume keywords. Google introduced improvements that can potentially highlight pros and cons to show up on a search.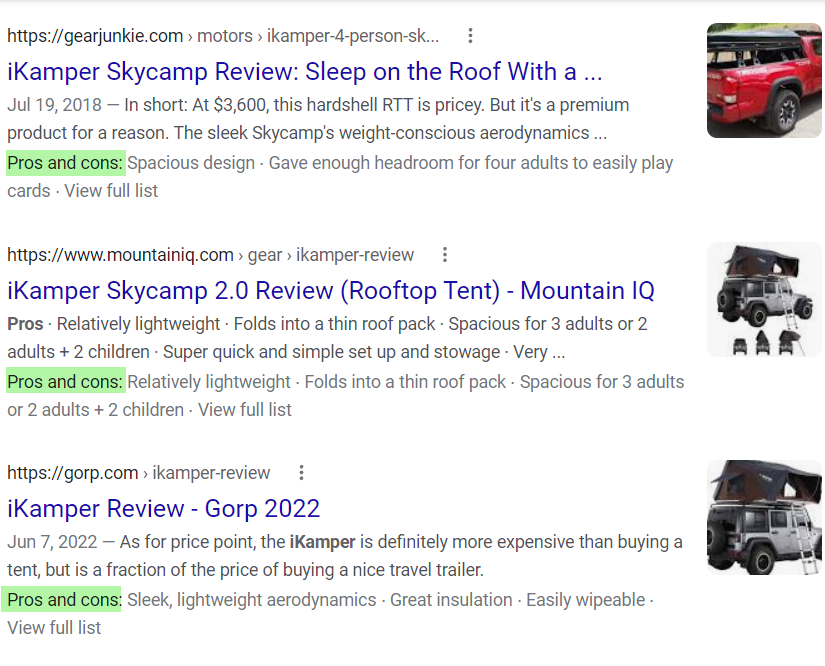 How to get it: Google's addition of "pros and cons" structured data lets you tell the crawler that your description deserves a spot in the review snippet. Here's their guide to add it to your page.
Knowledge pack
This feature is triggered when a searcher is looking for information on one specific, but well-known, topic. There are two parts to this search feature:
The knowledge graph: appears at the top of the search results and presents information in an interactive chart.
The knowledge panel: appears on the right side of the search results and presents information in a text-based format.
For example, if you search, "us population growth rate," you'll see the knowledge graph: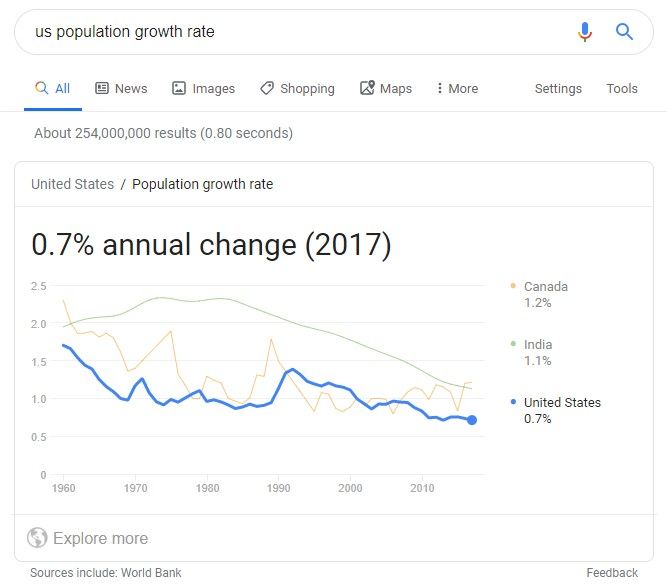 If you search for something that is fact-based but can't be presented in a graph, you'll see the knowledge panel. For example, searching "scottsdale az," gives you the right sidebar with facts and a quick description of our favorite city: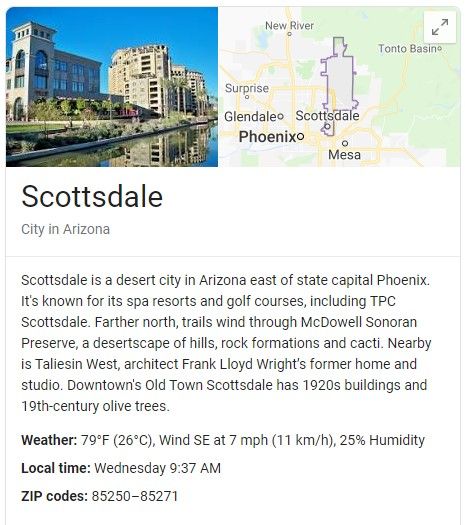 How to get it: It's very difficult to get one of these. If you're a well-known entity, Google will automatically create a knowledge panel about you, usually pulled from Wikipedia. Google only allows you to edit a knowledge panel after they've already created one for you.
Enhanced site links
These are additional links that appear in the basic results that are indented underneath the main content link. You'll most often see these when searching for a specific website.
If you search "spyfu," you'll see enhanced site links for our website. They're the two columns of links underneath our main URL: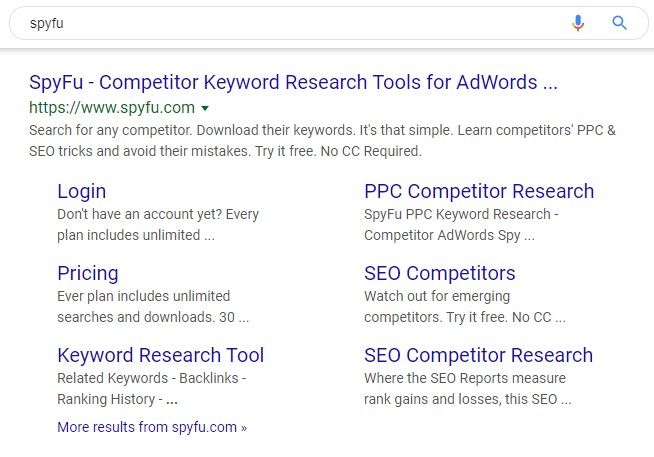 How to get it: For highly trafficked websites, Google will automatically create these links based on the pages that your website visitors often go to.
Image pack
Image packs are groups of images that appear for searches where Google has identified the intent to be visual-based. Basically, it appears when searchers want to know what something looks like.
For example, if you search, "the Eiffel tower," you'll see an image pack at the top of the results: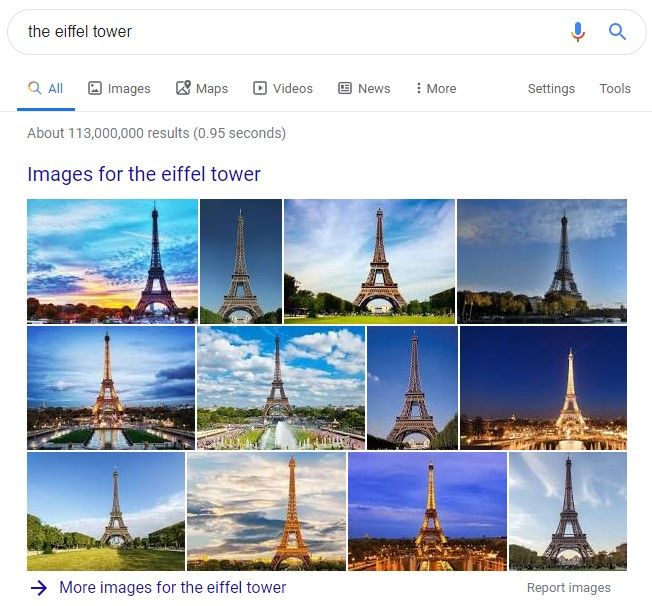 Image packs don't always appear at the top of the results. Google places them in different areas depending on the type of search and how often searchers are looking for images of a particular keyword.
How to get it: Google pulls these images directly from Google Images. You'll need to optimize your images for image search by using a descriptive file name and alt-text. You also need to make sure you're using the proper size and file names for your images.
People also ask
This is an FAQ-style search feature. It appears for searches that cause people to continue to search for other related topics. For example, if you start searching for a broad topic such as "wireless keyboards," you'll see the "People also ask" section listing a number of other things related to wireless keyboards that people are searching for: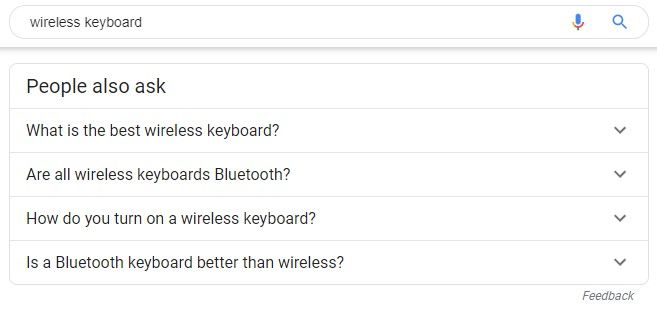 When you click on each of those additional questions, Google gives you a short answer to the question and the option to perform another search of the question.
How to get it: This is also difficult to get because it's very similar to the featured snippet. Your best chance is to create content that targets the long-tail keywords of your root keyword.
Recipe cards
These appear when a searcher is looking for a cooking recipe. If your company publishes recipes, you'll want to optimize for this search feature. If you were going to cook pad thai for dinner this week, you might go to Google and search for "pad thai recipe." If you did that, you'd see a number of recipe cards at the top of the search results: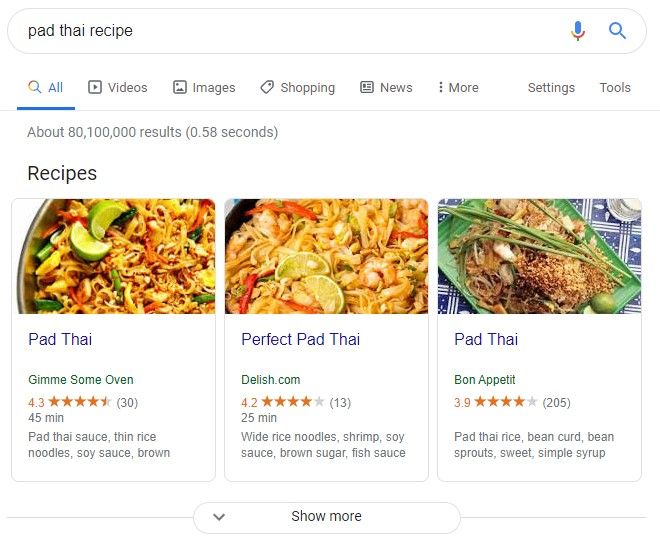 How to get it: This search feature is one of the more attainable features. You need to use the recipe schema markup and build your recipes using Google's AMP instant-loading pages.
Job cards
Job cards appear when someone is searching for jobs. For example, if you search for "marketing jobs," you'll see a list of marketing jobs at companies near you.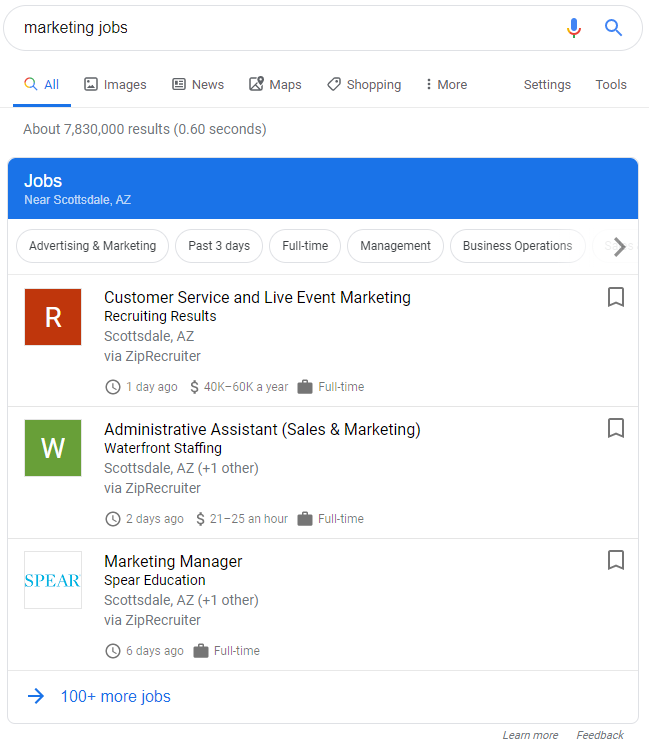 How to get it: You'll need to use the JobPosting structured data in your job postings. Google also pulls these from LinkedIn, Glassdoor, ZipRecruiter, and a few other popular job searching websites. Posting your job openings on those boards can get your opening listed on this search feature too.
Events
Events appear when someone is looking to discover events happening in a certain city or town. It's both location-based and time-based. For example, searching "events happening in Scottsdale this weekend" will trigger the events search feature: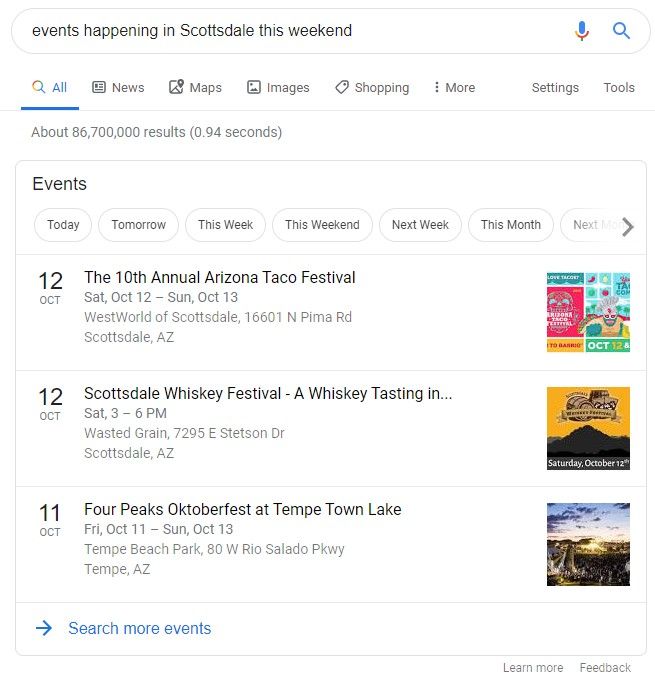 How to get it: This one requires the use of the Event structured data. Also, your on-page content about the event should be very detailed. You'll need to include the date(s) of the event, the specific location, and how people can buy tickets. Linking to Facebook Events for your event can also help.
Top Stories
Top stories appear for current events and news that is happening faster than the basic search results can keep up with. According to Ignite Visibility, top stories tend to favor established, credible news sources.
When you search for "beyonce," you'll cause top stories to trigger because news about her changes quickly and often: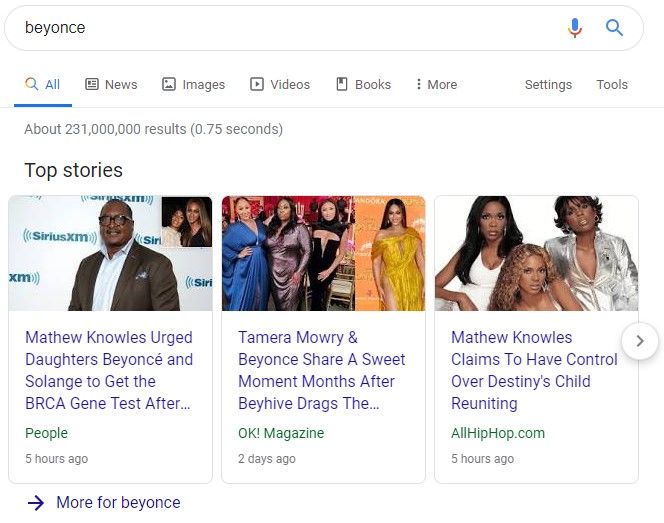 How to get it: You need to make sure your content is built using Google's AMP instant-loading pages. You also need to quickly and consistently publish content about current events in your industry.
Tweets
Google incorporates tweet carousels into its organic rankings occasionally. This most often happens with popular Twitter profiles who tweet consistently.
A Google search of "rand fishkin" shows his most recent tweets: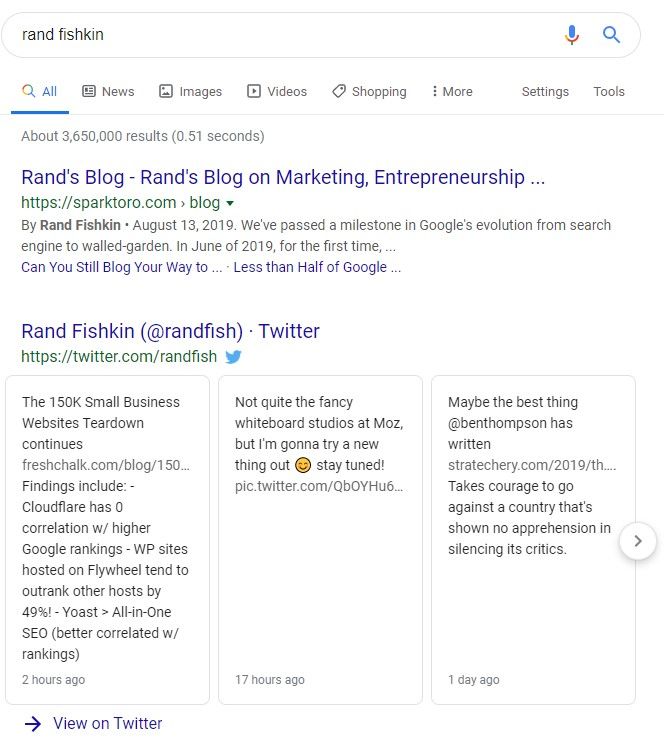 How to get it: This is a partnership between Google and Twitter, so you need to be active on Twitter and have an engaged following. You also need to be verified and have a large following. Even if you have all of those, there's still a chance that your tweets won't appear in Google's organic results.
Videos
Videos appear for searches where the searcher is trying to learn, listen to, or watch something. For example, videos will trigger if you search for "photoshop tutorial."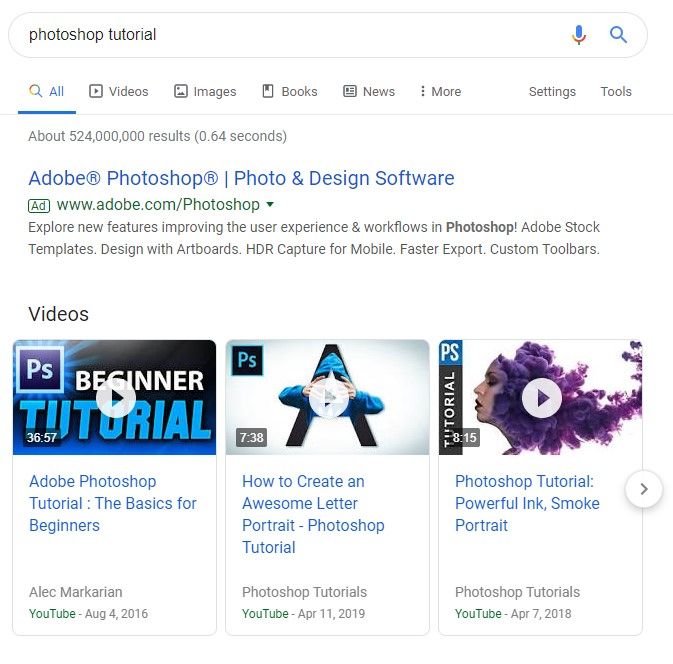 How to get it: First, host your video on YouTube and follow best YouTube SEO practices. When you have video embedded on your website, make sure you're using the video structured data markup.
Search features can result in a lot of traffic
Getting one of these search features can drive a lot of traffic to your website. Some studies say that landing the featured snippet will drive 500% more traffic to your website. It's clearly worth the effort to try and get your website to rank in as many of these search features as possible, and it's possible with a little bit of work. Regardless of what search feature you're trying to grab, make sure your website as a whole is using the best on-page, off-page, and technical SEO tactics.
About Author