As many of you know, search engine optimization drives incredible value to organizations. Whether in times of incredible growth or periods of stagnation, SEO retains its value because it can generate results over the long term. 
In today's world of search, you need to focus on SEO if you want to gain search visibility, lead people to your site, and have them convert.
If you're not investing in SEO, you're going to fall behind. 
Unfortunately, the progress that comes with SEO can take some time to take effect, and many — like decision makers outside of your department — don't fully understand the concept of organic search and its value for driving business success.
Executives and leadership who don't understand the value of SEO may see this as a quick cost cutting opportunity. This is especially true in times of stagnation.
Recommended Reading: How to Determine Valuable SEO Insights in the Wake of Economic Uncertainty
Don't let this discourage you!
This article is meant to remind you of all the wins that are happening at your company because of your SEO efforts, and it will show you key points to make to reinforce the investment in SEO at your company.
So, let's start at the beginning of all of this …
The Challenge with SEO
SEO is a marketing strategy that is a black box: no one has a complete understanding of it entirely.
After all, results take time, and can even be unpredictable.
As an SEO or member of an organization's marketing team, you may face many challenges with organic search. From Google algorithm updates to unexpected ranking fluctuations, competing with Google's own SERP features to global crises that impact search behavior.
But you also persevere through these challenges. 
These, of course, are critical challenges (and opportunities) for SEOs: you know the value of your work, but others just don't get it.
Now's your chance to prove the value of your work and the organic channel!
Let's analyze how these challenges can lead to further issues down the road if it's not addressed. 
Recommended Reading: 9 Ways SEO Brings Value to Every Team
Why This Challenge is Important
As an SEO (in-house or at an SEO agency) or digital marketer, you've had to demonstrate the importance of organic search to gain buy-in from leadership.
Maybe you had to demonstrate its value so you could adopt an SEO platform at your organization, or maybe you needed more investment. 
Recommended Reading: Using SEO Forecasting: How to Build an SEO Business Case
One thing is for sure: you need to continue to prove SEO value so you can a.) invest more toward organic channel or b.) keep your existing investment in the channel. 
If you're not able to continually grow your SEO, you're losing — especially given the rate at how fast Google changes and how much other content is being produced and published. 
According to Statista, 4.5 million YouTube videos were watched every minute in 2019. You can imagine how many blog posts, category pages, and other content types were created, launched, and digested.
And, according to Internet Live Stats, Google processes more than 40,000 thousand queries per second.
If you have no content marketing or SEO strategy in place, guess what? No one will find your site, no one will read your content, and no one will convert.  
Higher-ups need to be reminded that if you're looking to grow, you need to target a wider range of keywords and a larger audience. If the company is trying to grow, SEO has to continue to be a part of the picture.
So here are key points to remind executives of on the front of SEO value.  
The Value of SEO: Now and in the Future
1. SEO is a Long-Term Investment
SEO is a long-term investment that will continue to drive results even after you've created new content content or optimized your site. As my colleague Nic Dell said, 
… once you start to see those results, you'll continue to reap those rewards long after you've implemented that campaign or published that piece of content."
Now, you may be wondering how you can create long-term success if so much content is being created every day as I mentioned earlier.
One method is to rank for specific, long-tail keywords that are relevant to your industry and hold on to those rankings for a long time to come. 
2. SEO Compounds Over Time
Not only are SEO results long-term, but they build on themselves over time to offer added success. 
Have you ever been asked this question before: "Why should we waste money on SEO if it takes time for results to populate when we could instantly buy results with PPC?"
You can explain that unlike PPC — where you pay, get traffic, and have to repeat the process (and spending) to get results — SEO is able to undergo the snowball effect.
When you create more content and build out your topic clusters, your various work in SEO and content creation will continue to strengthen all around and grow on top of itself.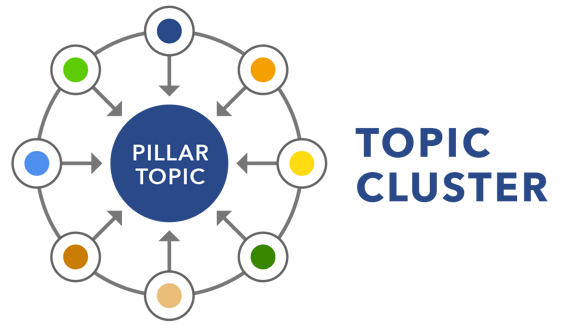 Not to mention, Google focuses on the end user experience, so all the content that populates on the SERP matters ⁠— searchers will be drawn to those organic listings, not necessarily ads. 
Appearing on the SERP and within SERP features is a great way to build brand awareness. When people see your listing they will come to know your brand.
If you provide them a good experience and the content that they're looking for, they will come to trust your brand.  
This brings us to point three …
 
3. SEO Improves User Experience
Not only does SEO bring traffic to your pages, it also ensures that users have a positive experience while on your site.
At seoClarity, we've always talked about SEO as search experience optimization.
If you've followed our frameworks, you know that a long-term, user-focused approach is the best way to win at organic search.
Recommended Reading: 17 SEO Metrics to Monitor for the End User Experience
Google's ranking algorithm is quite complex, and no one really knows for sure what it includes, but one thing is for sure: they want to serve the user the most relevant listings and give them the best online experience.
Ensure your site functions properly, has a fast page load speed, etc.
If users can't navigate your site properly, they'll bounce back to the SERP and click another listing  that probably belongs to one of your competitors!
In this case, you've just lost a possible conversion and have potentially damaged your brand reputation, which is not an executive's ideal situation.
Share this information with the higher-ups, and they'll realize that the investment in your work is about more than just rankings ⁠— it's overall company success.
 
4. SEO Needs to Capture Traffic Driven from Other Advertising Campaigns
Although SEO keyword research is used to attract users from non-branded keywords, SEO is important for brand-related keywords, too.
Paid media campaigns generate interest in a product or service you offer. SEO provides value to capture that demand. Your site needs to optimized for those heavy invested campaigns to make sure you capture the traffic that may come from those advertising campaigns. 
New product releases are a great example of this. Does the product page include all relevant information to ensure it ranks? Do you need to create informational content to support that product release to provide the user more information?  
Recommended Reading: Leveraging SEO Data to Inform Online Merchandisers' Strategies
In cases like this, people tend to forget about SEO because they think the website and other marketing channels will be enough, but the content needs to be optimized for the demand you create for users searching Google. 
This is a great opportunity to show how SEO reinforces the work of other marketing channels. 
Another point on the mention of other marketing channels: be sure your pages house a good deal of valuable, relevant content for when that branded traffic comes to your site.
 
How to Prove the Value of SEO with seoClarity 
seoClarity is a robust SEO platform that allows every department to work from a single source of truth.
Our data set combined with our UI allows you to slice, dice, and analyze the data in an endless amount of ways — you can find and report on what is meaningful to you.
Gain insights that inform decisions for your entire organization, or in this case, use the insights to further prove the value of SEO. 
Here's how you can dive into seoClarity's platform to use data to further prove the value of SEO.
Historical Data
Use seoClarity's historical ranking data to see what happened in the past when SEO was not given the attention it deserved. See the data trends over time to see the increases in traffic, clicks, etc. that came about once SEO campaigns were launched.
Our platform makes it easy to filter through this data to find exactly what you need, which lets you use the data to tell the right story. 
Imagine this scenario: a new executive comes in and hates the idea of SEO. Since the data in seoClarity is everlasting, you can use this data to show the successes that organic has brought to the organization over the years.  
SEO Reporting
With the ability to access historical data, you have the ability to show how you've stayed ahead of changes in the SEO industry. As mentioned, SEO is a volatile industry, and an executive may use this against you in their case to withhold further funding.
Luckily, you can use the data points and provide explicit SEO reports to demonstrate how your work always stayed up with changing trends.
You can even integrate your Google Analytics and Search Console data into seoClarity to get a complete look at your data. 
Recommended Reading: Reporting SEO: How to Take SEO Reports to the Next Level
And be honest — there may be (and probably are) dips in your data. No strategy is perfect. But you can explain that although there was a dip, you and your team quickly recovered and were able to keep the organic traffic flowing. 
Be sure that this report is a meaningful conversation and not just an explanation of the situation in SEO terms. You need to report on what they want to see. When you personalize value SEO is seen as a company-wide asset.
SERP Features versus Paid Search
As you know, Google's top priority is serving users the best online experience possible. This is the reason for the changing SERP landscape and various SERP features.
Google is dynamic when it comes to searches, aligning the search results to be the most relevant and user-friendly. 
In this sense, Google is constantly adapting to search intent, unlike paid ads which are static and universal to all searchers. It's important to work on SEO to capture these various SERP features — it's not a wise idea to focus solely on paid search. 
Recommended Reading: You Can't Beat Google's SERP Features, so Join Them!
Essentially, you cannot be dependent on paid — this would be a huge risk. It may be nice to pay and guarantee the traffic, but it's a false sense of security.
If trouble arises with paid search and you have no strategy with organic, you are going to drop and have no safety net. 
In seoClarity, you can use SERP Features Analysis to capture more search real estate. Use this information to remind executives of the importance of increasing overall search visibility with organic listings, Answer Boxes, images, etc.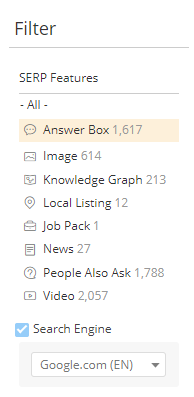 (SERP Features within Rank Intelligence.)
Competitor Insights
If you really want to get executives' attention, show them the success of your competitors. Of course, it will be good if you're beating them, but your executives may realize that if you don't keep it up, you can fall behind.
The reverse is also true: if the competition is in the lead in terms of traffic, clicks, etc. use this to show that your SEO efforts need more support. 
Within Rank Intelligence, it's easy to keep track of your competitors based on your managed keyword set. See their estimated traffic and ranking keywords for specific time periods, as shown below.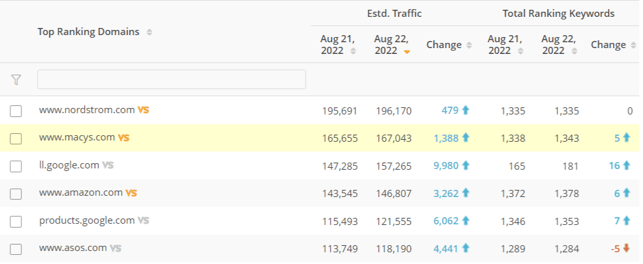 (Top Competitors view within Rank Intelligence.)
You can also create a Rank Intelligence Trend widget that shows your domain's number of top rankings next to that of your competitors. The graph below shows the amount of top three rankings of different domains.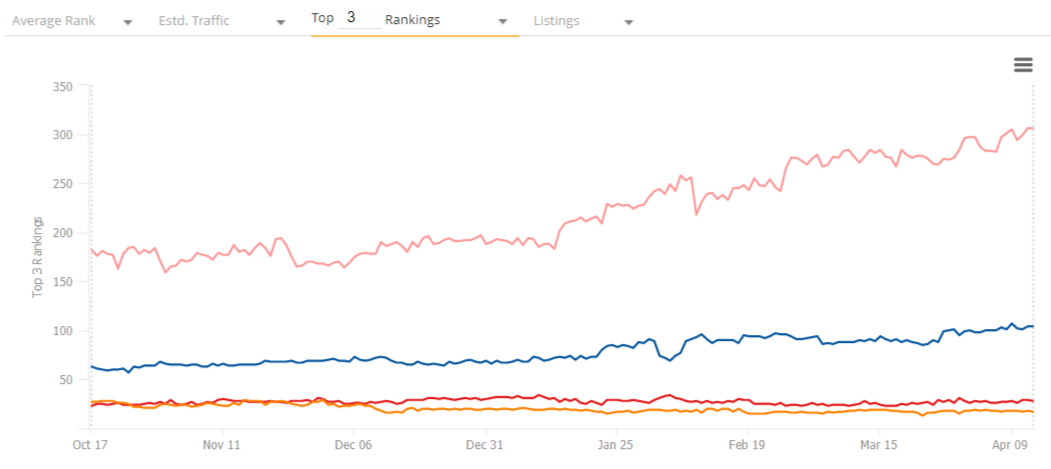 (Top 3 rankings of competitor domains.)
Other Applications of SEO
Technical tasks such as site migrations will fail if an SEO strategy is not considered. Just imagine how many pages your site consists of. When you migrate a website or merge sites together, there's a lot on the line. 
Traffic, leads, conversions, and other KPIs can suffer if the migration is not completed successfully and if SEO best practices are ignored.
This is a prime example of how different departments can come together and use data points to ensure the project at hand is done in the right way. 
Recommended Reading: SEO Platform for Digital Teams: How Enterprise Companies Use SEO Data to Win
Key Takeaways 
SEO goes far beyond rankings. It is something that benefits the entire organization, and now you have further information to support your business case for continuously proving the value of SEO. Use this information to bolster your request for more funding into the organic channel. 
Here is a recap of how to show the value of SEO to business owners and higher-ups:
About Author