DaVinci Resolve is a popular video editing software among many professionals these days. With Premiere Pro getting more and more expensive, DaVinci Resolve is considered to be a solid alternative.
But can it really replace Premiere Pro? Let's find out.
In this comparison, we take a closer look at both DaVinci Resolve and Premiere Pro to compare their pros and cons to figure out which video editor is best.
If you're looking for an affordable Premiere Pro alternative or trying to figure out which video editor to use, this guide will help you find the right software for your projects.
What is DaVinci Resolve?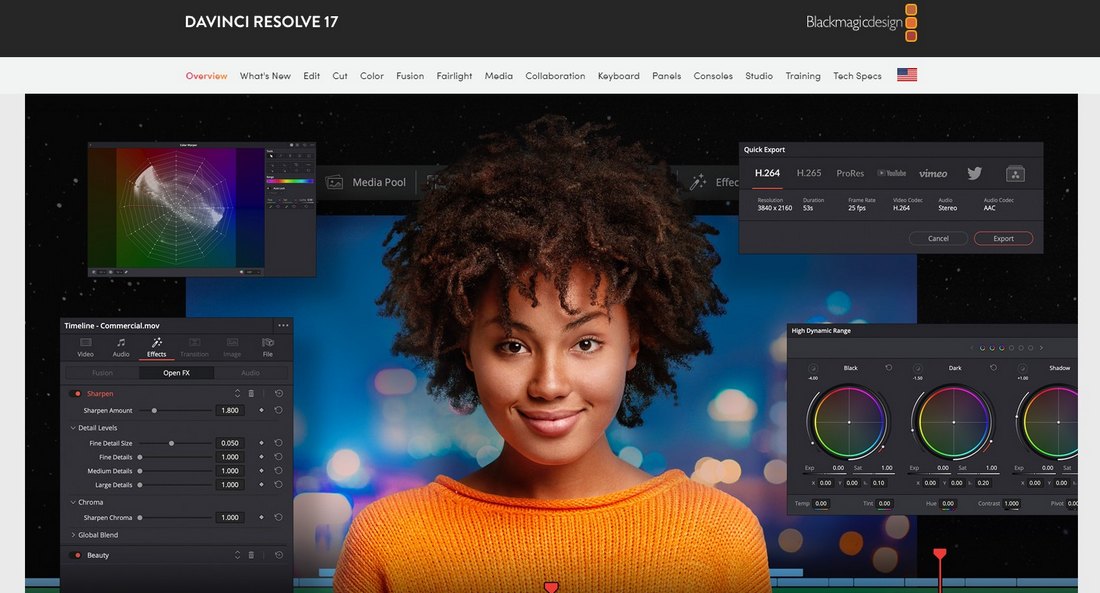 DaVinci Resolve is a video editing app available on Windows, Mac, and Linux. Even though the software has been around for many years, it wasn't as popular as Adobe Premiere Pro or After Effects. Now, it's finally getting the recognition it deserves.
DaVinci Resolve is much more than a simple video editor. It's also known as a complete solution that offers a combination of tools you need to edit and post-process videos into works of art.
Another reason for its popularity is the pricing model for the software. DaVinci Resolve offers a free forever plan with just a few limitations.
Even the biggest Hollywood studios and filmmakers use DaVinci Resolve. Dune, Godzilla, Nobody, Black Widow, Green Knight are some of the many blockbuster films made with DaVinci Resolve.
An All-In-One Solution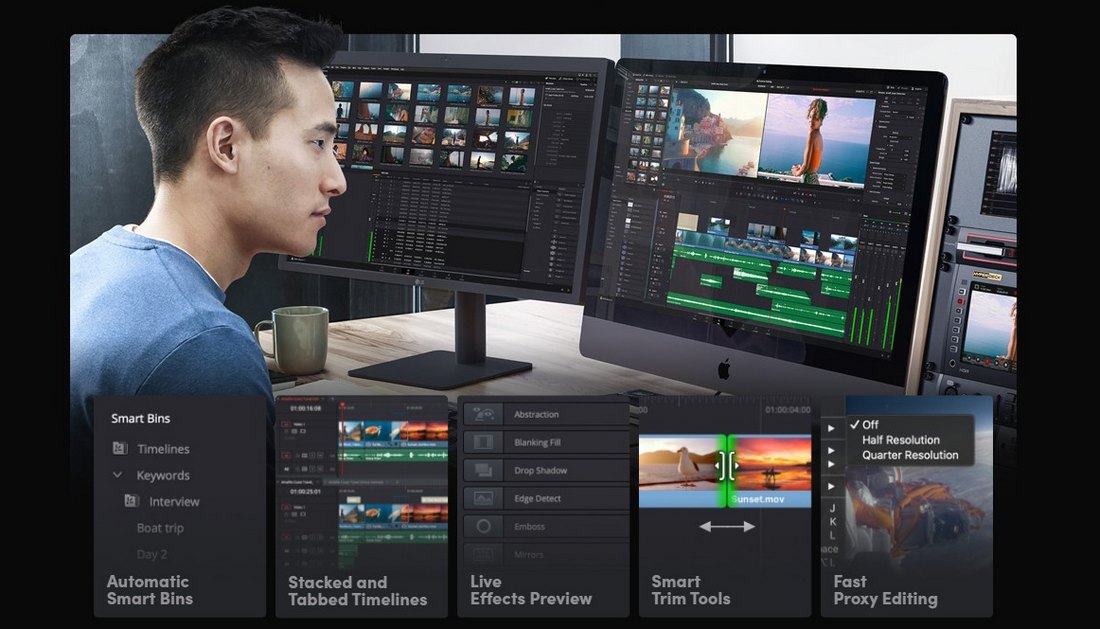 DaVinci Resolve is more like a software suite that comes with a collection of built-in tools that are quite useful in the post-production process.
It includes a video editor for cutting and editing, a color correction and color grading tool, as well as Fusion and Fairlight. They allow you to create amazing visual effects and manage the audio post-production process directly from DaVinci Resolve.
Create Hollywood-Grade Special Effects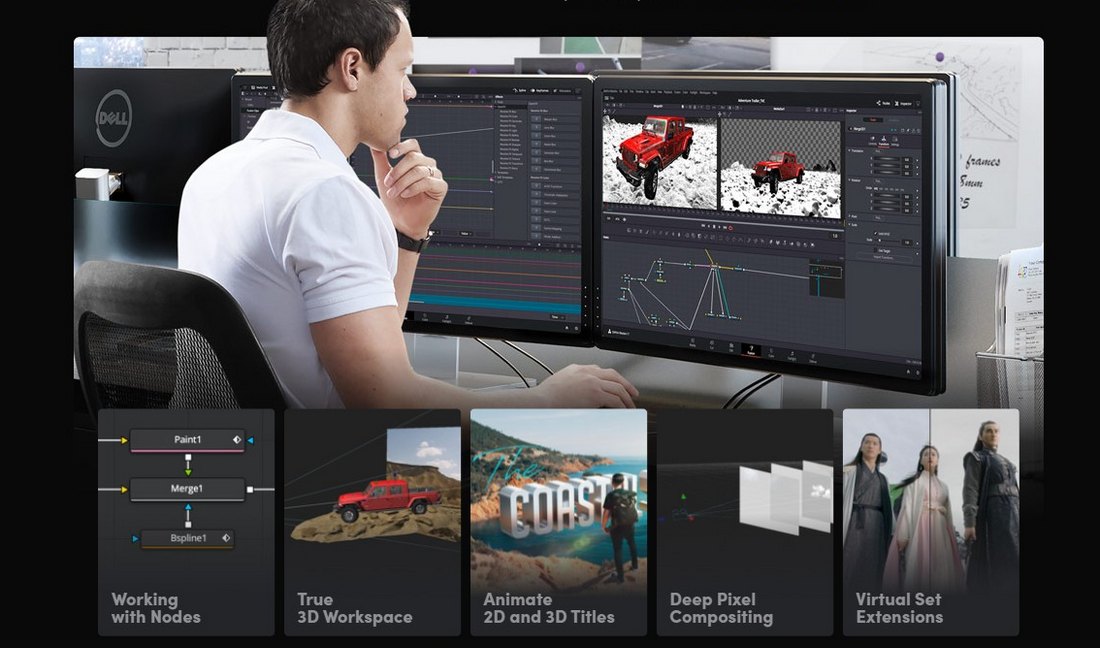 Creating incredible visual effects, transitions, and animations is so much easier with DaVinci Resolve. The Fusion tool gives you a simpler interface for creating all kinds of 2D and 3D effects for videos.
Whether it's making transitions for a slideshow, crafting a killer intro, or even replacing the green screen, this tool makes the entire process a walk in the park.
Integrated Audio Post-Production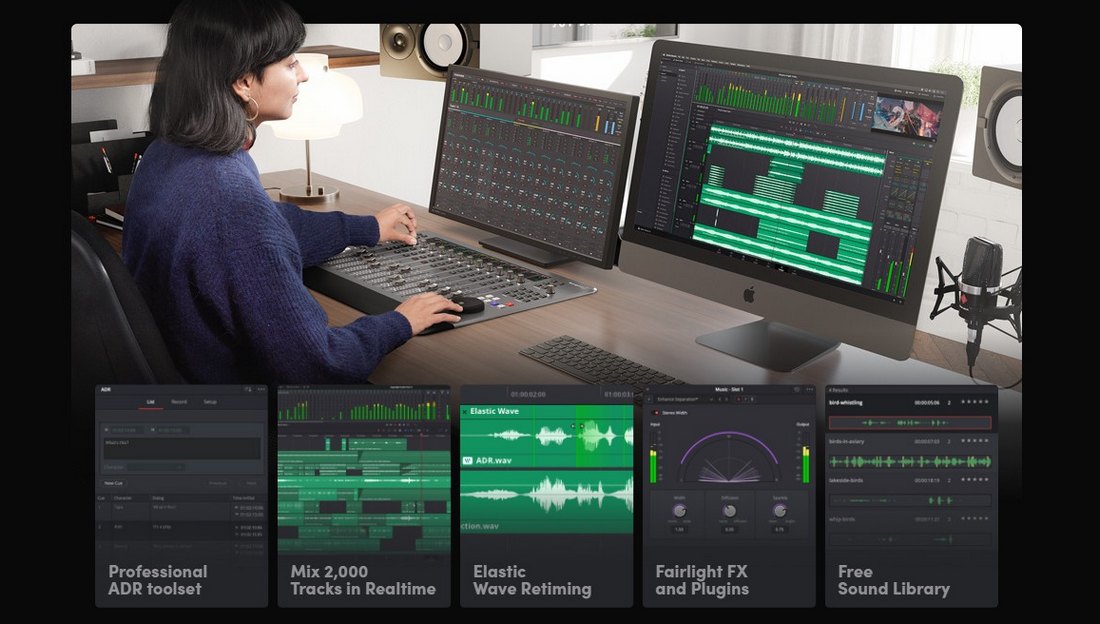 Big budget films usually have separate people in charge of video production and audio post-production. With DaVinci Resolve Fairlight, you can be in charge of both.
Fairlight is the audio-post production tool kit available in DaVinci Resolve. It offers a huge collection of tools for tackling all aspects of processing audio.
Advanced Color Correction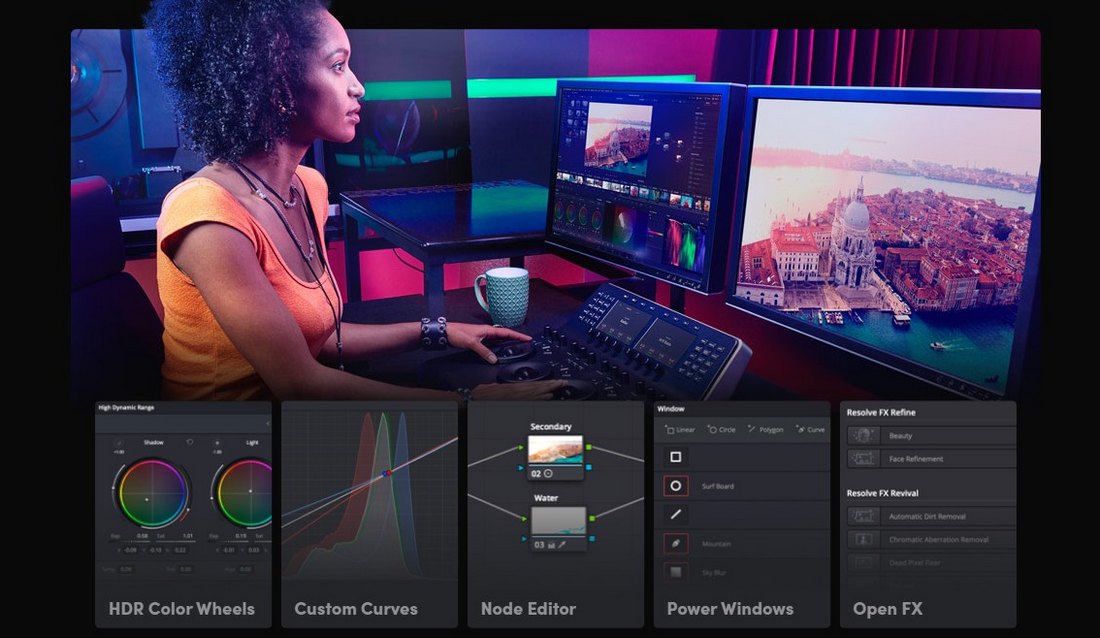 Color correction is a big part of the film post-production process. Creating a consistent look across all footage shot in different locations needs a lot of work.
DaVinci Resolve has a powerful color correction tool for making sure your videos look consistent. And it also supports LUTs for adding film looks to your videos as well.
Keyboards and Supported Hardware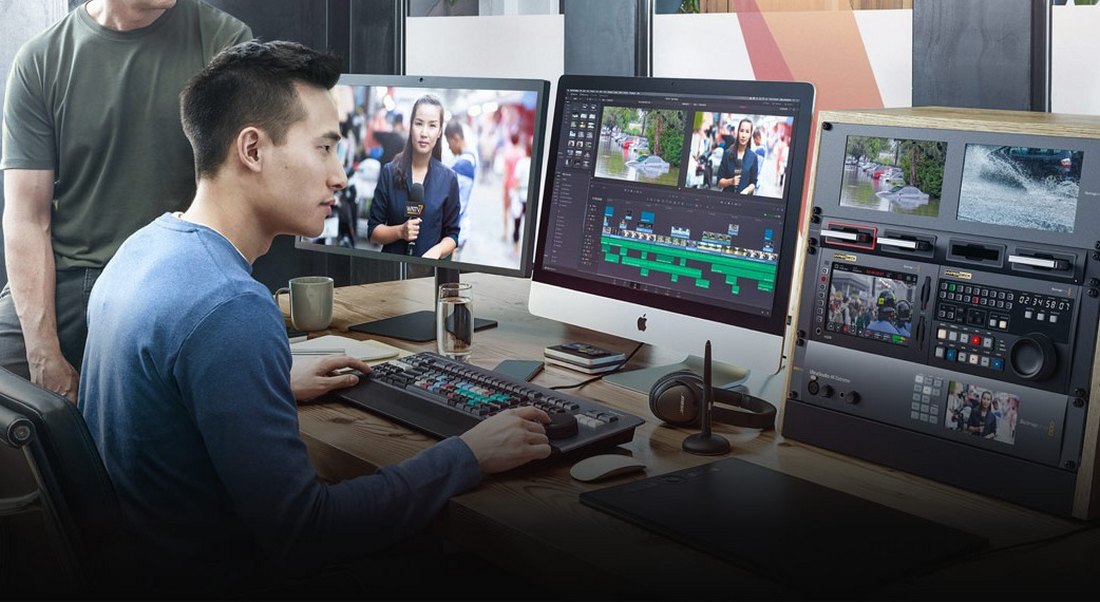 A lesser-known benefit of using DaVinci Resolve is its wide range of hardware solutions. There are keyboards for more serious video editors, color panels for color grading, and audio consoles for audio post-production, all fully compatible with DaVinci Resolve.
These hardware solutions are perfect for improving your workflow as a professional.
Benefits of Using DaVinci Resolve
You can use the video editor for free or access all of its tools for a one-time price
It's suitable for cutting, editing, and producing videos of all kinds
You can color grade videos quite easily
Process and edit audio directly from the software
Create and add special effects without having to use a separate software
Community and support for the software keeps growing
The software receives regular updates with new features
Downsides to Using DaVinci Resolve
With so many tools and features, getting into the software can be a bit overwhelming
Support in third-party templates and resources is growing but it's not as big as Premiere Pro
How Much Does It Cost?
The price is arguably the biggest competitive advantage DaVinci Resolve has over Premiere Pro. While Premiere Pro comes with a monthly subscription, DaVinci Resolve offers a free forever plan. Even the premium version only costs a one-time price.
The free version offers access to the main editing tools. However, to access the more advanced tools, like Neural Engine, special effects filters, and audio plugins, you'll need to get the pro version for $295.
What is Adobe Premiere Pro?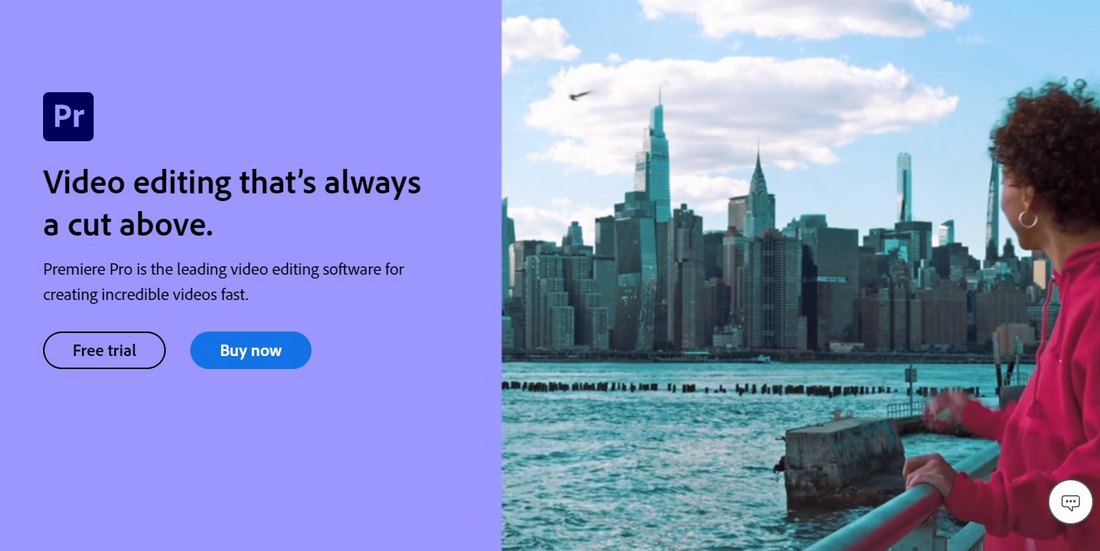 Premiere Pro is the leading video editing solution offered by Adobe. It's used by everyone from Hollywood filmmakers to individual creators.
Ease of use and its huge community support is what makes Premiere Pro an undefeated software among professionals of all industries. Premiere Pro is also a software that's been well-refined over the years by Adobe to offer a collection of innovative tools and features.
Premiere Pro is part of the Adobe Creative Suite, which allows you to use it in combination with other software in the Suite such as After Effects and Adobe Stock.
But what makes Premiere Pro great is its beginner-friendly approach. It's one of the reasons why filmmakers, videographers, and even social media influencers use it in their everyday projects.
Adobe Sensei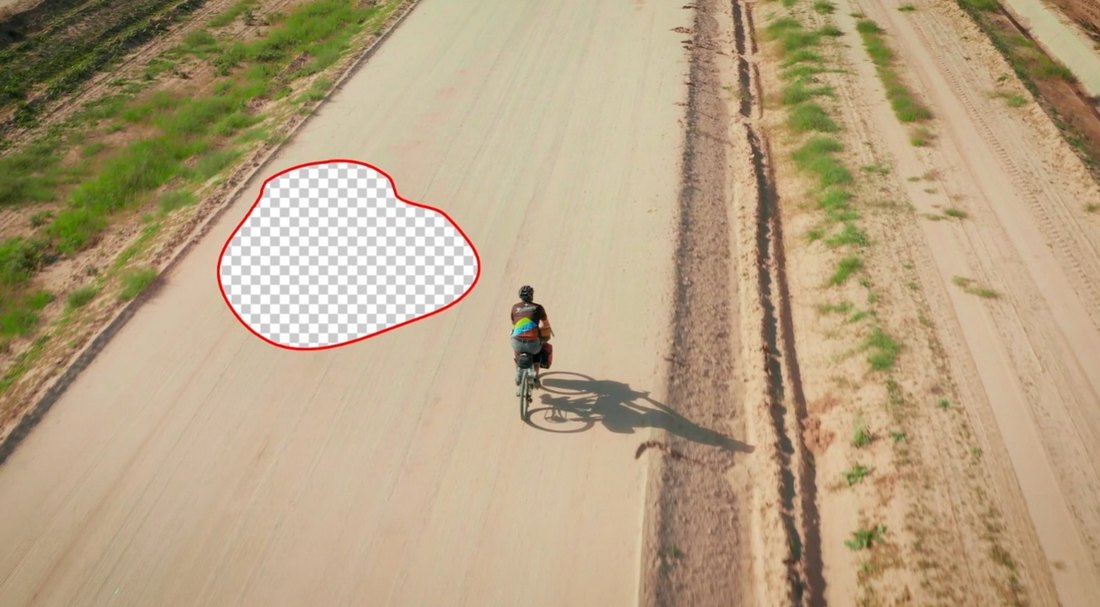 Adobe Sensei is the artificial intelligence (AI) tool that's built into many of Adobe's software. With Sensei integration in Premiere Pro, users can automate some of the most complex tasks in video editing.
For example, this AI is capable of removing a moving object from a video, creating special effects, searching for specific content in your library with keywords, and more.
Well-Refined Sets of Tools
Premiere Pro has been around since 2003 and Adobe has been updating, improving, and refining its features for many years.
As a video editing software, Premiere Pro is now at its peak performance, offering the best tools and features for handling everything from Hollywood movies like Deadpool and Terminator: Dark Fate to your personal TikTok videos.
Editing and Color Grading in One Place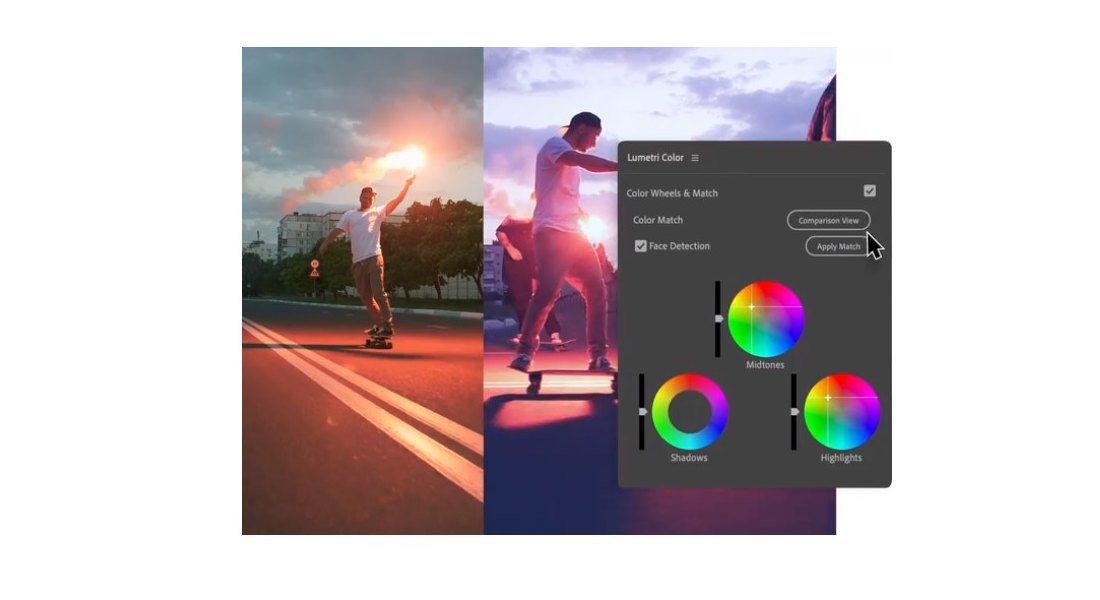 Adobe is an expert in visual enhancements. They have applied their signature enhancing features, especially found in Photoshop, to Premiere Pro.
Correcting colors, enhancing lighting conditions, and overall color grading videos are much simpler and easier with Premiere Pro.
Tons of Third-Party Resources & Templates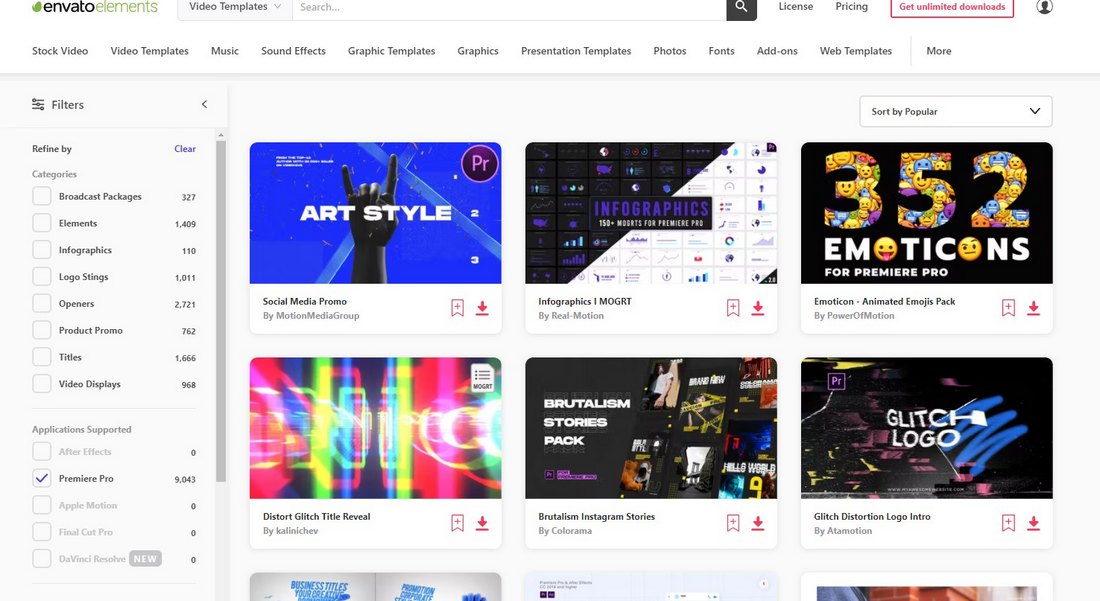 When it comes to finding great templates for adding special effects or customizing your workflow with plugins and resources, Premiere Pro is miles ahead of its competition.
You can easily find thousands of high-quality third-party resources from platforms like Envato Elements for making all kinds of projects.
Integration with Adobe Creative Cloud
Unlike DaVinci Resolve, you can't do a lot of visual effects work in Premiere Pro. But the good news is Adobe has another software for just that.
Premiere Pro works flawlessly with other apps in the Adobe Creative Cloud software suite, including After Effects. If you want to create advanced special effects for videos, all you have to do is switch over to After Effects.
Benefits of Using Premiere Pro
Premiere Pro is very beginner-friendly. You can learn to use the app in a very short time
Offers advanced yet easy to use tools for editing videos
Features impressive color grading tools
Add subtitles and captions with automatic transcription tool
Loads of templates and resources from third-party marketplaces
Finding tutorials and learning materials are easy to find
Downsides to Using Premiere Pro
Very expensive pricing plans
Does not have audio post-production tools as advanced as DaVinci Resolve
Needs to use a separate app for visual effects
How Much Does It Cost?
Since it's part of the Adobe software suits, Premiere Pro comes with an expensive price tag.
Pricing starts at $20.99 per month for individuals to use only Premiere Pro. or you can access the entire Adobe Creative Cloud apps collection for $52.99.
Premiere Pro vs. DaVinci Resolve: Which App Should You Use?
In many ways, Premiere Pro is the perfect solution for all video editing projects. It's especially the go-to choice among professionals for producing social media content, YouTube videos, and wedding videos.
The availability of third-party resources and ease of use makes Premiere Pro a great option for both beginners and pros.
However, given its expensive subscription plans and lack of integrated tools for visual effects and audio post-production, DaVinci Resolve is proving to be a better option for video editors.
DaVinci Resolve has a bit of a learning curve. It's especially tough to master for people who are new to video editing. However, the all-in-one solution and the free plan make DaVinci Resolve worth looking into.
About Author