Have you ever wondered why 99% of blog posts have links in them?
I have… and if you think about it, aren't they redirecting viewers attention away from the blog posts to other websites?
Well, they do and website owners are well aware of this. However, website owners still add links because some types of links matter for search engine optimization. Yes, you read that correctly… LINKS MATTER FOR SEO.
These are the 5 types of links that will be discussed in this article:
Internal Links
External Links
Natural Links
Manually Obtained Links
Self-Created Links
Today, we shall understand further about the types of links and the links that matter for SEO. Excited and eager to learn? Great, that's the attitude we want!
Search engines actually look at links on websites to help them decide which website to rank on top and on the first page. It is only one of the many factors that search engines consider when evaluating a domain. A search engine can tell whether a website is of good quality through links.
Links transfer values and equity from one page to another and they are called link juice. Link Equity is measured in a few dimensions, mainly, trustworthiness, topic relevance, value and authoritativeness of a page.
In the past, when Google first started, the quality of a website was determined through the number of links a particular website receives. However, many individuals took advantage of it and created several websites that link to their own main website.
These individuals tried to deceive Google that their websites are important, popular and relevant. You guessed it right… as a result, most of them ranked on the first page of the Search Engine Result Page (SERP).
Today, things are not how they used to be. Google search engine introduced Google Panda in February 2011. The aim was to remove lower-quality sites from the top page and place higher-quality sites to the top. Search engines now tell the quality of a website by evaluating the website thoroughly using many criteria.
You can read more about the criteria that Google considers when ranking a website here. For those of you who do not know, the underlined "here" in blue is an external link. What is an external link, I hear you ask? I've got you covered, read on to find out.
By the end of this post, you will understand more about the different types of links on and off a website and also know how to utilize each of them.
What is a Link?
Link is the relation between two things, or in this case, pages. It is what connects web pages to one another. A very simple way of putting it is anything that leads you to somewhere after you click on it is called a link. It could be in the form of text, image, and even videos.
The Two Types of Links On A Website
The links you see on your website are called Internal Links and Outbound Links.
What is an Internal Link?
Internal links are links you see on a webpage that navigates you to another web page of the SAME domain. These links allow viewers to stay on your page longer as they are redirected around your website. As a result, it increases your website authority which contributes to ranking.
What is an External Link?
External links, or what we like to call "outbound links", are links that bring you to another domain while surfing a particular website. This type of link is usually used to provide viewers with further explanations done by other website owners.
An external link is considered as the most important criterion that will help you rank. Why does an external link matter? It is believed that external links cannot be unfairly controlled.
The Different Types of Links Off A Website
Now that we are done with links we can see on your website, let us move on to links that are not on our own websites. These links are called backlinks and they include natural links, manually obtained link and self-created links.
What Is a Backlink?
Backlinks are also known as inbound links. They are links and connections created by another website to your website.
Let's refresh, what is outbound and inbound links (from our perspective)?:
Internal Links: We send our readers from one of our webpage to another.
Outbound Links: We send our readers to another website.
Inbound Links: Other websites send their readers to our website.
The more backlinks a website receives, the more relevant, useful and important it is. These backlinks will contribute to your ranking on the SERP. The 3 types of backlinks will be explained as we go on.
What is a natural link?
A natural link is a link that you receive from other website owners without you asking for it. In other words, it indicates your page has great content. Think of it this way, if you are an athlete and perceived as cool, people give you attention without you asking.
It's the same goes for a natural link; your content is too good that people are willing to feature them. Other website owners redirect their readers to your page because your page contains content they think is worth sharing.
What is a manually obtained link?
Manually obtained links are links you obtain through efforts. What do I mean by that? You have to put in time and energy, contacting other website owners and bloggers to link and feature your page.
These manual links building technique, asking around for links, is common among small businesses where they are still unknown in the industry. One does not simply feature another website as it will affect the quality of another.
In order for you to get links, you should show bloggers and other businesses that your content is worth sharing and featuring. Keep in mind that the websites you want to be featured have to be relevant to yours otherwise the link will not provide much authority and value.
So.. why do natural links and manually obtained links matter?
It is the same concept as external links. If you get links from other websites, it tells search engines that your website is relevant and of good quality. Both types of web links are considered as good links. What do I mean by good? Do I mean there are bad backlinks as well?
The answer is yes. It is called the self-created links designed to fool search engines.
What is a self-created link?
This is the only link among the 5 types in this article that does not matter for SEO. As the name suggests, self-created links are links that are created by a website owner themselves to fool search engines that their links are relevant and important.
The difference between good and bad backlinks is obvious now… good backlinks are links created by other people while bad backlinks are links created by owners themselves. There are many types of self-created links such as adding a backlink on forums and blog comments.
The anchor text to your links also matters
Something that is just as important to the nature of your links are the anchor texts that you're using. Without a proper strategy, your links can appear spamy and hurt your SEO and your rankings!
A great tool that can be used to inspect your on-page SEO and make sure that your anchor texts are properly optimized and not too spammy is the BiQ SEO Suite.
There is a content checker built into the tool that can quickly scan your content for any important SEO rule of thumbs that you should be following. And one of them includes checking your anchor text to make sure that it's not appearing too spammy as to not discount the quality of your links.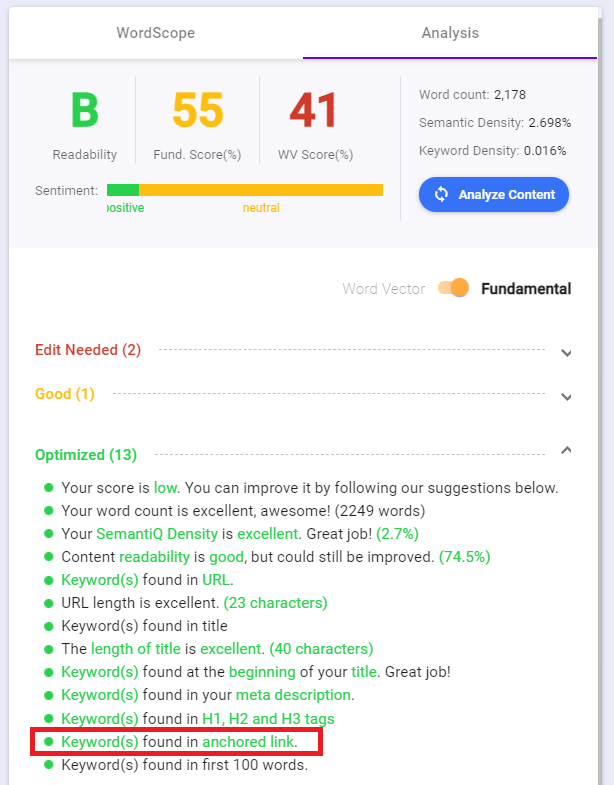 Now that you know links matter and the way they work, you can use them effectively and correctly.
As mentioned, good quality content is what leads other website owners to link your page to theirs. As we're talking about good quality, just a heads up, you will want to make sure that your website does not contain any broken link. If your website contains broken links, it is nothing different compared to bad quality content.
Broken links give users a bad experience. Imagine this, a viewer found your site with hope to understand better on a particular topic. You have great content but somewhere in the middle, you decided to create a link to redirect your viewers to another page as you think they have a better explanation on that particular area.
Your viewers clicked into the link and find out that the link is broken. They're disappointed and feel that your website isn't updated and will not bother to read on as well because they do not want to be redirected to another broken link.
Just like that, a piece of good content was ruined just because of another website. I'm very sure you wouldn't want this to happen on your website. It is not even your fault to start with…
As website owners, we all strive to provide our readers with the ultimate experience, don't you agree? You must be thinking about how you can get more links to your website and how you can make sure your website does not have any broken links.
Well, how about a free backlink checker tool?
BacklinkGap is a free backlink checker tool that lets you check your backlinks for.. well, for free! You only need to sign up for an account (with no catches, mind you), and insert your domain into the search bar, and hit "check now".
You'll gain insight to various analytics like your total number of backlinks, referring domains, anchor texts, and your friendship score as well.
Fret not, we have the solution to these two… just by using a single plugin.
SEOPressor Connect is a tool that allows you to fully optimize your content by providing you optimization suggestions, errors, and alerts. Ultimately, it increases your chances of ranking higher for quality content and receiving backlinks.
As for broken links, do you need to spend your precious time manually checking your websites for broken links? No. Not anymore. SEOPressor Connect has "Link Manager" as its feature. Link Manager is a dashboard that will show you all the broken links your web pages has.
All of us need a little help sometimes and SEOPressor Connect has been a great help since I first used it. I believe you will love SEOPressor Connect as much as I do!
We've come to the end of this article. These are the 4 types of links that matter for SEO. Isn't it surprising that there's actually so much to learn for something(links) so simple? If you've read it this far, I have a surprise for you.
That's not it… There are actually many more to learn about links.
Here's something that you should learn next (It's for your own benefit): Link Building.
Updated: 14 February 2022
About Author