Building a great marketing campaign is not enough if you forget to analyze what your competitors do. A competitor analysis tool is an excellent solution for making marketing work a lot easier. Here are the top 8 tools that you can consider using.
Understand clearly about competitor analysis and competitor analysis tool
Get to know the top 8 competitor analysis tools
Even if you are already ranking at the top of the search results for all your most important keywords, you can still be defeated if you overlook your competitors' actions.
This is when you need to do a competitor analysis.
With competitive analysis, you will be taking a step back and looking at the overall market, where you stand, who the competitors are, and what the search landscape looks like for the most valuable keywords.
This seems like a lot of work to do, especially if you do all these manually.
But fret not, you can always quicken this process with a competitor analysis tool. 
This blog will show you more information about competitor analysis and 8 of the best competitor analysis tools to help you with your work.
Before we proceed, let's start with understanding what competitor analysis is.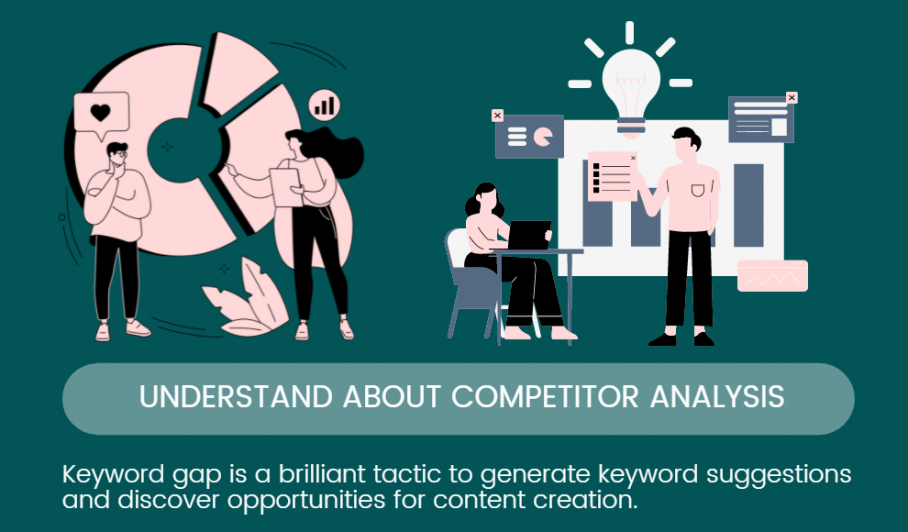 What is it?
Competitor analysis is a process of investigating your competitor's website to determine what keywords or long-tail phrases they rank for.
Targeting competitor keywords helps you appear on the same SERPs as your competitors or rank higher than them.
Why should we do competitor keyword analysis?
With a surge in the number of competitors in business, we must always be moving and adapting before we succumb to our competitors.
Firstly, the core idea behind competitor analysis is to understand the competitors' strengths, weaknesses, and opportunities and make decisive changes to your current marketing strategy.
Competitor analysis enables you to identify what your competitor is doing right. This information is critical for staying relevant and ensuring that your product and marketing campaigns are outperforming industry standards.
Keyword gap research is a core part of competitor analysis, it helps you uncover the keywords that drive traffic to your competitors' websites. This gives you insight into their audience's interests and helps you choose the next keywords. It is also helpful in discovering long-tail keywords which have a click-through rate of 3% to 5% higher than generic searches.
What you need to pay attention to when analyzing competitors
When it comes to competitor research, it is helpful to get a comprehensive list of your keywords. Here, you've got two ways to approach them:
You approach this at a domain level. You use a competitor analysis tool to find out who are the other domains who are similarly ranking for your keywords.
You approach this from a keyword perspective. You use a competitors analysis tool to find out other pages that are targeting the same keywords you are aiming to rank. 
For the perfect competitive analysis, you should check both to have a more comprehensive list of competitors that you should look at. According to BrightEdge, 53.3% of all website traffic comes from organic searches. If this is done right, you can find the relevant keywords and rank higher, you can attract so much more traffic.
In conclusion, competitor keyword analysis helps you learn more about your competitors, their strategies to rank in search engines, and how you can outrank them and drive more traffic to your website.
It can also tell you where your competitors are falling short. As a result, you can identify the gap – areas of opportunities in the marketplace for your business. Then, you can try out new, unique marketing strategies they haven't taken advantage of.
After some keyword analysis, you can find exactly which terms, and therefore, which topics you might still need to cover. Keyword gap is a brilliant tactic to generate keyword suggestions and discover opportunities for content creation.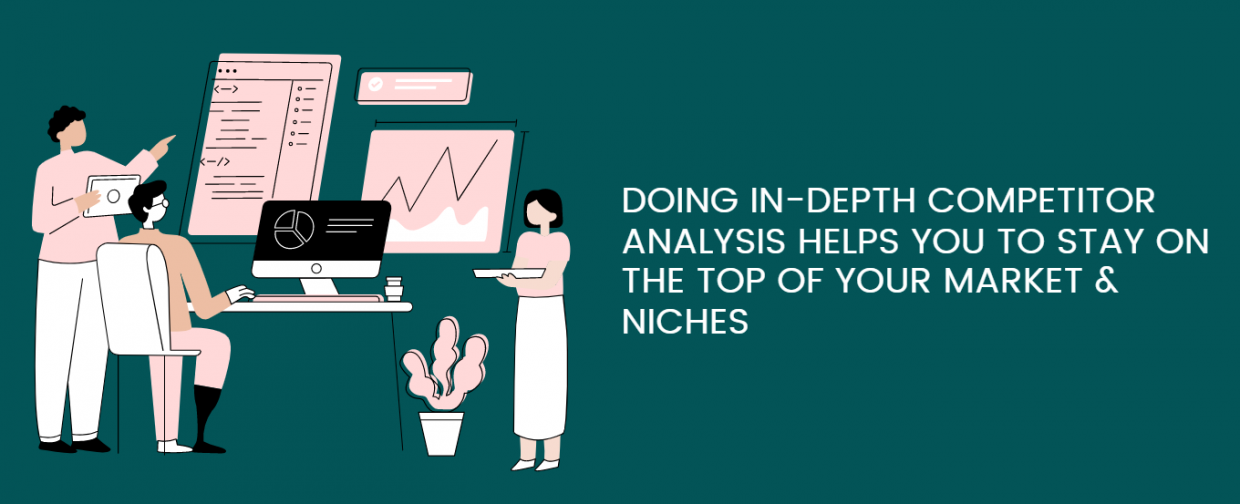 Doing competitor keyword analysis is not a process you can just grind through. Of course, you can do the entire thing manually but checking the Search Engine Result Pages one-by-one is incredibly inefficient. This is when a competitor analysis tool can come into play.
With the right tool, the whole process can be streamlined and automated to a huge degree. You do not have to do everything manually since the tool can give you accurate data in just a few clicks.
The in-depth competitor analysis data from the tool will ensure that you stay on top of your marketing activities and reap the full benefit. In the end, using a competitor analysis tool just saves you so much time and effort.
However, since there are a lot of brands for you to choose from, we have sorted out the top 8 best tools to get you started.
#1. RankingGap – Our favorite tool 
The best thing about RankingGap is that you can compare your website with four of your competitors in one go. This helps to effectively determine the best keywords within your niche much quicker than other solutions that does this one-by-one
There are a lot of things you can do with RankingGap. First, we will show you how to find common keywords that you and your competitors ranked.
This is the most straightforward way of performing keyword gap research with RankingGap – to know what keywords you and your competitors share.
Firstly, create a project by inserting your domain and your competitors'. You can also pick a specific location and language combination depending on your use case.
Next, create the project. When the results are ready, you can go to the "Common" keyword tab (which you are already on by default) to see a list of keywords both you and your competitors are ranking.
On top of this, you also get to see the rankings you and your competitors are currently at. This gives you the idea of who you are leading when it comes to different keywords. If your ranking is lower than your competitors, this is the gap that you need to fill.
In addition to this, RankingGap also offers a range of different features. For example:
Performing keyword and content optimization
Knowing what content is missing from your site
Discovering the gaps in your competitor's strategies
Analyzing and identifying your website's strengths, etc.
Filtering your results to analyze data easier.
RankingGap's newest feature – Competitor Discovery can even help you with the very first step of identifying your rivals.
The best thing here is that RankingGap shows you the metrics of competitors, filtering the high-low competitors.
#2. SEMrush
Besides letting you see the keywords used by your competitors to rank high, SEMrush also allows you to compare your keyword rating with other websites and also filter the results using various criteria.
SEMrush shows you what category a domain belongs to based on the keywords it ranks in Google. Knowing this will help you locate successful keywords your competitors are using to rank well in Google and whether those keywords are relevant to your niche.
With SEMrush, you can determine how competitors attract traffic — so you can capture some of theirs. This tool also reveals their top pages, keyword strategies, and advertising methods.
The most valuable pieces of data about your competitor you can get from SEMrush are top organic keywords. This is where you can see the keywords your competitor ranks for particular URLs.
#3. Ahrefs
Ahrefs gives you specific ideas on how your rivals use certain keywords to rank on the web. This information is critical in helping you formulate user-friendly content that will work magic in terms of digital marketing.
The Keywords Explorer tool approaches keyword research by doing a "top pages" analysis, identifying dozens or even hundreds of keywords relevant to an article or blog's topic rather than just specific keywords.
If you feel some inconsistency with your keyword strategy, use the Content Gap report. This report allows you to spot the keywords your rivals are visible for, but your domain isn't
You can also keep track of all the keywords that matter since the tool monitors over 150 million. With a mouse click, you can add specific keywords and then see information for all of the top pages that rank for that subject.
It also makes it easier to break down the parent topic, which gives you specific ideas on how your competitors are attempting to rank for user intent.
#4. Buzzsumo
Buzzsumo provides detailed reports about what your rivals are ranking for and other factors contributing to your competitor's high ranking.
The best aspect of BuzzSumo is that it lets you compare two domains side by side, so you can see how the two domains rank in the search engines in contrast to one another. So, for instance, you can set your website against your competitor's and get a detailed analysis of where you stand compared to your competitor.
This means that you can add your own website as one and your competitor as another for a super in-depth analysis of where you are versus where they are.
When it comes to competitor analysis in social media and content shares, Buzzsumo is your go-to tool here. It's a social media analytics tool that handles influencer marketing, content marketing, or PR.
#5. Moz
Moz offers several tools that can help you analyze your competitors' keywords. Its Domain SEO Analysis Tool can show you websites that target the same keywords you do, for instance. You can also use Moz's Keyword Explorer to compare your keyword rankings to your competitors.
Moz is also the ideal analysis tool when you want to discover how your competitor has built their online presence. Link explorer helps you research your rival's linking strategy.
#6. SimilarWeb
With the help of this data, you can tell for sure which keywords should be your priority because they have the potential to bring more traffic to your client's site.
SimilarWeb is one of the most versatile competitor analysis tools you can find. It shows where most of your competitors' traffic comes from, together with any similar pages they visit. Traffic is broken down into 4 sources, including paid, social, search, and direct traffic, so you can see how each source performs.
SimilarWeb also shows you the list of competitors based on what sites are ranking in search engines for the same set of keywords.
This competitive analysis tool will help you benchmark against your competition, monitor your industry, and reveal your competitors' analytics and online strategy.
#7. SpyFu
SpyFu is a dedicated competitor research tool that can provide a substantial amount of data on your competition. 
SpyFu is a search analytics tool that shows users keywords that websites buy on Google AdWords. That means you can identify all the keywords your competitors have bought and every ad test they've run.
If you're trying to identify your most aggressive competitors, SpyFu can also give you a list of competitor names for the domain you're analyzing. This tool gives you access to everything from their organic keyword rankings to the keywords they target with Google Ads so that you can develop a more competitive strategy.
SpyFu gives you an in-depth look into your rival's marketing campaigns—especially their Google Ads activity. Including every keyword, they've bought on Google Ads, every organic rank, and every ad variation.
Search for the brand you want to look at, then SpyFu will give you a comprehensive rundown of their Google Ads campaigns. 
#8. KW Finder
KW Finder is a keyword research tool that helps identify which keywords your customers are using in their Google search. 
You can also use it to conduct a competitor analysis on other brands' SEO strategies. Simply enter the domain of the competitor you want to track, and KW Finder will give you a breakdown of their top-ranking keywords. 
You can then use that data to create SEO-driven content that brings more users to your site.
Not all keywords are worth putting equal effort into. Use the information from this blog to strategically work out which keywords you should be actively monitoring and optimizing for. Learning from your competitors is a fast and effective way to optimize your competitive landscape.
Carrying out these competitor SEO analysis actions is just the beginning, and as we know, SEO is a long game. Stay up-to-date with the latest search engine rankings by using an automated keyword monitoring tool instead.
After all, choosing a suitable competitor analysis tool for your work is necessary. Our favorite tool, RankingGap, might be the one you should try out.
Updated: 18 January 2022
About Author