In the new year with new marketing strategies on the horizon, it's time to dive into ensuring your email marketing campaigns are ready to convert customers.
More than half of consumers still want brands to contact them via email as opposed to social media or other channels, so don't neglect this critical tool in favor of a flashy new social media platform or other approaches.
Because you can personalize and automate so many facets of email marketing campaigns, it's a powerful channel for directly addressing your customers' pain points and enticing them to make a purchase.
But highly converting email marketing campaigns don't just appear out of thin air. You'll need to plan carefully, execute your plans well, and regularly analyze and adjust your campaigns to maximize your ROI.
We've made it easier for you: our guide to creating an email campaign that converts will walk you through everything you need to have a profitable 2022.
Plan Ahead
Planning is key to a successful email marketing campaign. Start with a master list or calendar of your upcoming sales and promotions to get a bird's-eye view of what your campaign should look like.
Online Email Template Builder
With Postcards you can create and edit email templates online without any coding skills! Includes more than 100 components to help you create custom emails templates faster than ever before.
From there, outline your email sequences and get the templates for each email type into production. (Some marketers say it can take up to a week to fully produce a single email, so be sure to start well before the campaign kicks off!)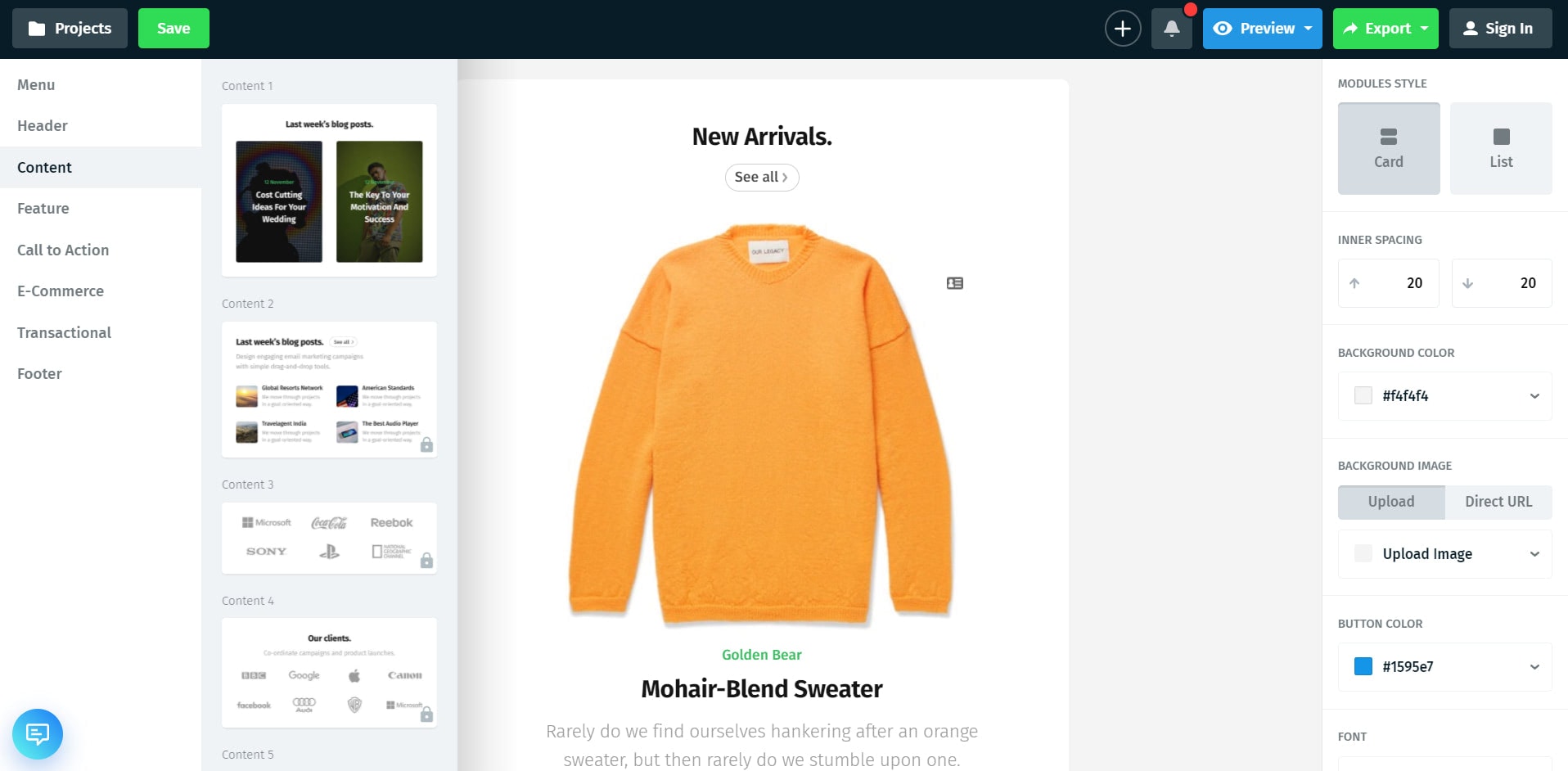 The majority of your email design focus will be for your major deals and promotions, but don't forget other types of emails too. Your email templates should also include a welcome email, abandoned cart emails, and order confirmations and follow-ups emails. These are crucial for moving prospective customers through the funnel.
Make sure your email designs are eye-catching and match your brand aesthetic. You don't have long to make a first impression, so all your emails should look great at a glance.
Finally, make sure that you have all the data and tools you need to execute your campaign successfully. Gather your target market research to help you design your email sequences. Set up an email marketing tool to help manage your campaign if you don't already have one established. Make sure your analytics are ready to go.
Segment Your Email Lists
Segmentation is the email marketer's key to a high-converting campaign.
You can segment your email subscriber lists based on location, previous purchases, or any other demographic that works for your business. For example, some brands choose to send different emails based on a subscriber's age or gender.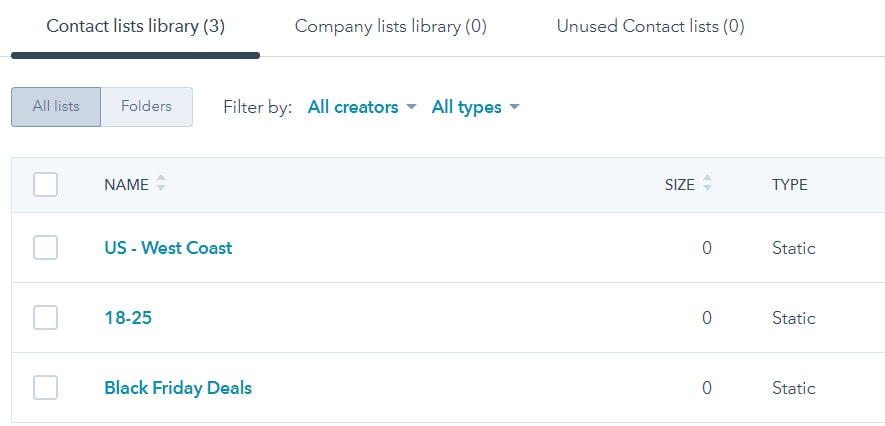 Once you've created your list segments, make sure your email sequences and templates are tailored for each one. This can impact the content of your emails, the subject lines, the exact promotion you send, and even the time you send it.
Personalizing your emails in this much detail makes your customers feel known, leading to higher conversions.
You should also make sure that your email campaign reporting reflects these segments. We'll cover this more in a later section.
Automate Email Sequences
Automation might be the best thing to ever happen to email marketing.
By setting up specific triggers and email sequences, you can make sure everyone on your email list gets the right emails at exactly the right time, with just a little startup effort from you.
One of the best examples of email automation is abandoned cart emails. Send a follow up after a customer has left an item in their cart for a few hours or a few days to remind them of their purchase, and you'll get some of those customers back.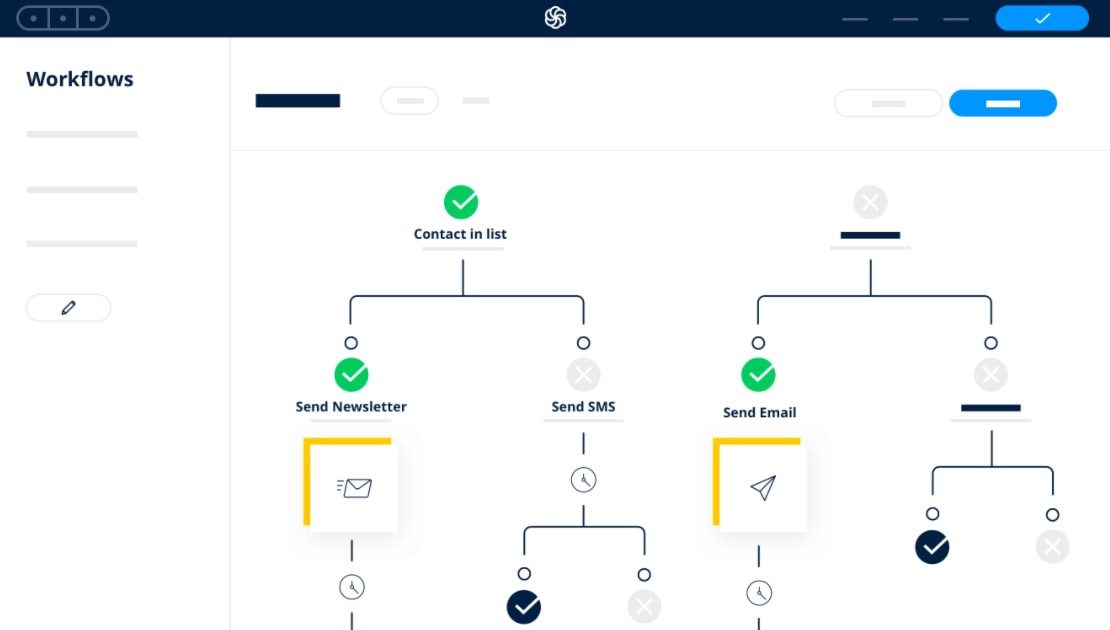 Here are some other uses for email marketing automation:
Welcome new customers with a special email and offer
Win back old customers with a reminder email
Send countdown emails a few weeks or days before an important holiday or sale
Ask for reviews or testimonials after a customer has received their product
Automate learning or lead warming process from your online course platform and webinar sign up campaigns.
Email automation helps you scale your email campaigns and make them more effective – with just a little effort from you.
Personalize, Personalize, Personalize
Anytime you can personalize part of your email marketing campaign, do it. It's a tried-and-true way to increase conversions.
Your customers want to feel known, not like they're just another number in your marketing playbook. Leverage your customer data into a personalized experience for every single person on your email subscriber list and watch your conversions rise.
Names are the easiest thing to personalize. Put them in subject lines and email greetings, always. But there are a few other ways to personalize emails too:
Deliver emails based on location, so they receive emails at the optimal time for them
Feature products in promotional emails based on what a customer has previously purchased or viewed
Send abandoned cart emails and recommend related products
Use segmentation to send specific promotions based on other demographics
You might even be able to get a little more personal, like Spotify does in their end-of-year wrap-up emails.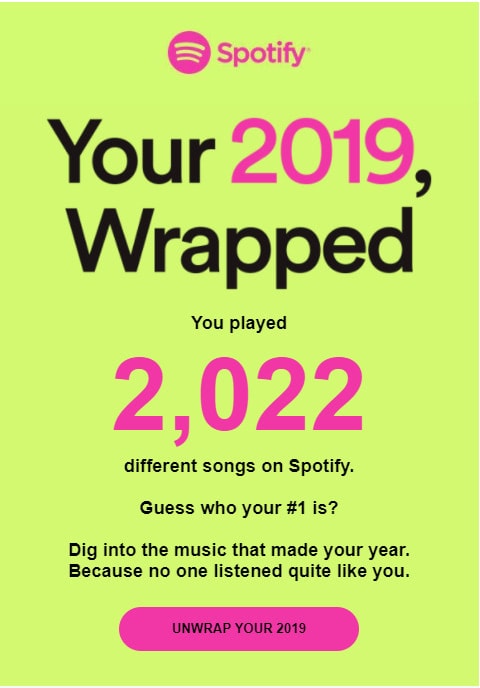 Some email marketing software and landing page creators even allow you to personalize landing pages too. You can create dynamic landing pages that address customers by name, highlight specific products, and even include custom offers.
Personalization builds trust and makes it easy for customers to buy from you. Many email marketing tools will help you personalize your emails based on segments and customer data to make it even easier for you.
Optimize Your Landing Pages
Landing an email in a customer's inbox is only half the battle. For the other half, you need a well-optimized landing page to cater to your target audience's specific needs.
Landing pages are where the conversion actually happens. It's a critical piece of getting that high conversion rate.
Your landing page should be eye-catching and motivate visitors to buy sooner rather than later. It should make it easy for customers to assess the offer and make a purchase, like in this example from Fabletics.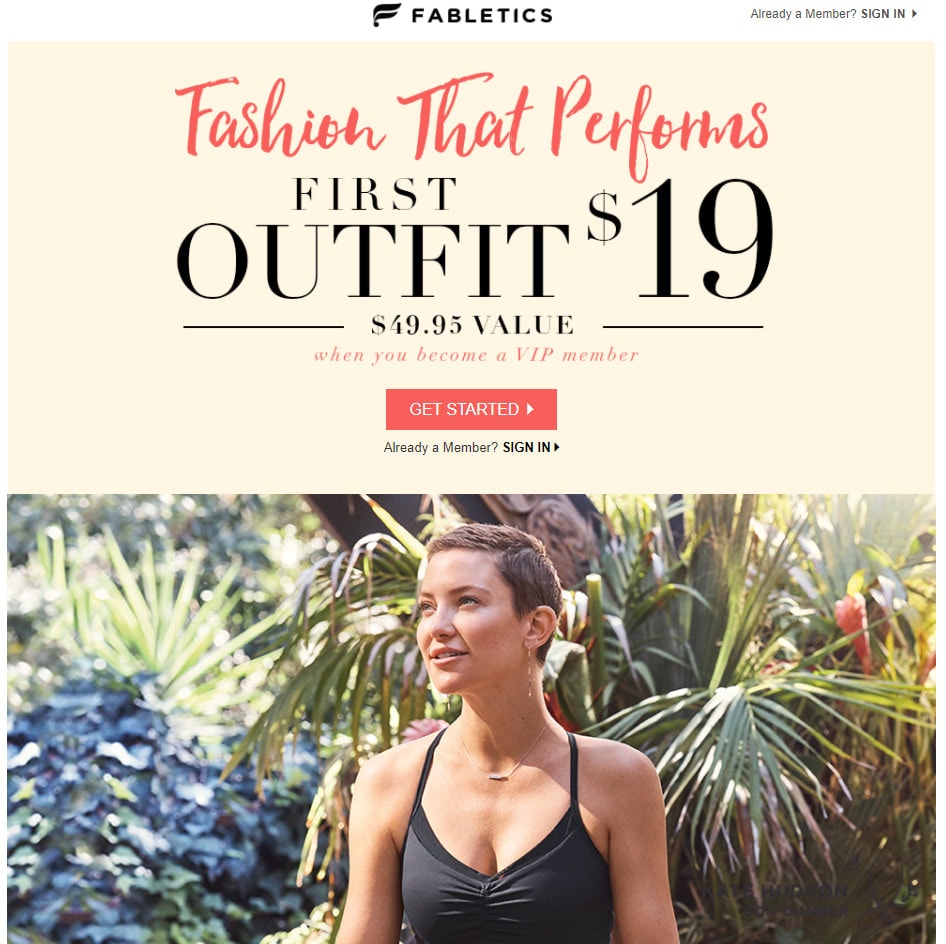 A good landing page will have these elements:
Mobile optimization: 43% of emails are opened on mobile, so make sure your emails look good on smaller screens.
Snappy headline: Draw visitors in right away with a memorable headline that tells them exactly how you can meet their needs.
Sense of urgency: You don't want customers to act later – they need to act Evoke this feeling through limited-time offers or a countdown to an upcoming holiday.
A clear focus on the product: The more specific your landing page can be, the better. Cater these pages to specific segments, and be sure the highlighted products match what was promised in your email. If customers don't quickly find what they're looking for, they'll bounce right out of there.
Obvious CTA: Don't make it hard for customers to buy your products. Include a bold, bright CTA that urges them to buy right now. You can even include CTAs directly in the email to make the process even faster.
Secure transactions: Customers want to know their data is protected. Make it clear that you take their privacy seriously on your landing page. Consider investing in a VPN for an extra layer of data security.
Make sure your landing page includes all of these elements while also matching the aesthetics of your entire campaign. Keep an eye on how your landing pages are performing and make changes as needed to keep them converting highly through the new year.
Analyze & Adjust As You Go
Email campaigns require near-constant monitoring to maintain high conversions: you can't just set it and forget it. There might be little adjustments to make as you go to ensure you're maximizing your impact.
Know what KPIs are important to your business and your email campaigns, and get daily reporting on the success of these efforts. Most marketers (63%) track the following metrics:
Open rate
Click-through rate
Conversion rate
Don't forget to track your KPIs by your email list segments. This will help you see where and how to optimize your campaigns to ensure the maximum conversion rate for every type of customer.
If you start to see open rates decline or run into other performance issues, start making adjustments to your emails. Run A/B tests on subject lines or landing pages to finetune your strategy into something that consistently converts highly.
Conclusion
Email marketing is a powerful tool for any business. With careful planning and attention to detail in your execution, you can create a powerful email marketing campaign that converts highly at every step of the sales funnel.
Don't forget to rely on the tools at your disposal: segmentation, personalization, and automation all make your life easier while making your email campaigns more powerful. Take advantage of these tactics to give your customers an email marketing experience they won't be able to resist.
Like what you're reading? Subscribe to our top stories.
About Author