Internal links not only create a path for search engine bots to follow on your site, they create a logical route for users, too.
That is, if the internal links are deployed appropriately.
If you're unfamiliar with the benefits of internal links, we have a quick refresher to get you up to speed: 7 Benefits of Internal Linking in SEO.
But for an enterprise site – that can consist of thousands or even millions of pages – this is all easier said than done.
Finding internal link opportunities
Identifying the pages to link from
Managing technical errors
Deploying links at scale
Measuring the internal link strategy's performance
We'll go through each of these challenges in turn (and of a solution to each) so your internal linking strategies actively work to build site authority.
 
Challenge #1: Finding Internal Link Opportunities
The first challenge to address is to architect the internal link structure.
This involves locating the pages to link to and deciding on the best anchor text to use, which can seem like a maze at the enterprise level.
How to find internal linking opportunities
There are a few areas to analyze to determine which pages need internal links.
New Pages 
If you launch a new page that's important for business, then that is a page you should build internal links to.
When you initially launch the page there will be no inbound links to that page, but you need to build the authority of that page and the only way to build that is by internal links.
Low-Hanging Fruit 
There could be pages that already rank on the first page for relevant terms where a few more internal links could give them just the boost they need to move up to the top of the SERP.
You can use ranking data or Search Console data for non-branded keywords. Use this list of URLs and keywords to be on the lookout for a few things: impressions greater than 1,000, average rank between 5-10, and clicks greater than 50.
Internal Link Analysis 
An internal link analysis report can be used to identify important pages that have few internal links. Filter the URL by page depth and count of internal links.
If the page is important but has a low page depth, then moving that page higher will help give it authority.
Update Existing Links 
The internal link analysis can also show which pages already have enough internal links but need better anchor text. Within seoClarity's internal link analysis, run the report for pages with anchor text.
If the pages have inconsistent or under-optimized anchor text, those can be quick wins. The report will also identify pages with similar incoming anchor text.
Addressing this will help resolve the URL cannibalization issue. If two pages have internal links from the same anchor text, for example, then there's a chance that both pages will rank for the same term.
SEO automation can also solve the above challenges.
It takes into account custom crawls and product data feeds to ensure the recommendations are site-specific. Then, that data can be refreshed at the interval of your choosing.
Challenge #2: Identifying Pages to Link From
Not only do you have to locate pages to link to, you need to decide which pages to link from.
If you follow the topic cluster approach, this should be fairly simple.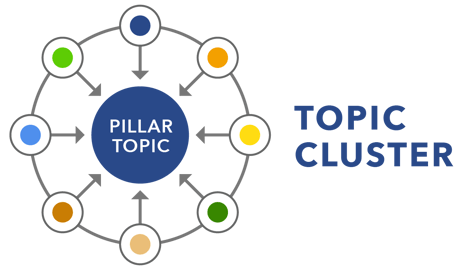 How to identify pages to link from
Topic clusters use a variety of content pieces to cover all aspects of a topic. If your site is segmented by groups or tags, it can be easy to locate the pages in the specific cluster.
Those would be the critical pages that the internal links should point from.
seoClarity users, for example, can use SEO segmentation throughout the platform to filter and sort all relevant pages that are in an assigned tag group.  
For high value pages that need to get picked up quickly by Googlebot or be accessible to users within a few clicks, consider linking to those directly from the homepage.
SEO automation can be leveraged here, too. The system uses the site data to detect topically-similar pages that can be connected with internal links.
Challenge #3: Managing Technical Errors
Even though we've seen that there is a lot of opportunity with internal links, there are some internal linking mistakes to watch out for, too.
Namely, links can break, be redirected, lead to a redirect chain or loop, and may not be crawlable.
Altogether, it can be hard to keep track of them all appropriately when there are so many across so many pages.
How to manage technical elements of links 
An internal link analysis is capable of solving this challenge, too.
It will present you with page status codes, follow vs. nofollow, etc.  
Similarly, automation will add the link graph to a crawl and analyze that to pick up any of these issues.
Challenge #4: Deploying Internal Links at Scale
The next challenge is actually deploying the internal links at scale without using development resources.
Whether you want to add a link to existing content, create new content, or add a block within a specific section (like a popular products section on an ecommerce site).
How to deploy internal links
You can of course use your CMS to create internal links, but this doesn't allow for scale – even if you make template changes.
SEO automation pulls everything together and lets you deploy live updates to your site with a few clicks.
Perhaps there's optimal anchor text with no links, for example. Any text that fits your parameters can receive the appropriate internal link to capture that unlinked mention.
All of this works by incorporating JavaScript into the HTML.

Challenge #5. Measuring Performance
The last challenge is measuring the performance of your internal linking strategy.
What was the outcome of all this work?
How to measure the performance of your links
Automation will tell you definitively if your new internal linking structure is working – and whether or not your link graph should be updated or not.
Conclusion
After you measure performance, there can be adjustments to the link graph in response to performance increases or learnings. This creates the cycle of analyze, execute, measure, learn, repeat, where the time to execution is greatly reduced by automation.
Next generation SEO automation reimagines how to solve problems related to internal linking.
About Author