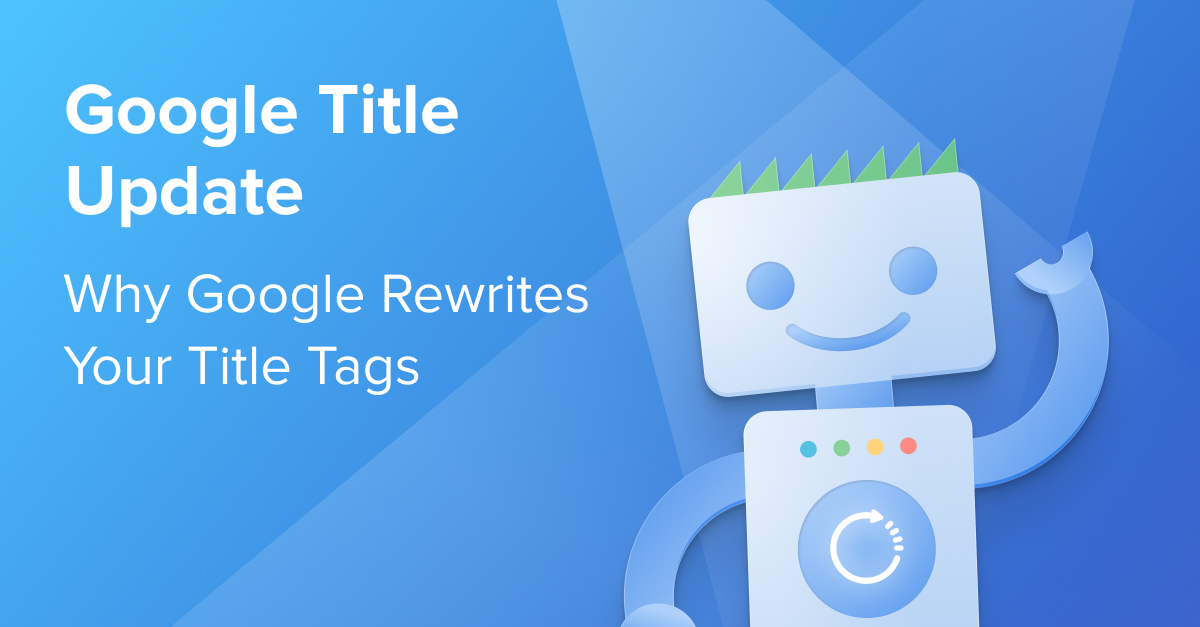 Over the past few weeks, one topic has clearly dominated the SEO community: Google's recent title update. Since mid-August, Google has been rewriting page titles of search results much more often, which leads to title tags (also called meta titles) being displayed less frequently in SERPs.
After the change has been strongly criticized by some SEOs, Google finally followed up with a second update last Friday, along with a new blog post that contains more information about its new system for generating page titles.
Keep reading to learn how the new system works, in which cases Google is rewriting your title tags, and how you can make sure your website's SERP snippets still attract as many visitors as possible!
How did Google generate page titles in the past?
To understand the scope of the current changes, we first need to take a look at how Google used to generate page titles for search results in the past.
In most cases, Google just used the title tag of a web page:

But as this tag might not provide the best possible title for each potential search query, Google started generating alternative titles in 2012 to provide more relevant results for individual searches.
In addition, Google adjusted page titles or replaced them with other content on a page (e.g. headings) if…
… the title tag was missing or empty
… the title tag contained generic content (e.g. "home page")
… the same title was used for multiple pages
… the title was unnecessarily long or hard to read
But besides truncating title tags that are too long, Google rarely changed page titles. In most cases, you could expect your title tag to be displayed in search results as long as it was complete and unique.
What changed in August?
From mid-August, many SEOs, including Brodie Clark, started to notice that Google was changing many more page titles in the search results. And in many cases, it wasn't clear where the new title came from.
When trying to figure out the source of your websites title in Google's SERPs: https://t.co/hl3cS3dc5U pic.twitter.com/SYs6iVCd1R

— Brodie Clark (@brodieseo) August 19, 2021
These observations led to a high level of confusion and criticism among SEOs. Hence, Google published an official blog post on August 24 explaining that they updated their system for generating page titles.
According to this post, Google will no longer generate different titles depending on the search query. Instead, the new system improves page titles regardless of the search query if Google deems this necessary. Back then, Google said that the title tag will only be displayed in 80% of cases (although they updated this number to 87% last week – more on that later).
In addition to that, Google uses even more other website content besides the title tag for generating page titles – especially content that is directly visible to website visitors (e.g. (H1-)headings and other elements that are visually highlighted). They might also use other text on a page or link anchors of referring pages.
Google's main goal with that update is to improve users' search experience by generating easy-to-read page titles that describe the page content in the best possible way. If Google thinks that the HTML title tag doesn't serve this goal, they rewrite it. Google shared a few examples of their rationales:
HTML title tags that are too long
title tags that are stuffed with keywords
title tags that are missing or containing generic content
To improve readability and relevance, Google might only show titles that are too long in part, append the website's name, or replace the title with other page elements.
To summarize:
Google is rewriting much more page titles after the update
Google is making more use of other page elements such as headings for generating page titles
Let's take a look at some real-world examples.
Example
Here's how Google rewrote the title of one of our wiki articles:
The HTML code of that page includes the following title tag:

But Google displays this title in the search results:

Instead of the title tag, Google is using the page's H1 heading ("FTP (File Transfer Protocol)") and is appending the site name. We think that Google changed the title because the important term "File Transfer Protocol" was missing in the title. We saw a similar pattern for other rewritten titles as well:


What strikes us most, however, is that these title tags don't fit into any of the categories Google described. So there seem to be more reasons for rewriting page titles than the few examples mentioned in Google's blog post.
What are other reasons for rewriting page titles?
A recent study by Moz found a few more reasons why page titles might be rewritten.
For example, Google seems to be extending page titles that are too short (and in some cases, the additional text could be found nowhere on the page).


Source
Another interesting result: Google seems to be modifying titles that contain superlatives or marketing language, and replaces them with more neutral alternatives.


Source
Besides extreme cases of keyword stuffing, the study found that Google also rewrites less critical titles where multiple words are strung together. Google seems to be pretty aggressive with such titles, even if they're not spammy or deceiving.


Source
In addition, the study could replicate some of the ways titles are rewritten that Google described:
Titles that are too long aren't simply truncated at the end but shortened in a more advanced way, e.g. by extracting their most relevant parts:


Source
And in many instances, Google is appending the site name or moving its position within the title:


Source
All in all, these changes seem to make sense but there were still many critical reactions to this update.
The title update was heavily criticized by some and there were several complaints about Google replacing carefully crafted title tags through titles that performed much worse. For example, the team of Wordstream reported that the CTR for one of their most popular pages dropped by up to 37% depending on the search query after Google rewrote the title.
And there were many other sites that claimed that the changes Google made weren't always favorable. For example, Google often used separators such as hyphens, slashes, or brackets to separate overly long titles. However, the results didn't always make sense:


Source
In the example above, a simple truncation at the end of the title would have been much better than only showing the second part of the question after the brackets.
But fortunately, Google responded to the criticism shortly after.
Another title update on September 17
Last Friday, Google published another blog post where they explained that they further improved the system of generating page titles. Seems like Google actually listened to the feedback from the SEO community and tweaked its algorithms!
Google also stated that the percentage of title tags being displayed in search results had increased from 80% to 87% due to the second update.
In addition, the blog post includes more information about which type of titles are being rewritten:
Half-empty title tags that are often caused by templates (e.g. "| Site Name"). Google automatically extends such titles and includes more information found on the page.
Titles that weren't updated while updating the page content
Inaccurate titles, e.g. due to dynamic content
"Micro-boilerplate" titles, i.e. titles that are repeated for a smaller subset of pages
It can be criticized though that Google only lists unproblematic cases where rewriting the page title obviously leads to an improvement. Other scenarios, such as those uncovered by Moz or those where the new title performed much worse, aren't addressed in the post.
But the fact that Google is now using the title tag more often than before leaves us hoping that the system is now less aggressive and yields better results than before.
At least some SEOs noticed that the quality of the title rewrites started to improve again at the beginning of last week.
I'm noticing that a handful of examples (this is anecdotal right now) of bad title rewrites I captured a few days ago have gone back to simple (…) truncation.

— Dr. Pete Meyers (@dr_pete) September 14, 2021
But many are still critical about the change and would like the option to opt-out of title rewrites. However, it's questionable whether Google will make this possible anytime soon.
So what can you do now to make sure that your search snippets still drive lots of visitors to your site?
What should you do now?
First of all, you should stay calm and check how you are affected by the change.
Google clarified that the update doesn't have any impact on rankings as it only changes how titles are displayed in SERPs.
This is purely a display change. This is not meant to change rankings. It's easier to separate things out for testing. That said, we make ranking changes all the time too, so I wouldn't assume you won't see ranking changes, it's just that they're not due to this :).

— 🧀 John 🧀 (@JohnMu) August 29, 2021
That's why you should mainly keep an eye on your CTR and organic traffic and check whether these metrics have been negatively affected through the update.
You'll find the average CTR of your pages in the Performance report in Google's Search Console.

Check if the CTRs of your most important pages decreased significantly during the last weeks. If you see any negative changes, conduct a Google search to see whether this is due to rewritten page titles.
What to do if you've been negatively impacted
If you find that Google changed some of your page titles for the worse, you can submit feedback to Google. Google is still improving its system for generating titles and might solve that issue in the future.
If Google is showing a header tag or another element of a page instead of the title tag, you can also edit that element in order to improve your CTR. The team of Wordstream reported that this quick fix turned out really well for them.
You should also check whether the rewritten titles fall into any of the categories described above and fix the underlying problems. For example, if you find that one of your title tags is too long and Google is shortening it in an unfavorable way, you should replace it with a shorter title. Google confirmed that a title tag can be displayed again after the underlying problems have been resolved!
How to prevent Google from rewriting your page titles
At the moment, there's no way to tell Google not to rewrite your titles but you can still lower the chances that it will happen. By writing great page titles that meet Google's quality standards, you're providing them with fewer reasons to rewrite your titles.
Seobility helps you identify page titles that still need improvement. The site audit includes an analysis of the most frequent issues with page titles which are basically the same issues that Google mentioned as reasons for title rewrites:
missing or empty title tags
page titles that are too short or too long
generic page titles (e.g. "home page")
word repetitions (which can indicate keyword stuffing)
page titles used on multiple pages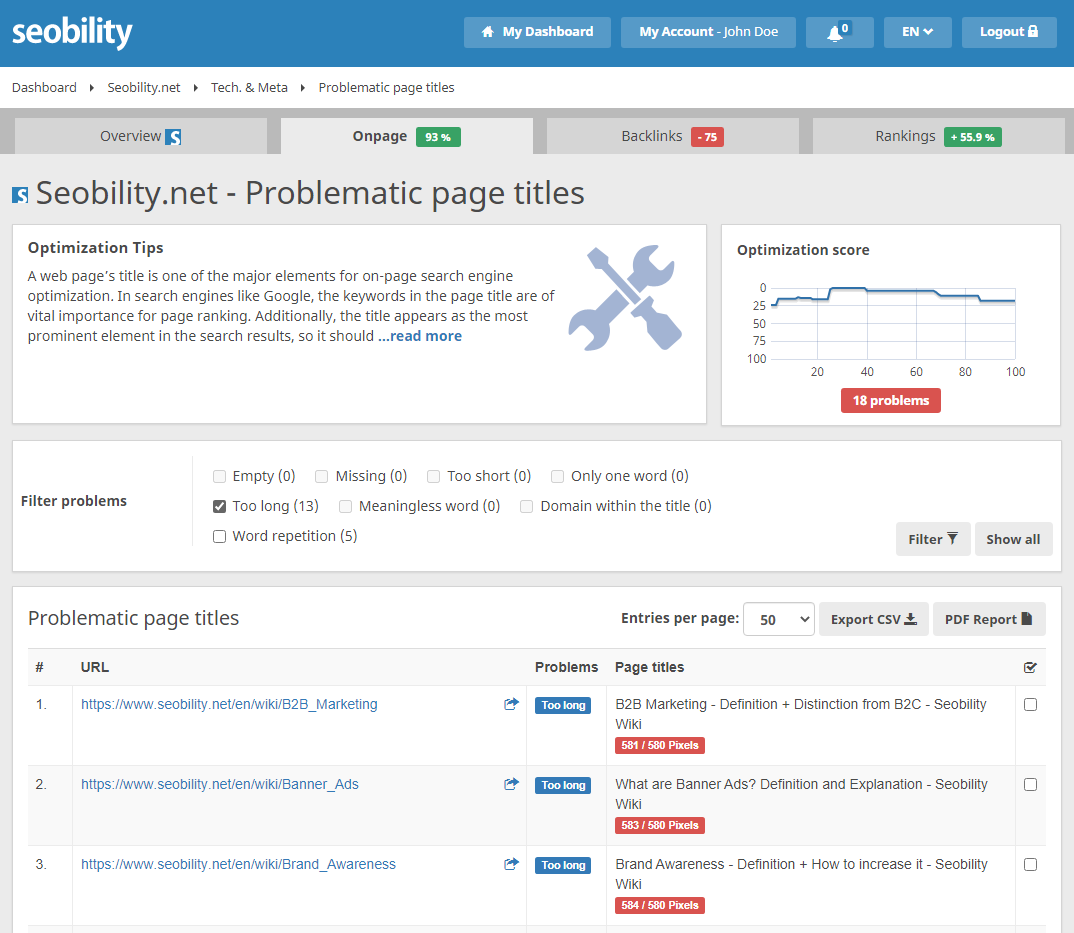 By fixing the issues listed here, you'll be much safer from page title rewrites. If Google still changes your titles, you should evaluate whether this has a negative impact on your traffic and if a more thorough optimization makes sense (as described in the previous section).
If yes, compare the content of your title tag with the title generated by Google and try to understand what could have caused the rewrite. This can provide you with interesting insights that might even be useful when optimizing page titles in general. After all, meta titles are still one of the most important on-page ranking factors!
One last piece of advice: Focus on your most important pages when doing these optimizations. Google is still working on improving the system so it's possible that some of the current changes might be reversed in the future.
We'll keep you up to date!
PS: Get blog updates straight to your inbox!
About Author