Summer is coming to an end. For email marketers, this can be a truly exciting time.
Fall brings many golden sales opportunities: new collections, mid-season sales, Halloween, Thanksgiving, Black Friday, and Cyber Monday. The harvest time has many aces in the hole, starting with the Back to School email campaign.
Back-to-school season is a high grossing retail holiday for businesses. Even though the crisis has changed this season, the National Retail Federation still predicts a strong sales period. With the popularization of homeschooling and online education, children will proceed with their studies. That means they will need school and college essentials.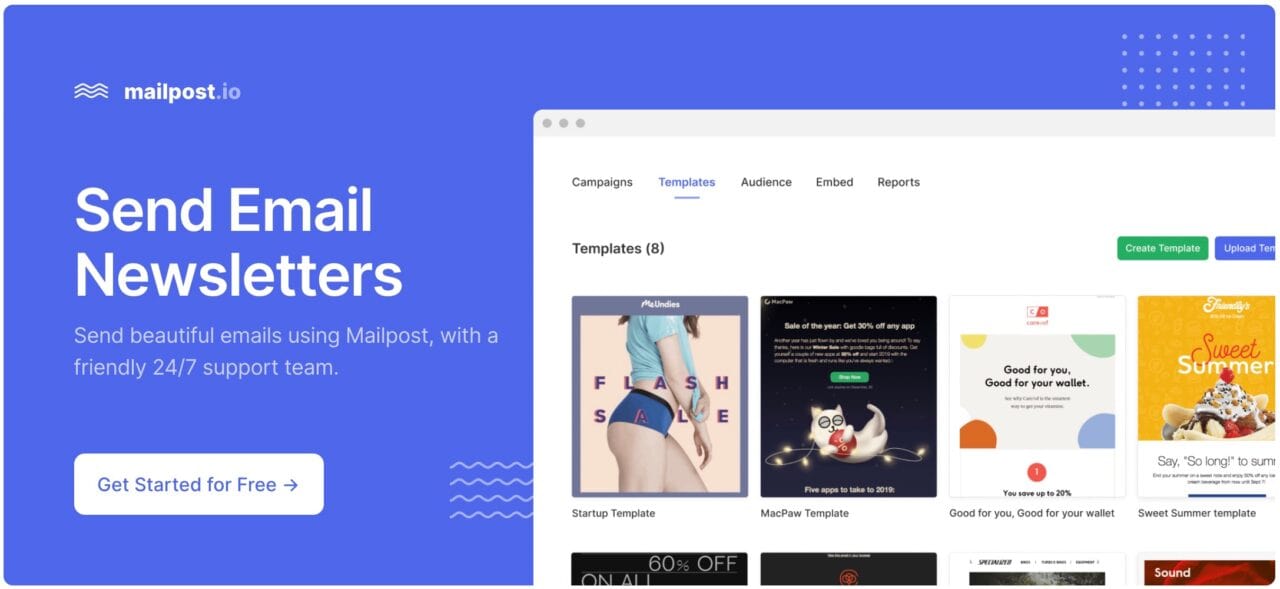 Here's how to create engaging back-to-school email campaigns.
Along with Black Friday and the beloved Winter holiday, Christmas, the back-to-school campaign is one of the most significant retail shopping events in the email marketing calendar.
All sorts of businesses capitalize on back-to-school emails, not only the traditional sector of retailers that offer school supplies and dorm room accessories. For example, electronic stores are one of those that use these newsletters to generate sales since Generation Z needs not only a pencil and notebook but also cool gadgets. Besides, clothing retailers, furniture shops, and even SaaS websites that provide digital products easily reap benefits from them.
Online Email Template Builder
With Postcards you can create and edit email templates online without any coding skills! Includes more than 100 components to help you create custom emails templates faster than ever before.
Even if your business is outside of the education sector, you should still send back-to-school newsletters. This massive shopping event is an excellent opportunity to re-connect with the subscribers and enhance your relationships with them. Consider back-to-school email example from Firefox.
Although it has nothing to do with education, it grasped this unique opportunity to bring value to the contacts, cultivate trust and build brand evangelists by providing six essential tips on how to protect yourself during online shopping. Brilliant.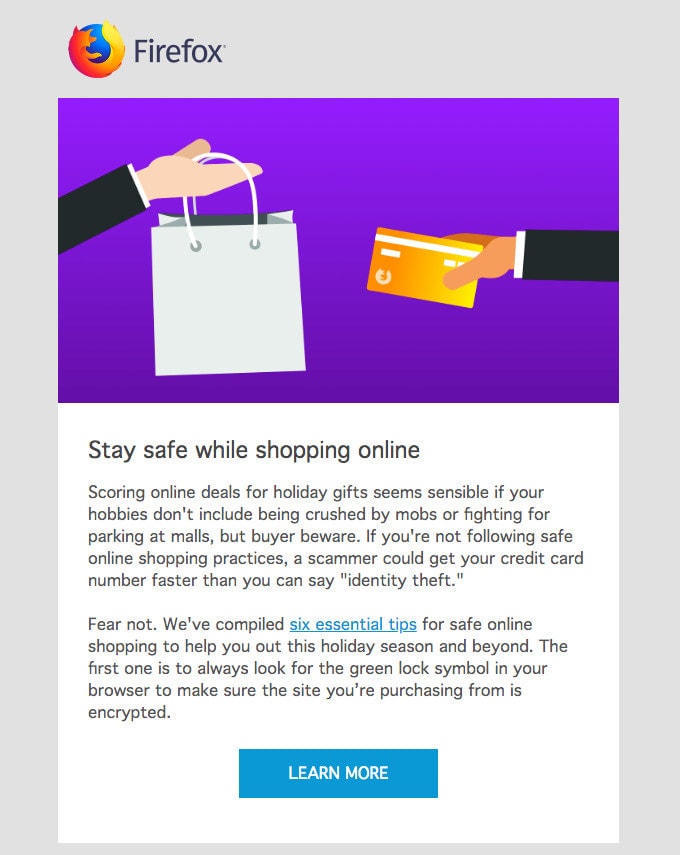 Keep your data secure with safe online shopping tips from Firefox
Target Market
Segmentation is crucial for every marketing strategy; back-to-school newsletters are no exception. To define segments accurately, you need to understand the target audience. It includes several markets:
School children
College-goers
Undergraduates
Parents
Grandparents
Classroom teachers and lectors
As you can see, the target market is quite diverse. Each cluster requires a unique approach.
Ideas for Back-To-School Emails
Back-to-school emails come into two categories: informational and promotional. Teachers and brands that are outside of the education sector use the first one, whereas entrepreneurs use the latter.
Much like other types of email newsletters (transactional emails, onboarding emails, welcome emails, and e-commerce emails), these types are not mutually exclusive. Quite often, back-to-school newsletters include informative copy and shopping incentives. This area is multifaceted.
There are some excellent ideas for back-to-school emails that combine the two to bring value, generate extra traffic, and raise conversions.
Welcome Back to School.
Classroom newsletter. It includes schedule, calendar, list of outside activities, book recommendations for autumn reading, etc.
A letter from the teacher. This friendly update encourages regular communication between teachers and parents.
School Supplies.
School Checklist.
School Guide.
School Survival Guide.
College Survival Guide.
Checklist on frequently forgotten items.
Recipes for lunch boxes.
Crafts for back to school.
Tips and Tricks for Entering the New Term.
Early bird Deals.
Preview Sale.
New Collection.
Fall Favorites.
Gift guides.
Recommendations for the Fall season.
Recommendations for Halloween.
The contest Email.
Inspirational Email.
Product Recommendations.
End of Summer Holidays.
Mom-centered Emails.
Dad-centered Emails.
Back-to-school newsletters can be used as re-engagement emails that reactivate one-time shoppers. You can use a friendly reminder entitled "We Miss You," which is the first newsletter in the win-back email series. Alternatively, you can adopt one of the retention emails entitled "Welcome Back Again."
Prove to be successful, each of them should include such things as:
A pleasant greeting
Helpful information
A shopping incentive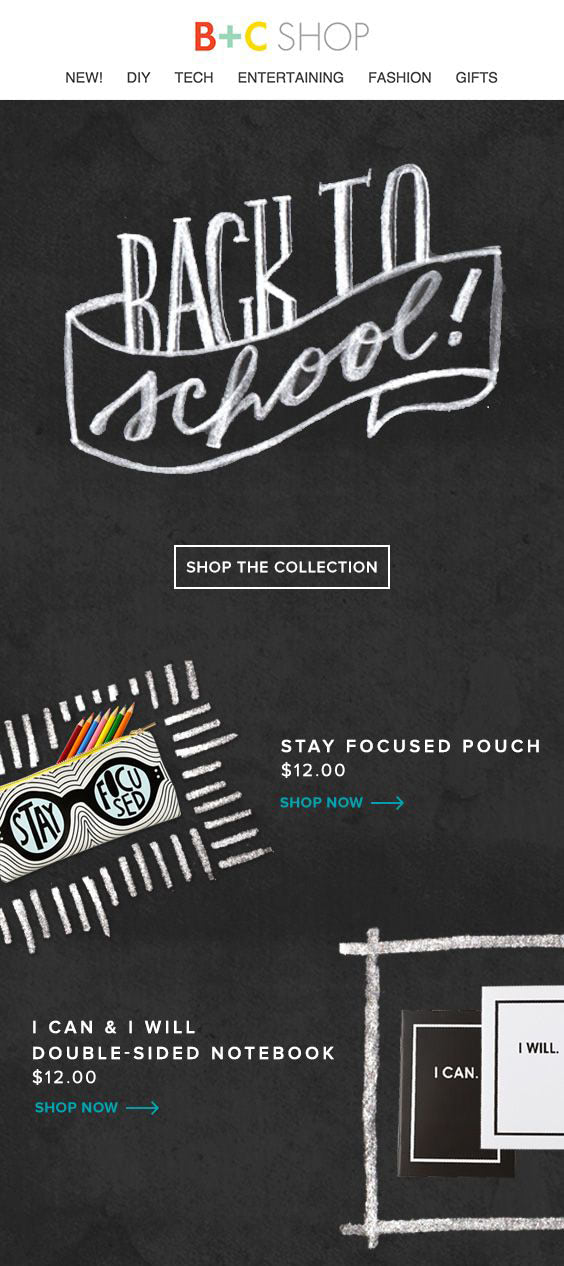 Back-to-school email from B+C Shop
As a rule, back-to-school email campaigns launch in mid-August since as students prepare to hit the schools, universities, and colleges. However, you should not wait until all brands start to bombard subscribers with sales pitches. If your business is in the education sector, then it is better to send the first email newsletter much earlier to get a head start and catch earlier buyers.
There are countries like the USA that do not have a regular school start date. If you aim at this market, then the back-to-school campaign can be long and diverse peaking as early as mid-July and ending in mid-September. Marketing campaign timing can be a bit tricky. To address this issue, segment your subscription list according to age and country.
The best time of the day to send out back-to-school emails depends on the type of subscribers in your list. Remember you need to cover three major groups: children and students who check emails, parents who have only several free time slots throughout the workday, and school and university workers whose schedule can be pretty flexible in August but tight throughout the academic year.
According to surveys, the best day to send back-to-school newsletters to teachers and school workers is Thursday. Send it either in the morning around 8 a.m. or in the afternoon around 3 p.m.
If you are going to send out a newsletter to office workers (parents), then the best days to deliver your message to the inboxes are Tuesday and Thursday, and the best times of day are 8 a.m., 10 a.m., 4 p.m., and 8 p.m.
As for Generation Z, well, you need to conduct A/B tests to define the best day and time since many factors may influence children's behavior during the day and week.
In 2020, we could not help but mention the Covid-19 pandemic and its effect on our everyday life and online shopping habits and preferences. This year, the time slot for back-to-school email campaigns has shifted a bit. Due to uncertain times, it is highly recommended to start sending newsletters at the end of August or early in September and run it until the end of September or even the start of October.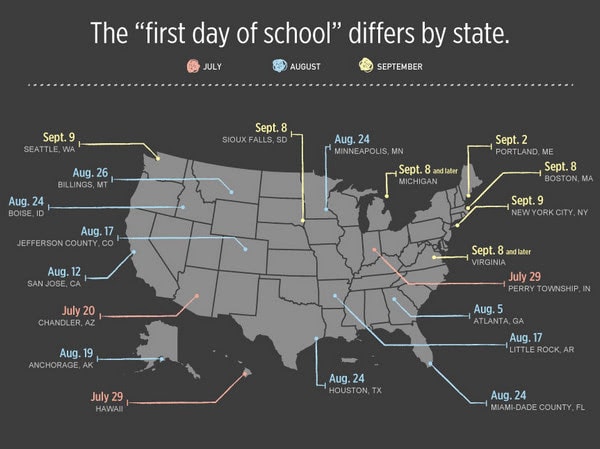 Back-to-school Email Marketing Infographic by TheShelf
Although back-to-school emails are highly anticipated and warmly welcome by people, much like Christmas sales pitches, you still need to fight your way through the overcrowded inboxes. To stand the competition and catch the eye of the subscriber, you need a killing subject line.
Subject lines for Back-to-school newsletters obey the same rules as ones used for Black Friday and Cyber Monday.
They should be attention-grabbing but short and sweet.
The preview text should extend the topic.
You can use such words as "sale," "off," "% ," "free," "save," "don't miss," "the last chance." If you want the subject line to support the event completely, you may use such school-themed phrases as "homework," "class," "beat the bell," "your first assignment," "A grade," etc.
You may reel people in with emotions. Smiling faces always work when it comes to Gen Z and millennials. Use such emojis as pen, notebook, star, high-five, checkpoint to appeal to the market, and fit the mood.
They should have shopping incentives.
Consider some rocking examples of subject lines for back-to-school emails campaign taken from big brands to ace this task:
BACK TO SCHOOL! Come join the FUN! 20% OFF
Best First Day Ever!
Back to School never looked so good!
30% OFF BACK TO SCHOOL SALE
Exclusive! Back to School Sale
Hold the door! Check out this back to school sale.
Free Shipping + 20% Off Back-To-School Must-Haves!
They're here! Back-to-school styles
Back-to-school ✔list – ❺ must-haves
Back to School? End Soon.
A sale so big you'll wish you had homework.
Get an A+ (but only if you hurry)
✔ A+ savings! 20-60% off ALL GEAR!
Back(pack) at it again
Back to school cool?
Favorite looks for school are here!
Prep for School: New Year, New Look
School Time. Play Time.
New Style to Rule the School
Fall into a fresh start
Be the Best in Class
Back to School Survival Guide
Refresher for a Fresher!
Make the Grade: Back-to-School Favorites Up to 65% Off
We won't tell if you cheat — 90% (off) is too good to pass up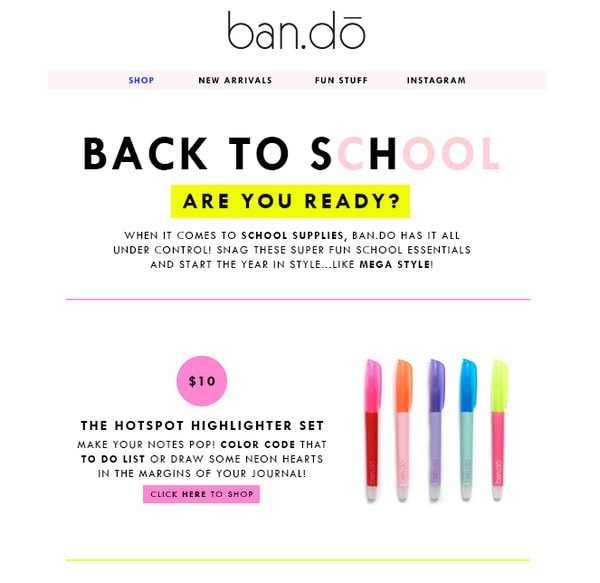 Back-to-school by Bando
How to Create a High-Converting Back-to-School Email
To create a high-converting back-to-school email, first and foremost bear in mind such vital things as:
Segmentation is everything. You should send different emails to school children, undergraduates, parents, and teachers. Make sure your subject line and copy speak directly to the group and meet their current needs.
Customer personas are obligatory. Personalized user experience always appeals to contacts, especially when it comes to youngsters who are craving to be singled out. Use a name in the subject line, create a special offer, and center the copy around the contact's preferences and buying history.
Evoke urgency because back-to-school is a one-time shopping event.
Make the most of stereotypes. Focus on the school theme. As banal as it may sound, it works. People fall for conventions use it to your advantage.
Start by touting classroom essentials. Choose products that are of the most help. Make the center of attention.
Show how your products fit into people's school lives, benefit youngsters, and make life more comfortable in the classroom and at home.
Include a coupon, promo code, discount, or free shipping.
Give away useful stuff. It can be a printable checklist, calendar for the next academic year, or lesson plan template.
Create an entire sequence of email newsletters since the shopping window for the back-to-school event is quite wide.
Also, follow these recommendations:
Create a sense of exclusivity. Schoolchildren and undergraduates are up to sporting the latest fashions. Children want to look cool. Therefore, top-selling goods always draw attention.
Establish a youthful atmosphere. Use urban slang and friendly language. Capitalize on humor and witty puns.
Capitalize on new beginnings and a fresh start. After all, much like New Year, September is all about the new you.
Think like a teenager or a student. Children always influence parents' decisions when it comes to school supplies, clothes, accessories. Therefore, focus on their preferences and stay up-to-date.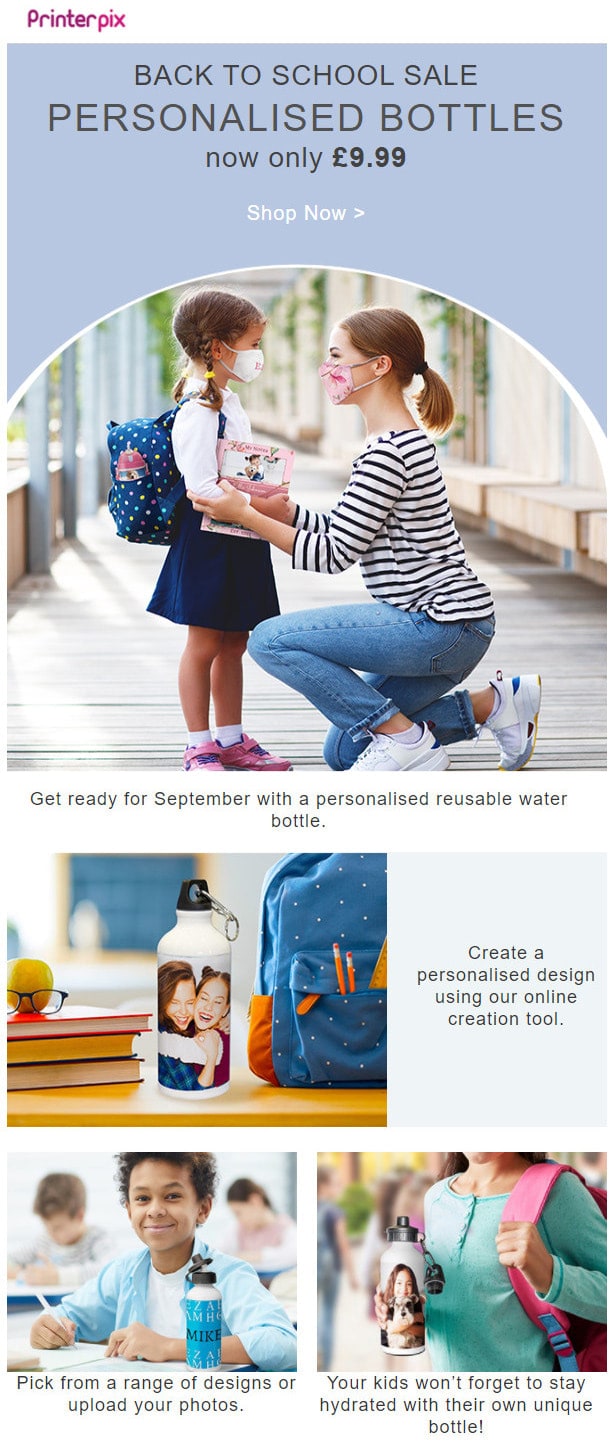 Back-to-school Email from PrinterPix
How to Design Rock Star Back-To-School Email
As we have already mentioned, your target market is mostly Gen Z and millennials. To create a high-converting design for a back-to-school email campaign, you should adopt modern and stylish approaches.
Culture has a considerable impact on young people. If there is a popular game or TV series, make the most out of it.
Use the school theme to the full extent since it instantly appeals to the young crowd.
Here are some other good recommendations that will help to design high-converting back-to-school newsletters:
Stick to bright coloring.
Use captivating typography. It can be handwritten, never-dying varsity-style of graduate, graffiti-inspired, or merely fun or whimsical font face.
Use animated gifs and videos.
Add interactive details like hotspots to create an engaging experience.
Maximize on chalkboard textures, brush strokes, stationery-inspired patterns, hand-drawn details, and school-related artworks.
Employ kid-friendly and school-themed imagery throughout the entire layout. It can be stocks featuring children and youngsters, playgrounds, chalkboards, desks, school supplies, and uniforms. Opt for images rather than illustrations since they help to build an emotional connection.
Use seasonal decorations. Since back-to-school email campaigns take place in summer and autumn, you may capitalize on these two seasons.
On top of that, always remember to make the back-to-school newsletter responsive, mobile-friendly, accessible to all, and compatible through all the popular browsers and email readers. For more hints, check out our guide for beginners to create a fantastic email newsletter design.
Tip: To create a back-to-school newsletter design that looks stylish, use the free HTML email template builder, Postcards. It includes field-tested components that are made with current trends in mind. On top of that, it works coherently across all devices, so that your message will be delivered to the mobile-addicted crowd in style.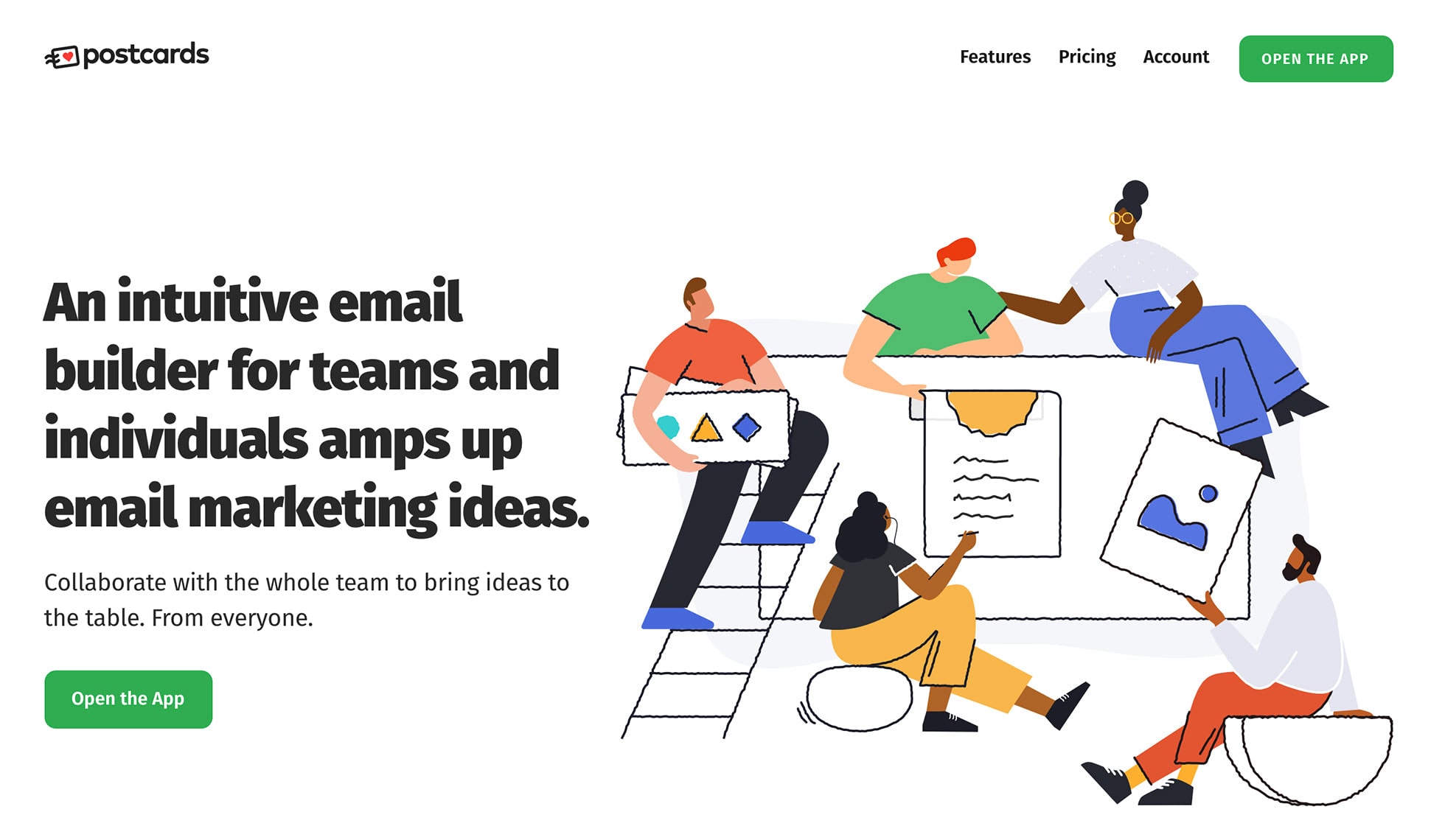 Examples of Back to School Emails

Back-to-School Email Example from Boden
Boden is a clothes retailer that cannot afford to miss this golden opportunity. Their back-to-school email example includes all the classic tricks in design. You will find:
Chalkboard-style image background
Fancy handwritten typography
Hand-drawn graphics
School-themed inscriptions
An arrangement solution inspired by the hopscotch board that ties everything together
There is also a shopping incentive right at the top and small eye-catching motivator for buying right near each image.
The team has undoubtedly nailed the school theme, spiced it up with some marketing tricks.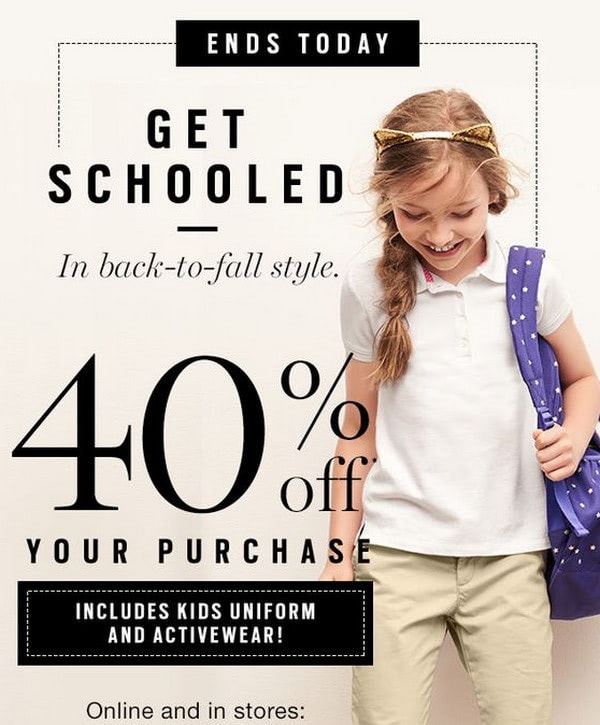 Back-to-School Email Example from Gap
If you are not a fan of skeuomorphic solutions, then the back-to-school email example from Gap made in a clean flat style will undoubtedly please you. It garners attention with a neat and sophisticated design. Every detail of this newsletter aims to drive traffic to the landing page and generate conversions.
The main highlights of this email are:
A skillfully established sense of urgency right from the get-go.
A strong shopping incentive. The 40% discount is an absolute head turner.
The headline that announces the theme of the email sets everyone in the right mood.
The image of the schoolgirl with a big smile on her face appeals to all categories, from youngsters to grandparents.
Note, there is no intricate layout nor extravagant details. Everything is simple, well-organized, and properly-structured. Simple and smart.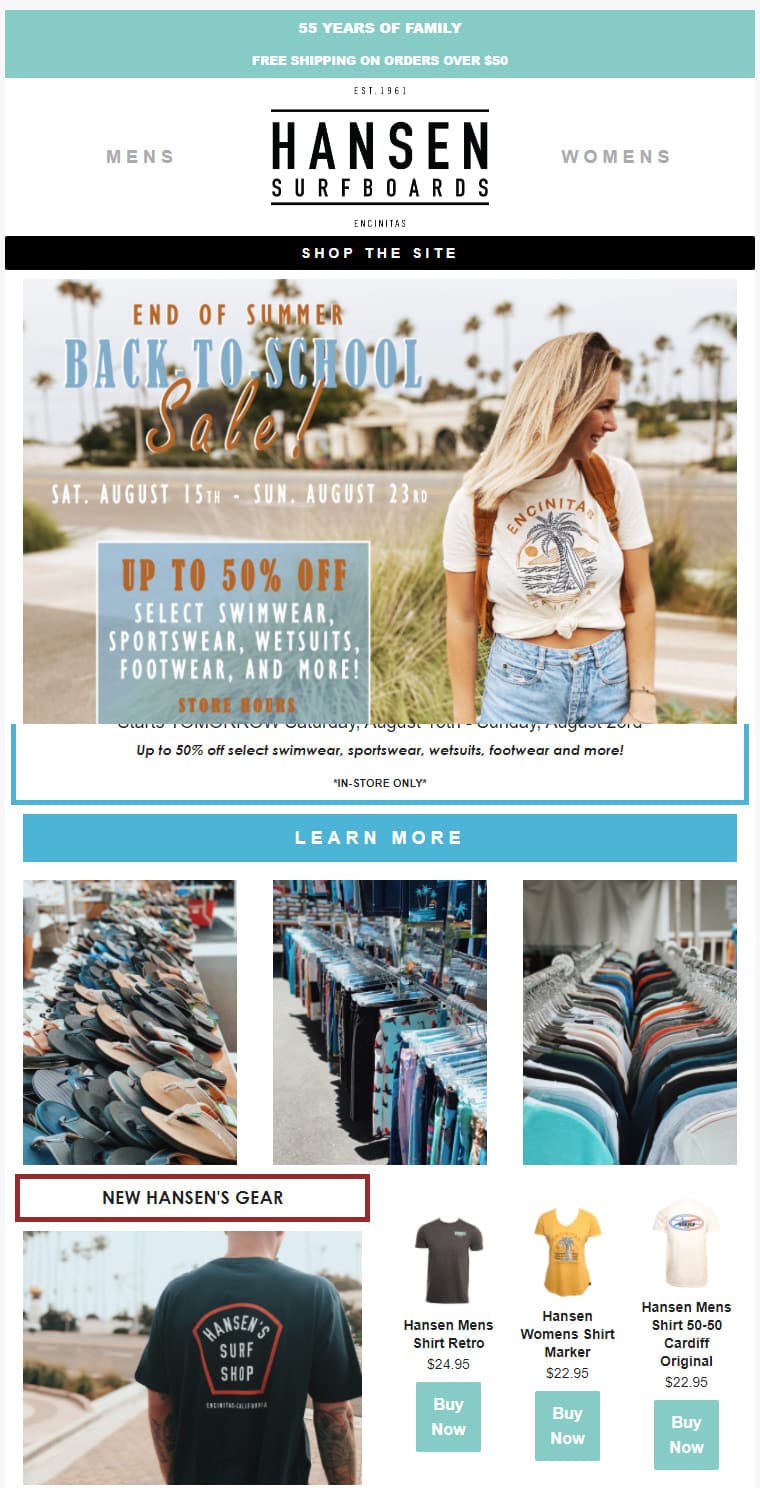 Back-to-School Email from Hansen
How about combining the two previous approaches? A back-to-school email example from Hansen shows how it should be done to generate leads. They were managed to appeal to various sectors in the market and create a design with a long-lasting impression.
The key takeaways:
Gorgeous imagery used as background sets the tone and makes the atmosphere unforgettable. The design oozes California appeal on all fronts.
Beautiful typography makes the content fit the school theme. It echoes the background and throws a natural spotlight on the offer.
The offer is highlighted and placed right in the heart of the most viewed area.
Note, even though Hansen has nothing to do with school supplies – they are famous for producing high-quality skiing, sailing, and outdoor apparel – still, they have taken advantage of this event and made it work for their brand. Nicely done.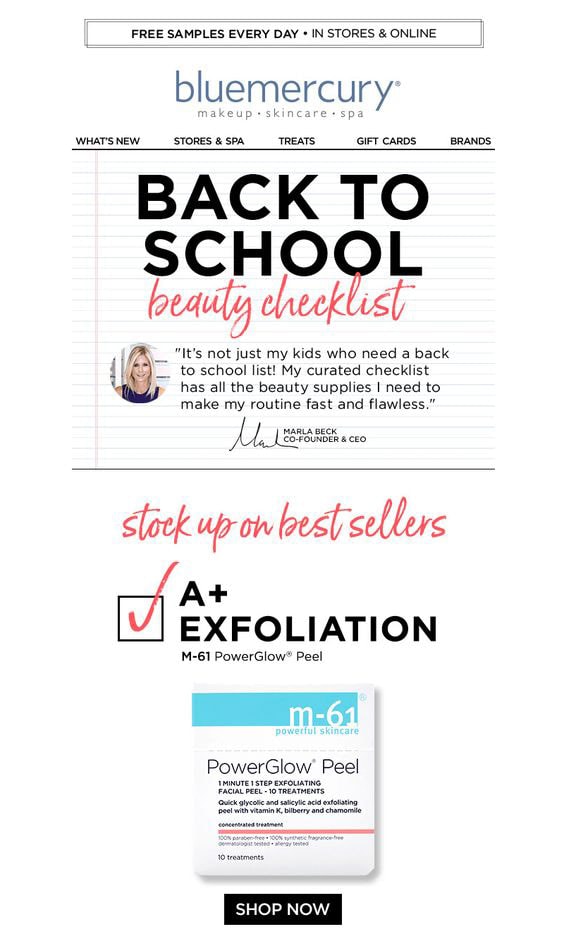 Back-to-school Email Example from Bluemercury
This is another good back-to-school email example sent by the brand that is outside of the education area. Bluemercury is a leading luxury beauty retailer. Nevertheless, they have seized this opportunity quite effectively.
The team has centered the newsletter around the beauty checklist. Although it is a little bit short, yet it is a good try to provide real value to the contacts and get a piece from the million-dollar pie.
Note the team uses a clean layout, school-themed graphics, and fancy handwritten typeface that altogether makes the design appropriate for the event.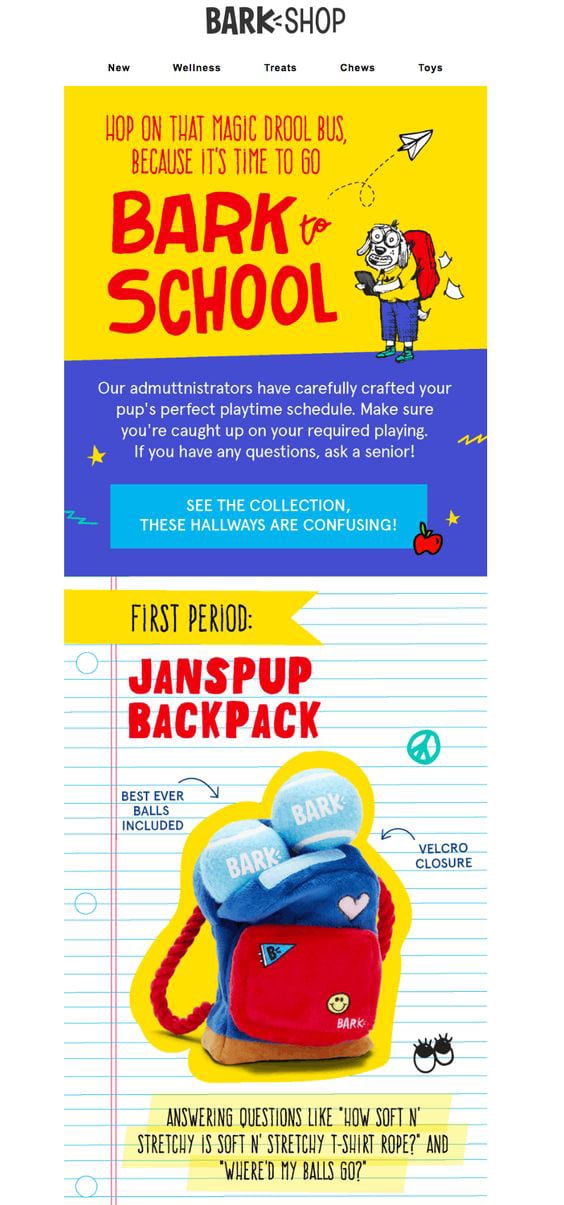 Back-to-school Email Example from Bark Shop
Bark Shop is another brand in our collection that is far away from the education sector. The company sells dog toys, treats, and gifts. Again, that does not stop them from capitalizing on the biggest shopping event of summer.
Their back-to-school email example from Bark Shop looks fantastic. It employs the school theme to present the products under the proper light. It has bright coloring, fancy typography, notebook-styled background. The products are arranged in a sequence that naturally guides the users from top to bottom.
Although there are no shopping incentives, still the design compels you not just to scan but read the entire content since it sparks curiosity from the first seconds.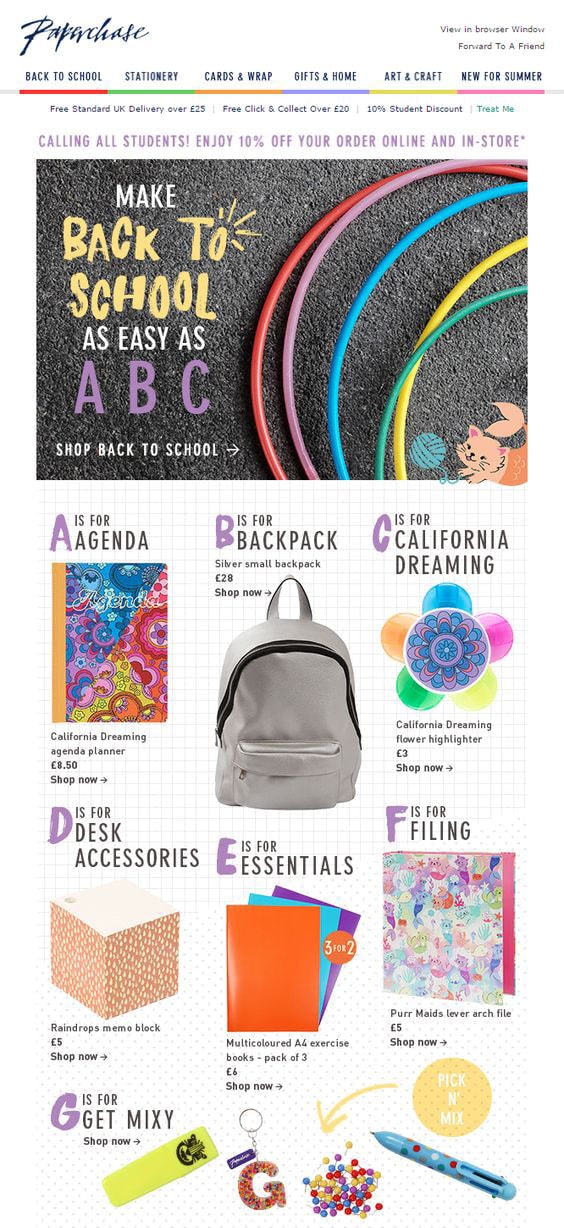 Back-to-school Email Example from Paperchase
Paperchase specializes in stationery; therefore, their back-to-school email example is all about school supplies. Although the newsletter is long, and at first sight, it seems that you will not make it till the end, however, it is increasingly absorbing.
The deal is the team uses the alphabet to present their products. The solution is simply ingenious. Each letter presents the product. You just start to read and cannot stop since it kindles interest and sparks curiosity on every step.
Note several things.
The team used bright coloring to create a cheerful mood.
There are paper textures that establish a school theme.
The hero area is incredible.
There are small shopping incentives right at the top.
Who would have thought that such a long-long email newsletter would make you stop and read it from top to bottom? Ingenious.
This approach is tailored to schoolchildren, parents, and grandparents that love to treat their beloved grandchildren with everything bright and cute. This back-to-school email drives conversions and generates sales, without doubt, to say nothing about winning over some loyal brand fans.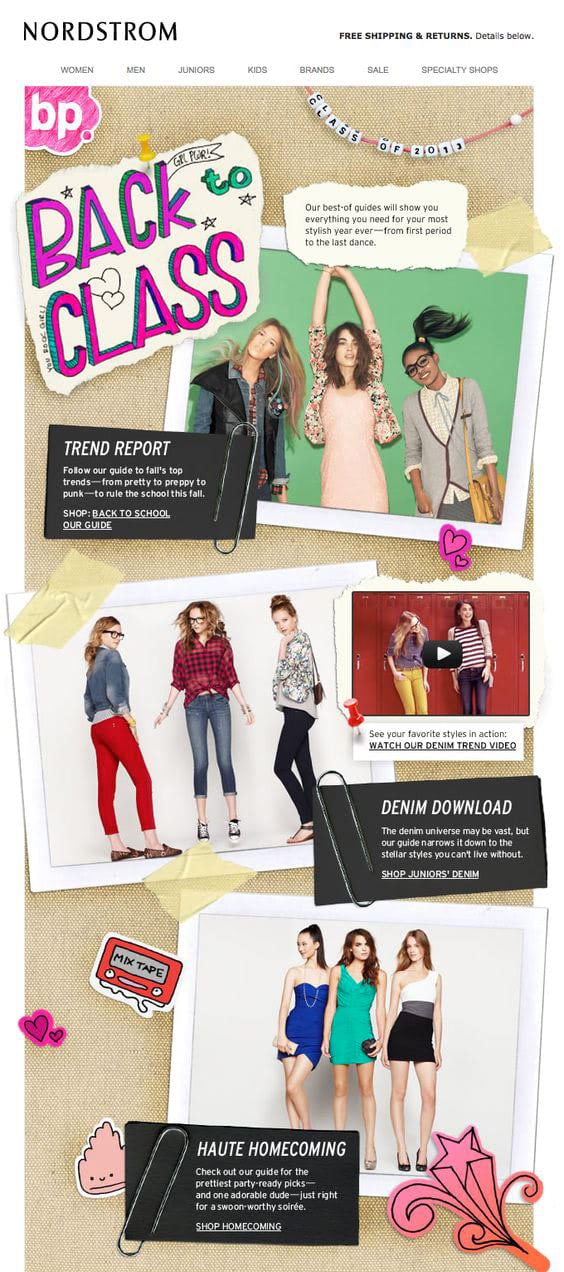 Back to School Email Example from Nordstrom
The back-to-school email example from Nordstrom looks juvenile. However, the quality makes it stand out from the crowd because it appeals to the youngsters effortlessly. It feels incredibly trendy and stylish.
The team has combined the scrapbook approach and skeuomorphism. As a result, we can enjoy a pure masterpiece that promotes the company, reinforces the connection with the market, and of course, builds brand evangelists.
Note you will not see any shopping incentives or marketing tricks. The newsletter is purely informative. However, the skillfully placed call-to-actions supported by stylish photos do the job perfectly. They drive traffic to the website and increase conversions by igniting interest with valuable information skillfully intertwined with a sense of exclusivity.
Conclusion
Back-to-school email newsletters require unique treatment since they deal with the young generation. This crowd is tough and unpredictable. Therefore, be ready to face some challenges. To see through follow these last-minute recommendations
Follow 7 principles of successful email campaigns and tips on how to generate more sales that give you useful hints on what can improve any email.
Check and double-check your emails. We have an excellent pre-launch checklist and checklist for verifying the email newsletter not to miss any error.
Focus on your design. It should be bright and energetic and certainly, speak volumes.
Stay on top of things. Follow the mainstream and cultural trends to make the copy tailored to Gen Z.
Use popular emojis as well as urban slang. Younger generations will appreciate it.
Offer competitive pricing and deals like BOGOF. When it comes to widely acknowledged shopping events like this one people become deal-hunters. You need a sweet deal to lure them in.
Reach your audience through social media channels. After all, we are talking about youngsters and millennials who manage three or five channels simultaneously. Facebook, Instagram, Twitter, and YouTube are some of the most influential. Therefore, use them not only as a source for inspiration and guidance but also as an alternative tool to reach your audience and reinforce overall email marketing strategy.
Finally, in this year you cannot overlook the current crisis. To curtail the impact of the pandemic on your sales and revenue, keep abreast of the things, and continuously do A/B tests to adjust your back-to-school email campaign to meet the market's current needs quickly.
Like what you're reading? Subscribe to our top stories.
About Author