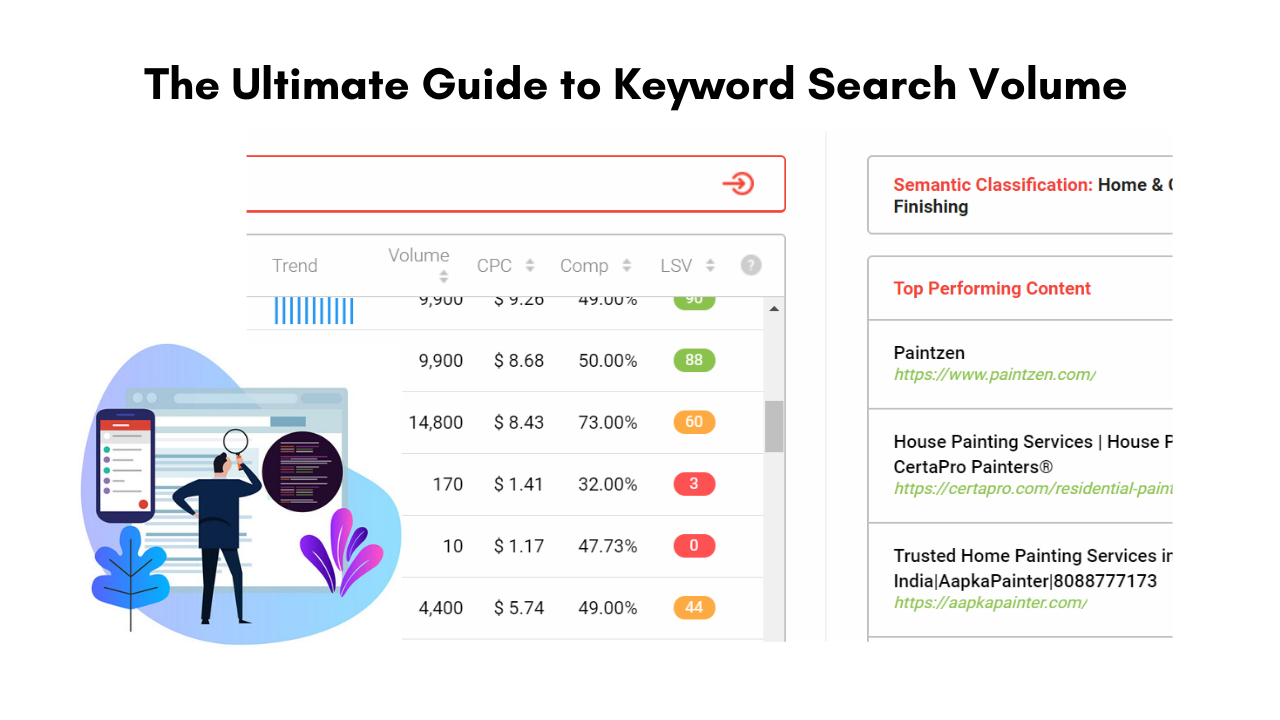 Looking to find winning keywords to target but don't know where to start? All digital and SEO marketers know the importance of targeting the right keywords to attract internet traffic. 
One of the most important metrics in selecting your target keyword is its search volume, and the reason is simple.  Because if no one is searching for the keywords you are targeting, no one will find your content. 
In today's post, we will be exploring everything you need to know about search volume. What is search volume, why is it important, and the most essential crux on what is a good keyword search volume and how to use it in your marketing? 
What is Keyword Search Volume?
For a quick definition, the keyword search volume describes the estimated number of searches for a specific keyword in a selected time frame.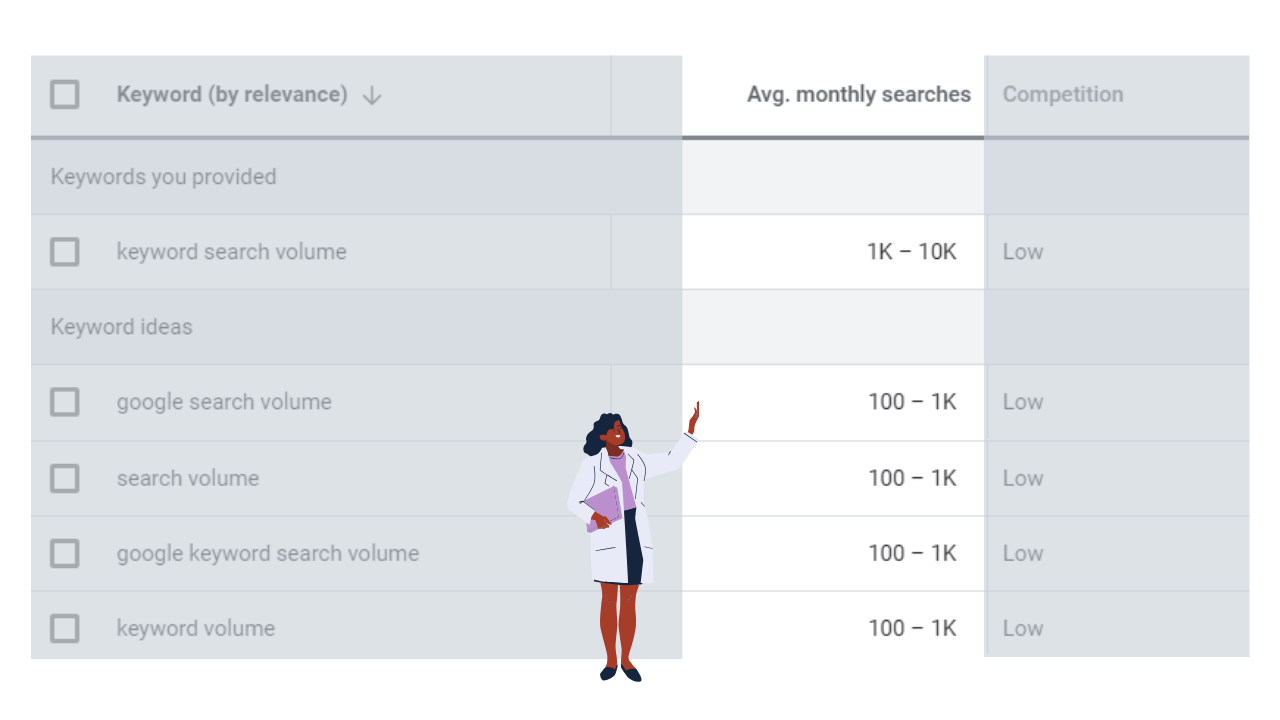 Note: If you are using Google Keyword Planner, the search volume here represents an average monthly range which is not the most helpful indicator for potential search traffic.
Take the avg. monthly searches for "keyword search volume" at 1k to 10k range as an example, the number of searches can run anywhere between 1,001 to 10,000 which is too huge of a gap. 
This makes keywords targeting especially difficult. However to ease your mind, let us get you in on this little known trick to uncover the exact keyword volume using the volume forecast feature. 
Just watch this step-by-step walkthrough from Matthew Woodward to uncover the exact search volumes.
Despite that, as an SEO, we cannot entirely rely on the numbers that Google Keyword Planner provides.
You will understand me after you've done keyword research for a while, especially when you realize that some of your highest-traffic content might not have come from the most potential keywords.
Still, to better understand and decide on your targeted keyword volume, you need to look into the two factors.
(i) Seasonal vs Evergreen Keywords
Google Trends is a great tool to identify the overall popularity and seasonality of keywords.
One typical example is "best valentine's gift" where you will find this search term garner an exceptionally high number of searches during the months of January and February, as opposed to any other time of the year.
So it would be in the best interest of businesses to optimize their content before and around the trend to meet the anticipation of audiences.  
On the other hand, search queries that are consistent throughout the year are known as evergreen keywords. They maintain fairly consistent search volumes throughout the year and maintain steady popularity at all times. 
For your keyword research, you should target both evergreen and seasonal keywords and also explore a broader scope of keywords associated with your niche. 
(ii) Keyword Clustering can Make a Huge Change on Potential Traffic
Another key factor that marketers often forget is the impact of keyword groupingon potential search volume.
Often times, we only refer to the volume of a single keyword when in reality one web page is ranking for multiple queries.
That's why you don't always get the complete picture by just looking at a single term, sometimes you need to look at the whole collection of similar keywords you could also otherwise be ranking for. 
Always use LSIGraph to discover semantically related keywords you should target as well. For example, if you are creating a blog post on "green tea benefits", you should also discuss the effects if you were to drink it daily, as well as the benefit difference between having it hot or cold.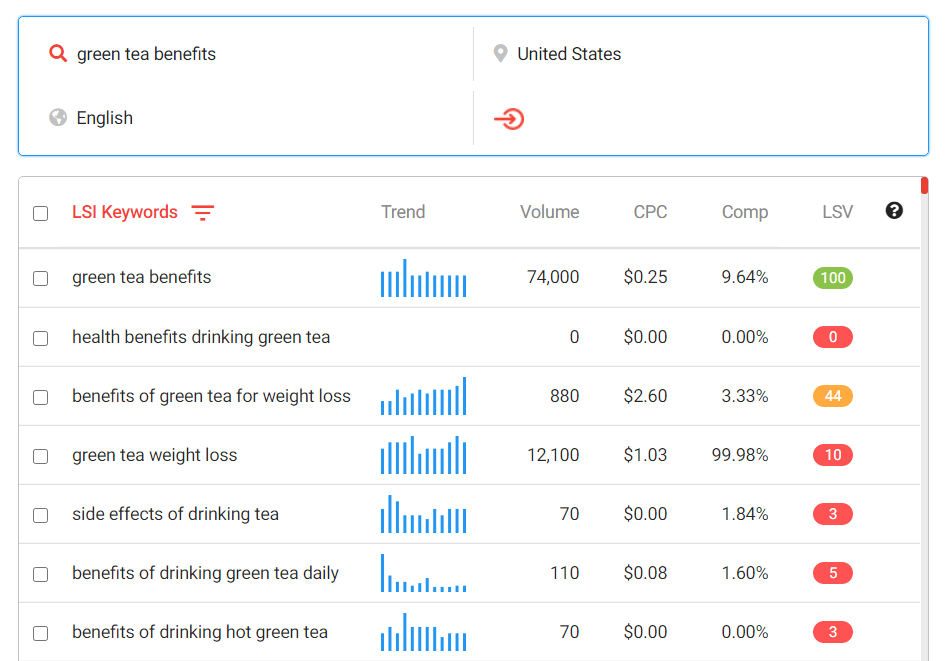 Now that you have an idea about the context behind search volume, let's go through the full process of how you should examine keyword search volume data.
First, let's start with the Google Keyword Planner to get some quick keyword ideas. 
How to Research Keywords for Your SEO Strategy?
You will need to do keyword research to identify the most popular search terms. While there are many tools to accomplish this, Google Keyword Planner is among the effective ones. 
Google Keyword Planner is a free tool, but you have to set up a Google Ads Account. Once you have logged in, maneuver to the 'Tools' menu and then choose 'Keyword Planner' under 'PLANNING.' 
The keyword planner has two tools, namely 'Discover new keywords' and 'Get search volume and forecasts.'
The former comes in handy when you want to generate new ideas, and you will be prompted to enter search terms related to your business. Every suggestion will display the average monthly searches, competition, and low and high top-of-page bid ranges.
Another important feature you should refer to is the Grouped Ideas tab to discover potential cluster keywords.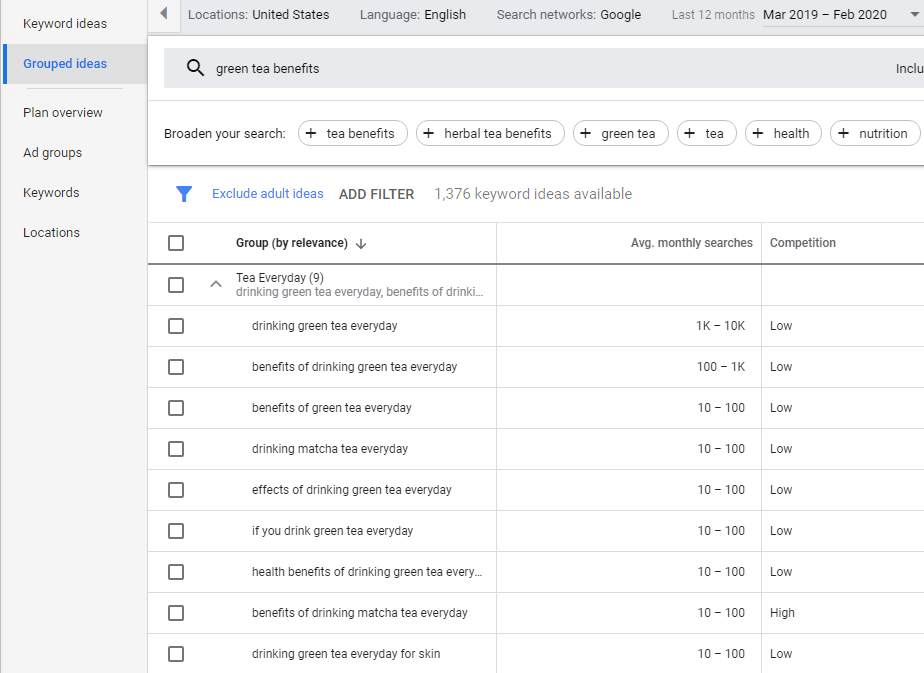 Once you have your list of search terms, determine their popularity by using the 'Get search volume and forecasts.'
Google will predict the volume of clicks and impressions you will get from each keyword if you decide to run campaigns on Google AdWords in the next 30 days. 
Unless you run a Google AdWords campaign, you cannot see the precise keyword volume for your keywords. Fortunately, there are other free keyword research tools that you can use, including:
1. Google Trends
It doesn't matter how generic your keyword can be, once you have got your potential keywords, run them through Google Trends to explore when and where they are more likely to be searched. This can help you better understand the intent as well as craft your persona. 
2. LSIGraph 
The LSIGraph tool will give you semantically linked keywords that you can use to increase your traffic. Search engines are not always correct in determining the precise results that users want. In the case of small businesses, for example, you want to maximize your visibility by using keywords that are specific to you. The LSIGraph will generate additional keywords around the primary search term. 
3. BiQ's Keyword Intelligence
BiQ's Keyword Intelligence will generate the related keywords to your seed keyword. You will also see the popular questions around the search terms to get a better idea of what users are looking for. You can also opt to see the trending searches and topics to keep up with online trends. 
What is a Good Keyword Search Volume?
Once you have done your keyword research, it will be time to put the data in good use. 
While high volume keywords will bring the most traffic to your content, it is not always advisable to use them. These keywords are often too broad, in which case they will not result in any conversions on your website. As a digital advertiser, you do not only want to drive traffic, but you want the right traffic. 
Medium volume keywords have the advantage of being more specific, and they will attract a significant amount of targeted traffic. The term 'house,' for example, can be swapped for 'three-bedroom apartment.' Medium volume keywords often have two to three words. 
Long-Tail keywords include more than three words, and they attract highly-targeted traffic. They are typically low in volume, but they result in high conversions. 
When deciding on the keyword volume to target, evaluate your content aspirations and your site authority. Do you want to get more traffic? Do you want to increase the sales of your products and services? 
If your brand is well-established online, and you are well-ranked continuously by Google for your topic, then you can use high-volume keywords. The chances are that you can handle the competition, and you are looking to increase the user-base you already have.
A small business will fare better with less-competitive, low volume keywords that are specific to their business. 
Digital marketers should also perform a keyword gap analysis and curate high-quality content that will address the queries on incoming traffic. In addition to discovering related keywords, seek questions from potential consumers. You can use Q/A sites like Quora to identify the topics that people are interested in.
Another excellent SEO practice is to identify your competitors by analyzing the websites than rank highest in search engines for your topic. Your competitor's content can give you ideas for the keyword gaps than you can fill. 
Target Search Intent On Top of Keyword Volume

Keyword research can help you get more traffic to your website. Keyword search volume is a handy tool used by digital marketers to determine the number of searches that a particular keyword gets over a timeframe. It is also recommended to identify the intent of the keyword, which are the queries that your target consumers are interested in. If you can provide content that is specific to the incoming traffic, then you have higher conversion chances. 
Updated: 20 July 2021
About Author