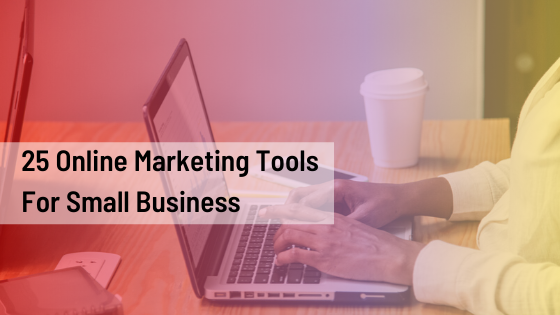 All businesses, irrespective of their sector, can significantly benefit from digital marketing.
It allows you to cost-efficiently reach clients, places your brand in the right circles, and positions your business in the same standing as your peers.
Moreover, digital marketing platforms – such as your website or Facebook page – can also double up as your online selling platforms.
A recent study by Google concluded that companies that invested in digital marketing report a 6% increase in sales. Those that combined digital and traditional marketing reported an increased 11% in sales.
These numbers might seem insignificant, but wouldn't you want to increase your product margins even by the smallest percentages?
Even so, to harness the benefits of digital marketing, you need the right strategy for your campaign. This is mainly impossible without some tools to help with the management, delivery, and optimization of your campaigns. The following are some of your best tools for different platforms of digital marketing.
Email Marketing
Some people assume that email marketing is Facebook's dreary cousin who never gets marketing party invites. If, however, you are investing in digital marketing, getting an email list should be among the first orders of business because it guarantees some of the highest profits. Here are the most effective marketing tools for emails currently.
1. AWeber
This is the go-to tool for both marketing newbies and pros. It seamlessly connects to platforms like WordPress and allows instant access to autoresponders, email templates, and email list managers. AWeber allows a free one month trial and has live chat, email, and phone supports as well as webinars.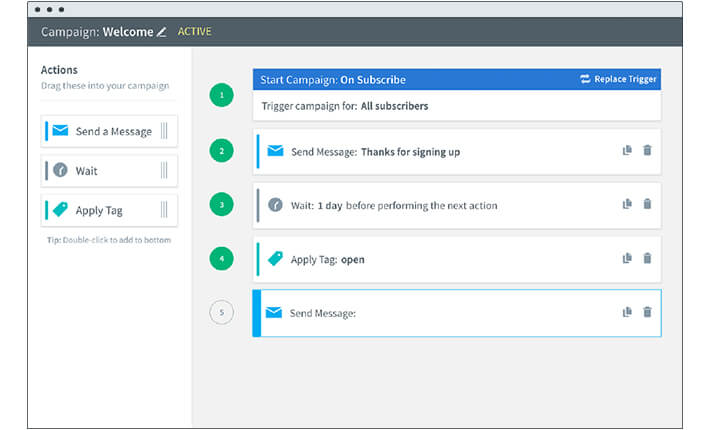 2. Mailchimp
The popularity of Mailchimp is mainly because it has a free service plan for email marketing. This option allows you to send 12000 emails to a maximum of 2000 subscribers, but you can pay $10 monthly for an extra 500 subscribers. It offers autoresponders, simple analytics tracking, and segmenting of contact groups according to time zones and geographical locations.
3. GetResponse
GetResponse market themselves as the world's easiest email marketing platform. Like most other email tools out there, GetResponse offers different types of messages including newsletters, autoresponders and RSS to email. A great feature of GetResponse is they also let you do A/B testing and then have the option to automatically send the best performing version for future emails.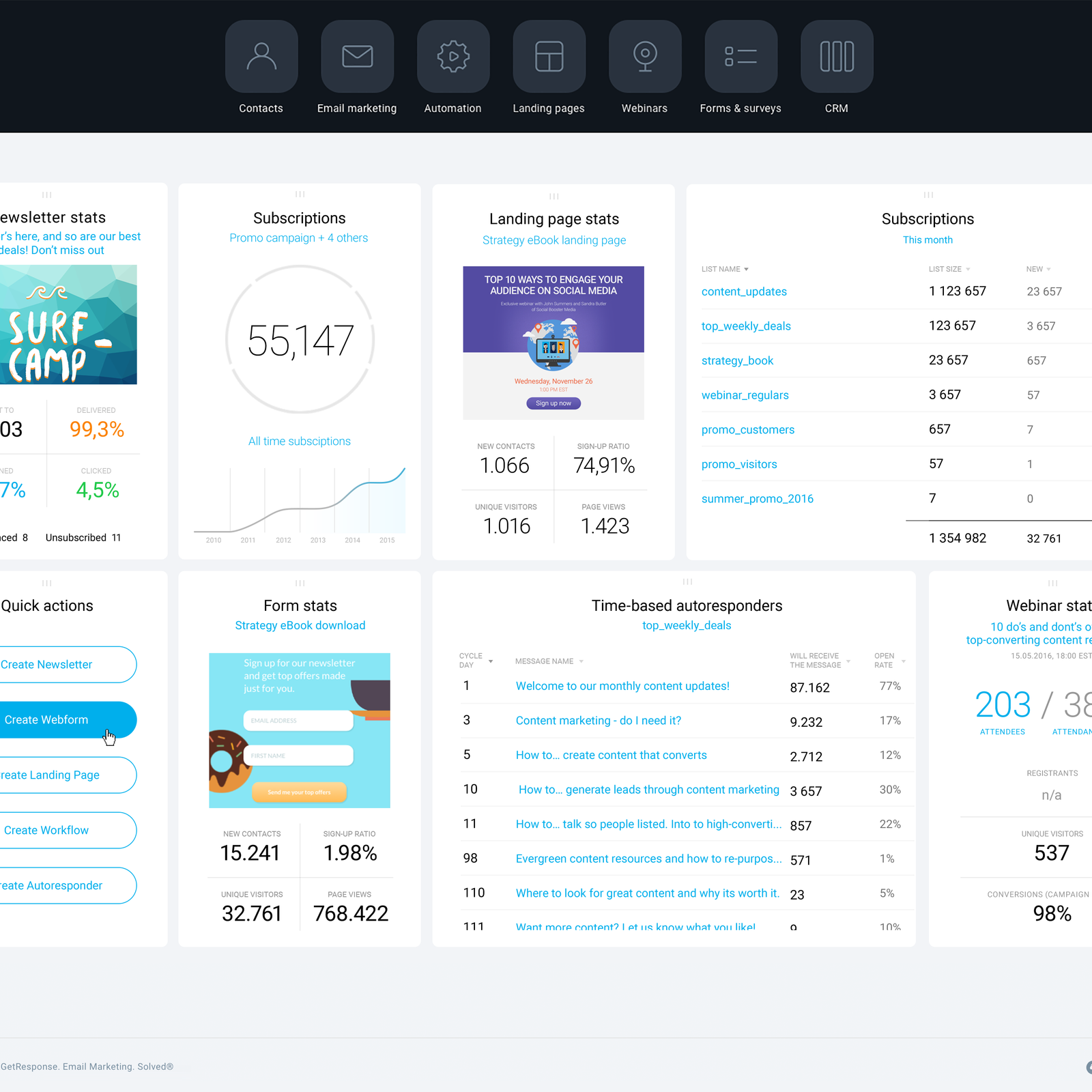 On-Page SEO
Your on-page SEO will influence the way search engines like Google to interpret your content and, consequently, your rank on these engines. To get to the top pages on search engines, it is crucial to use the right tools to inform your on-page SEO efforts. Here are some of the best tools.
4. SEOPressor
Hello, it's me. Yes, of course, our tool is on the list.
If you're not familiar with SEOPressor, this is a plugin tool for WordPress. It allows you to view your content in the same way as Google and other search engines will see it. SEOPresser uses an algorithm to analyze over three billion data rows so that you can optimize elements like semantic building, link management, and crawler control for search engines while writing content.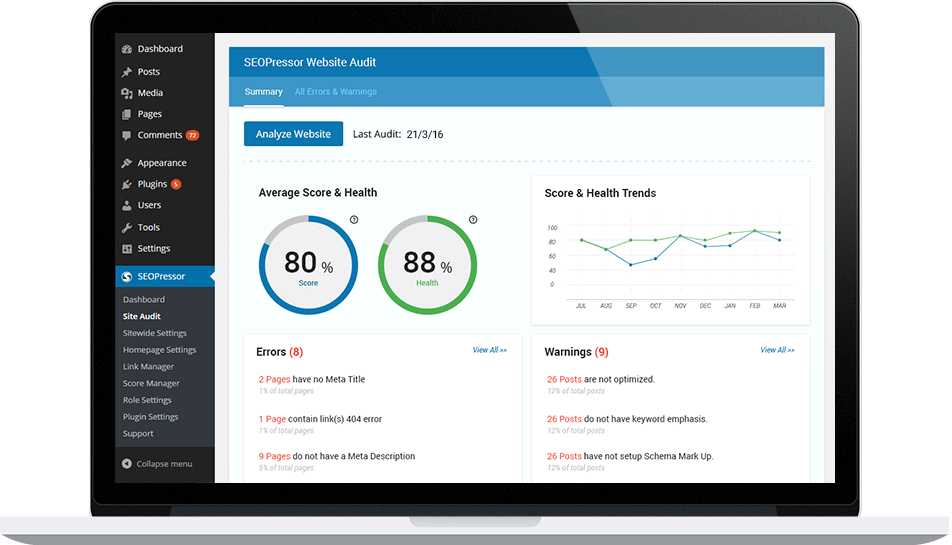 5. GDoc SEO Assistant
This is a free tool in which you will only enter your keyword then start writing like you normally do. GDoc SEO Assistant then analyses your article in real-time and generates an SEO score. It will give you SEO suggestions, semantic quality density, content readability, and suggest the related keywords you can use.
Keyword Research
Keywords are the foundations of all elements of online marketing. Without the right words, you will barely attract your target market to your sites and will not rank in front of your competitors. The following are the keyword research tools that should form a part of your marketing tools list.
6. Google Trends
Most research tools will rely on old data to generate insight into what keywords work best for your industry. Google Trends nonetheless uses current data to provide some much-needed insight into geographical and seasonal search-related keywords. Moreover, it is a free tool.
7. Google Keyword Planner
The data used in this free tool comes straight from Google generating some of the most legit information. Google Keyword Planner primarily focuses on finding new keywords and picking their related search volumes. It, however, restricts your search volume data because it lumps keywords into large keyword range buckets.
8. BIQ
Unlike other keyword research tools, this allows you to manage your online marketing costs. BIQ offers granular cost control by picking elements like rank, content markup, and site intelligence. This way, it helps you pay only for the keywords you use rather than an entire package.
9. LSI Graph
This tool allows you to key in one keyword and get a range of suggestions on the subjects associated with your keyword. The recommendations are based on the rank of the subjects on search engines. In so doing, the LSI Graph generates an entire content strategy in case you want to cast a big net.
Video and Image Creation
It is not a secret that human beings are naturally drawn to photos and videos. Including these on your site is sure to keep people on your site longer and allow you to convince them to take the desired step. Here are the tools that should feature on your marketing tools list for video and image creation.
10. Canva
This suffices for the creation of all forms of graphic content on your website. You can use it for your site's flowcharts, and headers as well as stunning social media images. Canva is easy and quick to use and free despite its exceptional results.
11. Wibbitz
This is a cutting-edge tool for the conversion of your text to video. The tool will analyze and summarize text, grab video, and licensed images from public media and allow your site to create a video clip of your text. Wibbitz is quick and easy to use and versatile enough to enable the creation of videos for all types of digital content.
Conversion Rate Optimization
Analytics

You will barely report any profits for all your online marketing efforts without conversions. You want to convert as many website visitors as possible into paying clients and actual leads. Here are your best choices for conversion rate optimization tools.
12. Crazy Egg
This gives you an insight into how people interact with your website. Its four outstanding features include scroll maps, confetti, overlay tools, and heat maps. You can segment your returning and new visitors with Crazy Egg and visualize their path in your marketing funnel, but its exporting features are confined to images and PDF.
13. Hotjar
This captures heat maps and screen recordings of the time clients spend on your site. With these, you can appreciate what pages people spend most of their time on and the action they take on your pages. Hotjar also comes with several training alternatives to boost your conversion rate efforts.
14. Google Analytics
The starter analytics tool for any website is Google Analytics. This is a free tool from Google that is easily accessible. The tool provides a number of data such as the number of visitors, the time spent on page, how many pages a visitor visited, the visitor's demographic info and much much more. 
15. Google Search Console
Another great free tool from Google, the Search Console focus more on helping you to set up your website properly, go Google can understand it better, and perhaps ultimately, rank it better. Nevertheless, Search Console offers a number of useful reports such as the rankings, impressions, and clicks for your web pages, speed report, XML map report and more.
Data Reporting
You should justify the budget for your digital marketing platforms to the bosses. For these, it is essential to get the right reporting tools to showcase your spending and results. Here are the reporting tools that should be part of your online marketing tools list.
16. Google sheets
The tool is free, easily customizable, and accessible. It's also highly similar to Microsoft Excel, other than it is 100% online. So it gets extra cookie point there. You can also use different add-ons with Google sheets, including Twitter archiver, mapping sheets, and Google Merchant Center.
17. Airtable
This tool combines the flexibility of spreadsheet interfaces with several rich features, including calendars, collaboration tools, and file attachments. There is a free version of the same, but it might not offer as many features as the charged version. Airtable is the best data presentation tool for small businesses and online marketing teams in large organizations.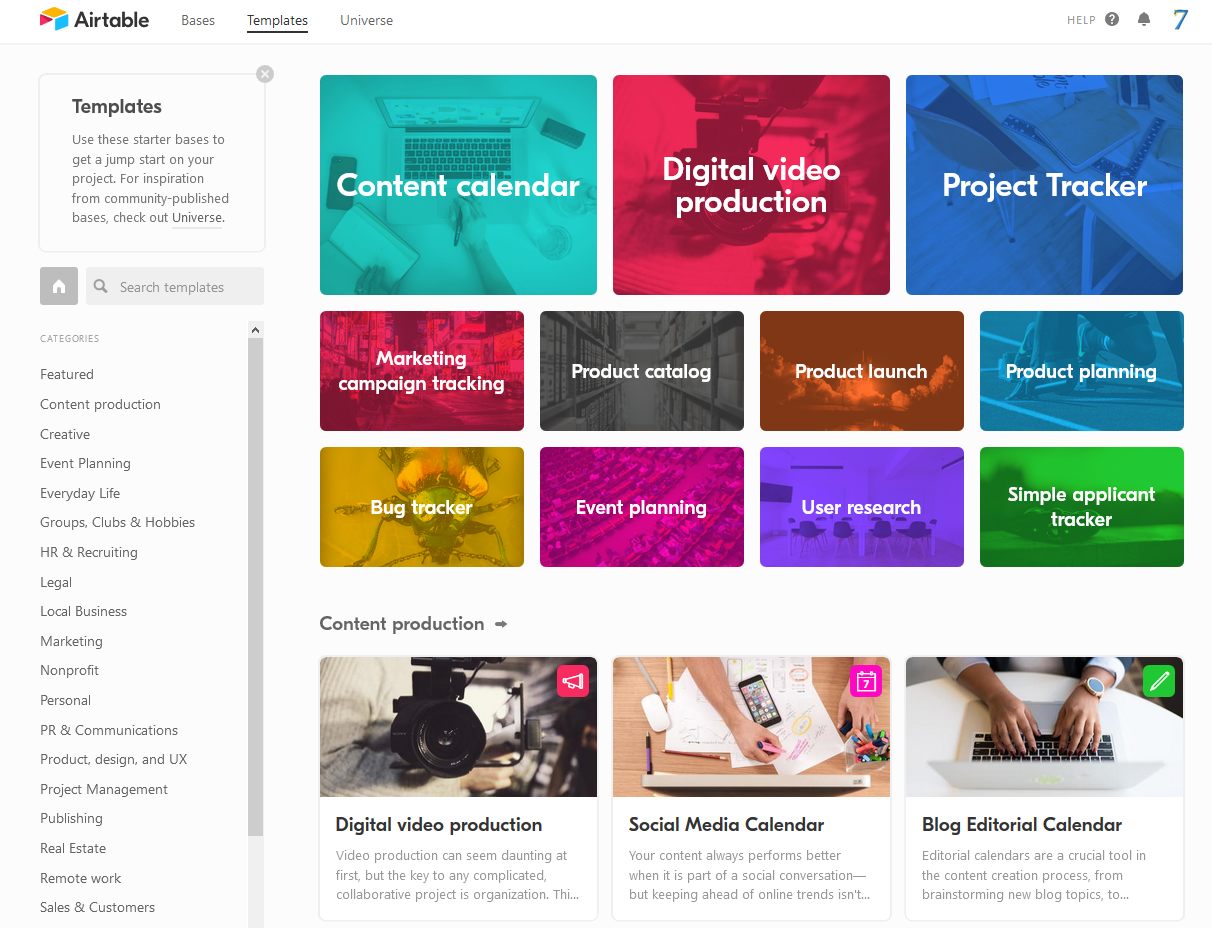 18. Supermetrics
This aggregates data from different sources onto one reporting dashboard. The reports compiled by this tool include those from SEO and PPC tools, and website and social media analytics. Supermetrics, however, relies on a connection with Google Data Studio for the display of data and metrics.
Project Management
19. Trello
This free tool offers a clean kanban style interface and is highly popular as a project management tool among many freelancers, and small businesses alike. It is highly flexible and sharable, it also has a low learning curve so everyone in the business can pick up the tool in no time.
20. ClickUp
ClickUp is another wonderful, free project management tool. In the tool, you can easily assign a task to anyone, set a status, get daily alerts or catch up on the latest project status on the task toolbar. Every user on the board can any adding or editing on the board live, so everyone is on the same page and updated.
21. Asana
One of the biggest project management tool companies out there, Asana has a huge following among programmers. Users can add tasks, assign them to anyone, set due dates, comment on tasks and share relevant documents, all inside the tool. Notifications about upcoming deadlines can also be sent to a user's inbox.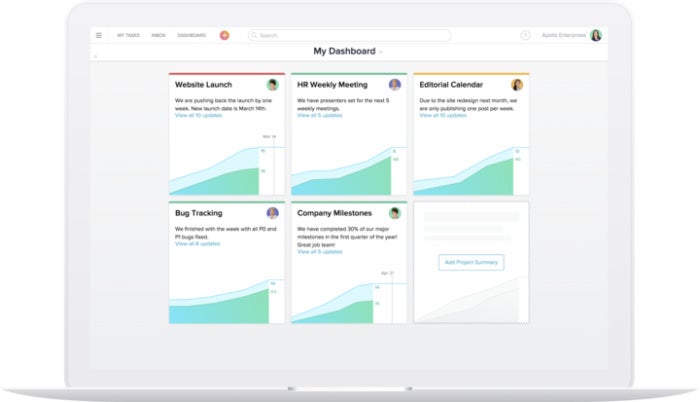 22. CoSchedule
The tool provides an editorial calendar tool, that can greatly stay the team to stay focused on the objective and push through every project. The features of the tool include Blog Editorial Calendar, WordPress Integration, Social Media Publishing, ReQueue Social Automation, and Task Management.
Social Media
There exists a huge untapped community on various social media that you haven't but should tap into. Creating a presence for your business on social media can extend the reach of your brand and help you get more business. Here are a few online marketing tools that can help you out.
23. Hootsuite
Hootsuite supports most of the major social media sites including Twitter, Facebook, Instagram, LinkedIn, Google+ (now defunct) and YouTube. It offers an all-in-one dashboard where you can manage your different social media profiles in one place. They also provide analytics for you to keep track of your social profiles.
24. Buffer
Buffer is a smaller tool compared to Hootsuite, but it still supports a lot of the mainstream social media sites including Twitter, Facebook, Instagram, Instagram Stories, Pinterest, and LinkedIn. But unlike Hootsuite that offers you analytics on your social profile as a whole, Buffer only analyses the individual posts that you have posted.
25. Sprout Social
Sprout Social starts at $99 per month and is slightly at the pricy side, however, this tool has some extra features that others don't. The special features of Sprout Social include social listening, influencer identification, and an audience discovery function. This can be extremely helpful because it's highlighting the interactive part of social media, which is what makes it so different from other online marketing fields.
At the end of the day…

Digital marketing is undoubtedly the best way to reach your target market nowadays, with almost everyone having internet access. Not all online marketing efforts, however, pay off for companies. This makes the use of the above tools all the more essential for your business.
You might have had little knowledge of what tools to use for your company. Thankfully the above tidbits will make a perfect guide of the tools that will work best for your marketing efforts. With them, you are sure to employ the right tactics for your online marketing.
Updated: 21 July 2021
About Author