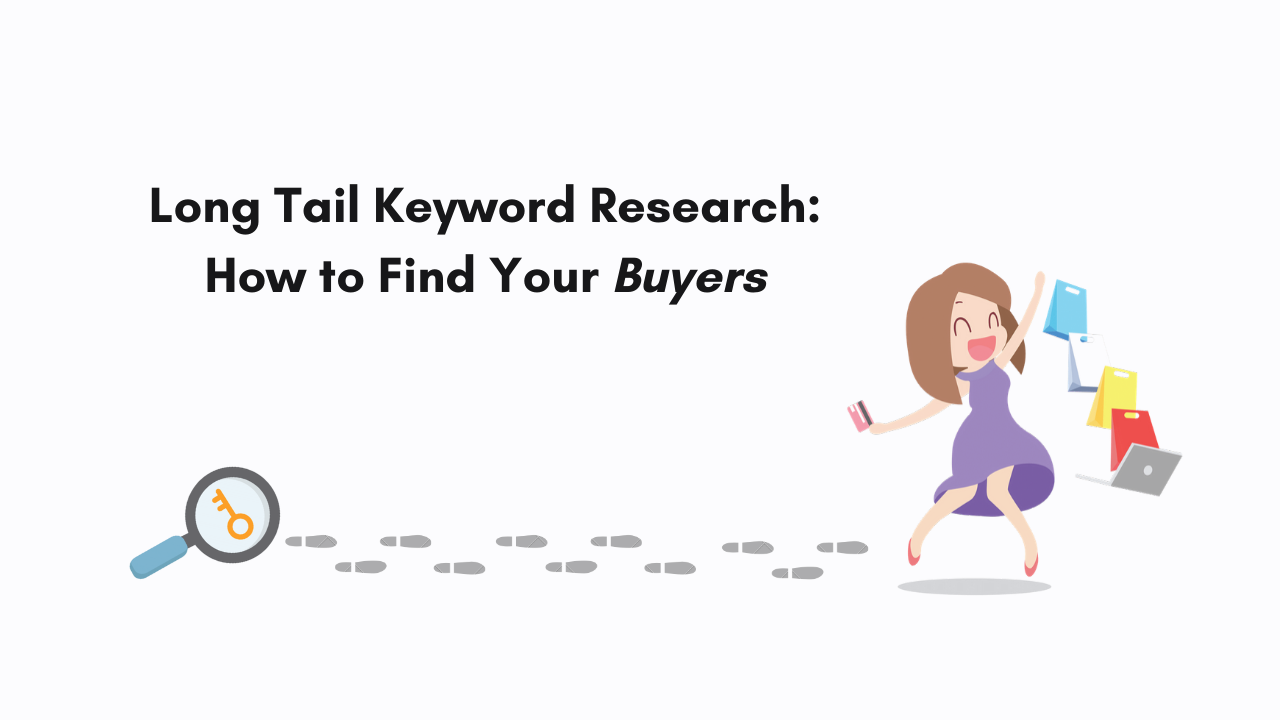 Long Tail Keyword Research can set your brand apart from the others in your niche. These keywords improve your chances of standing out in search engine results that are occasionally dominated by big companies. The right long-tail keyword research also act as a compass for the right customers to find you with ease.
What is a Long Tail Keyword?
Think of long-tail keywords as 'keyphrases.' That is to say that they are just longer keywords made of a combination of the hot words that define your business and niche. A long-tail keyword would ideally include 3 to 4 keywords that are super-specific about what you are selling.
Long-tail keywords cater to strong buyer intent late in the sales funnel. Buyers that use long-tail keywords are at most times ready to buy. And so the keywords have to excel in clarity while speaking to their intellect and addressing their urgent intention.
Let's say you provide tour services in West Virginia. Now the first keyword that comes to mind for your type of business is West Virginia Travel.
Now, for a phrase like that, your tour company will probably never appear on top of search results.
You will be up against big shots like Trip Advisor, CNN Travel, National Geographic, and many others. But you need to beat the drums about your business to the right buyers. Long tail keyword research can help you get customers who have made up their minds to go on a WV vacation and are planning their itineraries right now.
Specificity in keywords increases the number of words in the phrase. Specificity also increases your conversion rate. In the case of your WV tours, the most effective long-tail keywords would be something like West Virginia Mountain Climbing Tours.
From this example, you note that long-tail keywords can be even longer than 3 to terms.
What you want to attain with the keywords is cater to specific search intent. And so the number of words it takes to achieve that is not etched in stone.
Long Tail Keywords vs. Short Tail Keyword
When you search online, you will find many results about what long-tail keywords are and what they are not.  Now that it's clear that long-tail keywords are not defined by a number, let's explain them more clearly and see how they differ from short-tail keywords.
Long-tail keywords are search terms with highly specific buyer intent. They have a lower search volume and competition levels,   but they have higher conversion rates. In most cases, the keywords are longer than three words.
A short tail keyword, on the other hand, contains three or fewer words. An example for your WV tour company would be a phrase such as West Virginia Tours, or West Virginia Vacation. These phrases are highly competitive (your competitors are moving mountains to rank for them), and they have a high search volume.
Why are Long Tail Keywords Useful?
Long-tail keywords are a magnet for hot leads. While advertisers with big budgets will be bidding top dollar for short-tail search phrases, you can exponentially grow Your SEO ROI with long-tail keywords.  Even though they attract less traffic, traffic is more focused and ready to make a purchase.
Long-tail keywords are also known as buyer keywords. They help you get the message across to customers that are ready to make a buying decision.
Your message is more refined when you use long-tail keywords
It stands to reason that when you use a little more than three words to describe your business, you end up providing more details. Optimizing your content with long-tail keywords can, therefore, be an effective strategy to give customers the right information at an instant and shorten their buying journey.
Other reasons to use long-tail keywords in your content
They add context to your content
Many people search the internet using full sentences
They are good content generation tools
Long-tail keywords can  help you outrank your competition  by focusing on personalized searches
They already include your short tail keywords; you get two sons-in-law with one daughter
Long-tail keywords are easier to find
How to Find Long Tail Keywords?
Unlike the backbreaking task of short-tail keyword research, long-tail keyword research is much easier. The focus should be on words that can help you sell even before the buyer clicks on your link. As hinted before, the right long-tail keywords also strike the right mix with short tail keywords.
Refer to Google autocomplete and suggest
Let's say you want to have a variety of long-tail keywords for your tour company. Use Google Autocomplete and search for phrases such as West Virginia Tour then click space. Google will suggest a variety of keywords that are searched frequently along with 'West Virginia Tour,' as seen below.
You can also get further suggestions by typing in a letter after your short tail keyword
Use Google's Related Searches
One other quick way to do your long tail keyword research for SEO is by use of Related Searches. It works the same as Google Autocomplete, except, in this case, don't use the space bar after your short tail keywords. Instead, press enter and go to the search engine results page. At the very bottom of this page, you will find Searches Related to your keyword.
Use Your Own Google Analytics and Search Console
You already have content on your site, right? You have probably strategized and optimized for short-tail keywords at the moment. What you can do then is review your analytics to find out which search phrases are bringing people on your site pages.
Open Google Analytics and navigate to Traffic Sources, then Sources, Search, and Organic. There will be many search terms displayed, and in there, you will find a good number of long-tail keywords with low SEO difficulty.
Quora questions and featured snippet questions
Q&A sites like Quora are a gold mine for long-tail keywords. The site is fueled by user questions and user-generated content that can guide you on what people want to know regarding your product or service.
Featured snippet questions are also a good source of long tail keyword research. These are short summaries of an answer displayed on the top of search results. The snippet is taken from a webpage.
Browse Wikipedia Outlines
Look at Wikipedia's table of content for long-tail keyword ideas around your base term. The headings on Wikipedia comprise of many reliable long-tail search term.  You would need to Google Wikipedia+ your short term keyword to get a list of possible long phrases from the site.
Refer to competitor keywords and content
Look at what your competitors are doing and then do it even better. Start by looking at the top search engine results for the long tail keyword phrases you have in mind.
For instance, with the phrase West Virginia Tours, top competitors use these terms:
West  Virginia tour packages
West Virginia holiday packages
West Virginia Vacation Packages & Travel deals
Use many and different keyword research tools
One keyword research tool might not efficiently give you all the options with a high ranking or high conversion possibilities. It takes a variety of research tools to come up with an extensive list of keywords for your content.
LSIGraph— helps to find long keywords that are semantically related to your main keyword
BiQ's Keyword Intelligence—looks for long keywords in your blogs and on competitor's sites
5. Create Awesome Content for Targeted Long Tail Keywords
Once you get your list of powerful long-tail keywords, the next step is to create compelling content around them to draw more traffic. The content must be detailed with relevant user information. Sprinkle your content with links to and from social media, review sites, and directories to rank even higher with those keywords. That's how to use long-tail keywords.
The takeaway
Long tail keyword research should be an essential part of your SEO strategy. These words are easier to rank for. They help you create content that is highly satisfying to user queries. They help to increase your conversion rates.
Updated: 19 July 2021
About Author