Having the right name for your website is crucial. Your site conveys your personal identity and uniqueness, communicates what you do, and establishes your professional credentials. When well-chosen, your domain name allows you to make an impression to your audience before they even arrive at your website.
With an overwhelming array of domain extensions to choose from and more than 380 million domain names registered to date, finding a name that is both unique and available is a true challenge. However, if you are working in a creative field, the .design top-level domain is the most brandable, relevant, and professional option — and you can register yours for free!
.design Domains: What's It All About?
Beyond .com, there are now hundreds of domain extensions that speak to unique industries, communities, and special interests. However, a .design domain name is the most meaningful option if you work in a design-related creative industry.
Here are some reasons why .design should be your top choice:
.design explains what you do
.design positions you as an authority within your profession
.design looks great in your branding
.design boosts SEO rank
.design is memorable
In other words, .design domains and professional creatives are a true match!
Get Your .design Domain for Free!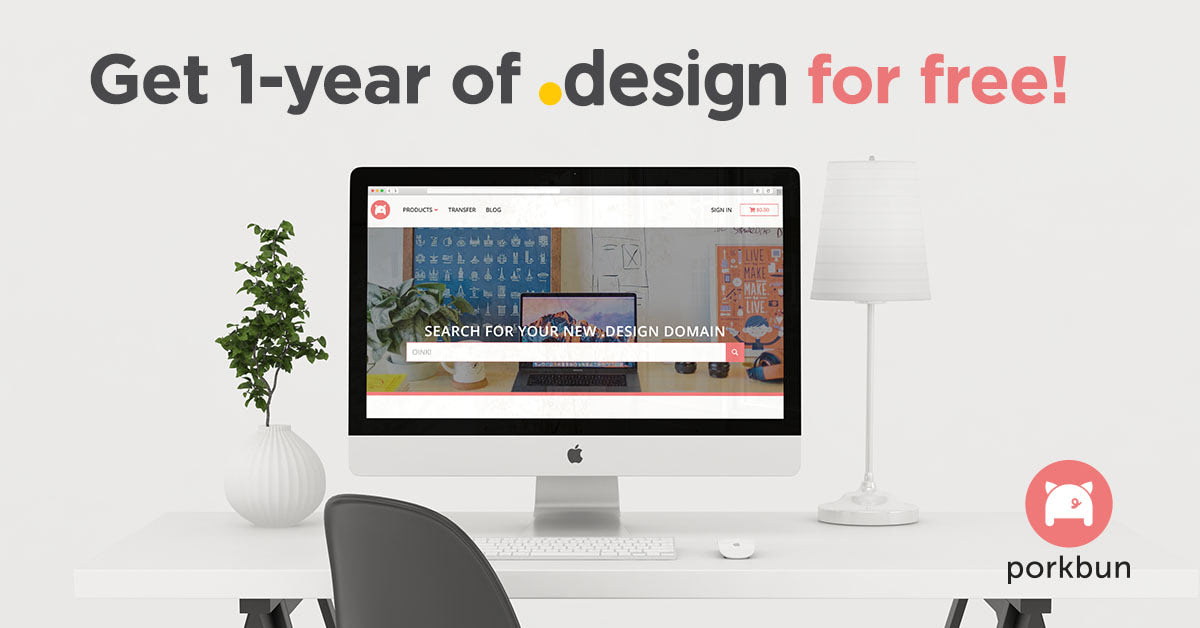 To get your own .design domain, all you need is a reliable registrar and hosting provider like Porkbun, which just happens to be helping us with the free offer. Let's walk through the process.
Step 1 – Register Your .design Domain
First and foremost, you need to register your .design domain name.
Porkbun is an ICANN-accredited domain name registrar and hosting provider rolled in one. It offers your first year of .design domain name registration completely free.
In addition, every new customer also gets:
free WHOIS Privacy,
a free SSL Certificate,
free email hosting,
and a free site builder trial.
So search now to score a bargain deal on your .design domain name, and give yourself a head start in establishing your brand identity as a designer!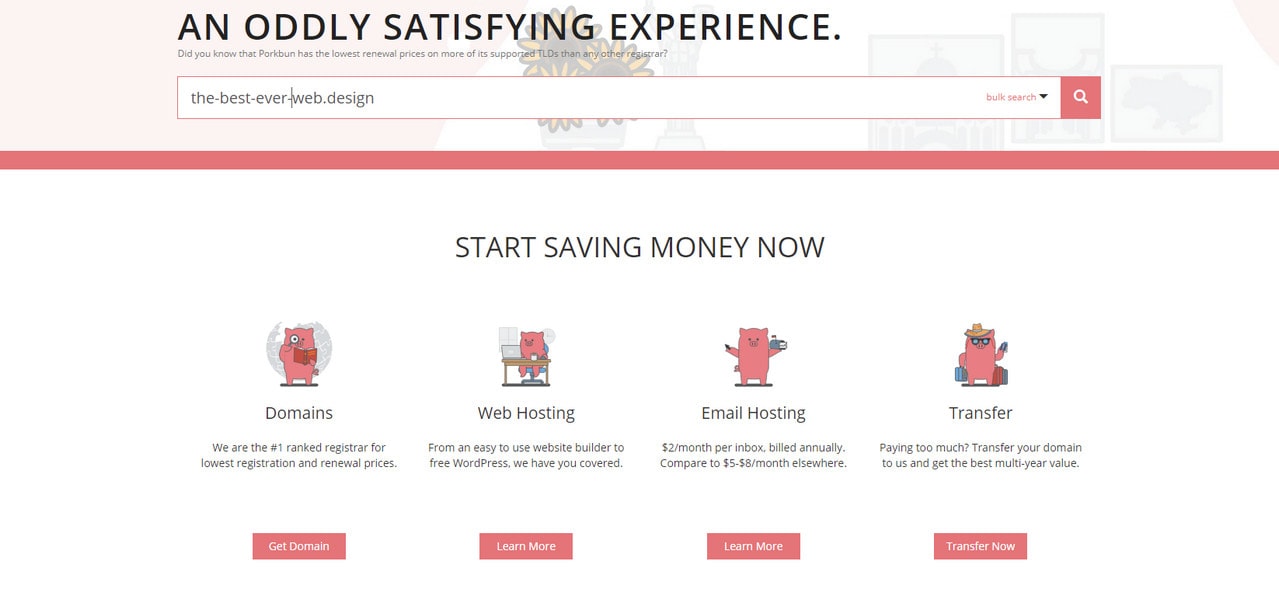 Step 2 – Create Your .design Site
Porkbun offers excellent options for building your website that can accomodate any skill level.
If you're not up for more advanced options like static hosting, opt for Porkbun's built-in Weebly site builder or Porkbun's Easy WordPress solution. You can also connect your Porkbun domain to third-party hosts, or site builders like Wix or Squarespace.
With plenty of accessible options, you'll have a beautiful site for your design portfolio or agency online in no time.
List of Inspiring .design Domain Sites
To get some inspiration for your .design site, we have gathered a list of our favorite .design sites, starting with some names that you might find familiar! Global brands like Slack, Airbnb, and other design industry leaders are using .design sites to feature their design-centric content.
Slack.design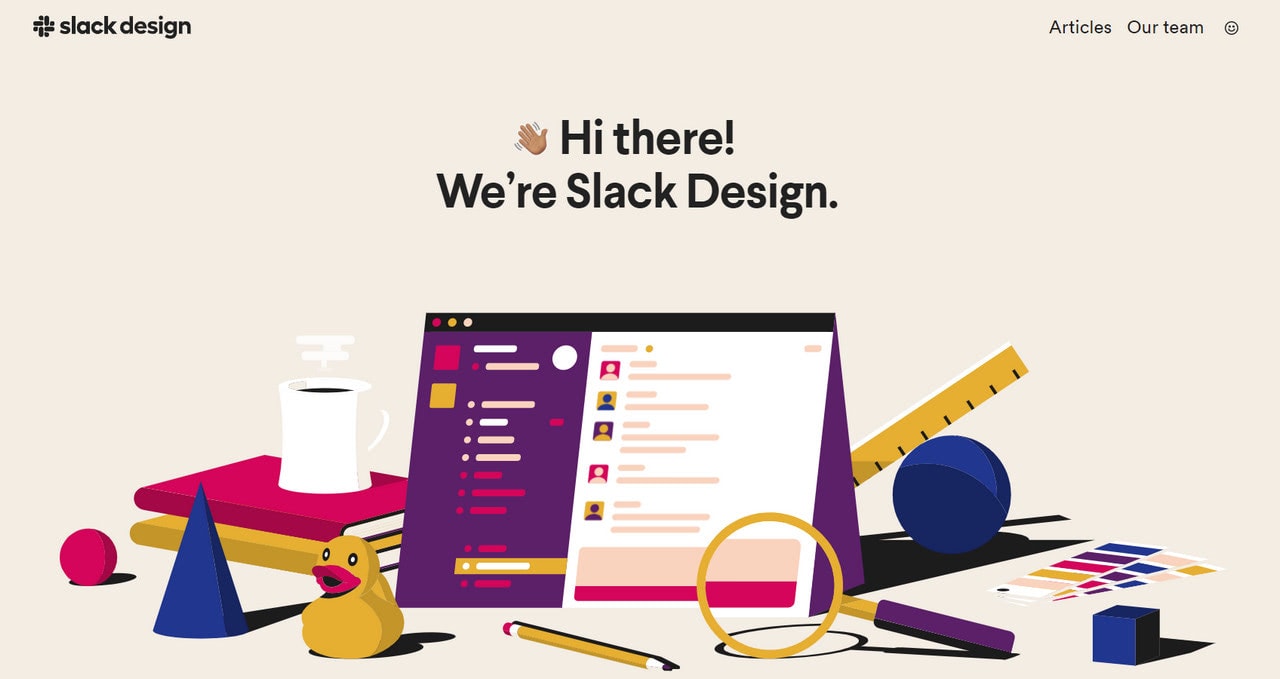 Slack.design is sleek, neat, and elegant. It nicely balances illustrations and text, providing an inviting environment to learn about design innovation from a leading communications brand.
The key features of this fantastic website are:
An impressive, fully illustrated hero area that gets your attention.
A well-organized split layout that reinforces the message behind each block.
A generous amount of whitespace.
AirBnB.design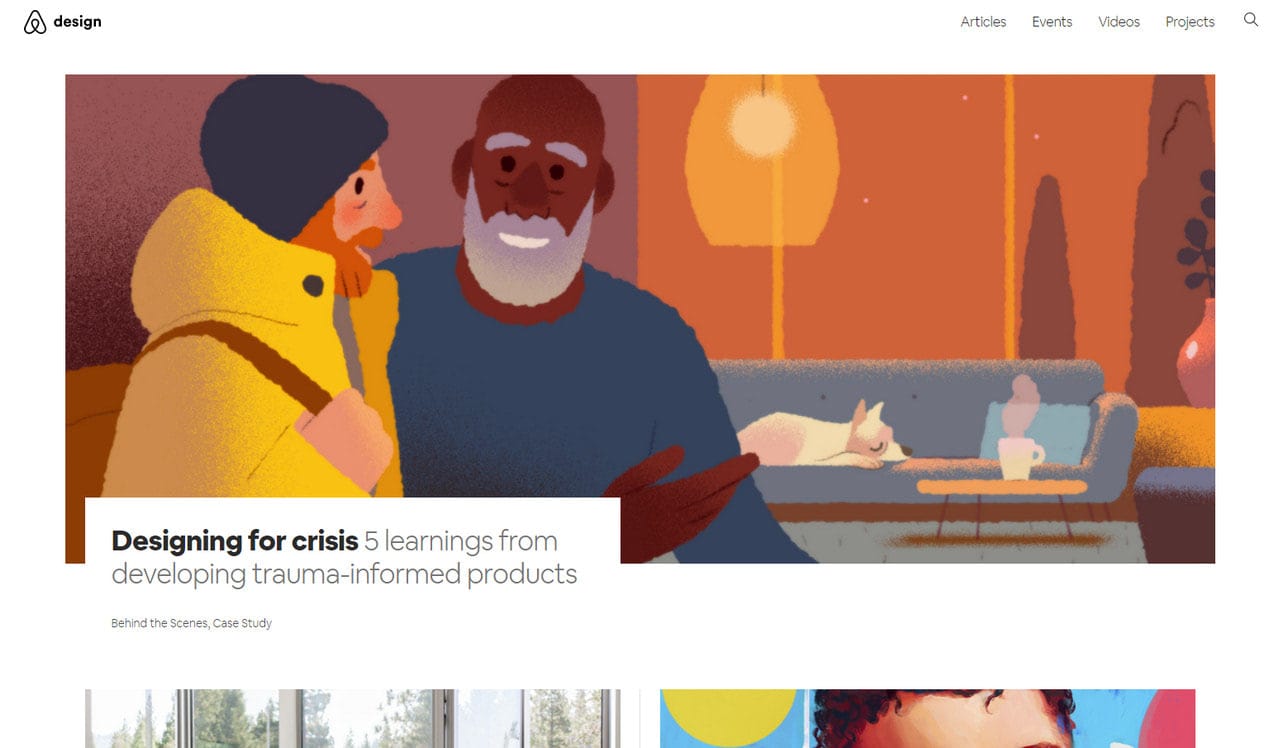 AirBnB.design shares inspirational findings and thought-provoking articles from the design team at Airbnb.
From a design perspective, Airbnb.design offers a flawless structure and information hierarchy. The two and three-column layouts perfectly organize all the content, and neat formatting ensures that important information is intelligible even if you're scanning the site quickly.
Absurd.design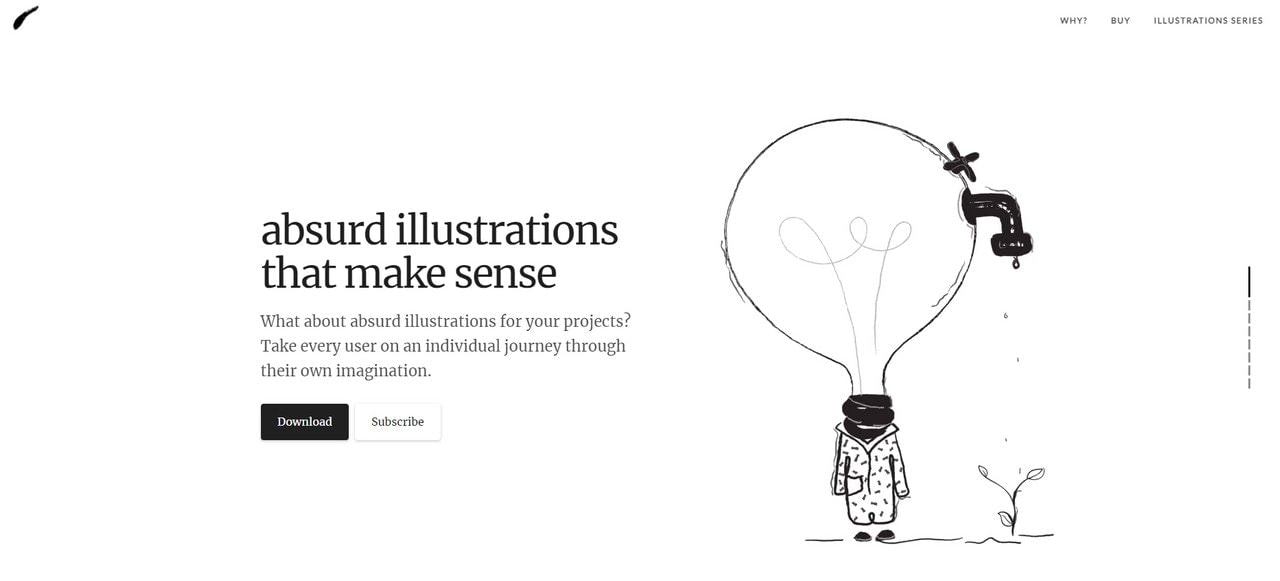 If you have a quirky personality, you will undoubtedly appreciate the website of Absurd Illustrations. Indeed, the website pulls you into a marvelous world of sometimes surprising but certainly unforgettable handmade drawings.
In contrast with the quirkiness of the illustrations themselves, the website navigation is extremely logical and thought-out. This makes Absurd.design a beautiful marriage of idiosyncrasy and useability.
Adobe.design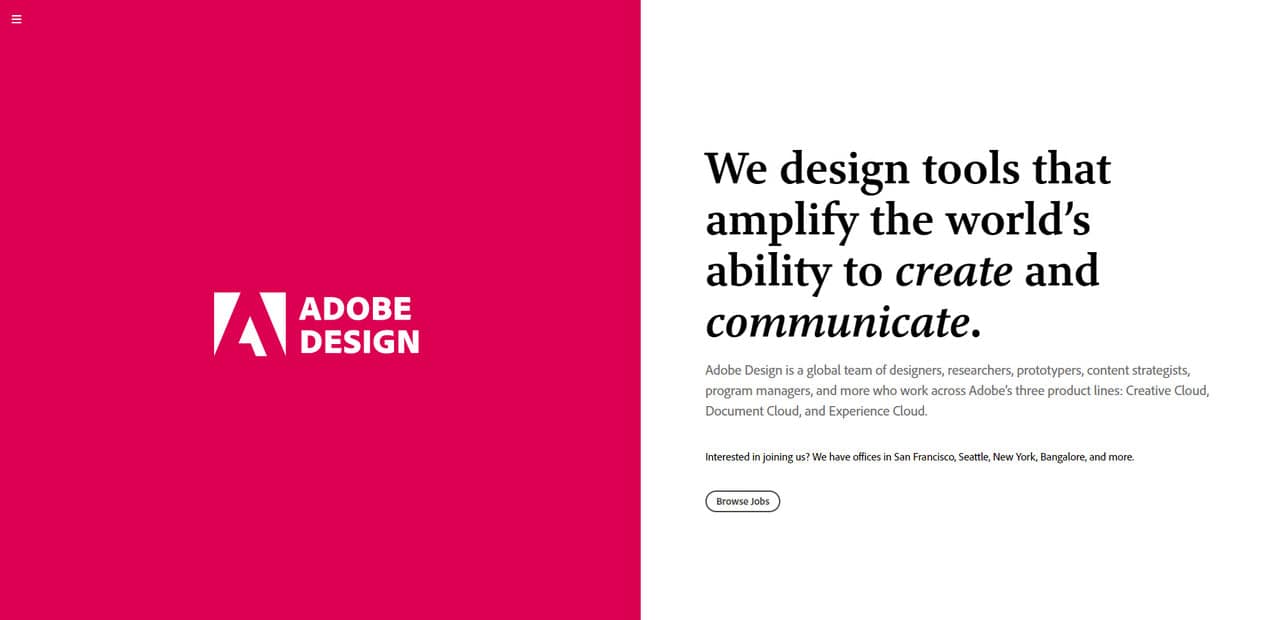 Adobe is the leading software company in the multimedia and creativity sector.  Much like Adobe's main homepage, their .design site exudes creativity on all fronts.
Clever features, like the two-column layout, help create balance between visuals and copy. A generous amount of whitespace, paired with well-thought-out formatting, prioritizes the site's content. As a result, impactful images and illustrations create an inspiring and pleasurable reading experience
Threedee.design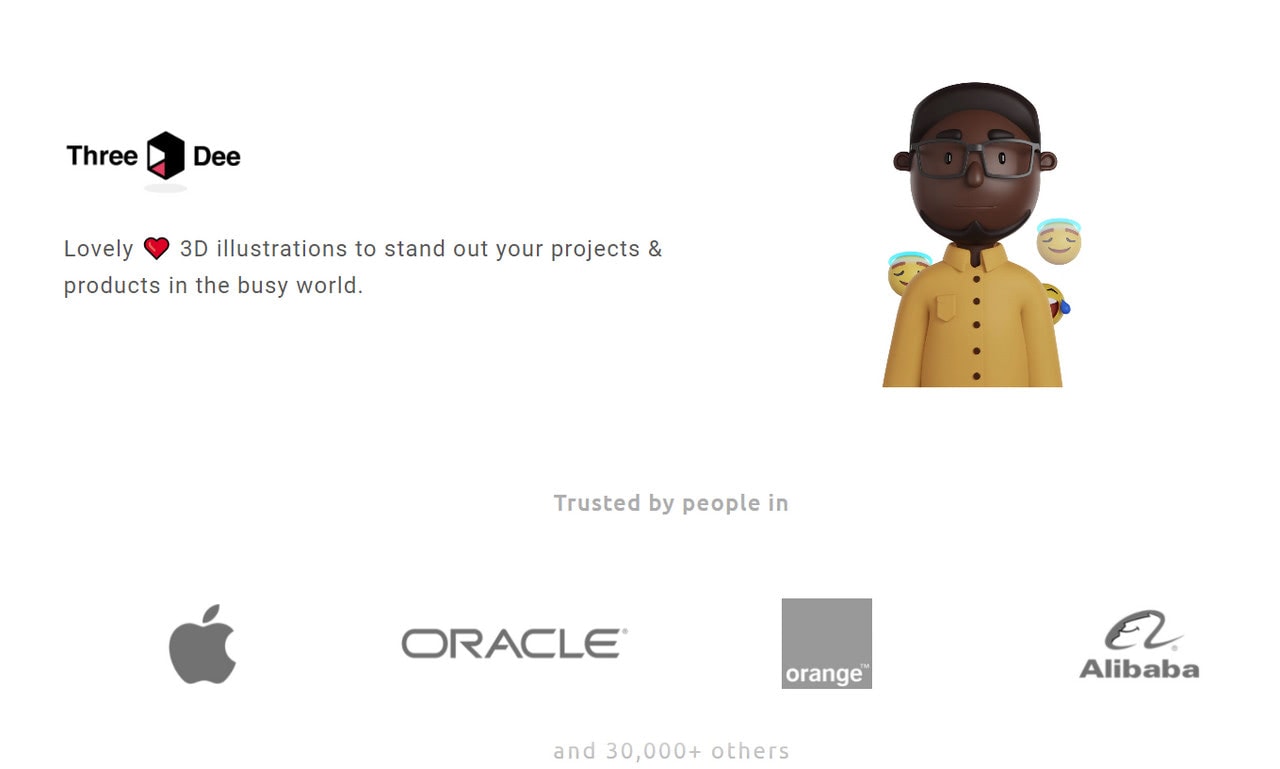 Threedee.design's website is neat and clean, with a professional appeal that emphasizes the contrasting whimsicality of their 3D illustration packs.
A prominent hero area secures a powerful first impression, their client list is packed with top-tier tech companies, and their illustration products are prominently displayed for lead generation.
Dropbox.design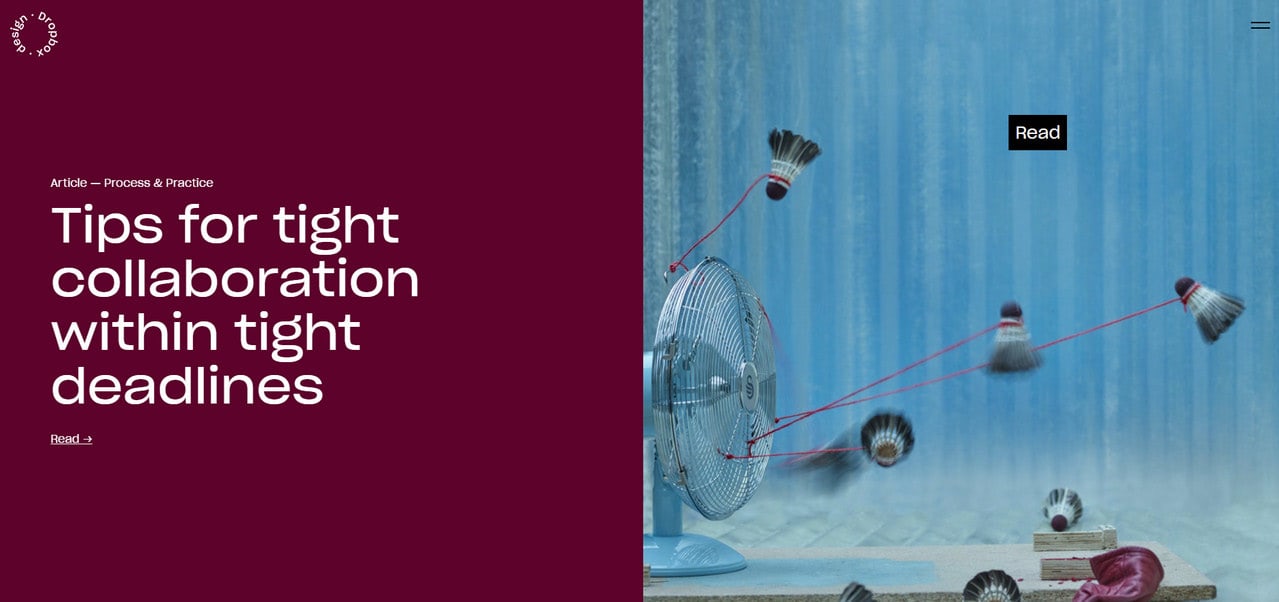 Dropbox.design employs a well-organized structure. A column-based layout ensures excellent readability, and lots of whitespace creates a pleasingly uncluttered scrolling experience. On top of that, navigation is always easily accessible, and the footer is rich in helpful information.
Eyetooth.design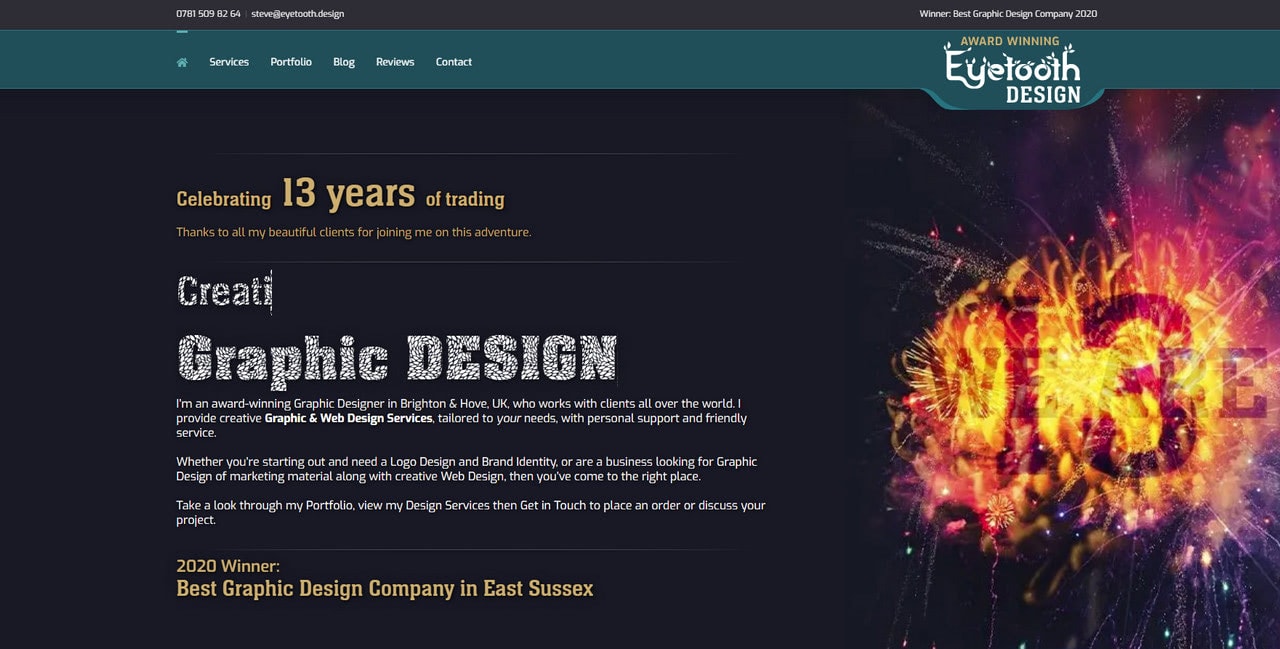 Eyetooth.design has a unique artistic style that is immediately apparent upon visiting the site.
Unlike most of our previous examples, this site utilizes a traditional stripe menu to anchor experimental creative elements like slanted sections, overlapping surfaces, color blocking, gorgeous high-resolution photography, detailed dynamic effects, and interactive elements.
Go Forth and Build Your .design Site!
Finding the perfect domain name is a true challenge, but it is undeniably important. A good domain name does magic for your reputation, brand reception, SEO rank, and overall success in the digital marketplace.
If you work in a design-related field, there is no better way to elevate your branding than pairing your business name with the .design domain.
Like what you're reading? Subscribe to our top stories.
About Author