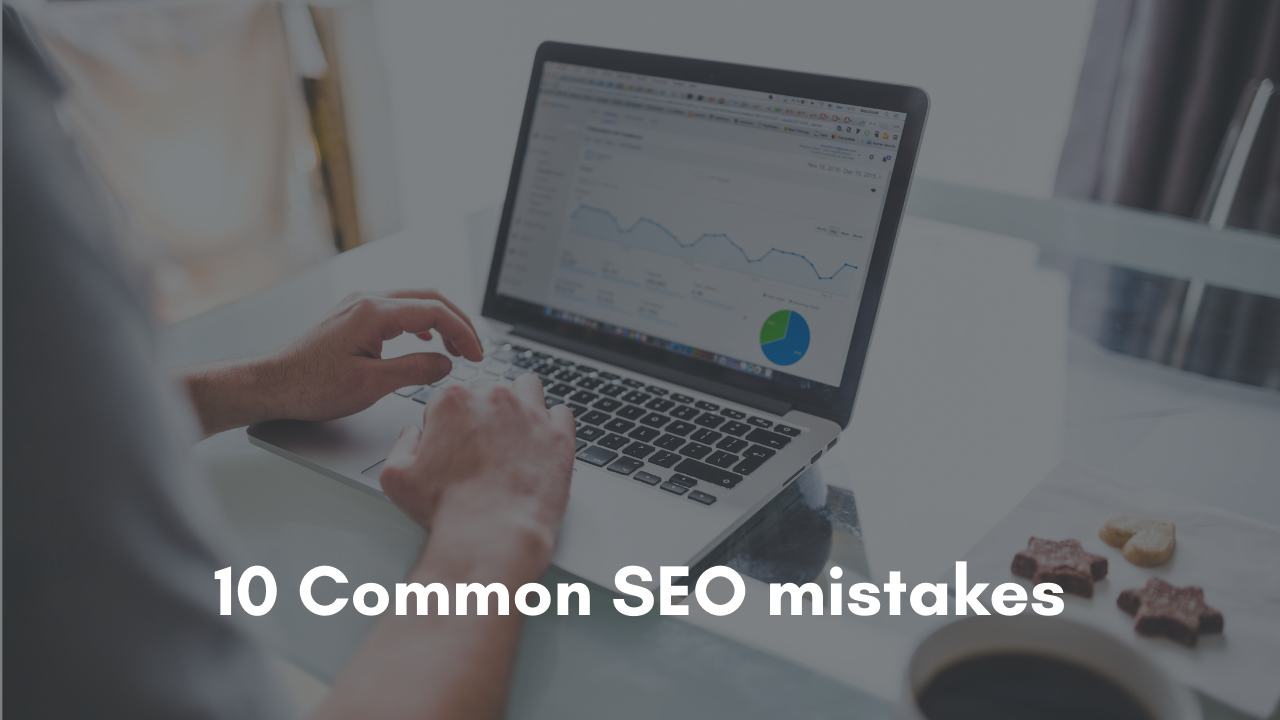 Just 30 percent of small business owners say they have an SEO strategy in place. There are plenty of reasons business owners don't invest in an SEO strategy.
They may think SEO isn't all that important. They may think they can "do it themselves," even if they have to learn on the go.
Not having a strategy or learning on the go often leads to mistakes, though. Mistakes with SEO are one of the top reasons people don't see the results they want. In turn, business leaders may believe SEO "doesn't work" or decide not to invest in it.
If this sounds like the situation in your business, don't panic. Watch out for these common SEO mistakes, and you'll be well on your way to creating an effective SEO strategy.
1. Missing the Mark With Keywords
In the past, search engine optimization was not much more than choosing a keyword and running with it. As search engines have become more sophisticated, though, so too has SEO.
Some people will tell you keywords are out, but they still play an important role in good SEO. The trick is using them the right way.
One key is choosing strong keywords. Make sure to do your research here, so you can rank for terms your customers are actually searching for. You might want them to look up the trademarked name of your product, but they're more likely to do a generic search.
You'll also want to look for long-tail keywords and search phrases. These are more popular with voice searches. People also use full sentences to search more often.
Negative keywords can also play a role in determining your rank. Keeping an eye on competition is also important.
Finally, make sure you avoid keyword stuffing. Using a keyword too often will almost guarantee your SEO will not work.
2. Ignoring Technical SEO
People who say SEO has moved on from keywords aren't technically wrong. Today's SEO is far more complex and takes into account much more than keywords.
Some aspects of today's SEO focus on the technical. This includes features like:
Security
Website speed
Image optimization
Schema markup
The technical aspects of your website don't outweigh the importance of providing quality content. However, they do affect user experience. That's why they're important for your SEO.
By improving security or website speed, you give site visitors a better experience. That, in turn, influences your SEO ranking, because Google wants to direct users to websites that provide good experiences.
3. Missing Title Tags and Meta Descriptions
One of the most common mistakes with SEO is not providing title tags and meta descriptions. Why is this information so important?
Title tags and meta descriptions are part of your content's metadata. This information tells the search engine's crawlers what the content is about. When you provide title tags and meta descriptions, Google is more likely to rank your page higher for the "right" kind of searches.
It may seem like extra work to provide this data, but it's a very quick task that can give your SEO an extra boost.
4. Focusing Only on On-Site SEO
You might think you can only control what's on your website. After all, it's not like you can go to Google and change anything there.
Or can you? By focusing only on on-site SEO, you're missing opportunities to improve your ranking.
Google doesn't pay too much attention to social media, but it does factor in the algorithm. YouTube results are particularly important to Google. Bing puts more emphasis on social media in its rankings.
Google also pays attention to your Google My Business page, so it's a good idea to set one up and keep it up to date. You'll also want to keep track of reviews and respond to them.
Finally, you can also influence Google's snippet and page description by providing a meta description.
5. Linking Mistakes With SEO
Linking is a staple of SEO, but it's also one of the most common areas to make mistakes. Having no links is a problem, as is having too few links.
Internal links and external links are both important to your content. The area most people focus on is inbound links, which are links back from other sites. Google ranks these by authority, so it's a good idea to try and get links from well-respected websites.
That can be tricky to do, of course, so people will engage in all sorts of "bad" behavior. Some people buy backlinks, while others join link-trading programs.
Using proper links and getting high-quality backlinks is a much better strategy.
6. Not Optimizing for Local and Mobile Search
With more people using mobile devices, it's key to optimize content for these devices. Google now uses mobile-first ranking, so being mobile-ready is crucial for your SEO.
Another aspect of the move to mobile is the rise of local search. People are searching on the go, so they're looking for local businesses. They're conducting more "near-me" searches as a result.
That's a huge opportunity for most small business owners. Optimizing for local SEO is a smart move for any business leader.
7. Not Sticking to a Schedule
You've heard about the importance of providing quality content. You also know it takes time to put together a quality blog post or video. With everything else on your plate, it can be tough to find the time to create content.
Trying to stick to a schedule can be even more difficult. Regular blog posts or a schedule for video posts are important for both your SEO and your audience.
The Internet is a big place, with billions of websites. If you're not updating your content on a regular basis, people are likely to forget to check in with you.
Search engines also favor "fresh" content, for a few reasons. It ensures they're sending their users somewhere with current information. It also means you're likely still in business and able to respond to further questions the user has.
That makes for a much better experience for your audience. It also keeps them engaged and entertained. If it's possible, stick to a schedule and watch your audience grow.
8. Writing for Robots
One of the biggest SEO mistakes of all is forgetting who you're really writing for. Many content creators focus on meeting the requirements of the search engine algorithm.
If you look at the evolution of Google's algorithm, though, you'll notice a common pattern: Google tweaks the algorithm to better reflect what its users want to see in a page.
What does that mean? At the end of the day, you're still writing for a very human audience. Google likes longer content because long-form content is more likely to provide a comprehensive answer.
Google's requirements for website speed also come from user preferences. Users are likely to abandon websites that take more than two seconds to load. Google demands fast websites because your audience demands fast websites.
Remember that when it comes to creating SEO content. Yes, you should be aware of the different factors that go into optimizing a piece for search engines. However, your audience is still the people who visit your site, so make sure you provide content that answers their questions.
9. Falling Behind on SEO Trends
If SEO is part of your digital marketing strategy, then one of the most important things is to stay up-to-date. If you're using SEO tactics from two or three years ago, you may find you have limited success.
That's because SEO has to keep evolving. As search engines tweak their algorithms, what works and what doesn't work changes. Even a tactic that was working six months ago may not work now.
For that reason, it's important to stay up to date with the latest trends. One way to do that is to use technology. The team behind an SEO plugin will be working hard to keep the plugin current with algorithm changes.
You can also do some reading and connect with the experts to discover the latest news.
10. Forgetting to Measure the Metrics
Finally, you won't ever see the benefits of SEO if you don't take stock of the metrics. Is your SEO strategy working or not? It can be tough to tell without the numbers in hand.
While the goal is to rank your content higher in search engine results, there are other metrics you'll want to watch. Increased traffic might be one.
By measuring the metrics, you can prove SEO is working. From there, you can continue to improve your strategy.
Doing SEO the Right Way
Mistakes with SEO are fairly common, but most of them are easy to correct. Watch out for these 10 and you should see better results with your SEO.
Ready to get better SEO? The right tools can help you develop a better strategy and supercharge your SEO.
Updated: 15 July 2021
About Author