Ranking high and getting on the first page of Google is one of the quickest ways to drive more traffic, capture leads, and boost sales. But what should you do if you're getting smashed down by your competitors all the time? 
In this article, you'll discover exactly how to use keyword gap analysis to rank on the first page of Google and get the results you desire. 
I'll help you steal competitors' tactics, find their weaknesses, and build a solid strategy.
What to Know Before Conducting Keyword Gap Analysis?
There are certain things you should be aware of before conducting keyword gap analysis. Not knowing them could be disastrous and lead to unpleasant results.
Let's prevent that by clarifying the most important SEO competitor analysis terms.
Why Keywords Matter?
Keywords are the building block of any SEO strategy. Every time people search for something on Google, they type in the keywords to the search box.
When they hit enter, they'll get the results for the keyword they typed in. These results are shown and sorted by the search engine by the relevance, quality, etc.
If you're looking to rank high and get as much traffic as possible, you must discover what keywords people search for and create high-quality content around them. 
It's the only way to rank high, get more traffic, and maximize your potential.
What to Look for When Picking Keywords?
Picking the right keywords is vital for running a bulletproof SEO strategy. Yet, most people keep picking the wrong keyword and wonder why they aren't getting any traffic.
The first thing you must realize is that contrary to common belief, you shouldn't pick the keywords with the highest traffic. This is because these keywords are usually impossible to rank for and will only waste your time.
Instead, it's much better to pick keywords with moderate traffic and less competition. 
Also, the more specific the keyword is, the better you zero in on your audience and tailor your content to them, which will increase the quality and relevance.
That's the reason why you should always pick long-tail keywords over short-tail ones.
In essence, long-tail keywords are 3+ words long and specific, unlike short-tail keywords.  You can see examples of both short-tail and long-tail keywords below.
You should also care about the searcher's intent. In other words, why is somebody looking for this keyword?
If somebody is looking to learn more about how antivirus works, there is no reason to sell these people the best antivirus on the market, right? They don't care about that. They are just looking for more information, not buying.
If you mess up the searcher's intent, your content will become less relevant, and the quality will suffer. So be sure to avoid that at any cost.
Here are the three search intents you can use with your keywords.
Make your content aligned with the searcher's intent and pick long-tail keywords that are much easier to rank.
What Is an SEO Competitor Analysis?
There are multiple ways you can go about researching keywords, such as brainstorming, using keyword research tools, competitive keyword research, etc.
But these techniques only assume that you'll rank high – THERE IS NO GUARANTEE.
Unfortunately, in today's world, you can't afford to only guess and hope your strategy will work. And that's why you must conduct a competitor analysis…
Competitor analysis allows you to analyze your competitors and find out what works. It takes away all the guesswork and helps you find out proven strategies that have shown results to your competitors. 
There are multiple ways you can go about competitor analysis which you can see below.
In this article, we'll be looking closely at the first technique – keyword gap analysis. It will help you close the gap between you and your competitors and rank higher fast.
What Is a Keyword Gap Analysis?
Keyword gap analysis allows you to find out what keywords your competitors rank that you don't. It can help you discover missed opportunities and find keywords that your audience searches for.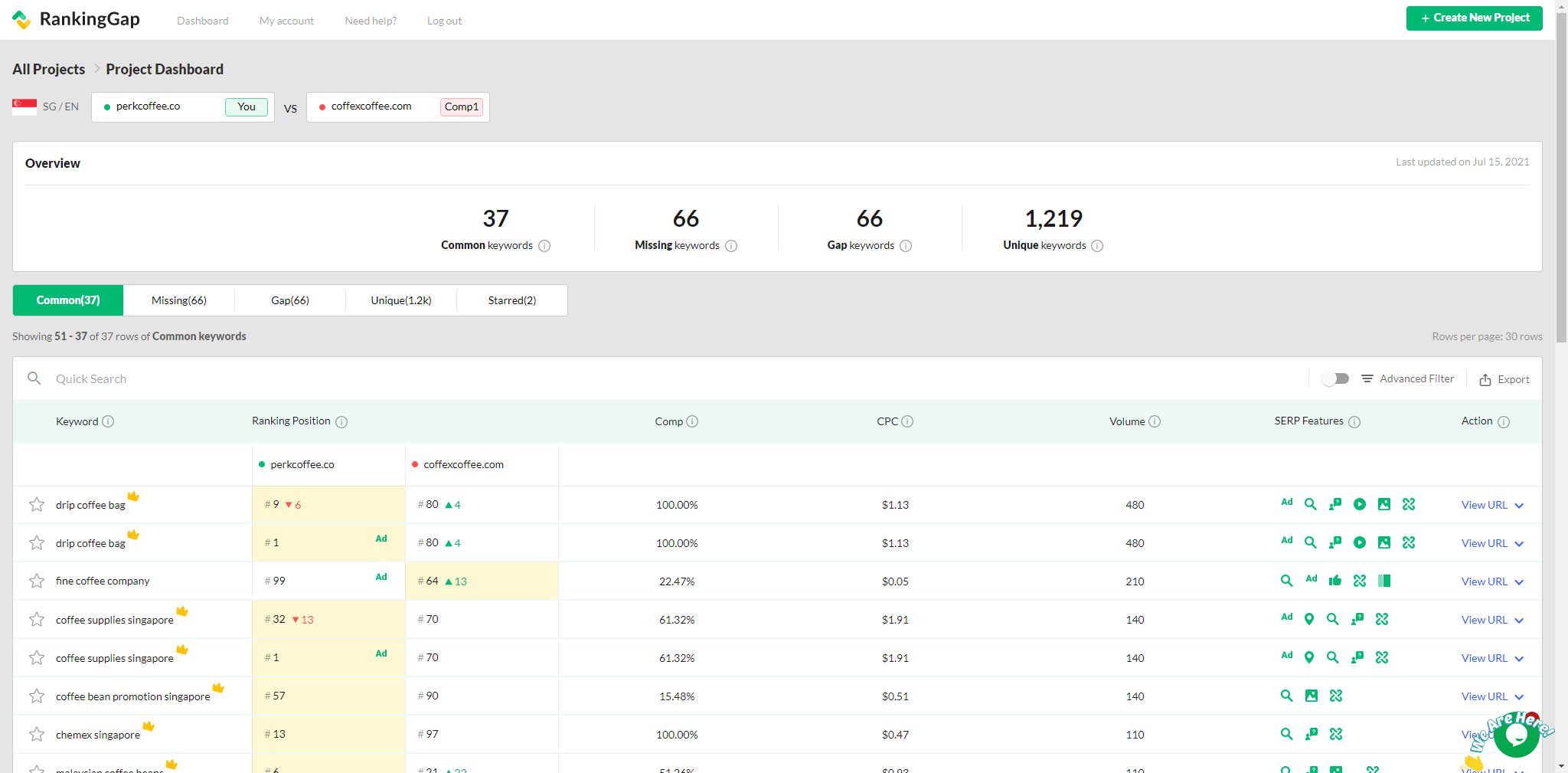 It can also give you insights into what your readers want and give you new content ideas. 
This can make your content strategy more complete, fix your weaknesses, and fill in the gap between you and your competitors.
It's one of the most effective ways to find great keywords and create useful content. But if you're looking to make the most out of it, you must pick the right competitors, study them relentlessly and discover their strengths and weaknesses. 
This may not always be as straightforward as it may sound. Keep on reading to discover how to do it properly and supercharge your results.
The Fundamentals of Keyword Gap Analysis
Now that you know what keyword gap analysis is, let's look at some of the juicy benefits that can motivate you to pursue it with your business.
Here are a couple of reasons why you must use keyword gap analysis in your SEO.
BETTER SEARCH VISIBILITY
Spying on your competitors can help you discover why they are getting more traffic than you do and find lucrative keywords you aren't using in your strategy. 
You can then use them in your content, move up in the rankings, and beat competitors.
MORE CONTENT IDEAS
Coming up with new content ideas isn't easy, especially when you have already created a lot of content.
But we all know how important publishing content regularly is.
Competitor keyword analysis can give you a hand and help you develop tons of fresh content ideas you can use in your strategy.
OPTIMIZED CONTENT
Compare your content with the competitors' content and find out what they do differently. For example, what keywords are they using, and what are the structure and the length of the content?
Conducting a competitor keyword analysis will help you discover all these things, better optimize your content, and make it high-quality. 
It's the easiest way to improve your content and drive more substantial results.
BETTER UNDERSTANDING OF YOUR AUDIENCE
Finding out related keywords you aren't using can uncover new opportunities to go deeper about the topic and answer your audience's questions.
This can make your content more valuable and help you rank in People Also Ask snippets.
Creating high-quality content that answers all of your readers' questions should be your number one priority, and that's why you must conduct competitor keyword analysis.
What Areas of Competitor's Website Should You Analyze?
There are a lot of things you can analyze with the keyword gap analysis. However, you definitely shouldn't focus on only one area – the written content.
There are a lot of other areas you should consider which we will cover next.
TITLE
The title or the headline of your content is the most critical part of content. It will help you hook the readers, make them click, and also assist you in ranking high.
This is because the title is the first indicator by which the search engine tries to understand what your content is about and if it's relevant to the search query.
And to make it as relevant as possible, you'll need to include keywords in it.
A keyword gap analysis will help you compare your titles with competitors, find out the differences, and fix any issues. It can also help you discover how to create better titles that can maximize your results.
URL
Another area (which is often overlooked) is the URL of the content. Whether you believe it or not, including the right keywords in there can make a massive difference in the long run.
Fortunately for you, a lot of companies skip it, which can give you a competitive advantage.
Be sure to analyze it, find the differences, and use more appropriate keywords inside the URL of your content.
Quick Tip: Don't make your URLs too long. It's not optimal and can hurt your rankings.
META DESCRIPTION
A meta description is another area you should pay attention to. The meta description is the subtext of your search result.
It should act as a quick summary of your page and present a hook and a strong benefit for the searchers to click. It's also an ideal place to include related keywords that describe your page so Google can rank it properly.
Comparing your keywords to the competitors' can help you spot the inaccuracies that may cost you the search result position.
ALT TEXT
Image alt text is not only something most bloggers ignore. It's also something most bloggers avoid totally.
But this is not optimal, and if that's you, you should start adding alt text to your images.
The alt text describes the image and helps the search engine better understand what's on it.
It won't make a huge difference but can give you a slight advantage that can be just enough to rank you higher. That's why you should incorporate it into your keyword gap analysis.
Remember, it's small details like keywords in the URL, alt texts, and meta description that make all the difference. You and your competitor's keywords in these four areas can easily be analyzed and compared using a keyword gap analysis tool like RangkingGap. 
If you're wondering how to do that, here are the four core strategies of keyword gap analysis that you need to know.
4 Keyword Gap Analysis Strategies You Need to Know
Now that you know what areas to analyze and work on let's look at the four best keyword gap analysis strategies you must use.
They will allow you to perform the complete competitor analysis from scratch and give you the desired results in no time. So be sure to follow these strategies in the order we're listing them to get the best results faster. 
#1 Keywords That You Rank, But Your Competitors Don't
The first strategy of keyword gap analysis is finding out what keywords you are already ranking. There are multiple ways you can do that, such as manually typing the keywords you are trying to rank for to Google and getting your data there.
As you can see, if your site is neilpatel.com and your target keyword is "keyword gap analysis," then you're ranking in the 3rd position for that keyword.
However, doing it that way is extremely ineffective, inaccurate, and time-consuming.
I highly recommend using the proper tool to analyze your website and give you the ranking keywords automatically. It can save you countless hours that you can invest into improving your site and SEO game.
If you use the dedicated solution, all you need to do is type in your domain's URL, click on the search button, and automatically get the full report generated.
You can see an example of that below.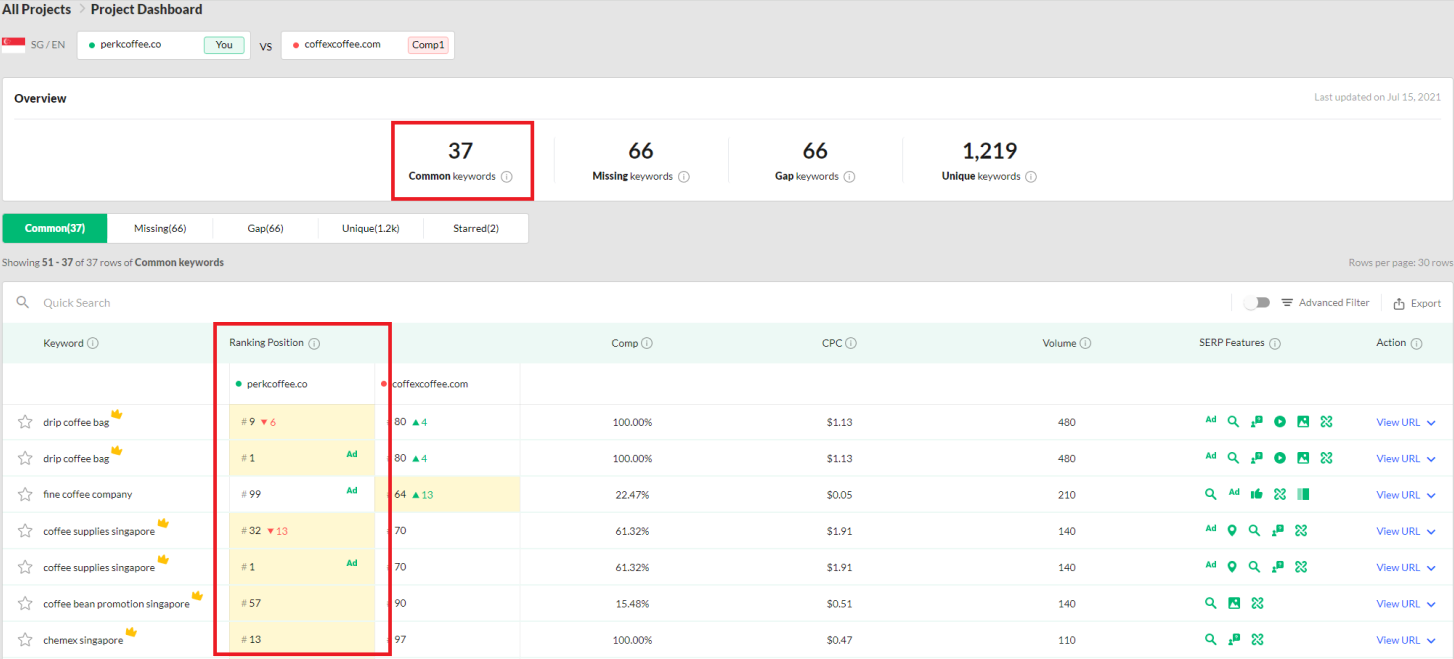 If you use a keyword gap analysis tool, you can easily make comparisons of you and your competitor's keywords. You'll be able to find out their rankings, and compare your results to discover the keywords only you rank.
These are the most vital keywords you should invest the majority of your time in. 
You should also track them to see whether your rankings are increasing or dropping. If they're falling, you should update your content to stay on top.
All of this is what most bloggers do, though. Unfortunately, they stop there. However, if you're looking to get the best results with the keyword gap analysis, you shouldn't…
You should also look at the historical data of the keyword to predict future behavior. 
This is important because let's say you're ranking for a keyword in the 10th position. You decide that you want to rank it higher, so you start creating more content around it.
But what you may not know is that this keyword is declining in the searches and will slowly go flat. That's why you must check the historical data of all your keywords. For that, you can either use your competitor analysis tool or Google Trends.
You simply go to Google Trends, type in your keyword, and set the time range.
As you can see above, "competitor analysis" is still worth pursuing because it keeps its position over time and is very stable. Do so for all your keywords to discover their value, predict future behavior, and avoid headaches with pursuing dead keywords.
Find your unique keywords, build your content around them, and rank higher effortlessly.
#2 Keywords That Competitors Rank, But You Don't
Finding every high-volume keyword and ranking for it is close to impossible. There are many keywords you can rank for, and you certainly didn't catch every valuable one.
And that's why you should check up on your competitors and find out their keywords.
Specifically, you should look at keywords only your competitors rank, and you don't. Go to your keyword gap analysis tool and get a list of competitors' keywords ranking in the top 10 results on Google.

Compare them with yours and find keywords your competitors rank for but you don't.
You should then sort them by the ranking position and determine why you aren't ranking for them. Here are a couple of reasons for that.
You haven't covered that part of your niche yet
You used a synonym or related keywords
It's a new keyword, and you haven't optimized your content yet.
Either way now is the best time to fix it, get ahead, and beat your competitors.
Let's go over two strategies you can use to leverage these valuable keywords you aren't ranking.
1.PRODUCE NEW CONTENT
If you compile a list of competitors' unique keywords, you will quickly discover the parts of your niche you haven't covered yet.
That can help you come up with new content ideas that have shown results.
Therefore, you should start creating new content to widen your reach, attract more people, and make your website more authoritative.
If you plan to do so, it's ideal for connecting multiple keywords. Consider the table below. The website isn't ranking for "SEO responsive design," "SEO recent update," and "SEO inbound marketing."
You don't need to create three articles about these keywords – it would only take a lot of time. Instead, you can merge them into one piece.
For instance, you can write an article about Recent SEO Updates in Inbound Marketing and discuss the importance of responsiveness due to the rise of mobile traffic. Just like that, you save yourself a lot of time and effort while you get the same results.
On top of that, you also create high-quality articles that will make your site more helpful.
2. REOPTIMIZE YOUR OLD CONTENT
Optimizing your content should be among the top priorities. Delivering accurate and fresh information will help you be more authoritative and prevent confusing or misleading your audience.
And you get a big juicy ranking boost from Google too…
The process of reoptimizing your article is pretty self-explanatory. You go through your old content, add a few sections, spit in new keywords, and make it more relevant.
After that, you can expect a significant boost in traffic, higher ranking, and beating competitors.
These keywords are crucial. You must start creating or re-optimizing content around them as soon as possible and filling in the competitive gap.
#3 Keywords That Both of You Rank
If you compare your keywords with your competitors' keywords, you will have many keywords in common. However, you may find out that a specific competitor can be beating you in almost all of them.
It can be very frustrating, so let's discover why that is and how to fix it…
1.COMPILE A LIST OF COMMON KEYWORDS
The first step of this competitor analysis strategy is finding out keywords you both rank. It's similar to the previous strategy, except you're looking for keywords both of you rank.
After you get that, it's time to visit competitors' websites.
2. FIND ARTICLES CONTAINING THE KEYWORD
Once on their website, it's time to locate the articles that contain these keywords. This should be no problem because most of these keywords can give you a pretty good idea of what to look for.
For instance, if you see keywords like below, you know what to look for, right?
There should be no problem in identifying the articles with these keywords. However, going through all of your competitors' posts manually and looking for suitable ones can be very overwhelming and time-consuming.
Fortunately, you can automate it by using Google search operators.
All you need to do is type site: your site name "target keyword" to Google. So if you're looking for the keyword "email marketing trends" and your competitor is SEMRush, it would look like below.
This allows you to narrow down the articles to only those that use the target keyword. You can also search for articles that contain more than one keyword.
I did exactly that below and narrowed down the 160 results we got previously to only one.
Do the same and list down all of the articles that contain these keywords. You should also do likewise with your site and compare the search result number.
If you have created only one article with the keyword, while the competitors have created over 100 of them, it's obvious that they will rank higher than you. 
Check it out before you move on to the next step.
3. COMPARE THE ARTICLES
Once you find the articles, it's time to study them and discover what makes them superior to those you have created.
There are a lot of things that you need to inspect.
First, you should look at the keyword density and compare it to yours. For example, if you include a keyword in your article only two times while your competitors use it 15 times, there is a big chance that they will outrank you.
You should also check the word count – longer articles tend to outrank the shorter ones.
Second, you should inspect the header tags and find out what audience they are targeting. You might've missed the search intent or forgot to include a critical section.
All of that can cost you a ranking position in the SERP – Google is very strict.
You should also look at the article as a whole and find out what makes it different or better. The more you study it, the better results you get. So don't be lazy on this step. Take your time and analyze it as much as possible.
It will go a long way in moving you up the ladder and making you the people's go-to.
#4 Keywords That You & Most of Your Competitors Don't Rank
These keywords are the gems of your SEO game. If you can spot them quickly, they may lead to extreme growth and many new readers. In addition to that, they can separate you from the rest and help you stand out.
But they are also extremely rare and hard to discover…
Fortunately, there are still ways and strategies to find them and leverage them. Here are a few actionable steps you can take to use them in your strategy.
1.CREATE A LIST OF COMPETITORS
If you're looking to make this strategy successful, you can't be comparing your site to only two or three competitors. Instead, compare it with at least 5 to 10 competing websites.
The more competitors you compare, the higher the chances of finding a unique keyword.
2. FIND UNIQUE KEYWORDS
Compare your competitors' keywords and find some that only one or two of your competitors rank.
The fewer competitors rank for it, the better.
3. GROUP SIMILAR KEYWORDS
It's ideal when you find multiple unique keywords that you can group together. You can then come up with unique content ideas and be more well-rounded.
It will help you with increasing your authority and getting new readers only you can serve.
5 Keyword Gap Analysis Best Practices
Now that you know about the four best keyword gap analysis strategies let's look at some of the best practices you should follow. Doing so will allow you to get better results, prevent blunders, and stay on top of your SEO competitor analysis.
Here are the five best keyword gap analysis best practices to follow.
1. List Out & Analyze Your Competitors
Starting keyword gap analysis without having a clear picture of who your competitors are can lead to poor results. Moreover, it will only waste your time and effort. 
That's why it's critical to establish competing websites from the early beginning.
If you're not sure who your competitors are or how to find them, don't worry, we got you covered with the four best strategies for finding your competitors.
1.MARKET RESEARCH
Take a look at other companies selling similar products that you do. You can talk to your sales team to find out which or search for it manually with Google.
For instance, you could type something like below to Google if you're in an SEO niche.
You'll immediately get a huge list of all your competitors in a matter of a few seconds. 
After you get the list of competitors, you should reduce it to only the businesses that are similar in size and sell to the same audience.
2. CUSTOMER FEEDBACK
Another technique you can employ to get even more precise results is to ask your readers which other businesses they were evaluated. Again, this technique is superior to market research because it allows you to see your biggest rivals.
You don't have to go through hundreds of brands and reduce them to the most relevant ones.
Instead, your readers will do the job for you, saving you time to invest in more important tasks.
3. SOCIAL MEDIA
Social media is one of the best places for brands to connect with their audience and build an online presence. 
For you, as a business owner, it can also be an opportunity to find similar brands in your niche and identify competitors.
You can also go to forums like Quora or Reddit and find customers' favorite brands.
4. ONLINE TOOLS
If you're not on a tight budget, you can invest in online tools to analyze and list out the most relevant competitors automatically. It can drastically cut time, bring better results, and help you run a more solid keyword gap analysis.
If you decide to go with this option, I highly suggest you go with SimilarWeb or Contently.
They are highly intuitive and have the best combination of price and features. Both of them also feature the demo version, which you can try for free to see whether you like it.
No matter which option you choose, the quantity of competitors isn't nearly as important as the quality. You must analyze the results, throw away companies that aren't within your reach and focus only on the similar, more relevant ones. 
2. Identify & Compare Keywords
The four keyword gap analysis strategies we've talked about earlier work great. But maybe you just want to know what keywords your competitors use that you don't and don't care about the other three strategies.
However, if you're looking to unlock the godly power of keyword gap analysis, you should think again…
Leveraging just one of these strategies will get you only so far, but using all of them combined will get you on the legendary level.
It will be more time-consuming, but the results are definitely worth it.
3. Further Refine And Filter Keywords Based on What You Identify
Now it's time to look at the keywords you got from the four keyword gap analysis techniques and observe them further. There are three simple questions you should be able to answer.
1.What Are the Ranking Keywords Like?
Take a list of the keywords your competitors use and find out what are they like. For example, are they mostly plural or singular?
You should also discover the type of keywords they rank for.
Are they long-tail or short-tail keywords? Continue studying them and compare as many metrics as possible. In ideal circumstances, you would compare all of the metrics you see in the table below.
These will help you discover what your audience searches for and the lucrative keywords that work well within your niche.
2. What Is the Amount of Keywords Your Competitors Include per Page?
The second important thing to observe is how many keywords your competitors place on a single page. There are two parts to it.
First, you should find out how many different keywords they place on the page. You can easily find that out with the SEO Review Tool. Then, you hop on the page, type in the competitor's URL, and hit enter.
You'll get a list of the most common keywords they used on their page.
Second, you should also care about the keyword density – how often are keywords used on a single page. Again, you can see that in the SEO Review Tool too. 
You should be inspired by your competitors and analyze it, however…
Many companies overuse keywords, so don't necessarily copy their density if it's too high. Instead, I suggest shooting for 1 – 2% keyword density, which means using a keyword once or twice every 100 words.
Find out both of these metrics, compare them, and consider the change if necessary.
3. What Is the Content Surrounding a Particular High-Ranking Keyword?
Another key thing to look out for is the content surrounding the keyword. You should observe competitors to find out how they place keywords on their webpage.
Is it natural, are they forcing it, or do they use it as an anchor text?
You should also care about whether they highlight it with bold or italics or just leave it blank to make it fit into the content.
Whatever it is, find that out, discover what works and use it in your strategy.
4. Categorize and Label Your Filtered Keywords
This step is especially great if you plan on creating new content with the keywords you've stolen from your competitors. The first thing you should do is sort out keywords by volume, CPC, competition, etc.
You should counter all of these together to get the keyword value.
Keywords with the highest value should be your main keywords, while the lower value keywords should act as related keywords supporting the main term.
You should then create a label for every keyword you have. I suggest you create two labels. First, mark it as the main or supporting keyword, and the second is to describe the topic you plan to use.  
After a while, you come to realize that some keywords don't belong anywhere. They may have disastrous value, or you can't fit them in any content you plan on creating.
These are usually irrelevant keywords you should get rid of because they're worthless.
5. Recognize a Pattern in Your Final Keyword Group
Competitor keyword gap analysis shouldn't end just with getting the list of relevant keywords you should use in your content. Instead, if done correctly, you should learn more about your audience and get to know them better.
If you look closely at the keywords you've stolen from competitors, you'll come to realize a thing or two…
You should start realizing who your target audience is, how they think, and even predict the future behavior to discover what keywords will work in the future. The easiest way to do so is to create an ideal persona if you haven't already.
I highly suggest using the Make My Persona tool from HubSpot for that.
It's a 7-step process where you start by picking the persona's profile picture and name and finish with the desires, problems, and education.
You can create your persona and be finished within a few minutes. After you get that, you can better personalize your content and maximize the results.
After you get that, you'll get a clearer picture of who you are serving and what these people want. This will help you spot a pattern in your keywords, predict keywords that will improve your next content, and develop a winning strategy.
Content Gap VS Keyword Gap Analysis
What Is Content Gap Analysis?
Content gap analysis links your current content and the content that would drive desired results and fulfill your marketing goals.
It's about identifying content you need to fill the gap between current and desired results.
There are multiple ways you can use to implement it in your business. In my opinion, one of the best ways to get the desired results quickly is to study your competitors. If they perform better, they most likely created a better piece of content than you did.
And all you need to do to fix it is compare your content to theirs, spot the difference, and make it better.
What's the Difference Between the Two?
While content gap analysis focuses only on content, keyword gap analysis focuses on the search terms people type into Google and the way they think.
With content gap analysis, you can spot the difference between your content and the content that works, close the gap, and drive stronger results.
(Source: CoSchedule)
Keyword gap analysis works differently, though…
It focuses mainly on the keywords your site's competitors rank for. It helps you get better insights into your audience, helps you discover how they think, and predicts their decisions in the future.
They work great hand in hand. Keyword gap analysis helps you get readers to your site, while content gap analysis will help you keep them reading longer.
Why Should You Be Focusing on Keyword Gap Analysis in Your SEO Practice?
Content gap analysis can do wonders for your content. It can fill in the gap on the market, make your content better, and help you retain more readers. 
However, it has not as near an impact as the keyword gap analysis…
While it can help you retain readers, keyword gap analysis is what gets them to your site. And that's precisely why keyword gap analysis should be the cornerstone of your SEO practice if you're looking to get substantial results.
You can have the best content, but you won't get far if nobody types in your keywords.
If you want to incorporate both of them in your content, start with the keyword gap analysis and slowly progress to the content gap analysis.
Conclusion
Keyword gap analysis is vital for long-term success and getting to the desired results. But, unfortunately, it's often overlooked by the SEO practice.
The reason behind it is simple – it's tedious and a long process if you do it properly.
However, without getting a complete grasp of what your competitors do, you will not win in the race up the SERP. It's definitely worth your time, and if you employ keyword gap analysis tools such as RankingGap, you should give it a go if you haven't already.
Updated: 15 July 2021
About Author